Simone Biles' Hatred for Cats Tragically Stems From a Traumatic Childhood Experience
Simone Biles makes gymnastics look easier than any athlete who's ever competed in the sport, but her life wasn't always that simple. When she was a child, Biles was often left hungry by her biological mother in favor of a stray cat that always wandered around the house. Biles' life has vastly improved since then, but the Olympics legend still hates cats because of the traumatic experience from her childhood.
Simone Biles' complicated childhood
Biles was born in Columbus, Ohio in 1997. She grew up alongside her three biological siblings, but her caretakers varied over the years.
When Biles was too young to even remember, her biological father walked out on the family and her biological mother turned to drugs and alcohol. It eventually became clear that her mother couldn't take care of her and her siblings, so they were all placed into foster care. Luckily, all four were placed into the same home together, and they learned how to take care of each other with no mother or father present.
"I don't remember a lot about foster care, but I definitely knew that we had been taken from our biological mom and then you just think you're going to go back to her," Biles said in a recent episode of Simone vs Herself on Facebook Watch. "We were very fortunate that you got to stay with your siblings, because a lot of the time you either get regrouped from home to home to home or you and your siblings get split up."
When she was six years old, Biles and her sister, Adria, were adopted by their grandparents, Ron and Nellie Biles. They've been considered Biles' father and mother ever since.
Biles still hates cats today because of a traumatic childhood experience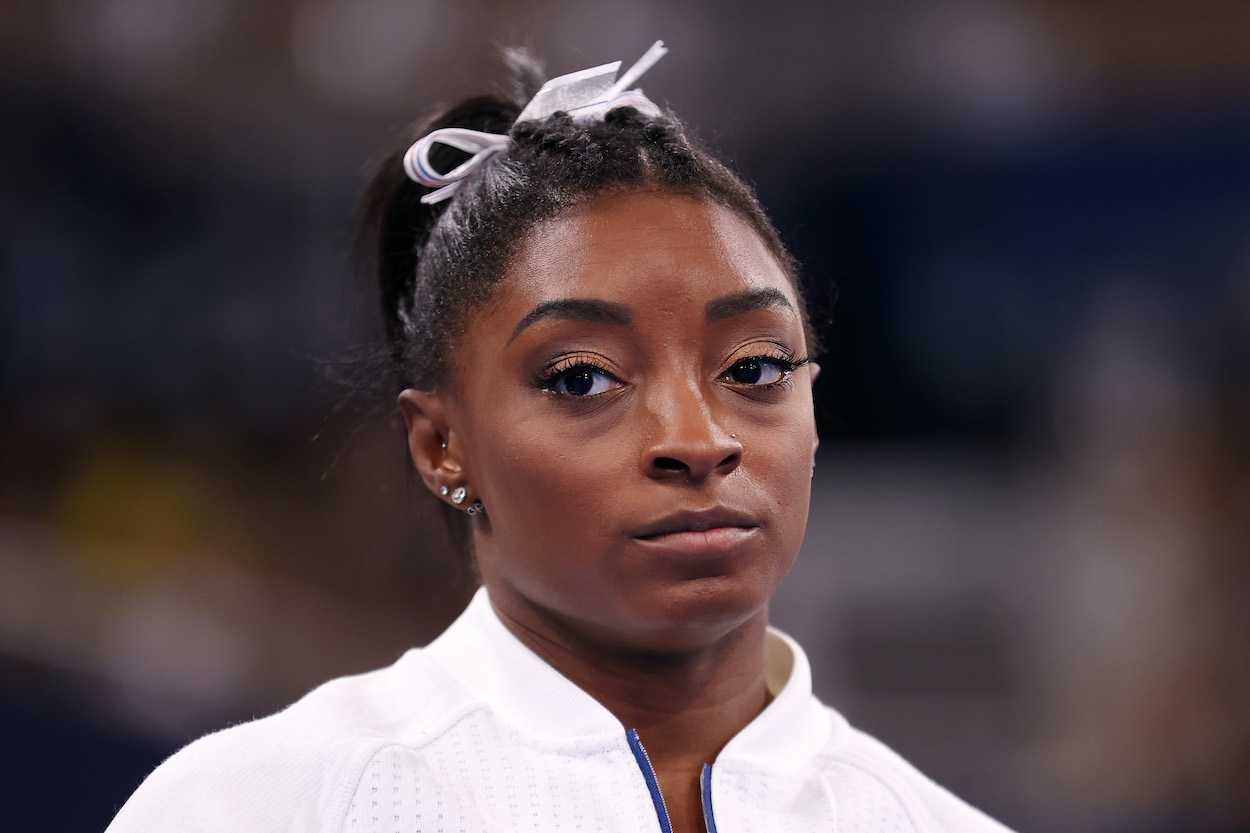 Before Biles moved into a foster home, she went hungry nearly every day while living with her biological mother. With a drug and alcohol problem and no father to help out around the house, her mother simply didn't have the resources to feed Biles and her three siblings enough.
But, for some reason, she had an affinity for a local stray cat, and it often received food on days when Biles didn't. The gymnast believes that's why she still hates cats today.
"Growing up, me and my siblings were so focused on food because we didn't have a lot of food," she said. "I remember there was this cat around the house and I would be so hungry. They would feed this cat and I'm like, 'Where the heck is my food?' And so I think that's [why] I don't like cats, because this freaking street cat, she always fed it, but she never fed us."
The Olympics have only been possible because of her grandparents
Biles is considered today to be one of the greatest Olympians of all time, but she never would've found gymnastics in the first place if not for her grandparents.
After she was adopted, Biles discovered the sport of gymnastics during a daycare field trip when she was six years old. Biles started copying the flips and twists she saw from the other athletes in the facility, and she was a natural.
Soon after, a letter arrived at Biles' new home asking if she wanted to join a class, and the rest is history.
Without her grandparents' selflessness, though, she never would've made it to where she is today.