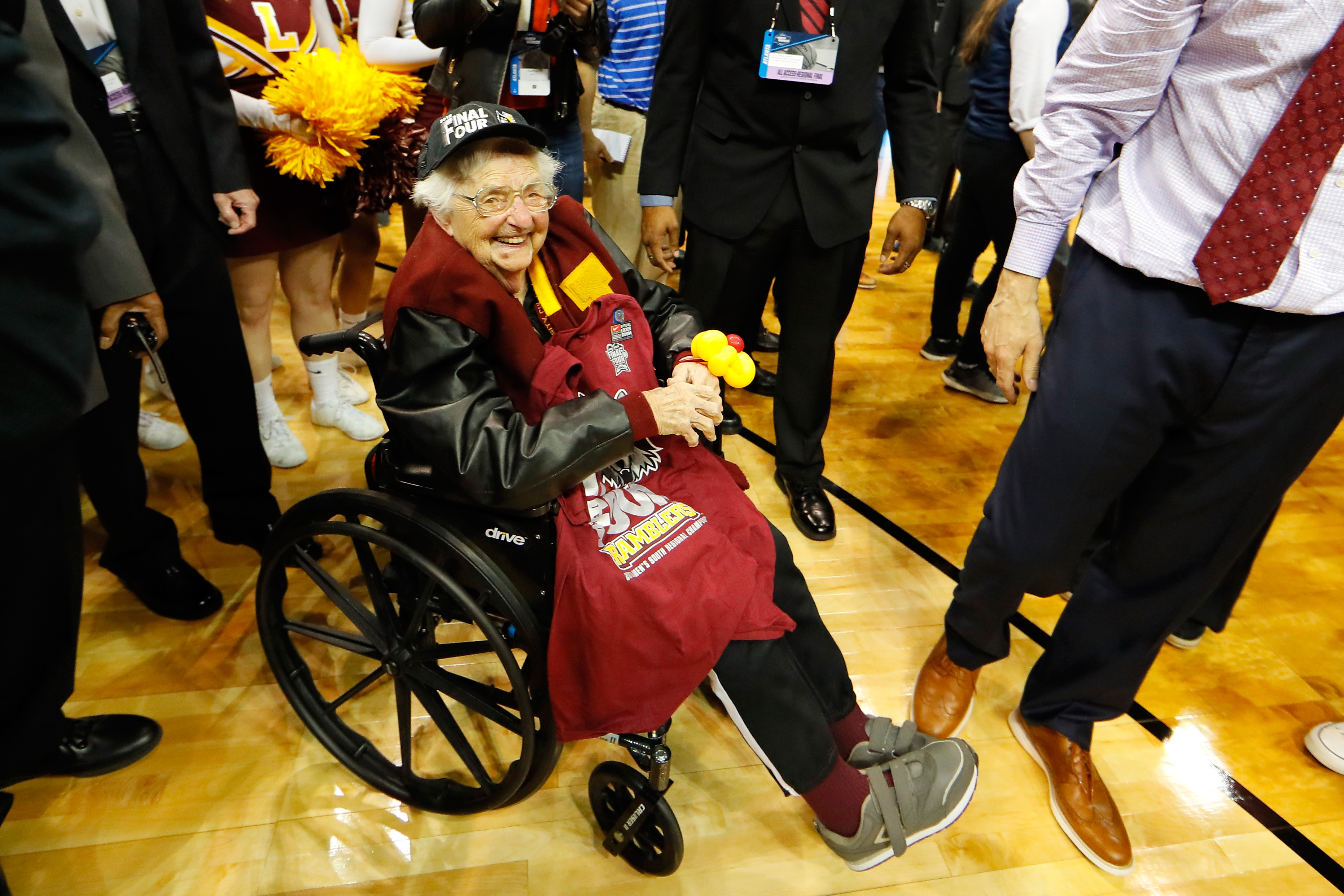 Sister Jean Determined to Get Up-Close View of Loyola's Return to March Madness Despite Restrictions
Sister Jean, 101, is determined to see her Loyola Ramblers up close when they begin NCAA tourney play this week.
Loyola Chicago is out to prove 2018 was no fluke. Sister Jean Dolores Schmidt is determined to be in Indianapolis for an up-close look as the Ramblers return to March Madness in 2021. Sister Jean is 101 years old and is ready to do what it takes to see her team play for a chance at an NCAA title – even during a pandemic.
Who is Sister Jean?
Sister Jean made headlines back in 2018 when the Loyola Chicago men's basketball team was the Cinderella story of the NCAA men's tourney. The Ramblers shocked everyone but themselves three years ago when they made their way to the Final Four. While the team made its way past 60 other teams in the tourney, Sister Jean was getting a lot of publicity.
Sister Jean has been the team chaplain of the Ramblers men's basketball team since 1994. As a nun, she often openly prays for team victories. But Sister Jean is much more than a nun. She has a wealth of basketball knowledge. According to Time, she handed coach Porter Moser her own full scouting report on his first day on the job.
In 1961, Sister Jean began work at Mundelein College in Chicago, where she held various leadership roles. Thirty years later, Mundelein College became affiliated with Loyola, and Sister Jean was hired to help Mundelein students adapt to life at Loyola. In 1994, she took on the role of helping student-athletes keep up their grades so they could maintain their eligibility to play. That eventually led to her current role as official team chaplain for the men's basketball team.
Loyola Chicago's magical run to the Final four in 2018
Loyola Chicago is hoping to relive the magic it had three years ago when it entered the NCAA Tournament as an 11-seed and became the talk of the town. The Ramblers became the little darlings of the tourney. With that, Sister Jean became a popular figure throughout the country.
Although the Ramblers made their way to the Final Four, it certainly wasn't easy. They were nearly knocked out in the first round but held on to defeat sixth-seeded Miami 64-62. The Ramblers' second-round game was even closer, but they took care of third-seeded Tennessee 63-62.
In the Sweet 16, the nail-biters continued. Loyola outlasted No. 7 Nevada 69-68 to reach the Elite Eight. If you're counting at home, that's three wins by a combined four points. The Ramblers then knocked off Kansas State 78-62 to claim the South Region and earn a berth in the Final Four. Through it all, Sister Jean was there on the floor, cheering on and hugging Loyola players along the way.
Even during a pandemic, Sister Jean is determined to be back in 2021
Loyola Chicago is back in the spotlight after winning the Missouri Valley Conference Tournament and earning a tournament berth. Even before the conference title, the Ramblers showed they were worthy of a return trip with a 24-4 record. They enter as a No. 8 seed and will face No. 9 Georgia Tech in the opening round.
Sister Jean is determined to live the dream with her team once again but COVID-19 restrictions are making things difficult. "They said there's restrictions," she said, according to The Chicago Tribune. "You can't run down on the court. You can't talk to the young men. I said, 'I'm not going to run down on the court, and I'm not going to cause any disturbance.' I said, 'I won't do things I'm not supposed to.'"
Loyola head coach Porter Moser believes Sister Jean will make the trip to Indy. "She didn't go to St. Louis (for the league tourney) and she was so mad," Moser said in an ESPN radio interview. "She said, 'Porter, I looked them in the eye and said I'm more healthy than you. I have my vaccination. I've been tested 30 times.' She's on it. I'm just telling you, I'd put my money on she'd be in Indy."