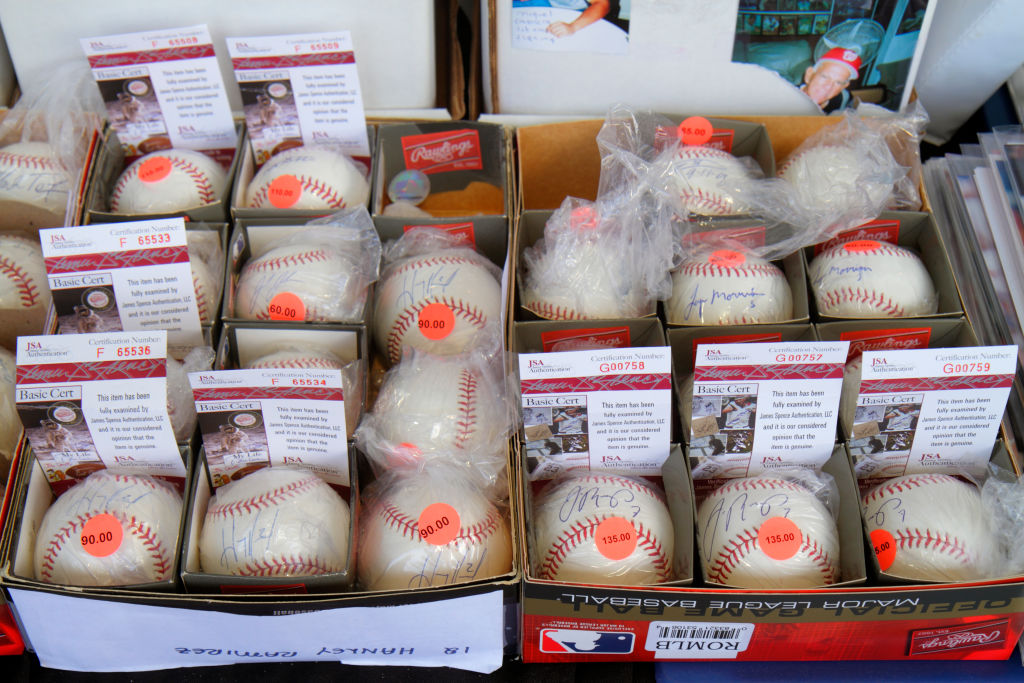 Sports Memorabilia Market Estimated at $5.4 Billion, but Beware of the Fakes
Some have estimated the sports memorabilia industry to be worth $5.4 billion, but don't believe that all of what's out there is authentic.
A Tom Brady autographed helmet, an Emmitt Smith game-used jersey, or a Mickey Mantle signed ball are just a few of the big-priced items that can found in the sports memorabilia market that has become a big business throughout the years. It used to be one would find this memorabilia at a local baseball card show, but when auction sites such as eBay or Auction of Champions came into existence, the market took off, making it a multi-billion dollar industry.
Sports memorabilia a booming industry
In a Forbes article that ran in 2018, David Yoken, a high-tech entrepreneur and the founder and CEO at Boston-based Collectable.com, dug pretty deep when trying to put a price tag on what has become a very popular sports memorabilia market. Yoken and his research team analyzed sales from eBay, private sales, independent auction sites, and other various outlets. They put together an astounding figure.
"According to our research, the total value of the U.S. sports memorabilia market amounts to $5.4 billion annually," Yoken said. "This includes the total gross merchandise volume [GMV] from eBay, independent auction houses, online retail venues, and other sources."
According to Yoken, eBay makes up the bulk of the $5.4 million number. He estimated that number at $4.7 billion. "eBay generated $84 billion in gross merchandise volume in 2017," Yoken told Forbes. "My company and I then extrapolated data from their net revenue by geography breakdown to estimate that 43% of marketplace GMV came from the U.S. Therefore, we're estimating the GMV of eBay's U.S. marketplace at $36 billion in 2017." Then his research determined sports memorabilia made up about 13 percent of eBay's sales and calculated his number.
The market is loaded with fakes
Along with the popularity of eBay, came the crooked dealers who were able to sell phony memorabilia without dealing with a customer face to face. These dealers would have fraudulent high-priced items, oftentimes with a fake certificate of authenticity, and flooded the online markets with counterfeits.
One unfortunate buyer from New Jersey was duped into purchasing more than $100,000 work of fake items, including baseballs signed by Mickey Mantle and Babe Ruth. The items were found out to be not genuine.
Retired FBI agent Tim Fitzsimmons said it's become too easy and too tempting for criminals to make a quick buck by deceiving unsuspecting collectors. "Unfortunately, it's too easy a crime to commit," he said. "And there are a lot of naive people out there. A lot of trusting people out there." Fitzsimmons also said he estimates the number of fraudulent items on the sports memorabilia market to be around 50 percent, while others say it's much higher.
How collectors should protect themselves
The best way to be sure your sports memorabilia is authentic is to have it verified by a professional. Many professional graders or authenticators have popped up over the years. Companies such as PSA, JSA, and Beckett have exceptionally good reputations when it comes to authenticating cards, autographs, and memorabilia.
Another simple rule to follow is to know who you are buying from. Yes, it's nice to get a better deal online or from someone you aren't familiar with. Peace of mind, however, goes a long way especially when you're spending a good deal of money one something you aren't 100 percent sure is genuine.
Steve Grad, chief authenticator for Beckett, puts it very simply. "I start with one thing," he said. "If it's too good to be true, it probably is. So if it's too cheap, be careful. And don't think you know everything. You probably don't – matter of fact, I don't know everything.  We learn something new every day."