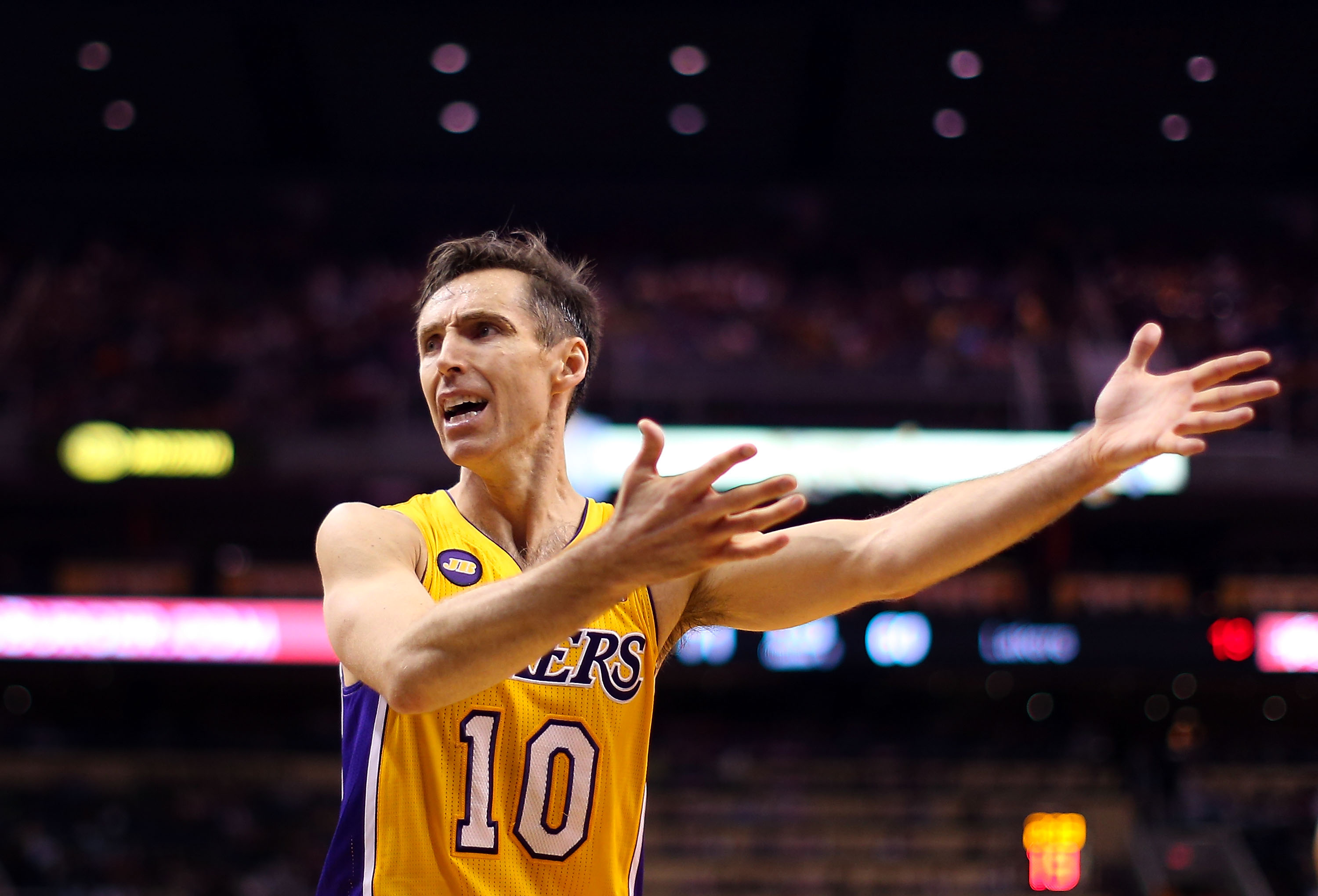 Steve Nash Admits He Did 'Skip the Line' to Land Brooklyn Nets Job
At his introductory press conference, Steve Nash said he did 'skip the line' when he landed the Brooklyn Nets' head coaching job.
When former NBA point guard Steve Nash was named head coach of the Brooklyn Nets, the hiring raised some eyebrows. Nash as never been a head coach and he was hired to lead a team that will have high hopes of an NBA title with Kevin Durant and Kyrie Irving on board. Nash admitted he did 'skip the line' to land the job, but knows he is more than qualified.
Steve Nash's NBA career
Steve Nash enjoyed an 18-year NBA career as one of the league's premier point guards. Nash played his college basketball at Santa Clara and was a first-round pick in the 1996 NBA draft. He was selected by the Dallas Mavericks with the 15th overall pick.
Nash was involved in one of two lopsided deals that heavily favored the Dallas Mavericks. The Mavericks made a draft-day trade in 1998 with the Milwaukee Bucks. The Bucks drafted Dirk Nowitzki (No. 9) and then shipped him to the Mavs, along with Pat Garrity (whom they drafted at No. 19), for Robert Traylor. Traylor was taken sixth overall. The Mavericks then shipped Garrity to the Phoenix Suns for Nash.
All Nash did was made eight NBA All-Star appearances and lead the league in assists for five seasons. He spent six years with the Mavericks before returning to Phoenix as a free agent. In his second stint with the Suns, Nash was an NBA All-Star for the first four seasons and added two more at the end of his Phoenix days. He spent the last two years of his career with the Los Angeles Lakers.
Nash draws criticism when hired by the Brooklyn Nets
Last week, the Brooklyn Nets surprised many by making Steve Nash their 23rd head coach in franchise history. Nash has no head coaching experience and spent the last five seasons as a player development consultant with the Golden State Warriors. Despite Nash's lack of experience, Nets GM Sean Marks hired his former teammate.
"After meeting with a number of highly accomplished coaching candidates from diverse backgrounds, we knew we had a difficult decision to make," Marks said in a statement. "In Steve we see a leader, communicator and mentor who will garner the respect of our players.  I have had the privilege to know Steve for many years."
It wasn't just Nash's lack of experience that drew criticism. The hiring also saw complaints from those who say the NBA's coaching ranks lack diversity. The NBA has just five head coaches who are Black.
Nash admits he did 'skip the line'
During a virtual introductory news conference Wednesday, Steve Nash said he did "skip the line" when he was hired to coach the Brooklyn Nets. He said he may not have the coaching experience, but his 18 years in the NBA as a point guard certainly helps him.
"Well, I did skip the line, frankly," Nash said. "But at the same time, I think leading an NBA team for almost two decades is pretty unique. So while I haven't necessarily learned some of the skills that I'll definitely seek to understand and learn as far as the technical aspects of coaching, I was never far from that.
"I haven't grinded it out as an assistant coach like many people's path, but there's a precedent for players who have strong careers, who are leaders, anchors," Nash said. "I think to get this opportunity, as Steve Kerr and many other people have had great success, it's a unique situation, I think. But I definitely realize that I need support. I'm going to hopefully bring a lot of qualities and skills to the table that are unique and strong, but I'm going to need support and a collaborative staff that has a lot of experience and is willing to build this with me."
All statistics courtesy of Basketball Reference.