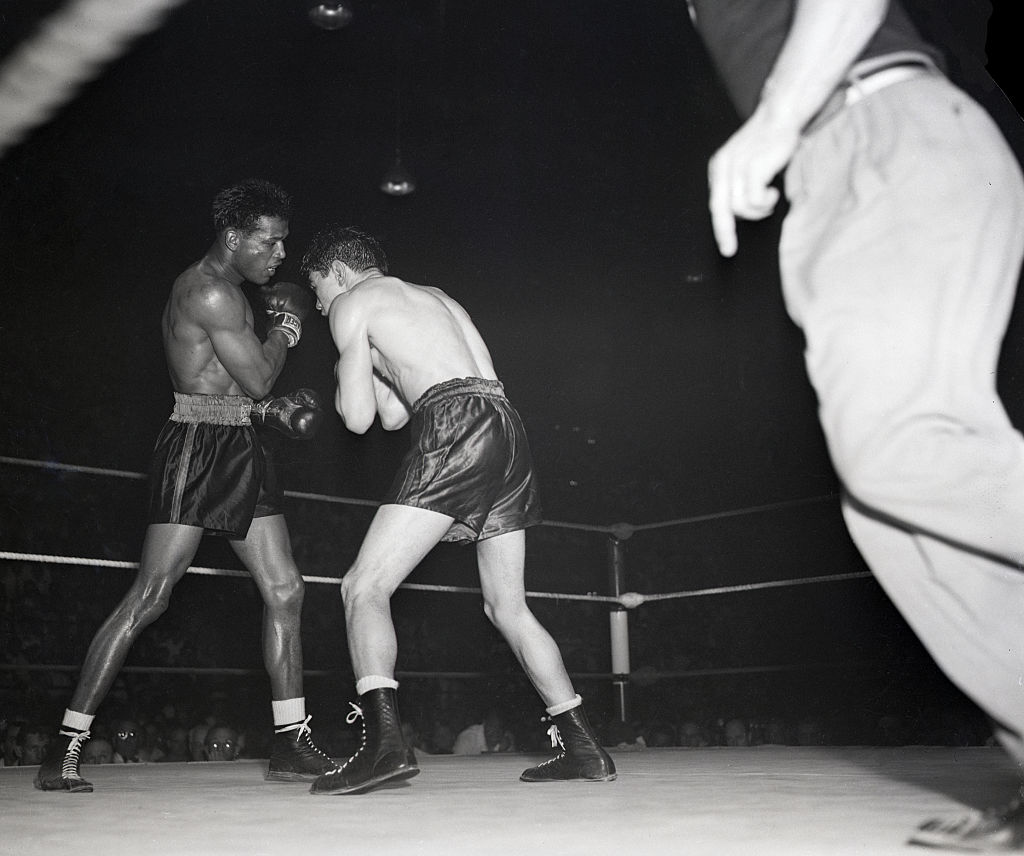 Sugar Ray Robinson Had a Disturbing Dream He Killed Someone in the Boxing Ring — Then It Came True
Legendary boxer Sugar Ray Robinson once had a disturbing dream he killed someone in the boxing right. Then it came true.
Sugar Ray Robinson has been described as boxing's best pound-for-pound fighter, losing just 19 bouts in 200 career fights. Robinson owned titles as both a welterweight and middleweight. He won his first 40 bouts as a pro before falling to Jake LaMotta on Feb. 5, 1943. He was also haunted by a dream that shockingly turned into a disturbing reality.
Sugar Ray Robinson's name is born
As a youngster, the boy formerly known as Walker Smith Jr. had a love for boxing. He attempted to enter his first boxing tournament when he was 15 years old but was told he needed an AAU card, which he wasn't able to get until he was 18. Smith borrowed an AAU boxing card of a friend named Ray Robinson.
An early look at the future champ prompted his lifelong manager George Gainford to say he was "sweet as sugar." So Walker Smith Jr. was no longer. In 1939, Sugar Ray Robinson was born. Soon after he won the New York Golden Gloves at age 19, he turned pro. Robinson went on to win 175 fights in 199 bouts in his professional career. His career included a 91-fight win streak.
Sugar Ray's record was 128-1-2 with 84 knockouts at the pinnacle of his career. Amazingly, in over 200 fights, Sugar Ray was never physically knocked out (though he did receive one technical KO). Altogether, he amassed 109 KOs and finished with a record of 175-19-6 with two no-decisions. World champion Muhammad Ali called him "the king, the master, my idol." 
Ray Leonard, known as Sugar Ray Leonard during his illustrious boxing career when he dominated in the 80s, got his name from Robinson. Leonard, who won world titles in five weight divisions, said there was no comparison between the Sugar Rays, saying "Someone once said there was a comparison between Sugar Ray Leonard and Sugar Ray Robinson. Believe me, there's no comparison. Sugar Ray Robinson was the greatest."
Robinson's haunting dream
On June 26, 1947, Sugar Ray Robinson was scheduled to fight 22-year-old Jimmy Doyle. In his autobiography, Robinson told the chilling story of a dream he had prior to his bout with Doyle.
In his dream, Robinson was fighting Jimmy Doyle. Ray lands a devastating strike knocking Jimmy to the canvas. Jimmy lay there, unable to rise. "I woke up in a cold sweat, yellin' for Jimmy to get up – get up – get up! My yellin' woke me up, I guess," Robinson wrote.
"In the dream, Jimmy Doyle was in the ring with me. I hit him a few good punches and he was on his back, his blank eyes staring up at me, and I was staring down at him, not knowing what to do, and the referee was moving in to count to 10 and Doyle still wasn't moving a muscle and in the crowd I could hear people yelling, 'He's dead, he's dead,' and I didn't know what to do. Then I woke up."
Robinson was so disturbed by the dream that he wanted to back out of the fight with Doyle. Fight promoters, who stood to lose money by Robinson's decision, brought in a Catholic priest (some sources say a priest and minister) who sought to calm Robinson's nerves by assuring him that it was only a dream. Promoter Larry Atkins convinced Robinson not to cancel the fight because of a dream.
Robinson's dream comes true
In the eighth round of Sugar Ray Robinson's fight with Jimmy Doyle, Robinson landed a left hook to the face of Doyle. The punch sent Doyle to the canvas. Referee Jackie Davis began the 10 count but soon realized that it wasn't necessary. Doyle was unconscious. He died the next day.
Immediately after the fight, a shocked and dazed Robinson informed reporters of his premonition by dream, letting out a good deal of the emotion he had managed to bottle up as he engaged in the fight he strongly felt in his heart would end in tragedy.
Robinson was clearly haunted by the fight. "I had knocked out guys before, dozens of them," he wrote. "But in those fights, I always had a good feeling, a conquering feeling when I saw them being counted out, maybe because I could see that they weren't really hurt. But now, with Doyle stretched out and his eyes blank, I had that empty feeling you get when something in your life is really wrong, and all I could think of was the dream. You warned me, God, "You told me. Why did I let everybody talk me out of it?"