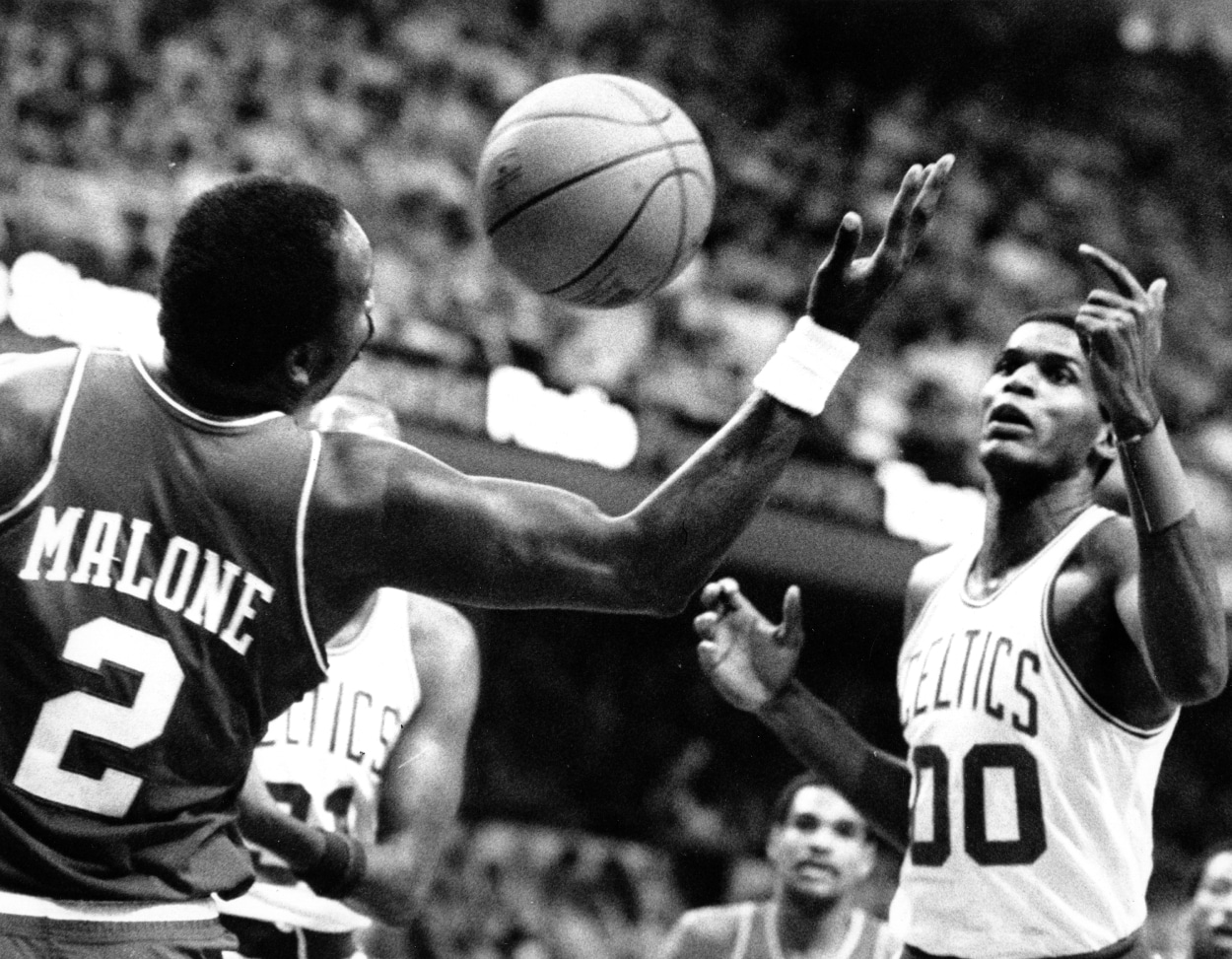 The Families of Robert Parish and Moses Malone Had Far Different Views When It Came to College Basketball
Moses Malone and Robert Parish combined to play 42 seasons of professional basketball.
Robert Parish and Moses Malone are two of the top centers in NBA history. Between them, they played 42 professional seasons, had 22 All-Star appearances, and won five championships.
Parish and Malone dominated in the 1980s, but their basketball careers began well before then. After stellar high school careers, Parish and Malone took different paths to get to the NBA. Their families had a lot to do with that.
Robert Parish and Moses Malone are both members of the NBA's 75th Anniversary Team
To show just how good Parish and Malone were, the NBA named both to its list of top 75 players in history.
Malone was the first player to go straight from high school to the pros. The Utah Stars of the ABA took him in the third round of the 1974 ABA Draft and offered the teenager a five-year deal worth $1 million. In his first ABA season, he averaged 18.8 points and 14.6 points and was named an All-Star. After two years in the ABA, he settled in nicely with the Houston Rockets of the NBA, leading them to a berth in the 1981 NBA Finals.
Malone's best year in Houston came in the 1978-79 season when he was named MVP of the league after putting up 24.8 points per game and averaging a league-high 17.6 rebounds. Malone added two more MVP trophies to his collection, winning the award in 1982 and 1983 with the Philadelphia 76ers.
Malone is, by far, the best offensive rebounder in NBA history. He ended his career with 6,731 offensive boards, and that doesn't include his ABA stats. Second on that list is Parish with 4,598.
Nobody has played more NBA games than Parish, a former Boston Celtics center, whose basketball life was rejuvenated during a 1980 trade with the Golden State Warriors. Parish won three championships in Boston and was a nine-time All-Star. He played a total of 1,611 games.
Malone and Parish took different paths when it came to college basketball
Larry Creger, an assistant coach with the Utah Stars of the ABA, was instrumental in bringing Malone straight to the pros. He knew Malone had the talent to be a pro and college probably wasn't a good fit for him.
"We were free to sign anybody," Creger said in Terry Pluto's book Loose Balls. "We certainly didn't have to follow NBA rules. The courts said that the NCAA had no right to deny a kid a chance to leave college early and earn a living playing pro basketball. I had been hearing about Moses for some time, that he was good enough to be a pro while he was a senior in high school and that he wasn't exactly academically college material.
Creger remembered speaking with Malone's mother and uncle, who both agreed pro basketball was the way to go. Malone hoped to provide for his family, and this was the best opportunity to do just that.
"They agreed that they needed money, and they agreed that Moses wanted to play basketball," he said. "When I heard that, I knew we had a great shot at getting it done."
Creger also tried the same approach with Parish. It didn't work. Parish's mother had plenty to say when it came to her son's education.
"Moses wasn't the only player I tried to sign with the ABA," Creger said. "I really spent a lot of time with Robert Parish. I first saw Robert in a high school All-Star game, and I thought he had pro potential at 18. I'd say things like, 'Robert, you can start earning six-figure salaries right now. Over the next four years, you'll spend in college, that would add up to a lot of money.'
"I got to know Robert and his family very well. His father worked as a riveter on railroad cars. His mother worked at the local school on the school lunch program. A few times, I drove her to and from school. His mother always said the same thing. She wanted Robert to become the first member of that family to graduate from college. She didn't care about the money, and in that house, her word was law."