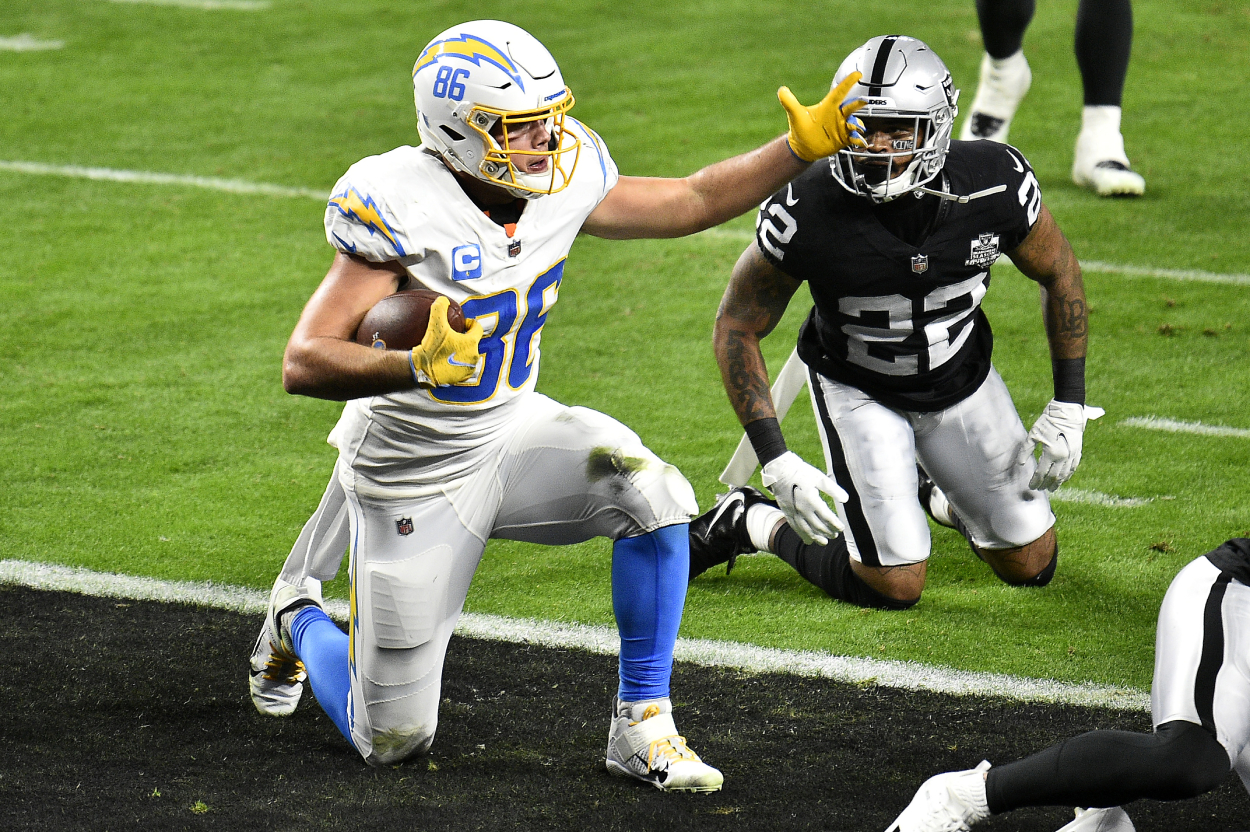 The New England Patriots Can Now Be Crossed Off Hunter Henry's Wish List
Hunter Henry's latest comments may have taken the New England Patriots out of the running to land him in free agency.
If the New England Patriots were expecting to lure Los Angeles Chargers tight end Hunter Henry via free agency, he may have mentally already crossed them off his wish list. Henry was interviewed this week named two things he'd be looking for in a new team. The Patriots aren't likely to meet either of those requirements.
Hunter Henry's football career
Hunter Henry played his college football at Arkansas. The 6-foot-5, 250-pound tight end was a second-round pick in the 2016 NFL draft. He was selected by the San Diego Chargers with the 35th overall pick.
Henry has spent five seasons with the Chargers, although he missed the entire 2018 season with a torn ACL. Henry bounced back in 2019, playing in 12 games. He caught 55 passes for 652 yards and five touchdowns. Last season, Henry had a career-high 60 catches in 14 games.
His best season came in his rookie year. Henry made quite an impact in his first season in the NFL when he had a career-high eight touchdowns. In his career, Henry has racked up 196 catches for 21 touchdowns and is entering free agency.
The New England Patriots would be a good fit for Henry
The New England Patriots have always had solid tight ends – until the 2020 season. They were spoiled with Rob Gronkowski since the 2010 season but struggled when he retired in 2019 and then left to play for the Tampa Bay Buccaneers this past year.
New England's passing game suffered from the loss of Gronk and quarterback Tom Brady. There weren't a whole lot of offensive weapons this season in New England. Veteran wide receiver Julian Edelman missed 10 games due to injury and the options just weren't there for quarterback Cam Newton.
While the wide receivers were young and untested, the tight ends were pretty much non-existent in the passing game. Adding a young, versatile, and big target like Hunter Henry to their passing game would certainly help the Patriots' cause.
Henry's comments may knock the Patriots out of the picture
If you are a fan of the New England Patriots and were hoping to land tight end Hunter Henry via free agency, you couldn't have been happy with what you heard Friday. Henry, speaking on SiriusXM NFL Radio, Henry mentioned a couple of preferences he has should he land with a new team this year.
"I think obviously, you've got to look at it financially," he said, according to WEEI.com. "I would be lying to you if I (said), 'I'm not even going to look at the money,' or anything like that. That's part of it. That's part of our job and everything. But I don't think it's all about that. I want to play somewhere where there's a good quarterback. That's huge for our position. It makes things a lot easier. … Playing with a good quarterback always makes things better. You've got to look at both. You've got to look at some of the financial stuff but not dive too deep into it that you go chasing it, because I also want to play with a good quarterback."
If you're a free agent looking for that big payday, New England is not the place to go. The same holds true if you're looking to play with a good quarterback. After Tom Brady left, the Patriots struggled with Cam Newton under center. If quarterback isn't the biggest concern for the New England Patriots heading into the 2021 season, it certainly ranks right up there.