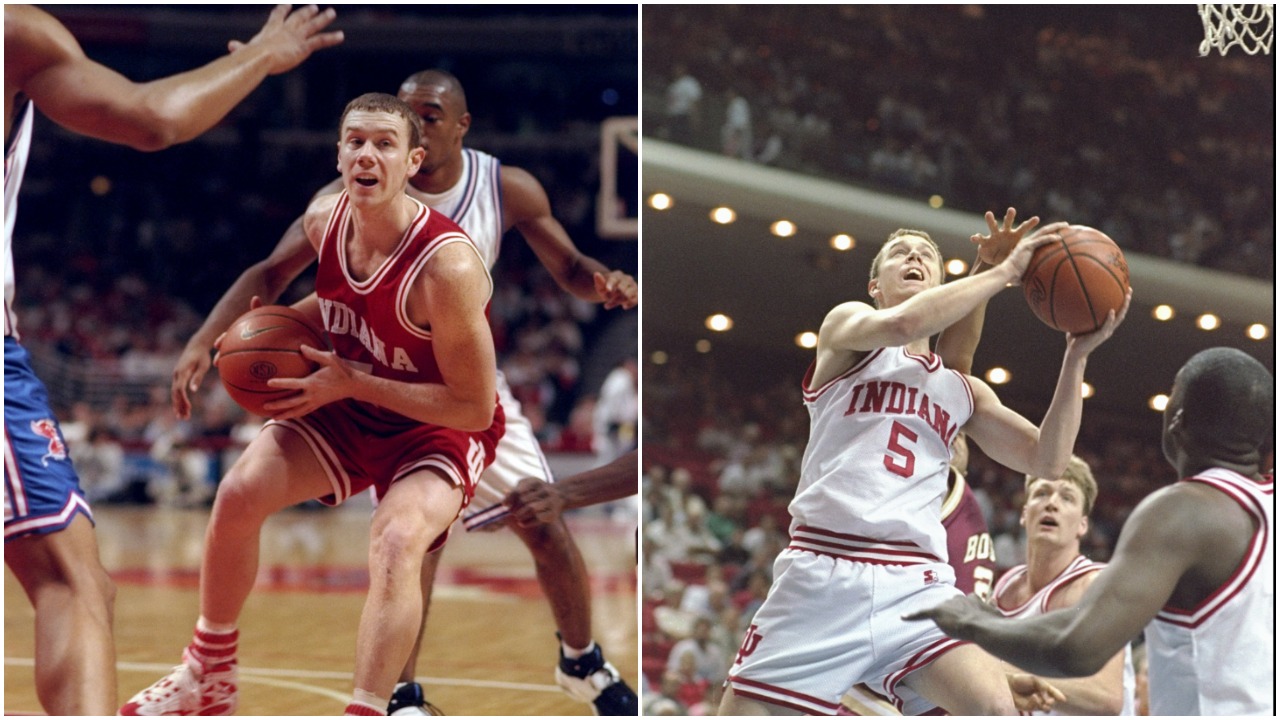 The Tragic Death of Neil Reed, the Former Indiana Basketball Star Best Known for Being Choked by Bob Knight
A look back on the life and basketball career of Neil Reed, the former Indiana star that was best known for being choked by Bob Knight.
Neil Reed will always mostly be remembered as the player that Bob Knight choked at an Indiana practice in 1997. But he was so much more than that.
Reed was a solid college basketball player, first for the Hoosiers and then for Southern Mississippi following the unfortunate incident with Knight. He transitioned to coaching high school sports and was a loving husband and father. Tragically, Neil Reed was taken far too soon, dying of a heart attack at the young age of 36.
Here's a look back on the life, career, and tragic death of Neil Reed.
Neil Reed was a solid basketball player
After playing his first two years of high school basketball in the state of Indiana, Neil Reed finished his prep career in Louisiana as the star of East Jefferson High School in Jefferson Parish. He was named the All-Metro Conference Player of the Year in each of his two years there and was named Louisiana High School Player of the Year following his senior season in 1994.
From there, it was back to Indiana, where Neil Reed suited up for the man he always wanted to play for, the legendary Bob Knight. He didn't put up big numbers as a freshman, averaging 5.9 points and 2.5 assists, but that was always going to be difficult with so many future NBA players on the roster. But Reed was always one of those guys that coaches want on their team. He hustled and dove for loose balls. He knew his role and played it well.
Reed played a bigger role in the offense his sophomore season and averaged 10.5 points per game, good for third on the team, and 4.4 assists. He upped his scoring average to 12.6 points per game his junior year and led the Big Ten in free throw percentage, shooting 85.4% from the line.
But then Neil Reed was suddenly gone from Indiana, transferring to the University of Southern Mississippi for his final year of eligibility. After sitting out a year, he averaged a career-high 18.1 points per game in his lone season with the Golden Eagles in 1998-1999. He also led Conference USA in free throw percentage that year at 84.5%.
The following year, it became quite evident why Neil Reed left Indiana.
The choking incident
In March 2000, Neil Reed appeared in a segment for CNN/Sports Illustrated during which he accused Bob Knight of choking him. Reed claimed that Knight had abused him both physically and mentally during his tenure with the Hoosiers, which he later said made him fall out of love with the game of basketball. Knight denied the accusations but just a short time following the initial piece, a video was released that clearly showed the incident taking place at an Indiana practice.
Bob Knight was put on a zero-tolerance policy by then-university president Myles Brand and was relieved of his duties in September 2000 after being accused of grabbing a student's arm. Despite the volatile history between the two, Neil Reed told ESPN that the firing of his former coach didn't bring him any joy.
"Believe it or not, I'm not happy that Indiana fired coach Knight. I don't have any feelings about it, mostly because I've had to stand alone for so long. In a way, I've been proven right, but that doesn't make my life any easier."

Neil Reed on the firing of Bob Knight
The outrage against Neil Reed was quite fierce. He was labeled a snitch and a whistleblower and the sole reason that Bob Knight was fired, even though there were plenty of other incidents that contributed to the dismissal. Knight would end up at Texas Tech while Reed just wanted to get on with his life.
Neil Reed passed away at the age of 36 following a heart attack
Despite the backlash from the choking incident, Neil Reed moved on with his life. He played a year of pro ball in Europe. Upon his return to the U.S., he attended grad school at LSU and took an internship with ESPN Magazine before settling in California. Reed got married and had two daughters, Marley and Pressley. In 2007, he became a P.E. teacher at Pioneer Valley High School in Santa Maria and also coached golf, football, and one season of basketball.
Tragically, Neil Reed passed away on July 26, 2012, after suffering a massive heart attack in his home. He was just 36.
*All stats courtesy of Sports-Reference