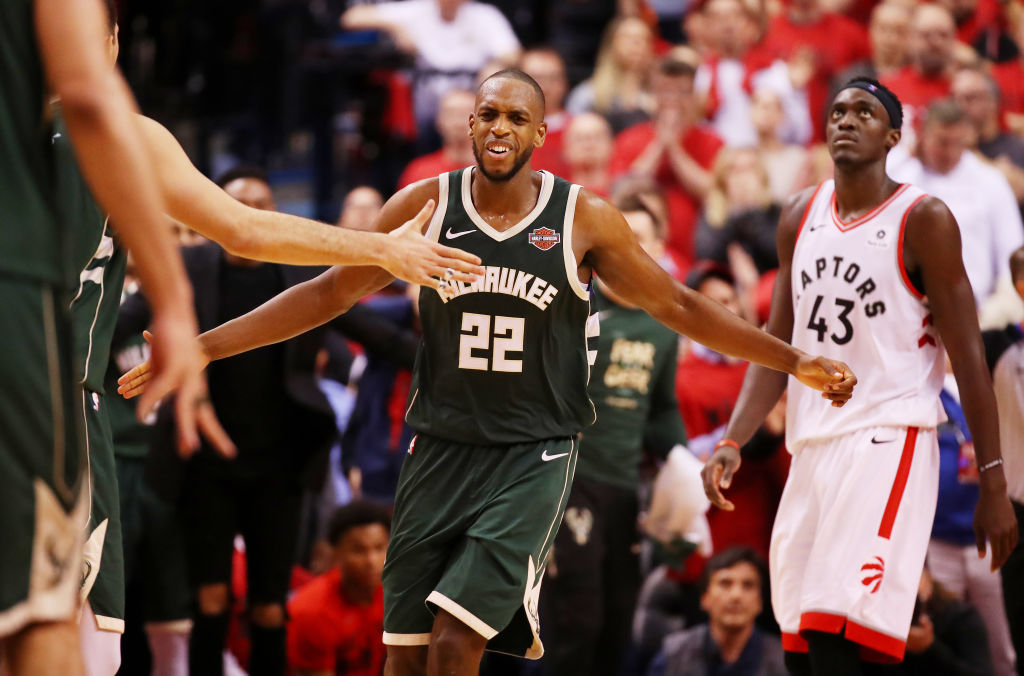 The Worst Contracts in the NBA
It's time to reevaluate the big deals players signed and how it will affect franchises going forward. These are the worst NBA contracts.
With NBA free agency all but wrapped up, it's time to reevaluate the big deals players signed and how it will affect franchises going forward. Big trades were also made to keep teams competitive out West, so today we will have a look at the worst contracts in the NBA.
Khris Middleton: Milwaukee Bucks (five years, $177 million)
How can a new contract be considered a bad deal? Middleton was a really good player for the Milwaukee Bucks, last year's No. 1 seed in the Eastern Conference. But if we had to choose between the 27-year-old and Malcolm Brogdon, we'd choose Brogdon.
When given the opportunity, Brogdon can be a 50-40-90 player. While Middleton averaged 18 points and six rebounds per game last season, we think the final two years of this contract will fill Bucks fans with regret, as we don't see his ceiling getting any higher.
Chris Paul: Oklahoma City Thunder (four years, $159 million)
When the Rockets signed Chris Paul to a max contract last offseason, it was met with concern from the national NBA fanbase. Paul has always been talented. He's arguably one of the five best point guards in NBA history, but he's very injury prone and has never done much in the playoffs.
Then, you include the 15% trade kicker that increased his salary when the Rockets dealt for Russell Westbrook, and you are looking at a player who will be hard to move again.
Andrew Wiggins: Minnesota Timberwolves (five years, $147 million)
Although Wiggins is just 24 years old, we think this is a horrible deal because he hasn't grown into the player who many envisioned. Comparisons to Tracy McGrady and Kobe Bryant were too generous, and Wiggins has been solid at best. He doesn't play the hardest on the defensive end and doesn't have the best shot selection.
A team looking to rebuild that can take on the cap space could take a flyer on Wiggins, although it would have to be a team with strong leadership in the locker room.
Russell Westbrook: Houston Rockets (five years, $206 million)
Aligned with Paul, Westbrook's contract made him a $200 million player when he re-signed with the Oklahoma City Thunder. After Paul George requested a trade to the Los Angeles Clippers, Westbrook saw that a rebuild was starting to take shape and asked to be dealt as well.
Reuniting with James Harden could make the Rockets an exciting team to watch next season. Westbrook has averaged a triple-double for each of the last three seasons. Can he make it a fourth?
John Wall: Washington Wizards (four years, $171 million)
With Kevin Durant missing the 2019-20 season, we can't completely bash the Wizards for Wall more than likely missing the first year of this contract. It's still a horrible deal because Wall and Bradley Beal have not been enough to keep the Wizards relevant in the Eastern Conference.
Washington is likely missing the playoffs again next season. And who knows how healthy Wall will be when he returns. His 15% trade kicker also doesn't help things. Although Washington has offered Beal a contract extension, he has not signed it. We think he would be smart to leave the team via free agency when his current contract is up.
Who do you think has the worst contract in the NBA?
Going through our five picks for worst contracts in the NBA, who do you think has the worst? For more news from around the league check out our NBA section!