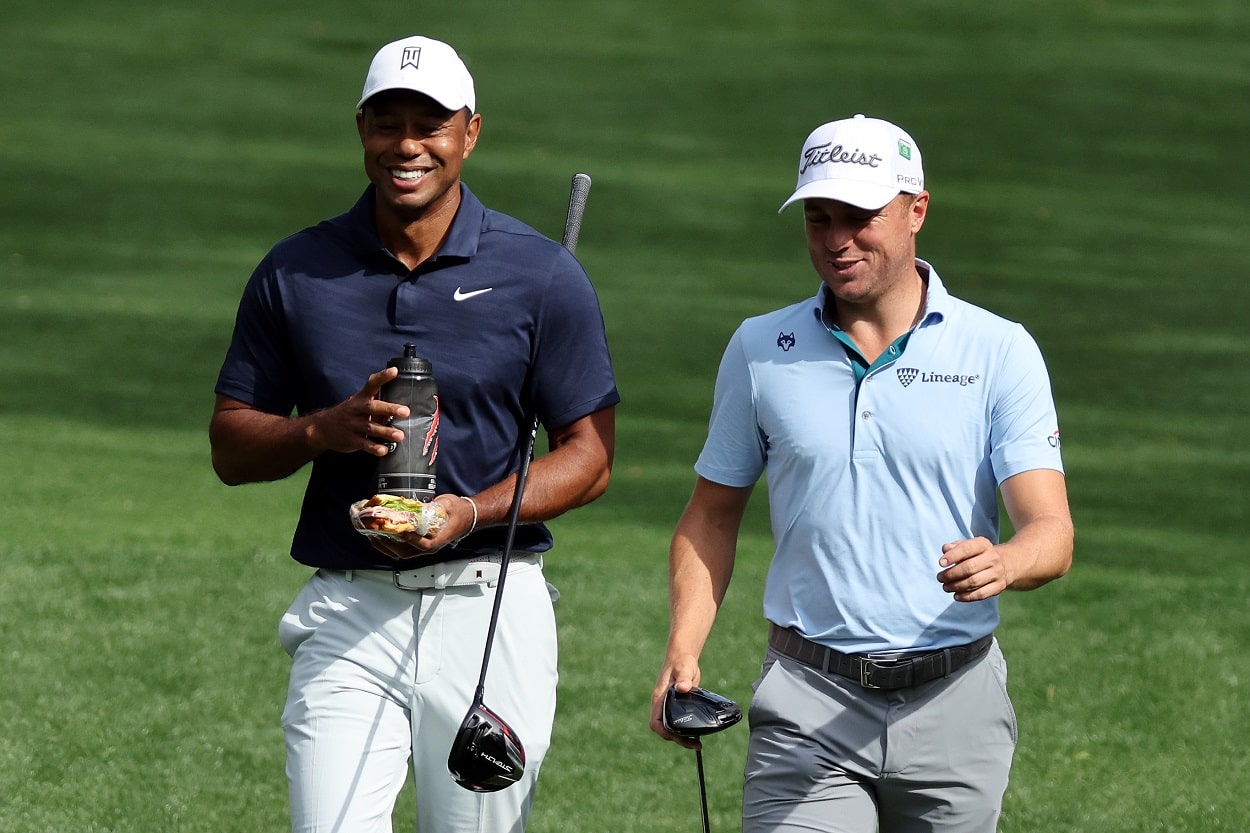 Tiger Woods Gets Roasted by Justin Thomas on His Preparation Tactics for The Open Championship at St. Andrews
Justin Thomas joked about Tiger Woods using a cart in preparation for The Open Championship.
Assuming his mobility holds up over the next few days, Tiger Woods will be in the field when the 150th edition of The Open Championship kicks off at historic St. Andrews.
The Old Course will undoubtedly be a tough test for Woods, who skipped the U.S. Open at The Country Club in Brookline after playing The Masters and PGA Championship. Tiger withdrew ahead of the final round at Southern Hills, where he literally limped his way to a 9-over 79 in the third round, his highest-ever score in the PGA.
But despite still visibly recovering from the February 2021 car crash that nearly took his right leg, Tiger is ready to give it a go at St. Andrews, where he's won two of his three Claret Jugs. He won by a staggering eight strokes in 2000 during his historic "Tiger Slam" and then went wire-to-wire in 2005 to claim the 10th of his 15 major championships.
While there's certainly a strong chance Woods won't contend for a fourth Claret Jug, it'll still be great to see him play the Old Course one final time, especially on such a special anniversary. And perhaps he'll play when The Open returns to St. Andrews next time. But as that won't happen until at least 2026 (the future sites are set through 2025), when he'll be 50, let's enjoy one where he still has a chance to win, as small as that chance may be.
Justin Thomas is excited to see his good friend tee it up at St. Andrews and doesn't seem to be worried about Woods' legs holding up on the Old Course. But the reigning PGA champ did recently throw a little shade in Tiger's direction — the fun kind, of course — when discussing how his pal prepped for this historic major championship.
Justin Thomas roasts Tiger Woods for using a cart in preparation for The Open Championship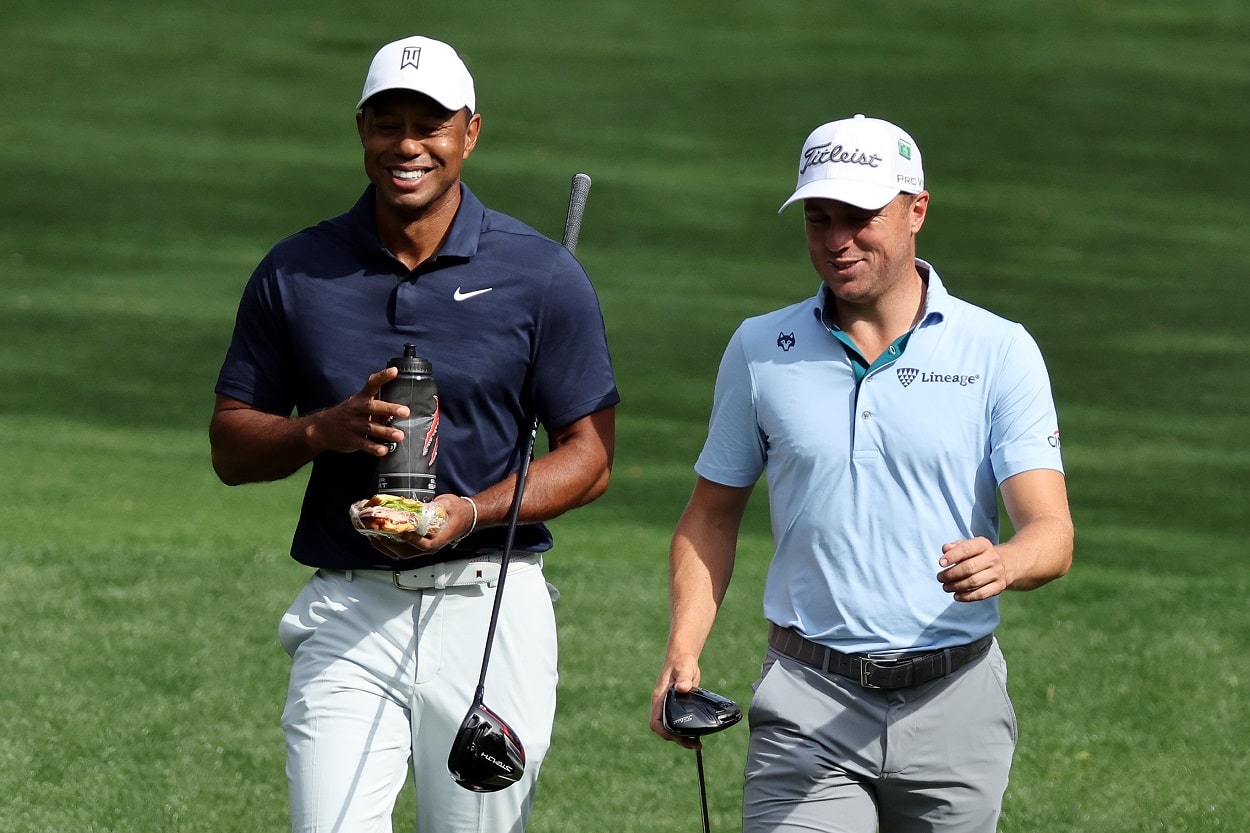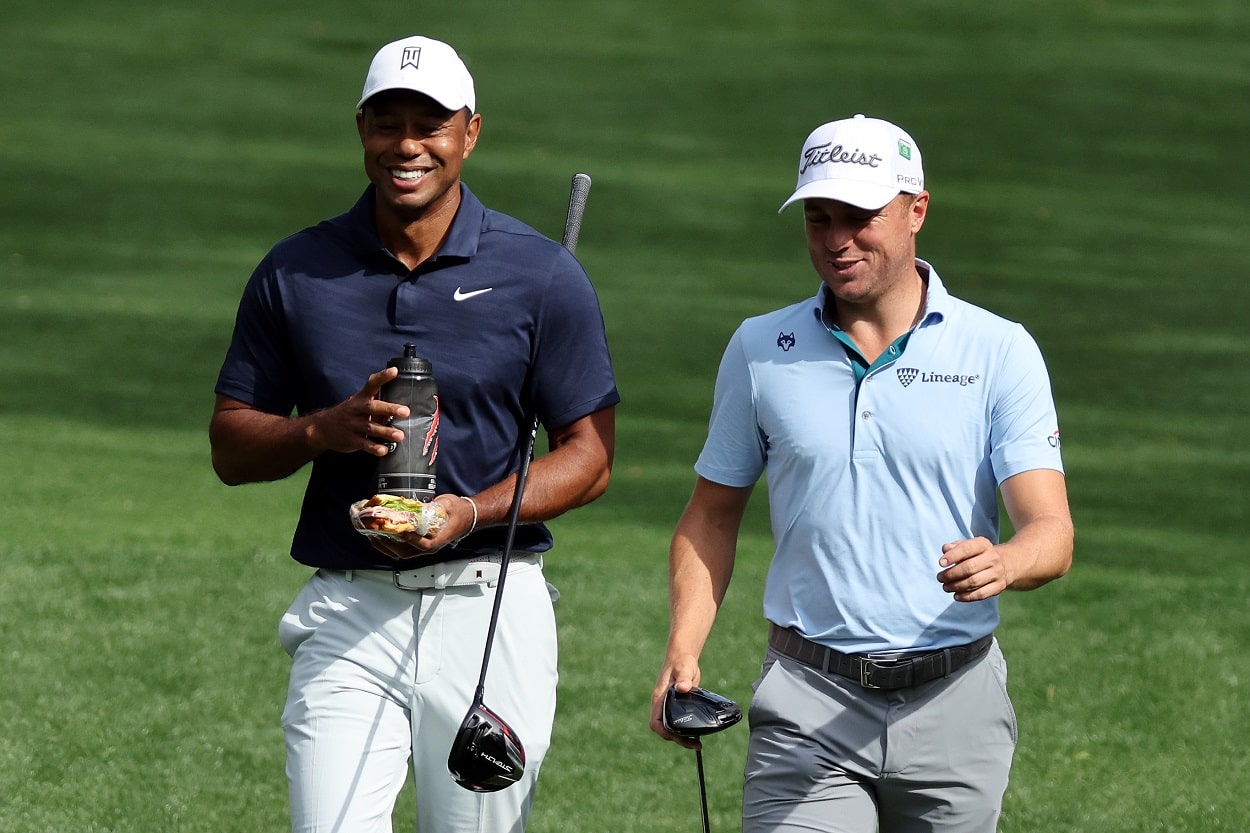 ln preparation for The Open Championship, Tiger made his way across the pond to participate in the 36-hole JP McManus Pro-Am at Adare Manor in Ireland. Woods didn't play particularly well, shooting rounds of 77 and 74 to finish 39th in the 50-player field at 7-over, 17 shots behind winner Xander Schauffele.
Wanting to save his legs for St. Andrews, Woods used a cart at the event, something he obviously won't be able to do at The Open. And the 82-time PGA Tour winner certainly got some jokes thrown his way for doing so.
One of those came publicly from Thomas, who was in the field for this week's final tuneup ahead of St. Andrews, where he missed the cut. As the two are so close, JT is consistently asked about Woods during his press conferences, and he had some fun at his buddy's expense before getting a touch more serious (h/t Scottish Daily Express).
"We kept talking about our legs being sore and asking him if his butt was sore sitting on that cart.

"But I know that he's been circling this on his calendar for a while and he's been vocal about that. It's his favorite golf course in the world and he loves it, and obviously he's had some great success there.

"And compared to Augusta and Southern Hills, it's probably going to seem like a pretty easy walk."

Justin Thomas on Tiger Woods
Thomas went on to say that he knows everyone is excited to see Tiger tee it up at The Open and that he's "not worried about him" getting around St. Andrews.
Woods' attempt at major number 16 begins Thursday.
Like Sportscasting on Facebook. Follow us on Twitter @sportscasting19 and subscribe to our YouTube channel.