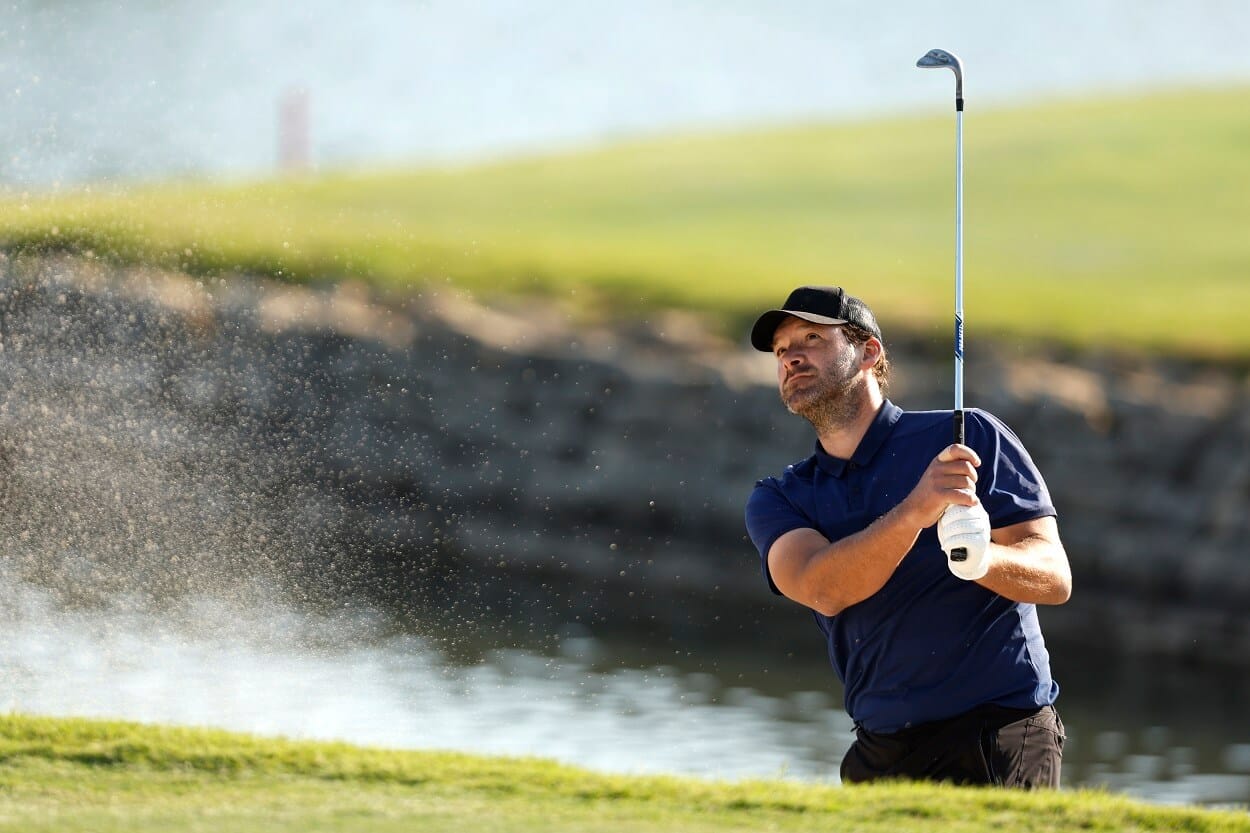 Tony Romo Is All Set For His Next Attempt in a Professional Golf Tournament
Tony Romo is set to tee it up in a professional golf tournament on the All Pro Tour.
It's no secret that former Dallas Cowboys quarterback Tony Romo loves his golf. It's also no secret that the four-time Pro Bowler is pretty darn good at it.
In fact, Romo possesses so much talent that Tiger Woods once said he was one of two former professional athletes with whom he's played that could make a real run at the senior tour down the line. However, the 43-year-old still has nearly seven years before he can make that attempt.
Romo has made several professional starts in the past, including one on the PGA Tour and three on the Korn Ferry Tour. He's also attempted to qualify for the U.S. Open on several occasions and has won several celebrity events, most recently the Invited Celebrity Classic at Las Colinas Country Club in Irving, Texas.
The Wisconsin native also often plays several amateur events throughout the year and has been ranked as high as 1,262nd in the World Amateur Golf Ranking. While that might not sound overly impressive, just think about how many amateur golfers there are worldwide.
Yeah, the guy can play.
As for his next outing, Romo is set to take his talents to Central Illinois to tee it up on the All Pro Tour, a tour where several PGA Tour stars and even a couple of major champions have participated over the years.
Tony Romo is set to tee it up in an All Pro Tour event in Illinois
For those unfamiliar with the All Pro Tour, it's been in operation since 1994 and typically runs events in the Mid-South region of the United States. While the organization's primary goal is to help local non-profits raise money, the APT also gives those looking to make a living at golf a place to hone their skills and make some cash as they attempt to make their way to more lucrative tours.
And plenty of recognizable names have come through the All Pro Tour over the last three decades, a list that includes a pair of Masters champions, Bubba Watson and Scottie Scheffler, as well as young PGA Tour superstar Will Zalatoris.
As mentioned, the APT typically runs tournaments in Mid-South states, specifically Texas, Louisiana, Oklahoma, Arkansas, Missouri, and Kansas, but will make its way to Illinois for the first time at the end of this month for the inaugural Children's Hospital of Illinois Championship.
The 72-hole event, which officially begins Wednesday, June 28, will take place at Metamora Fields Golf Club, which is located roughly 15 miles outside of Peoria, Illinois, and will feature a 156-man field that includes the top 25 players in the APT standings — and, of course, Tony Romo, who played his college ball just a couple hours south at Eastern Illinois University.
And outside of participating in the official tournament, Romo has a busy week lined up. He's set to visit the Children's Hospital of Illinois in Peoria on the morning of Tuesday, June 27, and will then head to Metamora Fields to participate in the Pro-Am that afternoon. Romo is then expected to participate in a meet-and-greet with fans that evening, a night that also features a concert headlined by country music star Mitchell Tenpenny.
While the tourney does feature a $162,500 purse, of which Romo will see none given his amateur status, all proceeds from the event will go directly to the hospital. In an effort to raise even more money, three-person teams are being given the opportunity to qualify for the Pro-Am. Metamora Fields and its sister course, Peoria's Weaver Ridge Golf Club, will serve as hosts, as will Sunset Hills Golf Course in nearby Pekin, where a certain golf writer here at Sportscasting just happens to make his residence off the 15th green.
Tony Romo's involvement will undoubtedly help boost attendance, which means more money toward a wonderful cause. And he'll get yet another chance to see how his game stacks up against the pros, some of whom may very well be household names down the line.