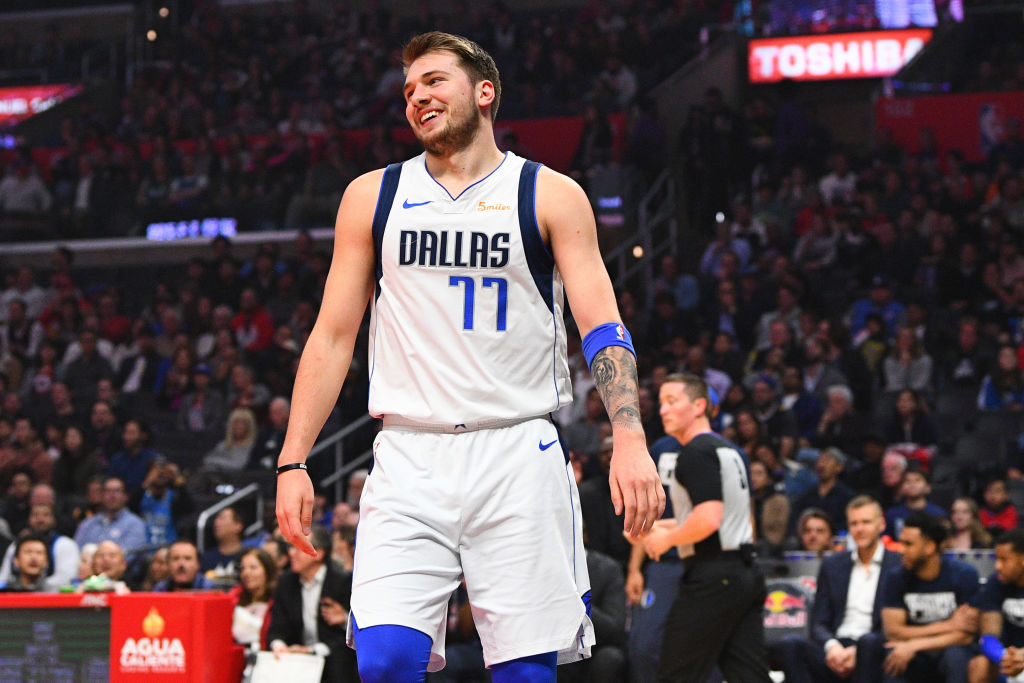 The Top 5 Candidates for 2019 NBA Rookie of the Year — So Far
Young players are taking over the league, and the way we see it, five players are solid NBA Rookie of the Year candidates.
The 2018 NBA draft provided some compelling storylines in the offseason. With a new head coach, would the Phoenix Suns select the European star Luka Doncic? Or would they select the best player in college basketball out of the same state in DeAndre Ayton? Would either one be a potential NBA Rookie of the Year winner?
There were a number of surprising picks that changed the course of franchises for the next decade. As we head into the final stretch of the 2018-19 regular season, some rookies have made solid impacts on their teams and could be household names in just a few short seasons.
Here's a look at our top five NBA Rookie of the Year candidates so far (stats through Feb. 25).
5. Jaren Jackson Jr. — Memphis Grizzlies (13.8 PPG, 4.7 RPG, 1.4 BPG)
The Grizzlies didn't win the lottery and ended up with the number four pick in the 2018 draft. Instead of going with a more polished product, the Grizzlies decided to select long and athletic big Jaren Jackson Jr. The former Michigan State freshman showed flashes of excellence during his time in East Lansing and quickly ingrained himself into the Grizzlies lineup.
After trading away Marc Gasol before the deadline, it is clear that the front office is investing in their future and Jackson looks like a potential All-Star. For the month of February, he is averaging 16.8 points, five rebounds and almost one block per game. A quad injury will sideline him for the next couple of weeks, but he is still having a great rookie campaign.
4. Marvin Bagley III — Sacramento Kings (10 PPG, 7.2 RPG, 1.0 BPG)
The Kings had the second pick in the draft and although they have been a laughing stock for much of the last couple of seasons you can rationalize why they didn't select Luka Doncic to pair in the backcourt with budding star  De'aaron Fox. Fox has improved immensely in his second season and you can only question whether or not he would have the same development with Doncic playing alongside him.
Marvin Bagley looked like double-double machine coming out of Duke last season and he has continued his great ability to score in the post as he is averaging nearly 14 points per game to go along with seven rebounds. The month of February has seen him really hit his stride as he's averaging 17. 4 points per game and 9 rebounds. Expect the stretch run to be even more dominant for Bagley.
3. Trae Young — Atlanta Hawks (17.5 PPG, 7.7 APG, 3.3 RPG)
Trae Young and Luka Doncic will always be connected for their entire NBA careers. The Atlanta Hawks traded the number three overall pick (Doncic) for the rights to Young and a future first-round pick. So far he has shown flashes of playing at an All-Star level. He can break defenders down off the dribble and has one of the deepest ranges in the NBA already.
Young has suffered some slumps and for the season is shooting 31% behind the arc. He has done a good job distributing the ball, and he averaged 20 points and nine assists for most of February. The foundation for Atlanta to make a run at a playoff spot next season is there with Young leading a talented group of up and comers.
2. DeAndre Ayton — Phoenix Suns (16.5 PPG, 10.5 RPG, 0.9 BPG)
The top overall pick was pretty much a lock for most of the college basketball season. Arizona's early exit in the NCAA tournament first round was very surprising, but Ayton wasn't to blame for the team's loss. He was a double-double machine in college and has continued that trend during the 2018-19 NBA season.
The University of Arizona product has played well alongside Devin Booker and the two could become a dynamic one-two punch in the Western Conference. Although his numbers have been very impressive, Ayton might be a long shot to win NBA Rookie of the Year honors. The reason? A transcendent player from Slovenia.
1. Luka Doncic — Dallas Mavericks (20.9 PPG, 7.2 RPG, 5.7 APG)
You can't fault Phoenix for taking Ayton with the number one pick. You can even make an argument on why Sacramento should've passed on him at number two. However, no one can reasonably sit there and look at you and say that Trae Young was a better prospect than Doncic. This trade will go down as one of the worst in Atlanta sports history, as Doncic has looked like a Hall of Fame level player since the moment he stepped on an NBA court.
Doncic is a once in a generation talent and the Mavericks will be very happy with the type of player he becomes as he gets better defensively and improves his shot selection. For now, he is virtually a lock to win NBA Rookie of the Year when the regular season concludes.