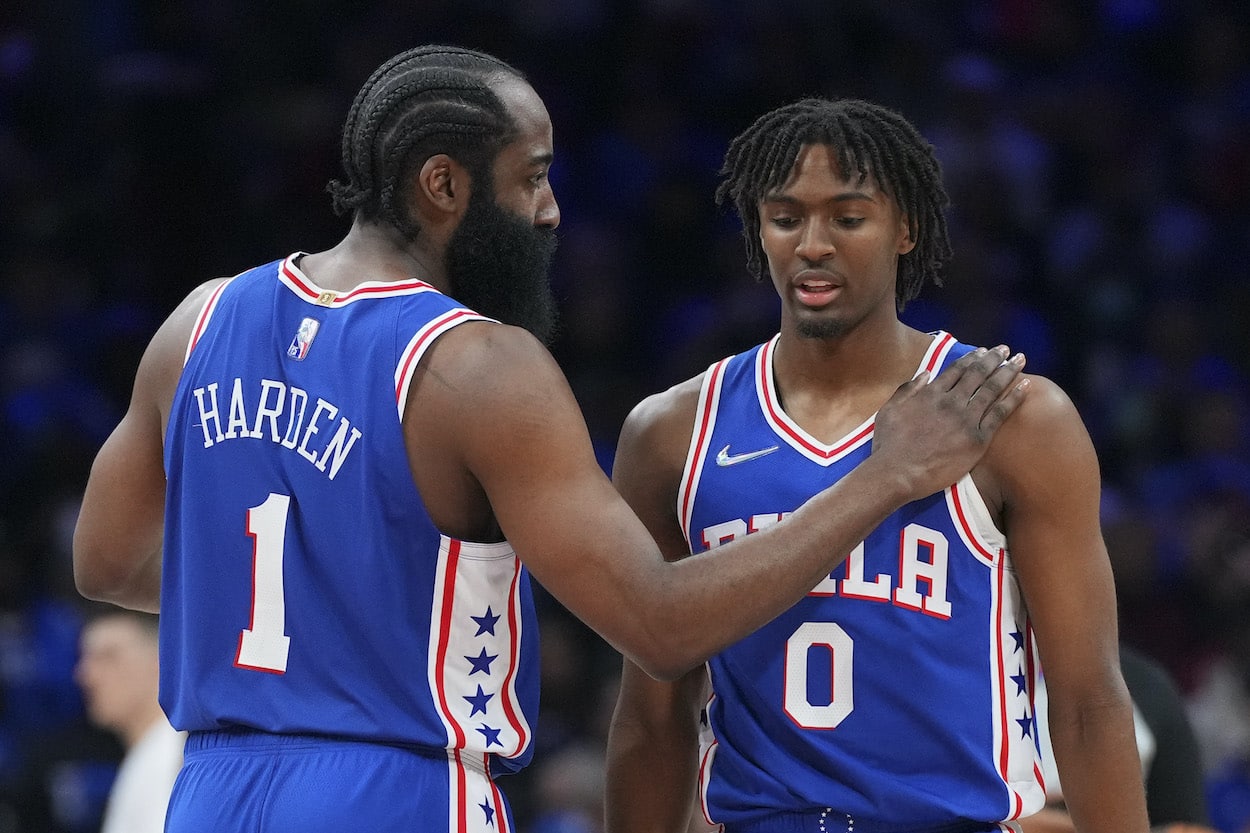 Tyrese Maxey Has Supplanted James Harden as the Best Player on the 76ers Not Named Joel Embiid
Tyrese Maxey is going to be an All-Star for the Sixers this season.
The Philadelphia 76ers brought James Harden to town to form the most dynamic one-two punch in the NBA alongside Joel Embiid. Philly might still end up with the best offensive duo in the league this season, but Harden won't be a part of it.
Instead, it'll be Tyrese Maxey.
Maxey showed us a glimpse of his unlimited potential in the playoffs last season, and he looks poised to make the All-Star jump this year based on what we're seeing from him in the preseason. It's not hyperbolic to say that Maxey is already the second-best player on this Sixers roster. The only problem will be whether or not Harden is willing to accept it.
Tyrese Maxey will be an NBA All-Star in 2023
When Maxey joined the 76ers in the 2020 NBA Draft, he was simply a tantalizing prospect with a glaring flaw. The Kentucky product was a lightning bolt in transition, could blow by even the quickest defenders in isolation situations, and knew how to finish at the rim at full speed. But Maxey made just 29.2% of his three-point attempts in college, which is the biggest reason why he fell to 21st overall in the draft.
Maxey didn't show much improvement in the shooting department as a rookie, as he shot 30.2% from three in 103 attempts. There were still flashes of brilliance on the offensive end, but he seemed to be viewed as a complementary piece instead of a franchise cornerstone.
That quickly changed in Year 2.
Maxey went to work on his jump shot in the 2021 offseason, and he returned for his second season as a completely different player. Suddenly, the young guard morphed from a liability as a shooter to one of the most lethal three-point snipers in the NBA. Not only did he triple his three-point attempts from 103 to 309, but he also raised his average to 42.7%. Only two players in the entire league made threes at a better clip than Maxey.
In the postseason, Maxey officially made the jump from role player to go-to scorer. At just 21 years of age, he played the most playoff minutes of anyone on the Sixers roster. He also scored more points, shot the ball better from the field and from three, and coughed up fewer turnovers than Harden throughout Philly's postseason run.
And guess what. Maxey has only improved since then.
In 53 minutes played this preseason, Maxey has scored 60 points on 21-of-33 shooting from the field and 8-of-12 from three. He currently leads the NBA in points per 36 minutes in the preseason (40.2).
We're witnessing the emergence of a superstar in real time, and he'll be in Salt Lake City next year for his first career All-Star appearance.
Tyrese Maxey has already supplanted James Harden as the Sixers' second-best player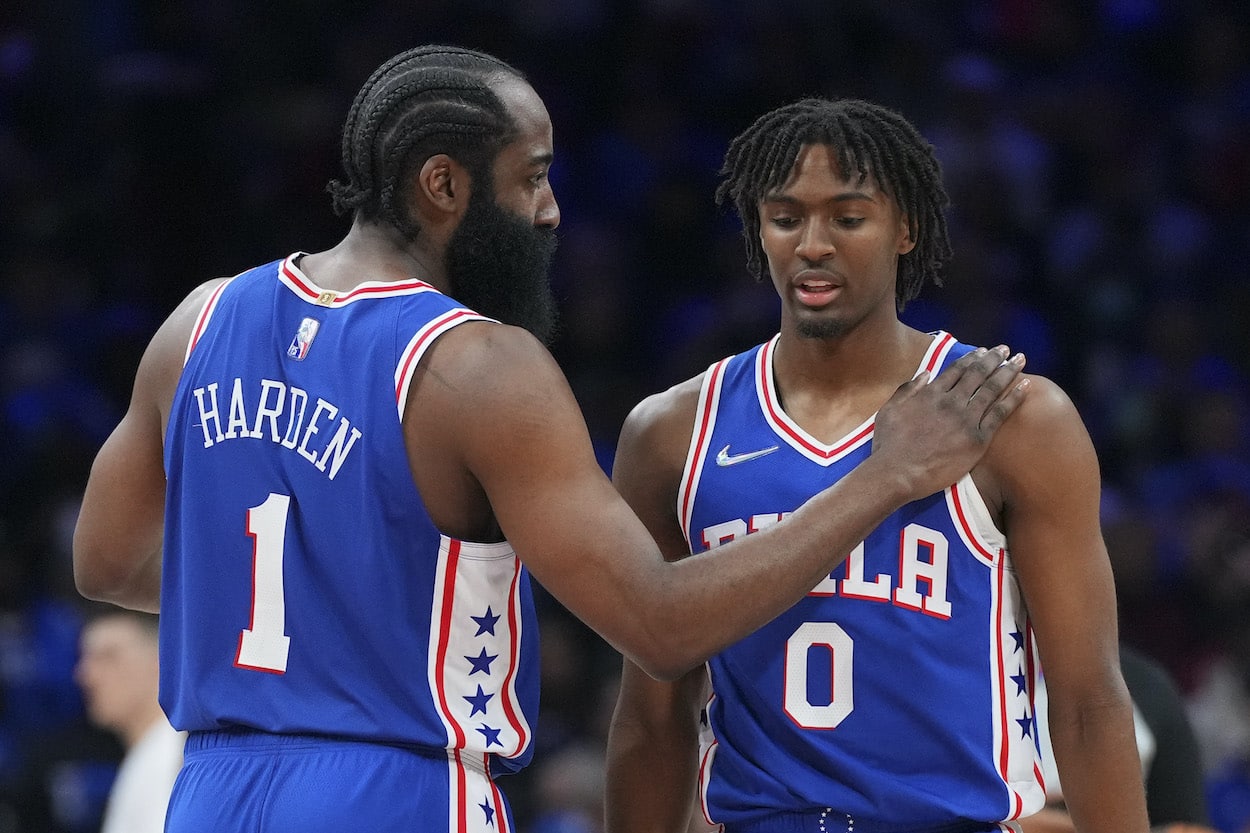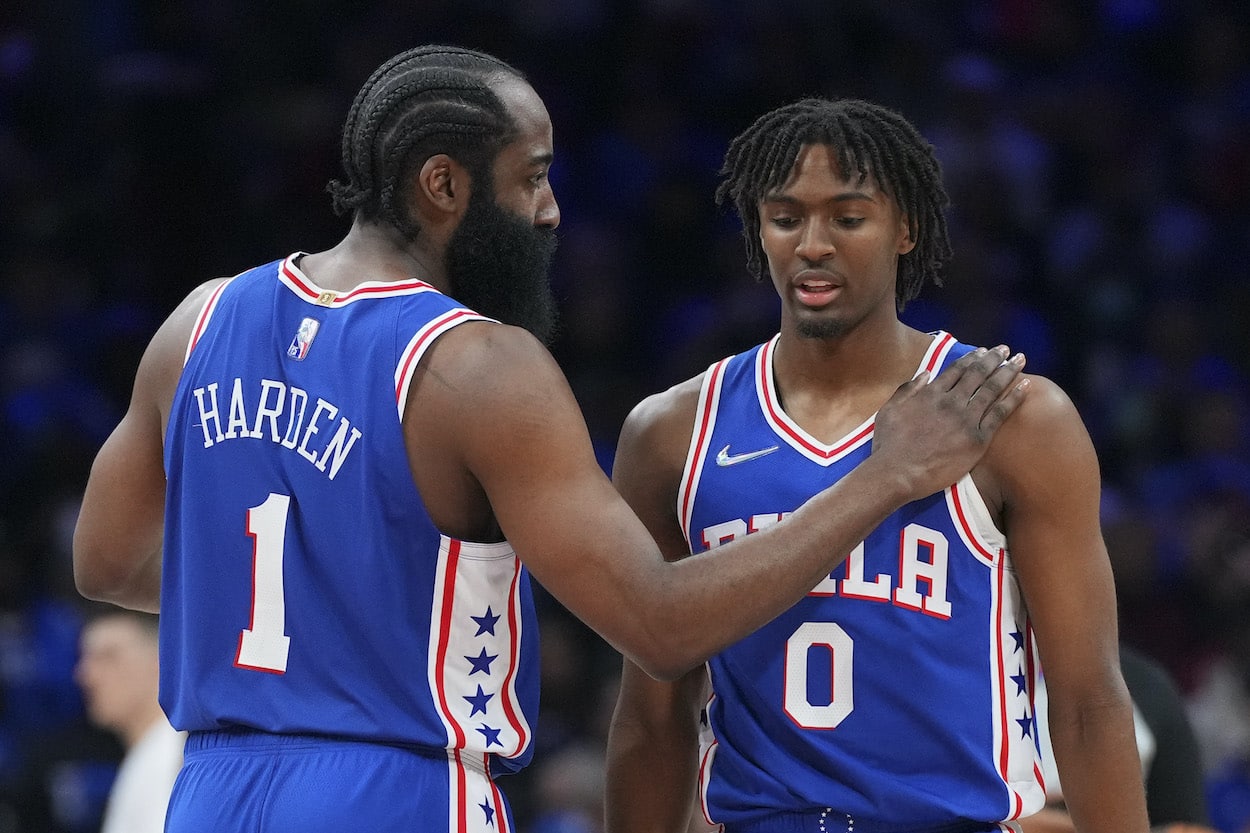 Maxey's development has been a treat to watch early in his career. He's only going to improve upon his 17.5 points and 4.3 assists per game last season with increased usage in Year 3.
But in Harden's case, his production and efficiency have been on the decline since he left the Houston Rockets. His scoring, field-goal percentage, and three-point percentage have fallen off a cliff since 2020. Last season with the Sixers, Harden recorded the lowest shooting percentage (40.2%) and three-point percentage (32.6%) of his entire 13-year career.
There's optimism that Harden can bounce back in 2022-23 after a healthy offseason, but Philadelphia would be better off with Maxey taking over as the No. 2 scoring option. If Harden can accept a new role as a pass-first point guard (which is a huge if), the sky is the limit for this Sixers team.