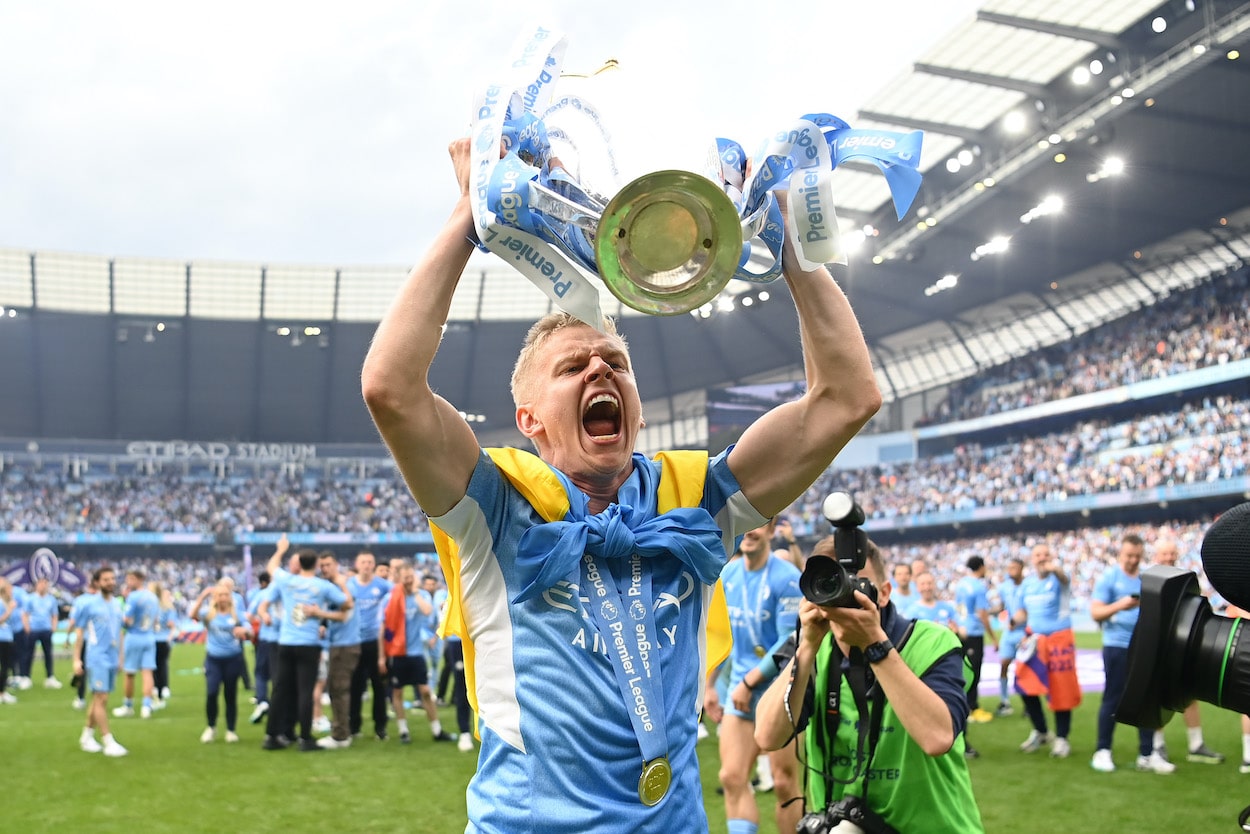 Ukrainian Manchester City Star Oleksandr Zinchenko Breaks Down After Winning Premier League Title: 'I'm So Proud to Be Ukrainian, and I Would Love to 1 Day Bring This Title to Ukraine'
Manchester City's Oleksandr Zinchenko lifted his fourth Premier League title on Sunday but this one mean more because of the war in Ukraine.
Manchester City once again staged a miraculous comeback on the final day of the Premier League football season to win its fourth EPL title in five years. For one City player, though, this title meant more than the others. Ukrainian Man City star Oleksandr Zinchenko won this trophy for his war-torn home country. And, after the match, he got emotional about the whole situation.
Oleksandr Zinchenko's substitution kick-started Manchester City's miraculous comeback
One of the side stories of Manchester City's final game of the 2021-22 Premier League season was that it was Fernandinho's final match for City. The 37-year-old Brazilian came to Manchester from Ukraine's Shakhtar Donetsk in 2013 and won five EPL titles in sky blue.
In Sunday's must-win game against Aston Villa, City manager Pep Guardiola started Fernandinho at center-back and put CB John Stones at right back.
This formation led to Villa taking a 1-0 lead at the break.
At halftime, the veteran Brazilian came off, and the squad's normal starting left back, Oleksandr Zinchenko, came on. Aston Villa did still scored a goal after this substitution to go up 2-0. However, Zinchenko's insertion was the first step to City's offense looking like itself in the second half.
Guardiola would eventually put on to other offensive stalwarts, Raheem Sterling and İlkay Gündoğan. Then, Man City went on to score three goals in less than five minutes to pull off a stunning victory and steal the 2021-22 Premier League title from Liverpool.
Zinchenko assisted on the second goal by Rodri and, after the win, had one of the most memorable post-match celebrations in recent memory.
Oleksandr Zinchenko got emotional discussing his homeland
When the final whistle blew on Manchester City's stunning comeback win over Aston Villa, it meant that Oleksandr Zinchenko would lift his fourth Premier League title. However, this one meant so much more to him with a war raging in his home country of Ukraine.
In a touching and inspirational moment during the celebration, Zinchenko wrapped the Ukrainian flag around the Premier League trophy and then told Sky Sports:
It's unforgettable emotions for me. For all Ukrainians which, at the moment, are starving. They are surviving in my country because of Russian aggression. I'm so proud to be Ukrainian, and I would love to one day bring this title to Ukraine. For all Ukrainian people because they deserve it.

Oleksandr Zinchenko on Ukraine and the Premier League
Zinchenko continued by saying his teammates and City fans' support "mean everything" to him because they've been there for him during "the toughest period in [his] life." The full back said, at times during the war in his home country, he "didn't even think too much about football," but all the support has helped him persevere.
Now, with the 2021-22 European football season over, Ukrainian players' attention will stay on the war at home but will also turn to qualifying for the 2022 World Cup.
Can Ukraine qualify for the World Cup?  
When real-life tragedy strikes, like the war in Ukraine, sports falls by the wayside. However, we've sometimes seen sports help buoy the spirit of a country and of a people during the darkest times.
We've seen it in the United States when the NFL and the MLB Playoffs helped give Americans a sense of pride and normalcy following 9/11.
In 2022, the Ukrainian Men's National Team is trying to do the same. Due to the war, Ukraine's World Cup qualifying matches have been delayed. The team will resume its qualifying efforts on June 1, though, in a playoff matchup with Scotland.
If Oleksandr Zinchenko and company can beat the Scots, the side will face Wales on June 5. If the team can win that, they will make the 2022 World Cup in Qatar.
Whichever of the three teams come out of this early June playoff, they will go into Group B and face the USMNT, England, and Iran in the Group Stage.
Like Sportscasting on Facebook. Follow us on Twitter @sportscasting19 and subscribe to our YouTube channel.