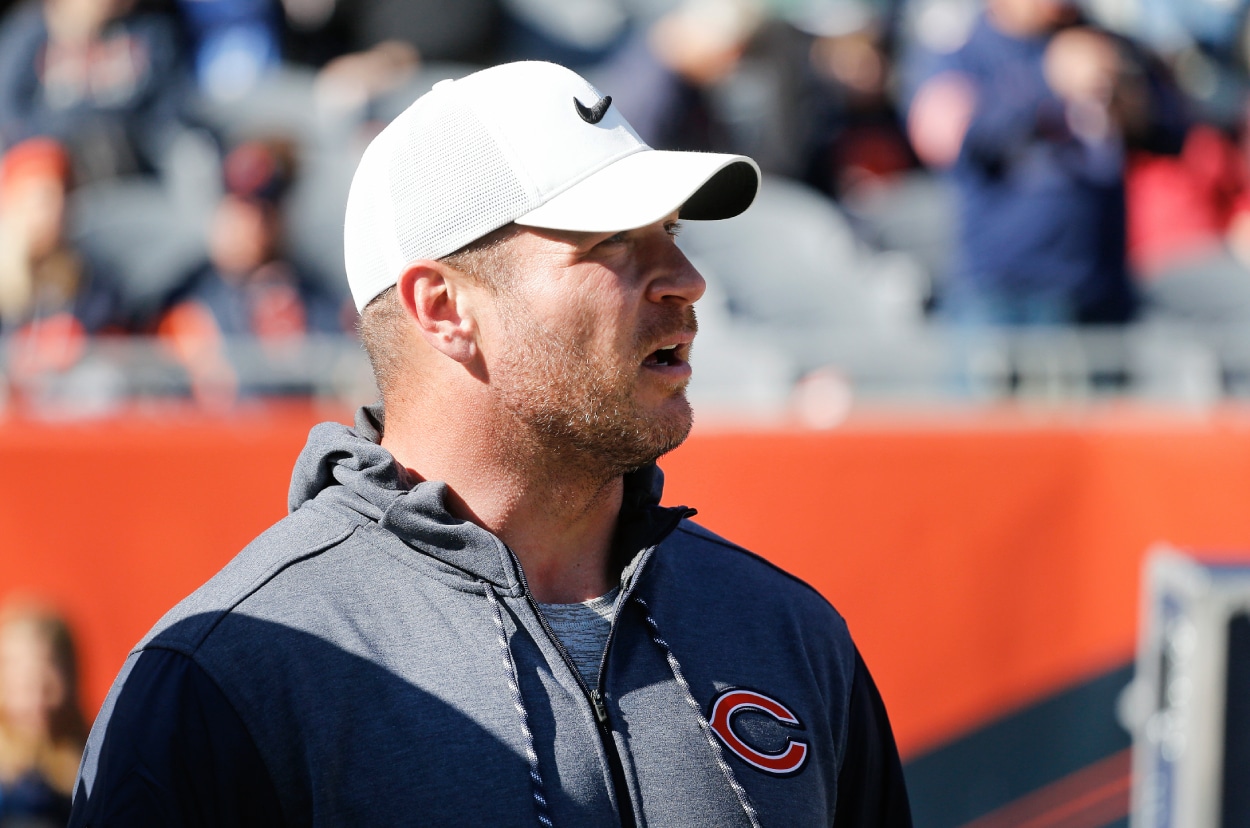 Was Jay Cutler a Tough QB? Former Bears Teammate Brian Urlacher Tells All
Brian Urlacher set the record straight on the toughness of his former teammate, quarterback Jay Cutler.
Former Chicago Bears quarterback Jay Cutler took a beating against the Green Bay Packers in the NFC Championship in 2011. After the game, he also took a beating from fans and players, who questioned his toughness.
Cutler struggled early in that conference title game. Early in the third quarter, the Bears quarterback suffered a knee injury and was listed as questionable to return. He never did. Behind backup quarterback Caleb Hanie, the Bears mounted a comeback that fell short, 21-14.
Former Bears linebacker Brian Urlacher talked about that game and Cutler specifically this week on the Bussin' With the Boys podcast. He offered his thoughts on how tough Cutler was.
Jay Cutler was mocked after the playoff loss to the Green Bay Packers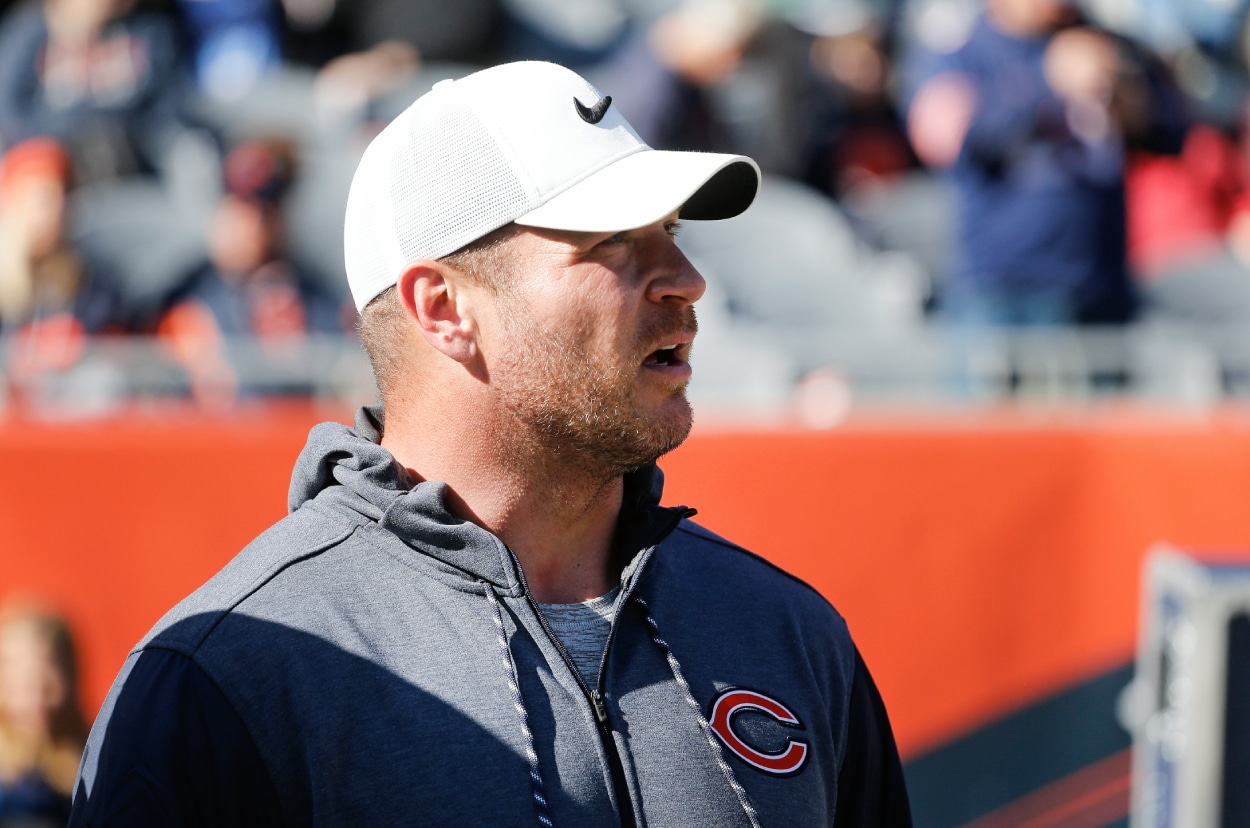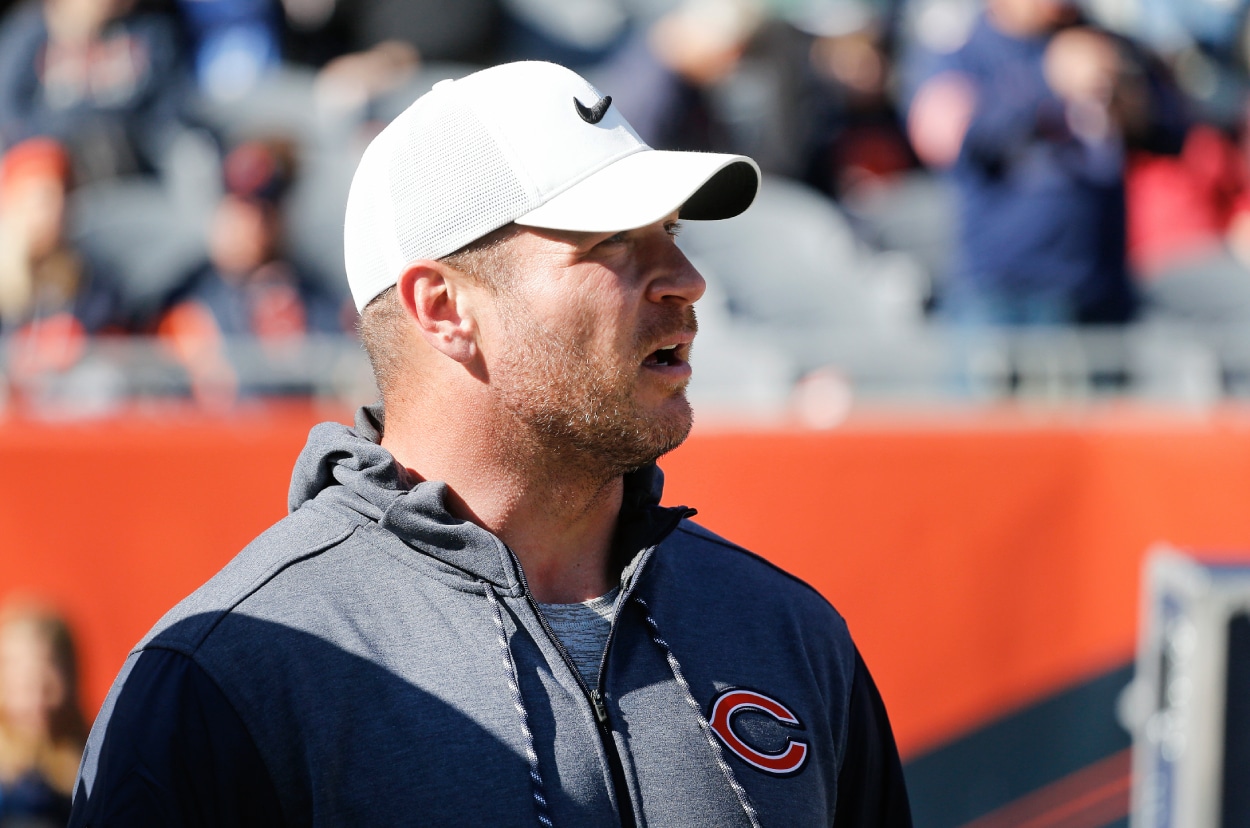 Cutler's leadership skills were always questioned. Was he the right guy to guide the Bears? He had a million-dollar arm, but many wondered if he could lead a team to a championship.
In the NFC title game against the Packers, his leadership and toughness were in serious question. The Packers jumped on the Bears early, taking a 21-7 lead. Cutler couldn't get the Chicago offense going. According to ESPN, he was 6-of-14 for 80 yards and one interception (31.8 quarterback rating) before suffering the injury.
When he left, announcers labeled him "questionable" to return. When he didn't and the Bears fell 21-14, fans and players took shots at Cutler.
"All I'm saying is that he can finish the game on a hurt knee. … I played the whole season on one," former Jacksonville running back Maurice Jones-Drew tweeted, per ESPN.
"If I'm on Chicago team jay cutler has to wait till me and the team shower get dressed and leave before he comes in the locker room! #FACT," tweeted former Arizona Cardinals player Darnell Dockett.
Cutler was diagnosed with a Grade-2 MCL sprain, an injury that typically takes a couple of weeks to heal.
Urlacher sets the record straight on Cutler's toughness
Urlacher played all 13 of his NFL seasons with the Bears. An eight-time Pro Bowler and Pro Football Hall of Famer, Urlacher recently said he wasn't overly excited when the Bears traded for Cutler in a deal with the Denver Broncos. Urlacher said those feelings had nothing to do with Cutler personally.
"We traded two first-round picks and our quarterback, Kyle Orton, for him, which I was pissed about because I loved KO," Urlacher said on the Bussin' With the Boys podcast last week. "That was my guy. That dude was great, a great quarterback, but we got a Pro-Bowl quarterback."
Urlacher then set the record straight on that game against the Packers and Cutler's overall toughness.
"We go to the NFC Championship Game, he hurts his knee," Urlacher recalled. "Everyone says he wasn't hurt. He tore his (MCL) in the second quarter and kept trying to play. The media said he copped out because we were getting beat.
"Jay was tough. He dislocated his thumb the next year and played the rest of the game. Don't tell me he's a b****. He ain't no b****. He was hurting our team by being in there because he couldn't step into a throw.
"You talk about a guy who can make any throw. Holy s***. How's he getting these ball in there? It's unbelievable to watch him throw a football. We just couldn't get it all together. I don't know what it was. We just couldn't figure it out in those couple of years we had him."
Like Sportscasting on Facebook. Follow us on Twitter @sportscasting19 and subscribe to our YouTube channel.