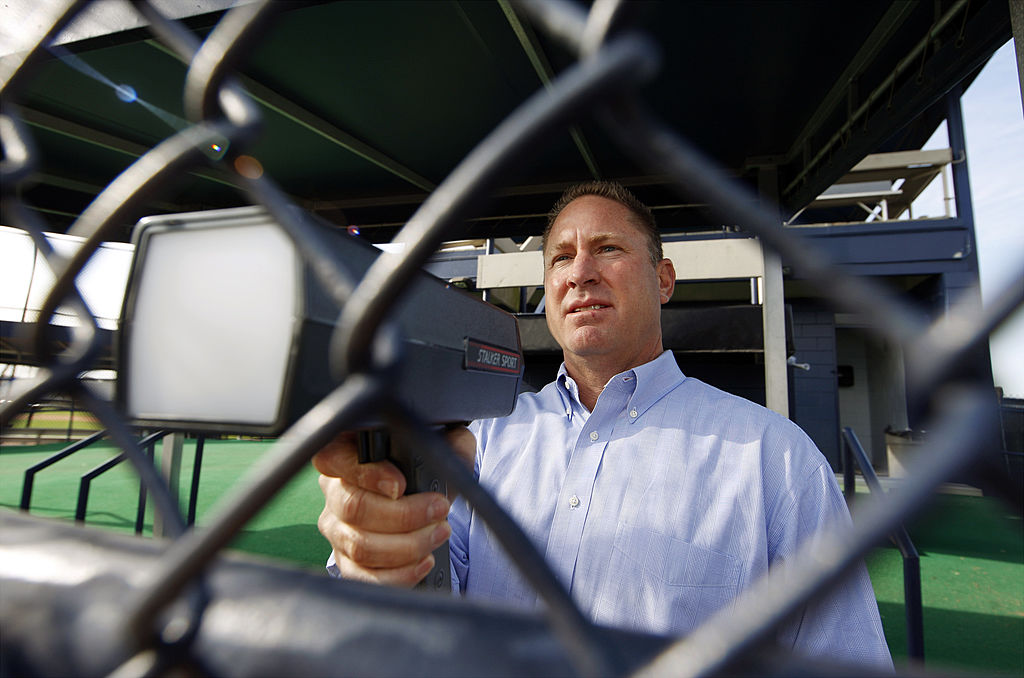 What Age Do Scouts Start Looking at Baseball Players?
Baseball scouts are always on the lookout for the next great player. Like most sports, baseball scouts start looking at players very early.
Major League Baseball doesn't have as strong of a collegiate feeder system as the NFL and NBA do because college baseball isn't as expansive as college football or basketball in terms of popularity and national TV coverage. Because of that, having good scouting is essential for MLB teams in player development and improving their rosters.
That means that teams have scouts start to follow prospects at a young age so they have a good idea of how good a player is when he's ready for the draft. Here's a look at the scouting process in MLB.
When do scouts start looking at baseball players?
According to an unidentified MLB scouting director, teams will generally have scouts start to watch a player when he is in junior high or playing JV baseball at the high school level. They'll also check out youth games in the summer and youth tournaments to see if there are any other young players who should be on a team's radar for the future.
Teams hold "tryout days" for young players, and the anonymous scouting director says kids should attend those as early as possible — even at age 14, so that scouts can follow his development as he gets older.
For high school players, the scout says it is "very important" to attend a pro team's open tryout day so that the player can get a one-on-one look from the team to get a sense of his tools and skills in a controlled environment.
Some players get noticed earlier
There are exceptions to every rule, and that includes when MLB teams begin to scout players. Some are such promising prospects that they get on teams' radars earlier than most. One such player is Bryce Harper, who was already on the cover of Sports Illustrated as a 16-year-old in 2009, with the headline "Baseball's Chosen One."
But that wasn't the first media coverage the teenage Harper got. When he was 13, there was a profile written about him in a community newspaper in his hometown of Las Vegas — and their headline referred to him as a "Hot Prospect."
He was in middle school and barely on the national radar at the time, other than Baseball America calling him "possibly the best pure hitter under 12 years old" a couple years earlier. Harper was interviewed for the newspaper piece and said the coverage "doesn't affect me that much. It makes me work harder. I expect perfection from myself."
He went on to become the No. 1 overall pick in the 2010 MLB draft at the age of 17 and a National League MVP.
What do baseball scouts look for in players?
Young players always want to know what scouts look for in players. Here's some insight into that from Jeff Zona Sr., a special assistant to the general manager for the Nationals.
Pitchers
Zona says scouts like to see a high school or college pitching prospect who has a tall frame that is filled out — similar to a Roger Clemens or Clayton Kershaw.
A strong lower body is important because it can help a pitcher handle throwing a lot of innings. In terms of pitches, they should have a hard 12-6 breaking curveball that stays in the zone, while his change-up should be about 10 mph slower than the pitcher's fastball to be able to vary his speeds.
Position players
For position players, what a scout looks for varies by position. He wants an outfield to have a strong throwing arm with accuracy, and the right fielder should have the best arm on the team.
On the left side of the infield, a shortstop and third baseman should both have good arms, with the shortstop able to get into the hole and throw the hitter out.
At third, he should be able to throw the runner out while fielding the ball behind the bag. Arm strength isn't as important for a second baseman, as long as he is a good fielder and can turn a double play.
At catcher, he has to have an above-average arm because he will lose arm strength as he advances through his career and gets a greater workload. Accuracy is also important for a catcher when trying to throw out potential base-stealers.