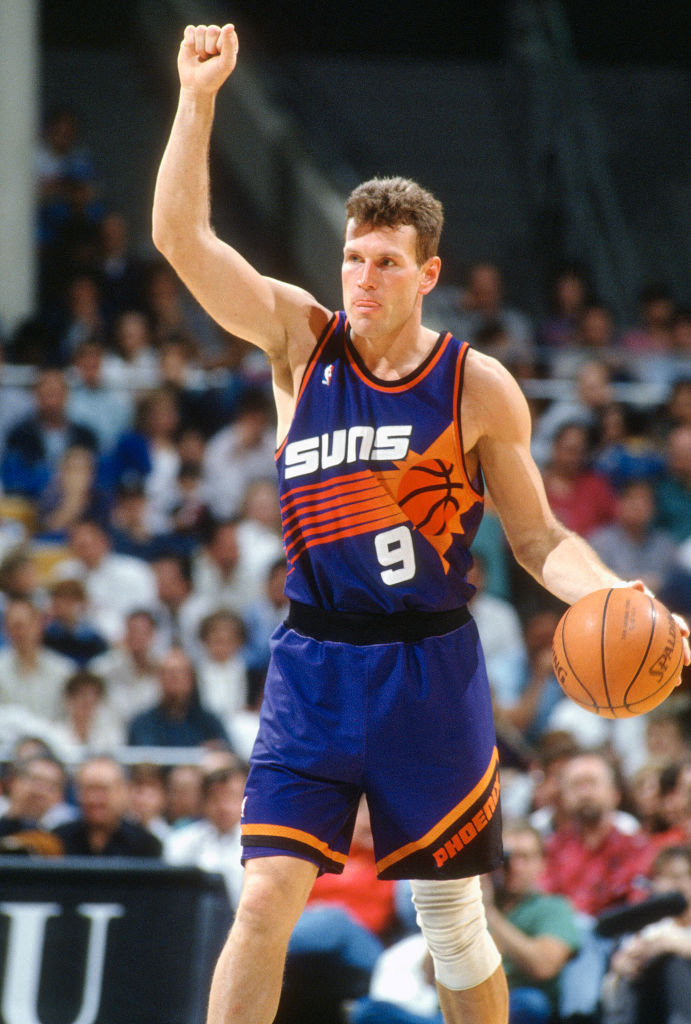 What Happened to Former NBA All-Star 'Thunder' Dan Majerle?
A look at the career and post-basketball life of 'Thunder' Dan Majerle, who played 14 seasons in the league with three teams.
It's a little funny that Dan Majerle was given the nickname "Thunder Dan" seeing as how he made a real name for himself at the three-point line, isn't it?
But in his days at Central Michigan and his early time in the NBA, Dan Majerle had some hops and threw down some powerful dunks, hence the "Thunder Dan" moniker. Majerle was a fantastic college player and proved some critics wrong when he came to the NBA in 1988. He ended up playing 14 seasons in the league and was one of the NBA's deadliest three-point shooters at one time. Following his playing career, Majerle transitioned into coaching at both the pro and collegiate levels.
This is the Dan Majerle story.
Dan Majerle was a stud in college
After starring at Traverse City (MI) High School, Dan Majerle enrolled at Central Michigan University and was an instant star. In his freshman season, he averaged 18.6 points per game, shooting 56.8% from the floor. He upped his average to 21.4 his sophomore season and was just under that his junior year at 21.1. He had his best season his senior year, averaging 23.7 points and 10.8 rebounds per game, earning the last of three First Team All-MAC selections.
Majerle was selected to the Olympic team in 1988 and performed quite well at the Games in Seoul. On a team that included future Hall of Famer David Robinson and players such as Danny Manning, Mitch Richmond, J.R. Reid, Hersey Hawkins, and Stacey Augmon, Majerle was the leading scorer for Team USA, averaging 14.1 points per game. His performance is often overlooked due to the disappointing bronze-medal finish but he was named USA Basketball's Male Athlete of the Year.
He was booed when drafted by the Phoenix Suns
When Dan Majerle was selected by the Phoenix Suns with the 14th overall pick in the 1988 NBA draft, he was booed when his name was announced, prompting Phoenix head coach Cotton Fitzsimmons to tell Suns fans that they'd be sorry for ever doing so.
Mostly coming off the bench his rookie season, Majerle averaged just 8.6 points but performed well in the postseason. His production went up in each of the following two seasons and he became one of the league's best sixth men, even earning his first All-Star nod in 1992, averaging 17.3 points per game. He became the starting shooting guard for Phoenix the following year, earning his second All-Star selection as a major part of the Suns' run to the NBA Finals in 1993, also earning his second All-Defensive selection. He'd become one of the league's best three-point shooters, leading the NBA in threes made that season, which also made him a big threat on an "NBA Jam" roster.
He played for Phoenix for two more seasons, earning a third All-Star selection, before being traded to the Cleveland Cavaliers ahead of the 1995-1996 season. He also reunited with Team USA as a part of the Dream Team II squad that won the 1994 FIBA World Championship.
After one year with the Cavs, Dan Majerle signed in Miami in 1996. The Heat were stocked with young talent and he was a great veteran presence for Pat Riley. Injuries limited his playing time his first year but he went on to have a decent run with the Heat, playing five seasons in Miami before returning to Phoenix for one final season in 2001-2002.
In 955 career games, Majerle averaged 11.4 points per game. His 800 career three-pointers with the Suns is second to only Steve Nash and his 1,360 career threes is currently good for 44th on the all-time list.
Dan Majerle transitioned into coaching following his playing career
After a few years as a broadcast analyst for TNT and ESPN, Dan Majerle joined the Phoenix Suns as an associate head coach in 2008, a role he kept until 2013 when he was named the head coach at Grand Canyon University in Phoenix. The Antelopes were just making the jump to Division I as a member of the WAC and given the respect he commanded and his ties to the Phoenix area, Majerle was the perfect choice.
In his first season at GCU, Majerle led the team to a 15-15 record and a 17-15 record the following year. It takes time for a team to adjust to Division I but he was doing a good job. Over the next four years, he led the Antelopes to a combined 91-42 record. However, after a disappointing 13-17 record in 2019-2020, Majerle was fired on March 13 after seven seasons, the same day the WAC Tournament was canceled due to the coronavirus outbreak.
It shouldn't be long before Dan Majerle lands another gig.