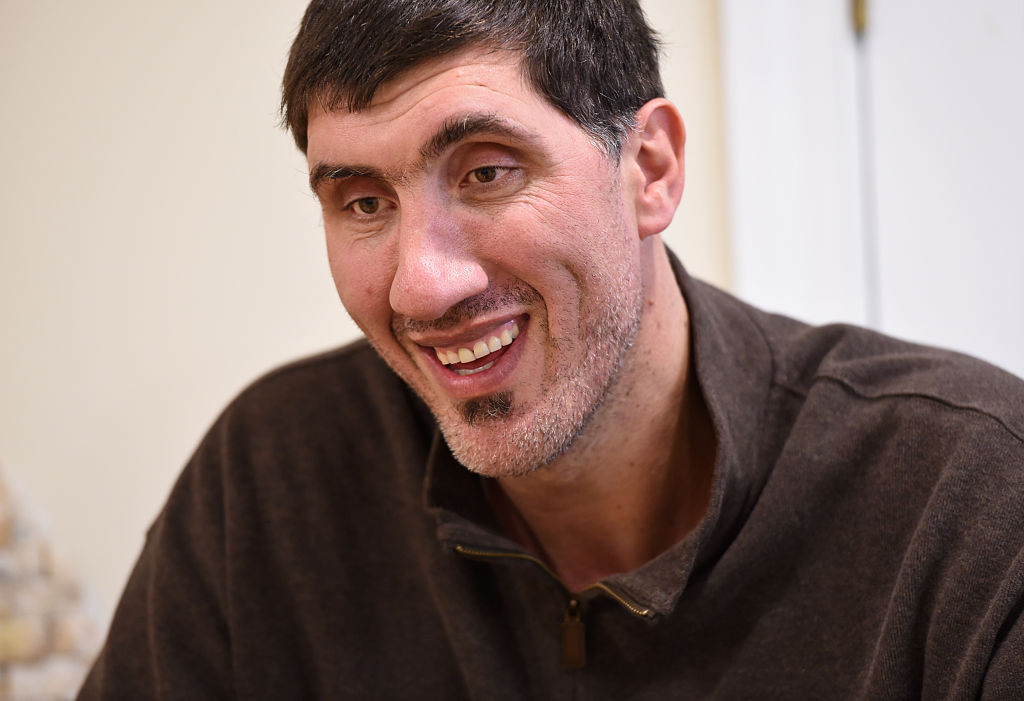 What Happened to Gheorghe Muresan, the Tallest Player in NBA History?
A look at the professional career and post-basketball life of Gheorghe Muresan, the tallest player in the history of the NBA.
Gheorghe Muresan was certainly one of a kind.
At 7'7″, Muresan holds the distinction of being the tallest player in NBA history and while injuries shortened his career, there's no doubt that he made his mark on the league.
Gheorghe Muresan first made a name for himself in Europe
Born in Romania in 1971, it didn't take long for Gheorghe Muresan to get noticed. Born to a father that was 5'9″ and a mother of 5'7″, he suffered from a pituitary gland disorder that caused him to grow at a rapid rate.
But he used that height to his advantage and parlayed it into a professional basketball career. He played two years for Romania's Universitatea Cluj-Napoca, winning a championship in 1992 before taking his talents to France. He played two seasons with Pau-Orthez and won the coveted French League Cup before making the jump to the U.S. and the NBA.
Gheorghe Muresan's NBA career was solid but cut short by injury
In the 1993 NBA draft, the draft that included the likes of Chris Webber, Penny Hardaway, and 7'6″ Shawn Bradley, Gheorghe Muresan was taken with the third pick of the second round, 30th overall, by the Washington Bullets, who would later become the Wizards. It took Muresan, who wore No. 77 in reference to his height, some time to adjust to the NBA but he played well enough his rookie season, appearing in 54 games, starting two of them, and averaged 5.6 points in 12 minutes per game.
Muresan started 58 of the 73 games in which he appeared in 1994-1995, doubling his minutes to just under 24 per game, and averaged 10 points and 6.7 rebounds. He enjoyed the best season of his career in 1995-1996, winning the NBA's Most Improved Player award with averages of 14.5 points and 9.6 rebounds. He also led the league in field-goal percentage, shooting 58.4% from the floor. He again led the NBA in shooting the following season, shooting 60.4% from the field while averaging 10.6 points and 6.6 rebounds.
Unfortunately, injuries would derail Gheorghe Muresan's career. He missed the entire 1997-1998 season. The rumor is that he got hurt while filming the movie My Giant with Billy Crystal but nobody knows for sure. He spent the final two years of his career with the New Jersey Nets, obviously now the Brooklyn Nets, but appeared in just 31 games from 1998-2000. And just like that, his NBA career was over. In 307 career games, Muresan averaged 9.8 points and 6.4 rebounds.
Muresan was wildly popular with fans. He was a lovable guy that appeared in a number of hilarious commercials and even once played a ventriloquist in an Eminem video. He had no problem playing up the fact that he was as tall as he was. He knew that some people looked at it as a gimmick but he played the hand that he was dealt in life and rolled with it.
He remained around the game after retirement and his son walked on at Georgetown
Following his departure from the NBA in 2000, Gheorghe Muresan stayed around the game of basketball. In 2004, he founded the Giant Basketball Academy in Ashburn, Virginia, a facility dedicated to teaching the game to girls and boys of all ages, a teaching academy that still exists today. He also became an ambassador for the Washington Wizards.
These days, Gheorghe Muresan is simply a proud father. In 2016, his son, George Muresan, walked on to the basketball team at Georgetown and played four years with the Hoyas. He didn't play much, averaging just a couple of minutes per game, but he seemed to enjoy being a part of the game that brought his father so much success.
And Gheorghe Muresan was right there for his son on Senior Night this past March, flashing that big smile that helped make him so popular with NBA fans.