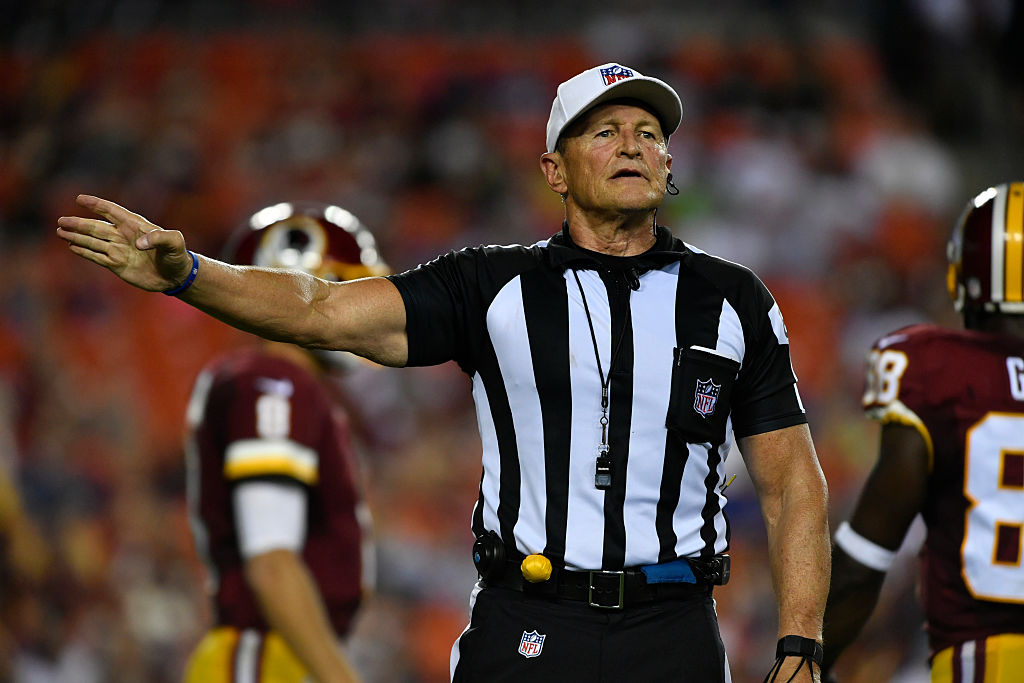 What Is Former NFL Referee Ed Hochuli's Net Worth?
Before he retired following the 2018 season, Ed Hochuli was the most recognizable NFL referee. Off the field, he's a partner in a law firm. How much is Ed Hochuli's net worth?
For years, NFL fans recognized referee Ed Hochuli for his bulked-up arms and memorable calls on the field. Most didn't realize that during his entire 28-year career officiating NFL games, he was also practicing law in Arizona. All those years delivering justice in the courtroom and on the football field have resulted in Hochuli earning a small fortune. What is Ed Hochuli's net worth?
Ed Hochuli has been a successful trial lawyer for decades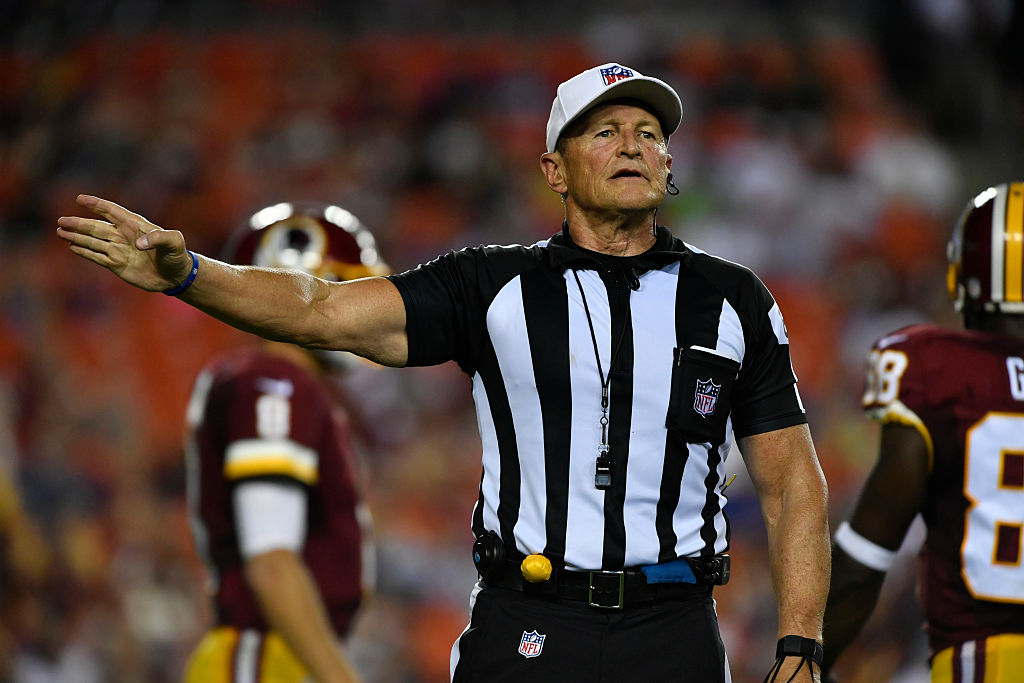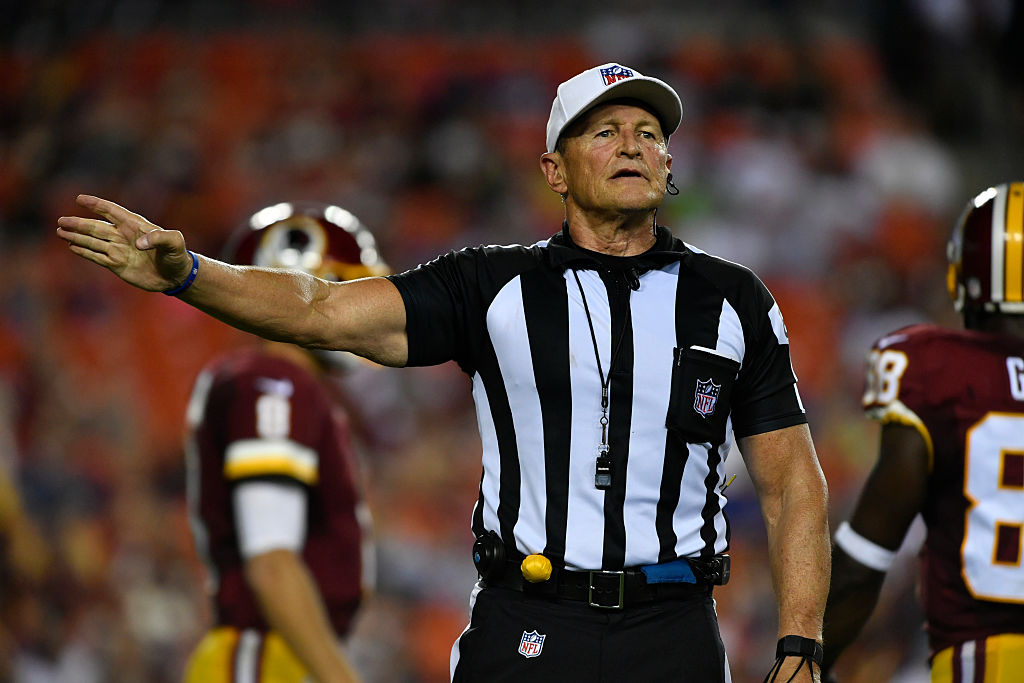 Ed Hochuli has been a practicing trial lawyer since 1983 when he became a partner at the Arizona law firm of Jones, Skelton and Hochuli, P.L.C. The firm has come a long way since those early days and now has more than 80 lawyers on staff.
Hochuli focuses on civil litigation in areas such as insurance coverage and fraud, legal malpractice and professional liability, and wrongful death and personal injury defense. At any one time he can be working on as many as 200 cases. 
Like his time as an NFL official, Hochuli has been recognized as one of the best lawyers in the business by multiple associations being named Best Lawyers in America since 2003 and Southwest Super Lawyers since 2007. 
Interestingly, Hochuli said the pressure of a trial is nothing compared to the stress of making a call in front of tens of thousands of fans in a stadium, and millions more watching on television.
"A trial is nothing, pressure-wise, compared to the NFL. I have a second to make a decision with a million people watching and second-guessing (by video) in slow-motion. You've got to be right or wrong. I love the satisfaction when you are right — and the agony when you are wrong."
Ed Hochuli moves his way up the ranks
Ed Hochuli earned his stripes as one of the best referees in the NFL after years of working his way up through the ranks. Hochuli first started officiating Pop Warner football games as a law student to earn additional income. From the mid-1970s to the late 1980s, Hochuli worked high school games in the Tucson area before finally making his way into the college game as a line judge for the Big Sky Conference and Pac-10 Conference.
In 1990, Hochuli got the call-up to work in the NFL as a back judge. Following his first season in the NFL, he headed overseas to gain additional experience working in the World League in Europe. After a couple of seasons working in the NFL and in Europe, Hochuli landed his dream job as a crew chief in 1992.
For the next 26 seasons, Hochuli became a mainstay and one of the top officials in the NFL. During that time, Hochuli has been part of NFL history on more than a few occasions. He was the referee during the bizarre Thanksgiving Day snow game in Dallas. He also had the opportunity to referee Super Bowl XXXII between the Denver Broncos and Green Bay Packers and Super Bowl XXXVIII between the Carolina Panthers and New England Patriots.   
Hochuli becomes the most recognizable NFL referee
In his 28 years in the NFL, Ed Hochuli received more attention than most officials. Sometimes it was for the wrong reasons like in 2008 when Dallas Cowboys owner Jerry Jones openly called out Hochuli following a game and suggested Hochuli and his crew called a disproportionate number of penalties. 
Most of the time, however, Hochuli earned recognition for his large biceps and his often entertaining explanations of penalties. His rise in celebrity skyrocketed when former quarterback and CBS commentator Phil Simms mentioned Hochuli's biceps during one broadcast years ago. 
"I get notoriety because I explain things, and I get notoriety because I have a decent physique, which is funny because I'm a shrimp, a peewee compared to those players. Neither one of those things has anything to do with whether I'm a good referee," Hochuli said in an interview with USA Today.
Hochuli, who retired from the game after the 2018 season at age 67, has a net worth of $6 million according to Celebrity Net Worth. Despite his retirement, his funny-sounding name lives on in the game. His son Shawn, who had been an NFL official for four seasons, was promoted last season to a referee.
The younger Hochuli has some big shoes to fill. And by the looks of it, he better hit the weight room soon.