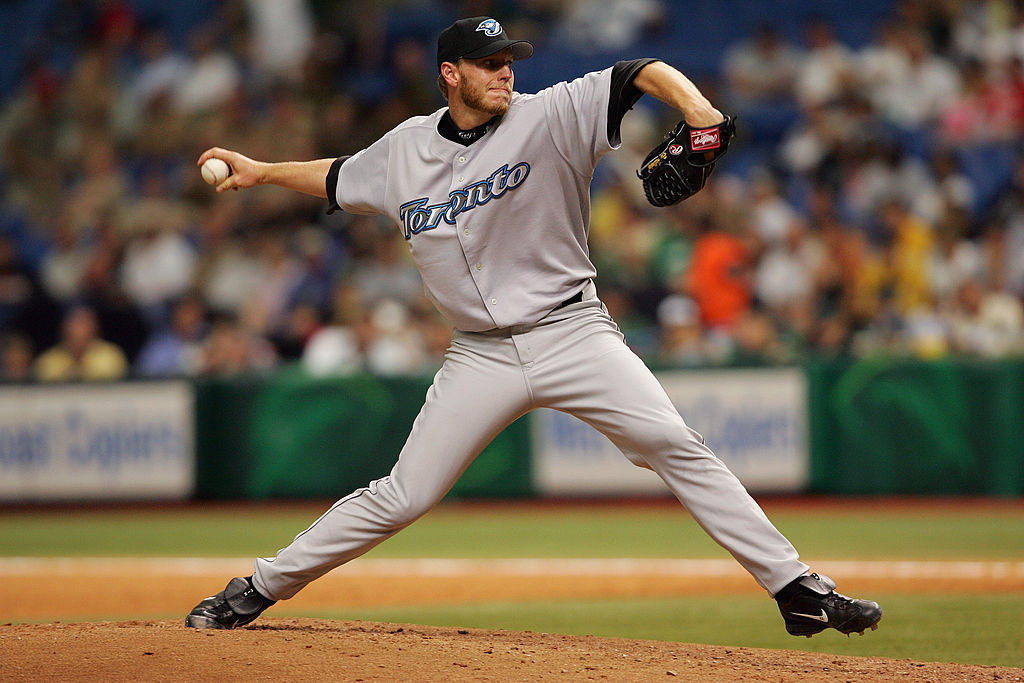 What Was Roy Halladay's Net Worth at the Time of His Death?
Roy Halladay was one of the most dominant pitchers after the turn of the century. He died tragically at age 40 in 2017. What was Roy Halladay's net worth at the time of his death?
Roy Halladay is remembered as one of the greatest MLB pitchers in history with a perfect game and no-hitter on his resume. He retired in 2013 after a stellar 16-year career. Tragically, he died in an aircraft accident in 2017 at the age of 40. What was Roy Halladay's net worth at the time of his death?
Roy Halladay struggles early in his career
The Toronto Blue Jays selected Roy Halladay out of high school with their first selection in the 1995 MLB draft, No. 17th overall. Halladay got the call up to the big leagues in 1998. On the final day of that season, in Halladay's second career start, he offered a glimpse of what was to come by taking a no-hitter into the ninth, only to be denied by a home run with two outs. He won his first MLB game 2-1.
For the next couple of seasons, Halladay struggled mightily. His 2000 season was a complete disaster finishing with a 10.64 ERA in 19 games. He was sent down to Single-A Dunedin to reconstruct his delivery. After six weeks, and a new three-quarters style delivery, Halladay moved up to Double-A in Tennessee. 
From that point, Roy Halladay embraced his new pitching style and steadily continued to improve. After a month in Tennessee, he moved up to Triple-A, and by mid-season, he was back with the parent club. That season, in 16 starts with the Blue Jays, Halladay posted a 5-3 record and a much-improved 3.16 ERA.
Halladay becomes a superstar
With 2000 Roy Halladay's rock bottom, and 2001 his reset, 2002 proved to be his breakout year. He was an innings eater, tossing for a league-leading 239.1 innings, but more impressively, finishing with a 19-7 record and a 2.93 ERA. He also made his first of eight career All-Star games.
In 2003, Halladay firmly established himself as one of the best pitchers in the game leading the AL in innings pitched (266.0), games started (36), complete games (9), shutouts (2), and most importantly, wins (22). That year he won his first of two career Cy Young Awards. 
Roy Halladay pitched six more seasons in Toronto, including three seasons where he led the AL in complete games, before he was traded to the Philadelphia Phillies in 2009. In Halladay's first season in Philly, he had one of his best seasons posting a National League-leading 250.2 innings pitched, nine complete games, four shutouts, and an impressive 2.44 ERA. He finished with a 21-10 record.
The 2010 season was also historic for Halladay as he pitched the 20th perfect game in MLB history on May 29 against the Florida Marlins. He followed it up later in the season tossing a no-hitter against the Cincinnati Reds in his first-ever postseason appearance. It was the first no-hitter in the postseason since Don Larsen's in 1956.
Unfortunately, Roy Halladay struggled with back issues the final few years of his career. In 2013, he signed a ceremonial one-day contract with the Blue Jays and retired due to his back and a desire to spend more time with his family. He was inducted posthumously into the Hall of Fame in 2019.
What was Roy Halladay's net worth at the time of his death? 
When Roy Halladay signed with the Toronto Blue Jays in 1995, he received a $895,000 signing bonus according to Spotrac. Once he joined the team in 2000, he earned $200,000 that first year. In 2006, after four All-Star appearances and one Cy Young, he signed a $40 million three-year contract extension through 2010 with the Blue Jays.
In 2009 when Halladay joined the Phillies, he agreed to a contract extension worth $60 million that included a $20 million vesting option for a fourth season. When he retired in 2013, Halladay had earned $156.7 million dollars for his 16 years of MLB service.
According to Celebrity Net Worth, when Halladay tragically died in an aircraft accident in 2017, he was worth $70 million.