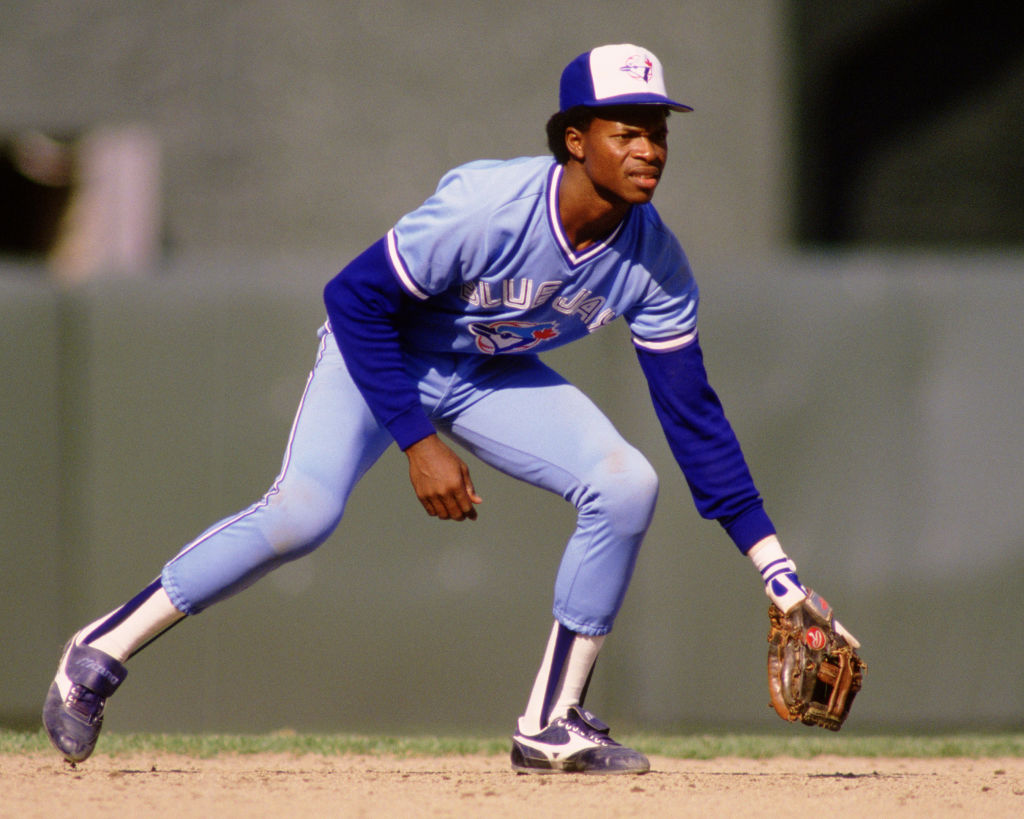 How Good Was the Late Toronto Blue Jays Shortstop Tony Fernandez?
Over the weekend, the sports world lost Tony Fernandez. There's no better time to remember how good the Toronto Blue Jays shortstop was.
While it's easy to associate Canada with hockey, the Great White North isn't a one-sport country. Toronto, on its own, is home to the reigning NBA champions, a talented young Blue Jays squad, and plenty of passionate fans. Those fans won't have forgotten someone like Tony Fernandez.
Unfortunately, the former shortstop recently passed away after suffering a stroke. Since it's been over almost two decades since Fernandez last set foot on the diamond, it's worth remembering how good of a player he was.
Tony Fernandez's Major League Baseball career
While Tony Fernandez made his name in Toronto, he grew up much farther south. The shortstop hailed from the Dominican Republic, where, despite a tough childhood, he eventually caught the eye of Epy Guererro. The scout signed Fernandez to a contract with the Toronto Blue Jays organization.
Fernandez made his Major League Baseball debut in September 1983 and spent the following season as a bench player. The Blue Jays then traded away Alfredo Griffin, handing Fernandez the starting job. He quickly made a name for himself as a reliable hitter and an impeccable fielder, capable of ranging deep into the hole before lofting a throw to first base.
The shortstop was traded to San Diego in 1991 but returned to help Toronto capture the 1993 World Series title. He then spent a season with the Cincinnati Reds before joining the New York Yankees; when he suffered an injury; the Bronx Bombers called up a young prospect by the name of Derek Jeter.
After missing the entire 1996 campaign with injury, Fernandez joined the Cleveland Indians, only to lose in Game Seven of the World Series. He then returned to the Blue Jays for two more seasons before bouncing between Japan, Milwaukee, and Toronto.
The Toronto Blue Jays remember their late shortstop
Over the weekend, Tony Fernandez passed away in Florida. The shortstop had been battling polycystic kidney disease for several years and had a stroke in February; he remained in a medically induced coma until he was taken off life support.
The Blue Jays promptly paid tribute to their former player. "The Toronto Blue Jays are deeply saddened by the passing of Tony Fernandez today, one of our club's most celebrated and respected players," the team said in a statement. "Enshrined forever in Blue Jays history on the Level of Excellence, Tony left an equally indelible mark in the hearts of a generation of Blue Jays fans during his 12 unforgettable seasons with the team. His impact on the baseball community in Toronto and across Canada is immeasurable. Our deepest condolences are with the Fernandez family during this time."
Buck Martinez, who played alongside and later managed Fernandez, also shared his memories. "Tony Fernandez was one of the finest people I've ever met in baseball," he recalled. "He was a terrific person, first and foremost, a great father, a great husband, and a great teammate, a hell of a player. I'll always remember how much joy he had when he played the game. He loved to play the game."
How good was Tony Fernandez?
Although Tony Fernandez didn't play a Major League Baseball game since 2001, time can't change the numbers. By all accounts, the shortstop was a pretty good player.
Fernandez played a total of 17 big league seasons, racking up 2,276 hits, four gold gloves, a career batting average of .288, and a .347 OBP. His best seasons came with the Blue Jays; in addition to winning a World Series title, he still holds the organization's all-time record for games played, hits, and triples.
The shortstop holds a career WAR of 45.3; while that's not impressive in a vacuum, it does place him 245th in the all-time rankings, which is nothing to sneeze at given baseball's history. He appeared on one Hall of Fame Ballot but dropped off after receiving only four votes.
Whether you prefer stats or the eye test, Tony Fernandez still had an impressive MLB career. As a player and, more importantly, as a person, he'll be missed.