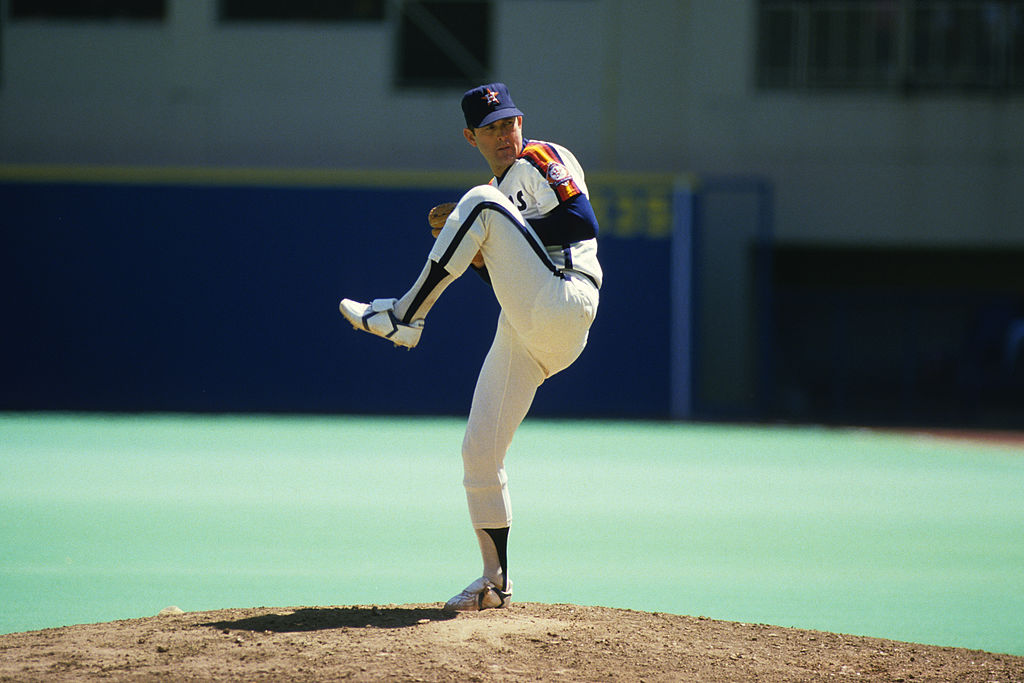 Where Is Nolan Ryan Today and What Is His Net Worth?
Nolan Ryan, the most prolific no-hitter pitcher in MLB history threw his first one on this day in 1973. Where is Nolan Ryan today and what is his net worth?
Nolan Ryan, one of the greatest pitchers and the owner of the most no-hitters in MLB history, tossed his first one against the Kansas City Royals on this day in 1973. In Ryan's record 27-year career, he added six more no-hitters to his total before retiring in 1993. Where is Nolan Ryan today, and what is his net worth?
Nolan Ryan's legendary MLB career
Nolan Ryan was one of, if not the most feared pitcher in baseball history. For starters, his 6-foot-2-inch frame was imposing enough. Add in his trademark high leg kick, and batters knew once his plant foot slammed down on the front of the mound, a ball zipping at speeds never seen before was fast approaching.
In Ryan's record-setting 27-year career, more often than not, those batters missed. It's hard to hit something you can't see. In addition to his seven no-hitters, which are three more than any other pitcher, Ryan is the all-time strikeout leader at 5,714. Randy Johnson is second with 839 fewer strikeouts. 
Incredibly, hitters that faced Ryan over his career achieved a woeful MLB-record low batting average of .204. He is one of six pitchers inducted into the Baseball Hall of Fame who had more strikeouts than innings pitched.
While he never won a Cy Young Award or pitched a perfect game, he is one of only three players in history to have his number retired by at least three teams (Angels, Astros, and Rangers), the others being Jackie Robinson and Frank Robinson. Ryan's lengthy list of accomplishments are mainly due to one thing—durability. His 27 years of service are the most in MLB history, and he's one of 29 players to have played in four different decades. He retired in 1993 and was inducted into the Hall of Fame in 1999.
Ryan pursues baseball in business
Although Ryan hung up the spikes one final time as a player in 1993, he's remained close to the game. His main business venture has been as the principal owner of Ryan Sanders Sports and Entertainment, which owns the Round Rock Express and Corpus Christi Hooks, the Triple-A and Double-A affiliates of the Houston Astros. 
In 2008, Ryan became president and CEO of the Texas Rangers. During his time in Arlington, he oversaw the team's rise to the top of MLB including its only two World Series appearances in club history in 2010 and 2011. Ryan stepped down from his role with the club in 2013. 
Several months after leaving Texas, Ryan accepted a position as executive adviser for the Houston Astros under owner Jim Crane. Once again, Ryan, and his son, Reid, who was president of business operations for the Astros, played a big part in Houston as the Astros went from cellar dwellers to the top of baseball and World Series champions in 2017. 
What is Nolan Ryan's net worth?
In 2019, after Reid was demoted by the Astros, Ryan also resigned from the club. Ryan, who has a net worth of $60 million, is actively involved in other businesses, including his cattle ranches, a meat company (Nolan Ryan Beef), as well as a turf business, and a community bank. 
When not working at one of his three ranches, Ryan, who lives in Georgetown, Texas, a suburb of Austin, can be found at the ballpark supporting the Express, the club named after his popular nickname.  
Nolan Ryan will forever be remembered as one of the greatest pitchers in MLB history with a blazing fastball that made even the best hitters in the game look human. And for that time he made Robin Ventura regret charging the mound.