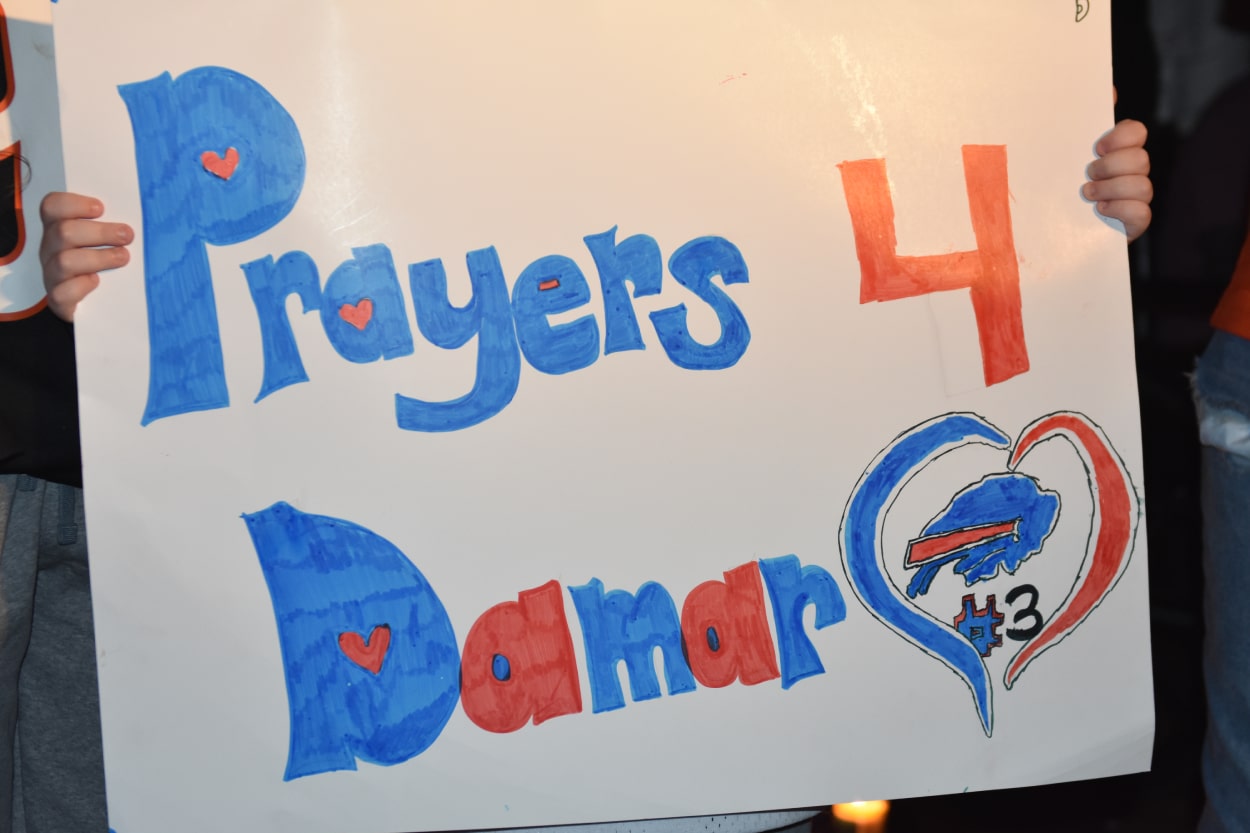 Who Is Denny Kellington, the Man Credited With Saving the Life of Buffalo Bills Safety Damar Hamlin?
Denny Kellington is getting high praise for his quick thinking when aiding Buffalo Bills safety Damar Hamlin on Monday.
It all happened so fast during the first quarter of a Jan. 2 Monday Night Football game between the Buffalo Bills and the Cincinnati Bengals. What seemed to be a routine football play was anything but.
After Bills safety Damar Hamlin attempted to put a hit on Bengals wide receiver Tee Higgins following a catch, he got up slowly after the play. Then he collapsed to the ground and suffered cardiac arrest, causing panic throughout Cincinnati's Paycor Stadium. Moments later, an ambulance was on the field, and players took a knee as medical personnel tended to Hamlin. Denny Kellington, an assistant trainer with the Bills, rushed to Hamlin and performed CPR on the field, saving Hamlin's life.
Who is Denny Kellington?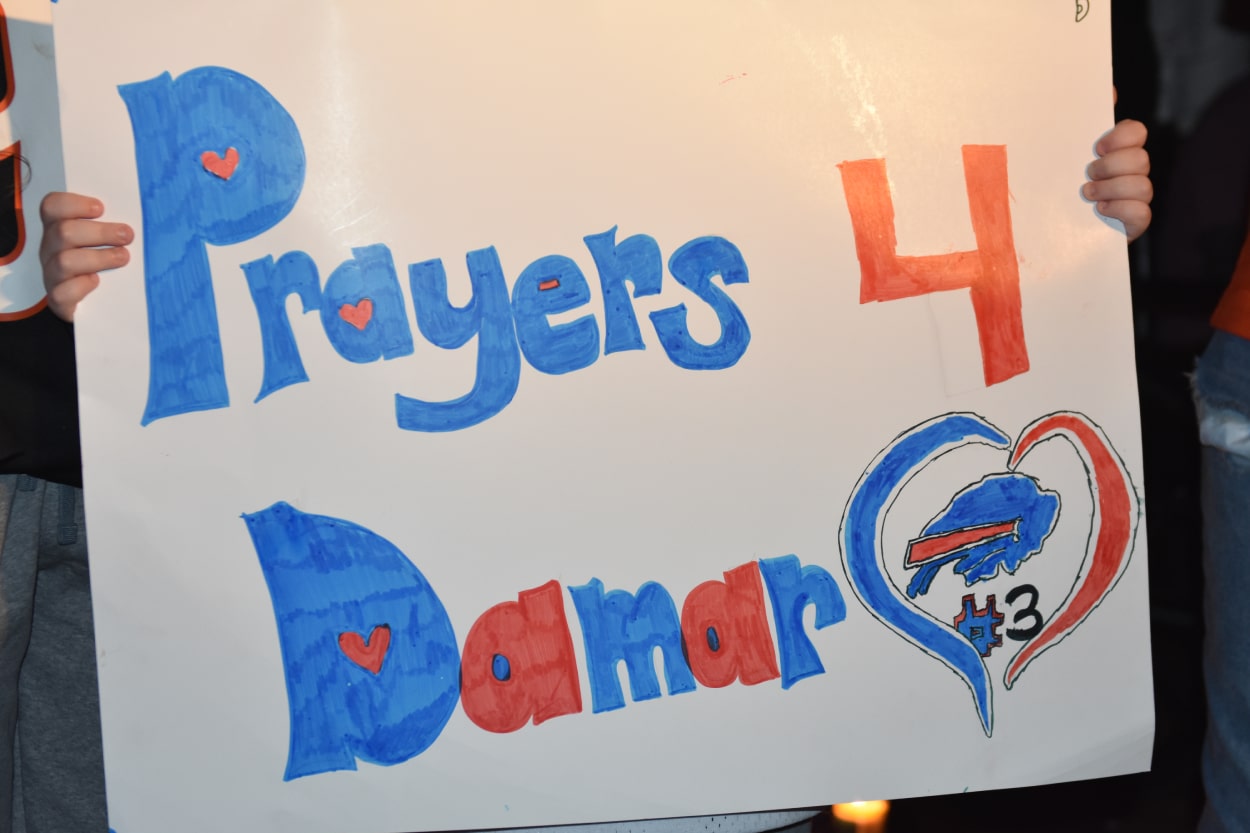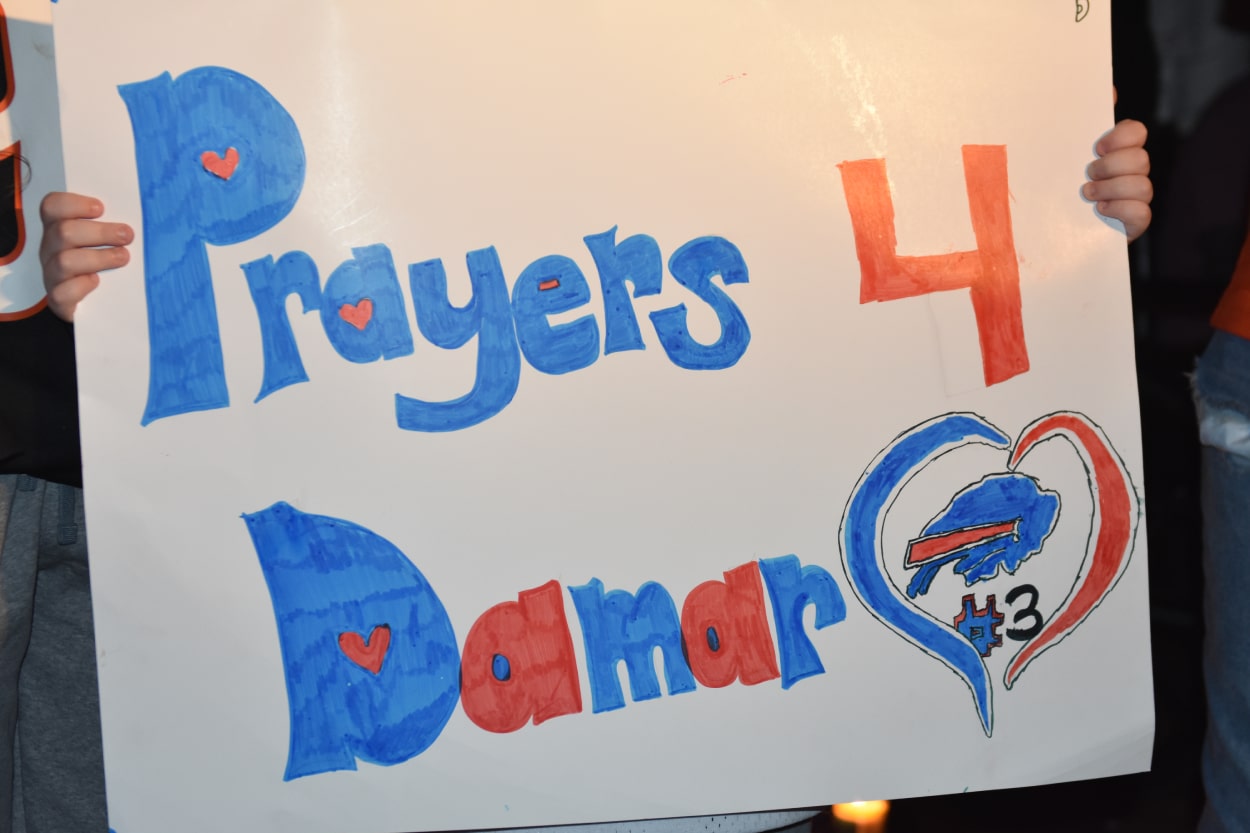 Kellington has been hailed as a hero by Bills head coach Sean McDermott, who credited the trainer with "saving Damar's life" during those frantic moments of Monday's game. There was no time to waste when Hamlin fell to the turf. Kellington administered quick CPR that ultimately kept Hamlin alive. Hamlin was brought to the University of Cincinnati Medical Center, where he has since had his breathing tube removed and has been talking with teammates.
"For an assistant to find himself at that position and needing to take the action that he did and step up and take charge like he did — and there were others on the field as well — is nothing short of amazing," McDermott said of Kellington at a press conference Thursday.
"And the courage that took. You talk about a real leader, a real hero in saving Damar's life and just admire his strength."
According to Cuse.com, Kellington is a 2000 graduate of Oklahoma State, earning a bachelor's degree in health and human performance. Upon graduation, he began work with the Denver Broncos as an athletic training intern until 2002. In 2002, he worked for the Amsterdam Admirals of NFL Europe as an assistant athletic trainer.
After his short stint with the Admirals, he hooked up with Ohio State until 2004, working as a graduate assistant athletic trainer. Kellington became the head athletic trainer at Syracuse University in 2011 after beginning with the athletic program in 2005. He's been with the Bills since 2017.
Bills left tackle Dion Dawkins singled out Kellington for his quick work
Hamlin, 24, suffered cardiac arrest in the first quarter of Jan. 2's game with the Bill trailing the Bengals 7-3. Teams went back to their respective locker rooms after the injury, and the game was initially suspended. It was later canceled.
Hamlin was transported to the University of Cincinnati Medical Center in critical condition. The quick response of Kellington and the other responders was vital to make sure Hamlin didn't suffer serious organ damage due to a lack of oxygen.
Bills left tackle Dion Dawkins singled out Kellington in a tweet Thursday.
"Denny Kellington let's praise this name and person for reviving Our Brother Damar on the field," Dawkins tweeted. "Denny gave CPR and chest compressions to get his Heart Back Beating #DennyKellington And also thank you to all the doctors and Medical professionals that have helped and assisted."
As of Jan. 6, Hamlin had his breathing tube removed and FaceTimed his teammates, according to ESPN. His neurological function remained intact, and he was talking.
His improvement has been remarkable, and it's largely because of the quick-thinking first responders led by Kellington.