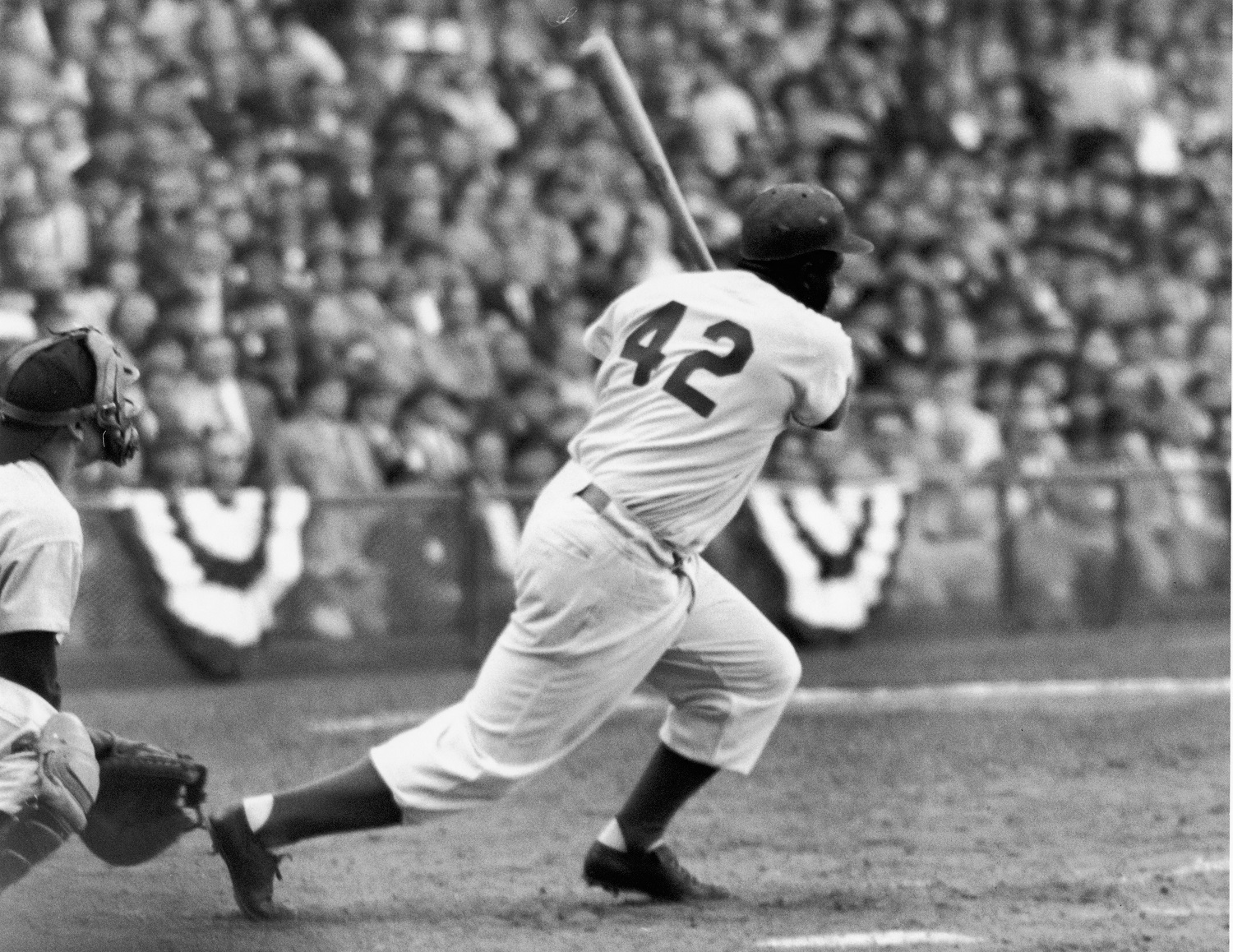 Why Did Jackie Robinson Wear No. 42?
A look at why Brooklyn Dodgers pioneer and Hall of Famer Jackie Robinson wore No. 42, which was retired by Major League Baseball in 1997.
Happy Jackie Robinson Day, everyone.
With Major League Baseball getting off to a very late start this season due to the COVID-19 pandemic, the normal April 15 celebration of the late, great Hall of Famer was moved to August 28 this year, which was the fateful day in 1945 when Brooklyn Dodgers president and general manager Branch Rickey informed Robinson that the organization would be making him the face of integration.
Despite having to deal with countless incidents of racism, not only from fans but also many of his fellow players, Jackie Robinson persevered in the face of adversity and had an amazing career. He was a true pioneer and is the only man to have his number retired by every team in Major League Baseball, an honor posthumously bestowed upon him in 1997.
So why exactly did Jackie Robinson wear that famous No. 42?
The MLB career of Jackie Robinson
Following a year with the Brooklyn Dodgers' Triple-A affiliate, the Montreal Royals, Jackie Robinson made his historical Major League Baseball debut on April 15, 1947, at the age of 28 and had an amazing season, winning Rookie of the Year with a .297 batting average, 31 doubles, five triples, 12 home runs, 48 runs batted in, and a league-leading 29 stolen bases.
Two years later, he earned the first of six consecutive All-Star selections and was also named the National League Most Valuable Player. He won the batting title with a .342 average and again led the league in steals with 37. But Jackie Robinson certainly wasn't all offense. In 1951, he led the National League in double plays made by a second basemen with 137 and ended his career with a fielding percentage of 98.3%. He likely would have won multiple Gold Glove Awards during his career but the award wasn't established until 1957, the year following his retirement.
After losing in the World Series on four occasions, every time to the Yankees, Jackie Robinson finally won a championship in 1955 when the Dodgers defeated the Bronx Bombers in a fantastic seven-game series, although he didn't play in Game 7 as his game was beginning to suffer due to the effects of diabetes. One year later, he struck to end Game 7 of the World Series, again against the Yankees, and called it a career at the age of 37.
In 10 seasons with the Dodgers, Jackie Robinson had a .311 batting average with 137 home runs, 734 runs batted in, and 197 stolen bases. He was inducted into the National Baseball Hall of Fame in 1962, his first year on the ballot. He passed away on October 24, 1972, after suffering a heart attack at his home in Connecticut.
No. 42 was retired by all of Major League Baseball in 1997
On April 15, 1997, to commemorate the 50th anniversary of Jackie Robinson breaking the color barrier, Major League Baseball universally retired No. 42, marking the first time any number had been retired throughout any of the four major American sporting organizations (MLB, NBA, NFL, NHL). Those still wearing the the number at the time were allowed to continue wearing it and Mariano Rivera was the last player to wear it regularly.
In 2004, MLB began observing Jackie Robinson Day every April 15 and in 2007, the league began inviting players to wear No. 42 on that day to honor the Hall of Famer, a tradition that continues to this day. As mentioned, this year's celebration was moved to August 28 due to the season being delayed due to COVID-19.
Why did Jackie Robinson wear No. 42?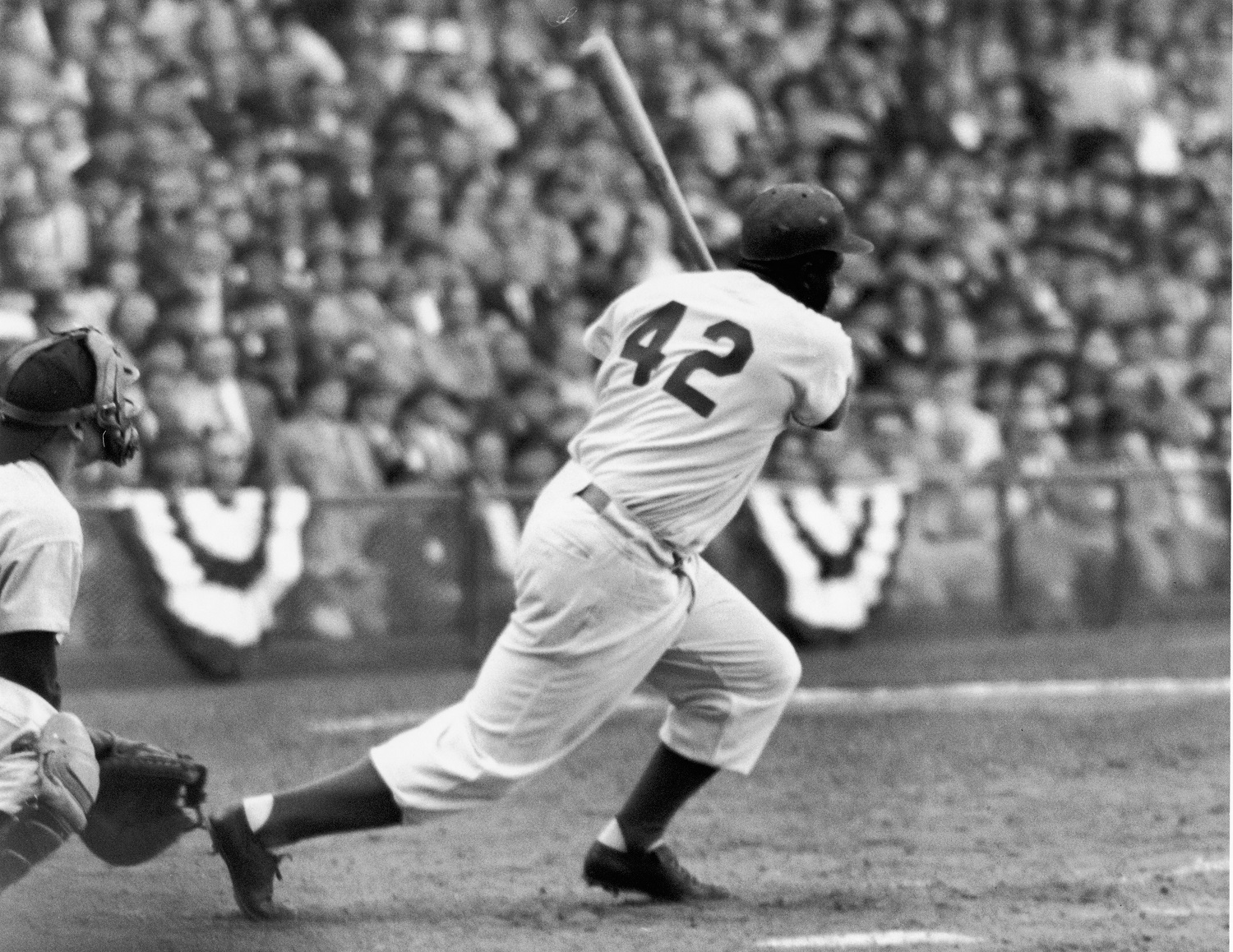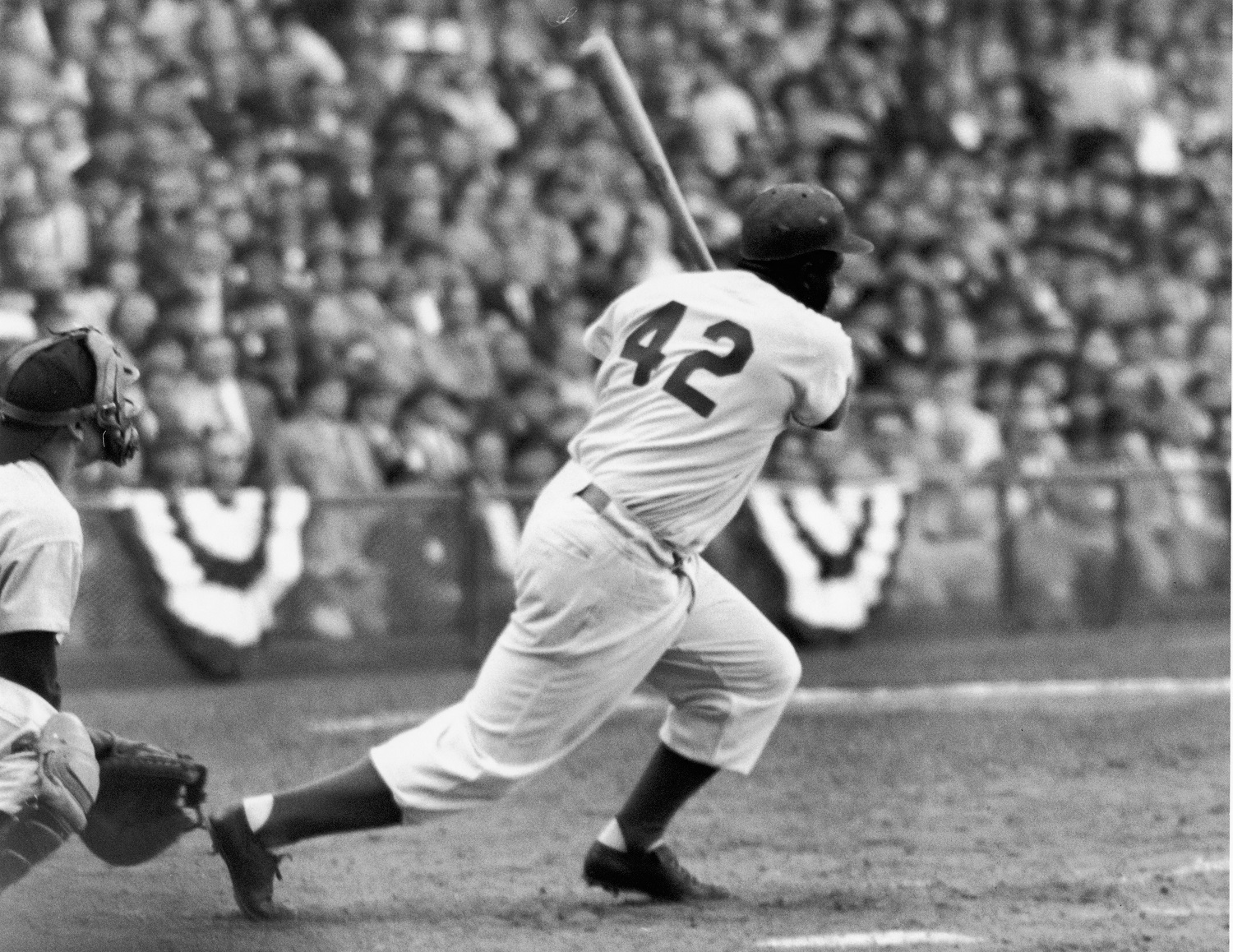 So why exactly did Jackie Robinson wear the famous No. 42? Well, as it turns out, there's really no reason for it at all.
When Robinson attended UCLA, he wore No. 28 for the football team and No. 18 for the basketball team. Some say he also wore No. 28 for the baseball team, but that's tough to verify as there don't seem to be any images proving it. While playing for the Kansas City Monarchs in the Negro Leagues, he's said to have worn three different numbers as various accounts had him wearing No. 5, No. 8, and No. 23. There have been numerous debates on what number he wore for the Montreal Royals but the New York Times baseball blog says a video clearly shows him wearing No. 10.
It seems that No. 42 was simply the number assigned to him by the Brooklyn Dodgers. It may have been just a simple number then but Jackie Robinson made the No. 42 one of the most famous numbers in sports history.