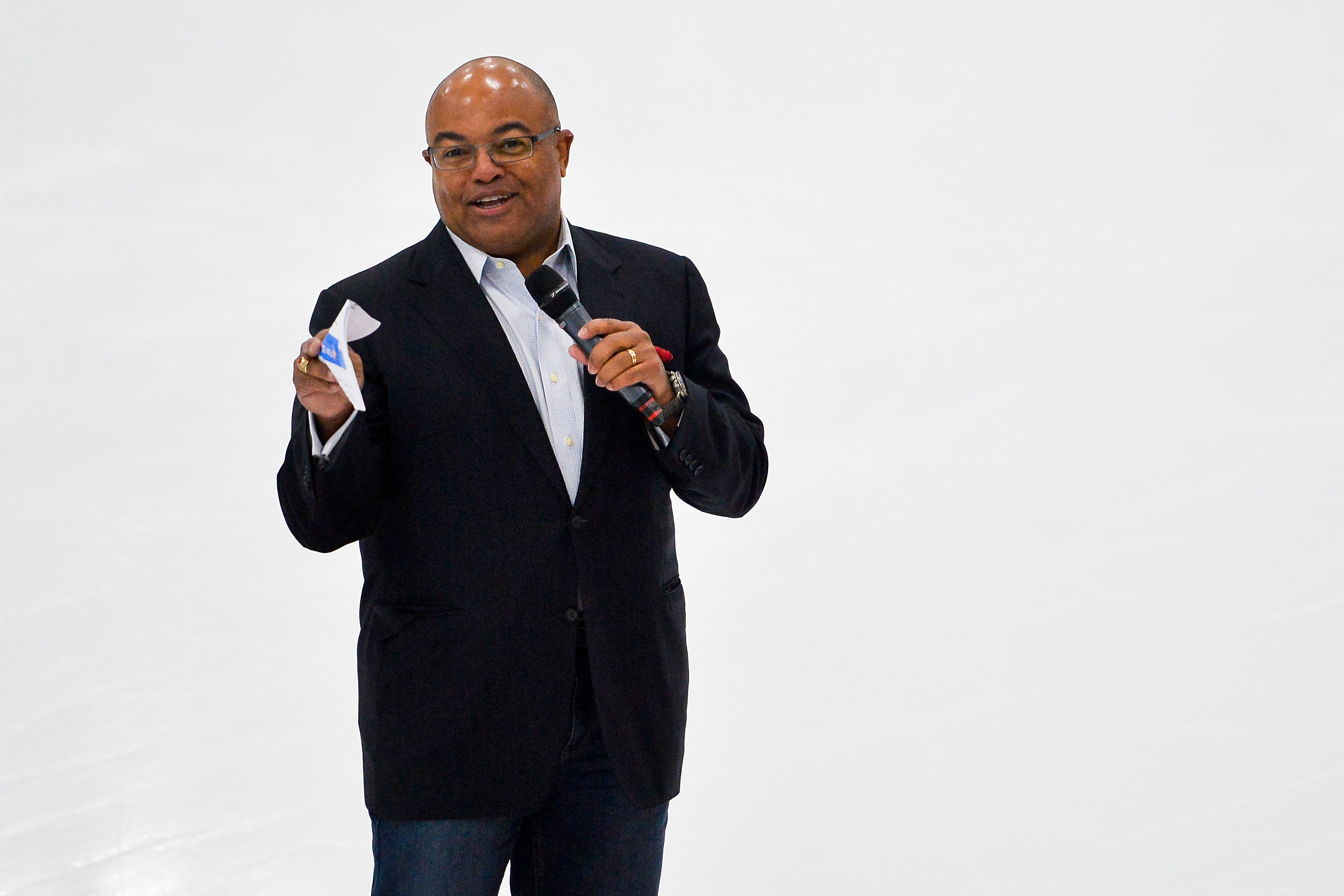 Why Did Mike Tirico Run Around with a Spoon While Growing Up?
Why did sports broadcaster Mike Tirico run around with a spoon when he was growing up?
Mike Tirico has quickly become one of the best and most versatile sports broadcasters. Growing up, he played his sports and admittedly wasn't very good. He loved sports and knew he wanted a career in sports media. While others in the neighborhood were throwing the football around, Tirico was walking around with a spoon in his hand.
Mike Tirico filling in for Al Michaels
Earlier this year, it was determined that Mike Tirico, who had a 10-year run as the play-by-play announcer for ESPN's Monday Night Football, would be taking over some games from Al Michaels for Sunday Night Football. Michaels, 75, is a legendary broadcaster who teams with Cris Collinsworth. With the coronavirus (COVID-19) pandemic, Michaels has agreed to take some 'bye' weeks to help minimize travel.
Michaels said he was on board with the decision. "This is a great schedule for me," Michaels said via text, according to The New York Post. "A lot of West Coast games and a couple of byes during the season to cut down on some travel, which is welcome for me. I was part of formulating the plan. I'm all in."
Tirico will be in the booth Sunday night with Collinsworth when the Pittsburgh Steelers travel to face the Buffalo Bills. Tirico came over to NBC from ESPN in 2016. He is also scheduled to work one of two NBC Wild Card games this year.
Tirico sees broadcasting heading in a different direction
Mike Tirico said he can see sports broadcasting turning in another direction if announcers like Tony Romo keep popping up. Romo, a former quarterback for the Dallas Cowboys, has been outstanding in the booth, giving viewers a chance to see the game from a player's perspective. Romo has signed a deal with CBS worth $17 million per season.
"I was watching an NFL Films clip and Philip Rivers was mic'd up," Tirico said on the Sports Illustrated Media Podcast. "And Philip Rivers is the all-time trash talker. He has such a big family, so I don't know if he'd want to take on the commitment of doing football games. But it got me thinking about the four or five guys. I think if Peyton (Manning) ever did it, he'd be amazing. If (Tom) Brady ever did it, he'd be incredible. Aaron Rodgers is as enjoyable a production meeting as anyone. All these guys are super smart. Like Romo, they see the game.
"I think you're going enter the golden era of analysts for football in TV in the next 10–15 years. I think when Peyton Manning redefined the quarterback position, the vision of the quarterback controlling the game and understanding everything around him has expanded. And I think they see it live and call it out, so when they prepare for a broadcast in that mode they're able to get in that Romo-predicting-plays deal, which fans really enjoy."
Why did Mike Tirico carry a spoon while growing up?
Mike Tirico wasn't the most athletic kid growing up, but he loved his sports. He wanted to play them but wasn't one of the better athletes. In fact, he said his mother had a better arm and the best arm of any mom in the neighborhood. "She'd go out and play catch with me during my Little League days, which didn't advance very far," Tirico said during an interview on Talks at GS.
Tirico didn't carry a baseball or football with him. He wasn't one who was always dribbling a basketball. He could usually be found holding a spoon. Tirico said he got a lot of support from his mother's family in his younger days.
"Her brothers were always around in support of my sporting love and passion for watching games," he said. "As a kid, for whatever reason, I took a liking for sports on TV. My mom will tell you, as a little kid I would run around with a spoon and pretend to be an announcer instead of being a ballplayer or an athlete. I guess 50 years later, I'm still living my childhood dream of being a TV sportscaster. I still love the job every second of the day."