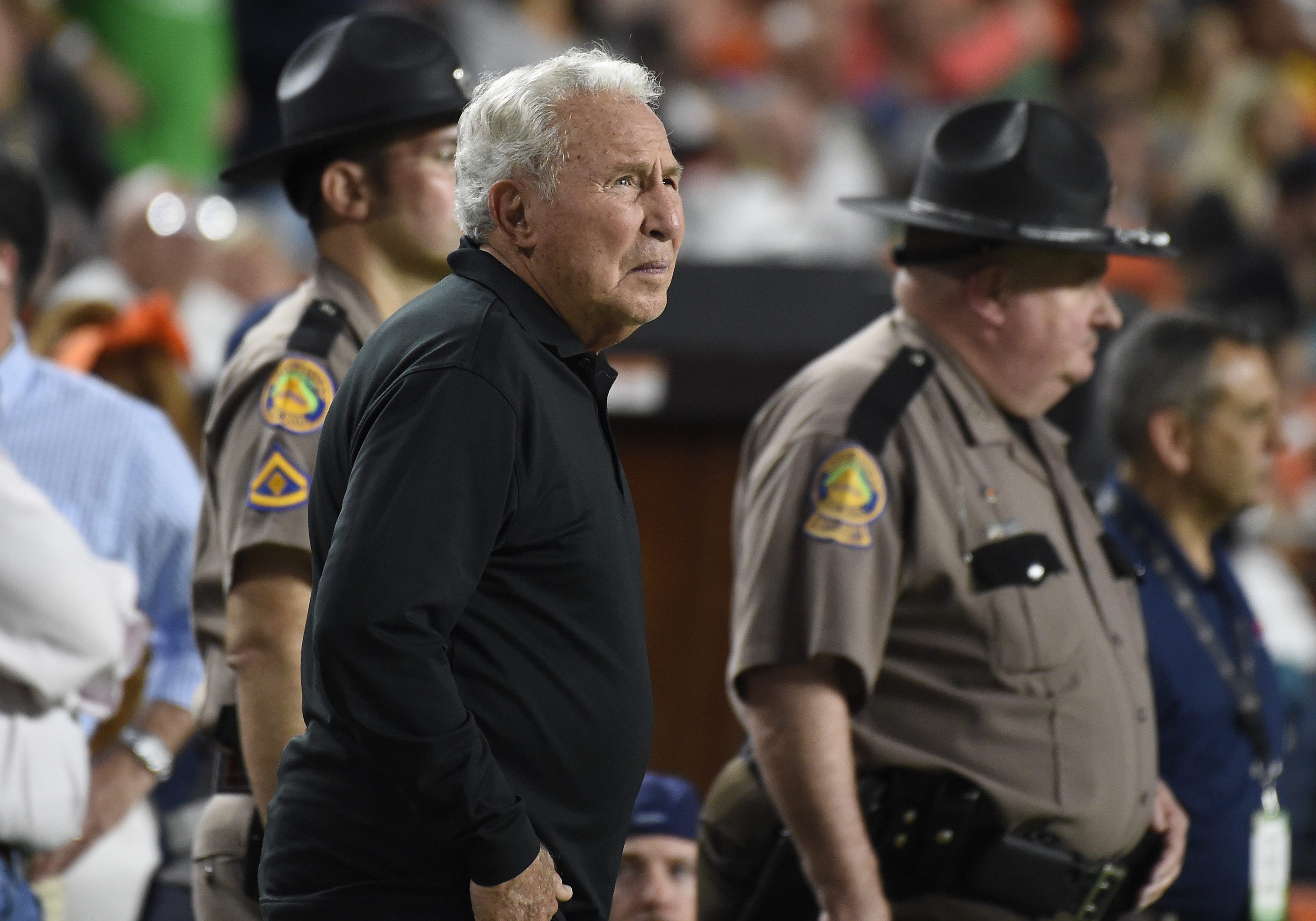 Lee Corso Was a College Roommate of Burt Reynolds and He's Got Some Stories
ESPN College GameDay host Lee Corso was a college athlete at Florida State and a roommate of Burt Reynolds.
ESPN's Lee Corso is one heck of an entertaining analyst. Corso can be seen on ESPN's College GameDay, making his college football predictions with his crazy headgear. Corso was one heck of an athlete as he attended Florida State and played both football and baseball. While in college, Corso was a roommate of the late Hollywood actor Burt Reynolds, who was also a member of the Seminoles' football team.
Lee Corso was an outstanding athlete and coach
When Lee Corso graduated from high school, he was offered $5,000 to play for the Brooklyn Dodgers. His father, however, wanted him to go to college. Corso enrolled at Florida State and played both football and baseball.
Corso played four years of football at Florida State. He played multiple offensive positions, including quarterback, halfback, and receiver. He also was a speedy cornerback. In baseball, he played shortstop and center field.
After his playing days were over, Corso became a college football head coach. He got his first head coaching job at Louisville in 1969. Corso led the Cardinals to their first bowl game in 12 years when they went to the Pasadena Bowl in 1970. He then went on to coach at Indiana for 10 years before coaching in the USFL and returning to the college ranks as an assistant.
Corso remains in college football as part of ESPN's College GameDay
When ESPN's College GameDay began in 1987, Lee Corso was part of the program. He remains a fixture on the pre-game show 33 years later. Corso is widely known for making his pick of the week and then wearing the school's mascot headgear.
ESPN thinks so much of Corso that it has brought the studio to his Florida home. While College GameDay members Rece Davis, Kirk Herbstreit, Desmond Howard and David Pollack are usually set up on site at a college campus, Corso remains home. The coronavirus (COVID-19) has wreaked havoc with the sports world and ESPN isn't taking any chances with Corso.
"We wanted to come up with some creative ways to integrate Coach [Corso] into the show every week," says Drew Gallagher, the coordinating producer of GameDay told The Orlando Sentinel. "It would have been very easy to fire up one camera for a traditional live shot like you see so often with on-air talent from their homes, but with Coach, it needed to be special. We just wanted to go above and beyond and make it seem like an extension of the GameDay set."
Corso was a roommate of Burt Reynolds at Florida State
Burt Reynolds, the late legendary actor, was Lee Corso's college roommate when the two played college football at Florida State. Reynolds got hurt during the first game of his sophomore year and decided to give up football. "That's when he told us, 'I'm going to Hollywood,'" Corso told Orlando Magazine back in 2013."I laughed at him."
Corso recalled when he met Buddy 'Burt' Reynolds at school. "Boy, he was good-looking," Corso said. "I used to send him to the student union as bait. He'd come back with two girls, one good-looking and the other… ehhh. I figured whatever he brought back for me was a lot better than what I could do for myself."
Corso jokingly said he and Reynolds made one heck of a tandem. "I had this two-door Chevrolet that my dad had painted metallic green," Corso said. "We called it the Green Hornet. With his looks and my car, we made the dynamic duo."