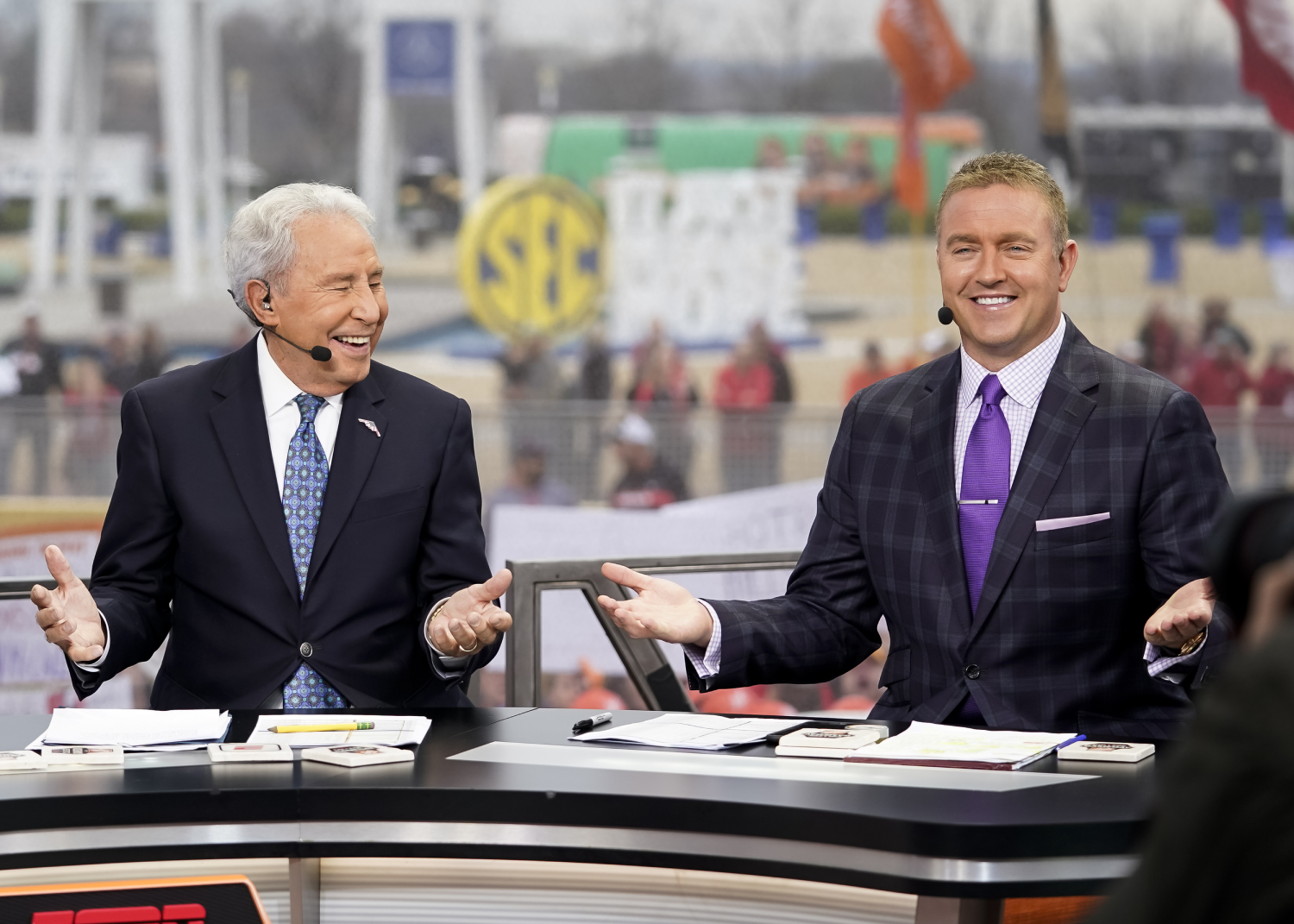 Did ESPN's Lee Corso Play College Football?
ESPN's Lee Corso has been a fixture with ESPN and he's also been a college football coach. Did he ever play college football?
ESPN's Lee Corso has become the face of college football's pregame shows. Corso has gained fame during his time on College GameDay and has been with the ESPN program since its inception 33 years ago. Corso was also known as a college football coach, coaching at big-time schools such as the University of Louisville and Indiana. He has an extensive college football resume, but did he ever play football in college?
Lee Corso is a fan favorite on 'College GameDay'
Lee Corso was there when ESPN introduced College GameDay to the world back in 1987. Thirty-three years later, Corso, 85, is still going strong, although 2020 has been a challenge. Corso, known for making his pick of the week and then wearing that team's mascot headgear, has had to adjust on the fly because of the coronavirus (COVID-19) pandemic.
According to The Orlando Sentinel, ESPN sends an eight-member production crew to Corso's house so he can remain a part of the show. Other members of the show, such as Kirk Herbstreit, are usually on location at a college campus. At Corso's age, however, the network is being careful with its prized possession.
"You always think somebody else is going to get the virus, but when people you know and who are your friends start getting it, that's when it really hits home and makes you stop and think," he says. "With this virus, guys my age are an endangered species, especially if we travel. I can't thank ESPN enough for looking out for my health and still making me a part of the show. I can't tell you how much it means to me."
Corso's college football coaching days
After spending time as quarterbacks coach at Maryland and defensive backs coach at Navy, Lee Corso became a head coach at Louisville. In 1969, he got his first head coaching gig and remained the head coach there until 1972. According to ESPN, Corso guided Louisville to its first bowl game since 1958 when the Cardinals went to the Pasadena Bowl in 1970.
After going 28-11-3 at Louisville, Corso became the head coach at Indiana for 10 years. In 1979, Indiana earned its first bowl victory in 75 years when it defeated previously undefeated Brigham Young in a 38-37 thriller in the Holiday Bowl. Corso went 41-68-2 at Indiana.
From there, Corso coach one year at Northern Illinois in 1984 and then was the head coach of the Orlando Renegades of the USFL in 1985. Corso then became an assistant coach for the next 11 years. He was an assistant at Florida State, Maryland, and Navy.
Lee Corso was a two-sport athlete in college
When Lee Corso was in high school at Miami's Jackson High School, he was a three-sport standout. He quarterbacked the football team, was a guard on the basketball team, and a shortstop for the baseball team. Corso was quite the baseball player as he was offered $5,000 as a signing bonus by the Brooklyn Dodgers upon graduation.
According to Orlando Magazine, the Dodgers projected Corso to replace their future Hall of Famer Pee Wee Reese. Corso's father wouldn't allow his son to take the offer because he wanted him to go to college. Corso enrolled at Florida State, where he played both football and baseball.
He played four years as a two-way player at Florida State. He played quarterback, receiver, halfback, and cornerback. Corso was a shortstop and center fielder in baseball. He eventually got replaced at shortstop by former big-leaguer Dick Howser. Corso held Florida State's record for career interceptions (14) until Deion Sanders broke it in the final game of his career.