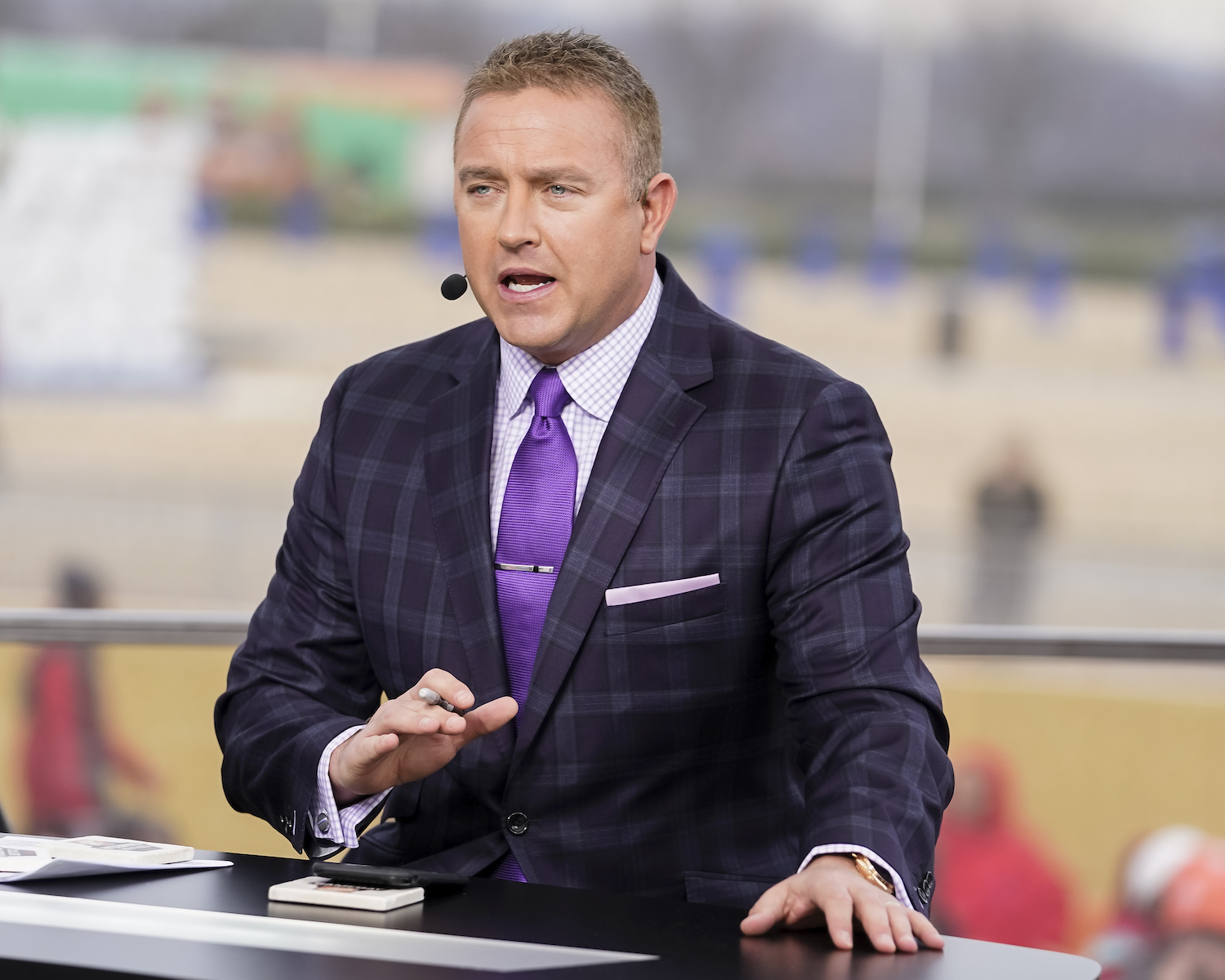 Kirk Herbstreit and Others in Tears During 1 of the Most Memorable Moments in College GameDay History
Kirk Herbstreit made an emotional plea during the 2020 season-opening College GameDay that left Herbstreit and multiple co-hosts in tears.
For years, Kirk Herbstreit has offered insight and analysis as one of the main voices on ESPN's popular college football pregame show College GameDay. In March during the offseason, Herbstreit found himself in the headlines for his thoughts on the pandemic and how it could potentially result in the cancellation of the entire college football season. 
While the Big 10 and Pac-12 did what Herbstreit predicted months ago, many conferences decided to plow ahead. With the season starting today for many schools, Herbstreit and the GameDay crew delivered the 2020 season-opening show remotely from their homes. While it was a much different look, it wasn't the show's appearance that made an impression on the college football fans watching. Instead, it was an emotional, tear-filled plea from Herbstreit on social justice that left multiple hosts in tears and provided one of the most memorable moments in the show's long history. 
Kirk Herbstreit offers grim assessment of pandemic in March
Kirk Herbstreit made an appearance on ESPN Radio in late March and when asked his thoughts about playing the 2020 college football season, the former Ohio State quarterback didn't hesitate to suggest there was a distinct possibility it might not happen at all.
"In my opinion, until we have a vaccine, where we've really got some control over this, even if this curve is flattened out, this virus is still out there. I'll be shocked, I haven't talked with anybody, but I'll be shocked if we have NFL football this fall, if we have college football. I'll be so surprised if that happens," Herbstreit bluntly admitted.   
The ESPN College GameDay host said he understood it was early on in the process, but as a nation, we were still early in the pandemic. "As much as I hate to say it, I think we're scratching the surface of where this thing's gonna go."
Kirk Herbstreit and College GameDay crew open 2020 season
On Saturday, Kirk Herbstreit's predictions didn't come to fruition for much of college football and he returned to work with the rest of the crew, including host Rece Davis, Desmond Howard, David Pollack, and Lee Corso. As has become the standard in the pandemic era of sports, the crew worked remotely from their homes to discuss the opening of the 2020 college football season.
Following a moving segment on the show discussing the nationwide movement of racial justice and its intersection with college football, Herbstreit, offered his personal thoughts on the ever-evolving situation. 
"The Black community is hurting. If you've listened and heard the words empathy and compassion for the last four months. How do you listen to these stories and not feel pain and not want to help?" Herbstreit questioned as his voice cracked. 
"Wearing a hoodie. Putting your hands at 10 and 2. 'Oh god, I'd better look out because I'm wearing Nike gear.' Like, what? What are we talking about? You can't relate to that if you're white, but you can listen and you can try to help," he paused, tears welling up in his eyes. "Because this is not OK. It's just not. We've got to do better, man. We've got to, like, lock arm-in-arm and be together." 
Huge reaction to Herbstreit's emotional plea
Moments after Kirk Herbstreit finished talking, Desmond Howard and Maria Taylor could both be seen wiping tears from their faces. Their reactions were just the beginning. Twitter exploded with numerous names across the world of sports responding to Herbstreit.
"Thank you, @KirkHerbstreit for sharing your wisdom, empathy, and compassion. This is powerful and important," Golden State Warriors head coach Steve Kerr wrote.
"I've cried like @KirkHerbstreit over the last 5 months more than I have in a long time. It's got to be better," wrote ESPN soccer analyst Taylor Twellman. 
NFL Hall of Fame quarterback Kurt Warner agreed. "WE… gotta do better! Well said @KirkHerbstreit."
Kirk Herbstreit, his own nerves raw from watching the scenes unfold and listening to the countless stories, struck a nerve with the audience, as evidenced by the overwhelming reaction. It's yet another moment during this unprecedented time in our nation's history where the world of sports has taken the lead in showing us how we should treat each other. Like teammates who are unified. There's a reason Kirk Herbstreit was a quarterback.  
Like Sportscasting on Facebook. Follow us on Twitter @sportscasting19.