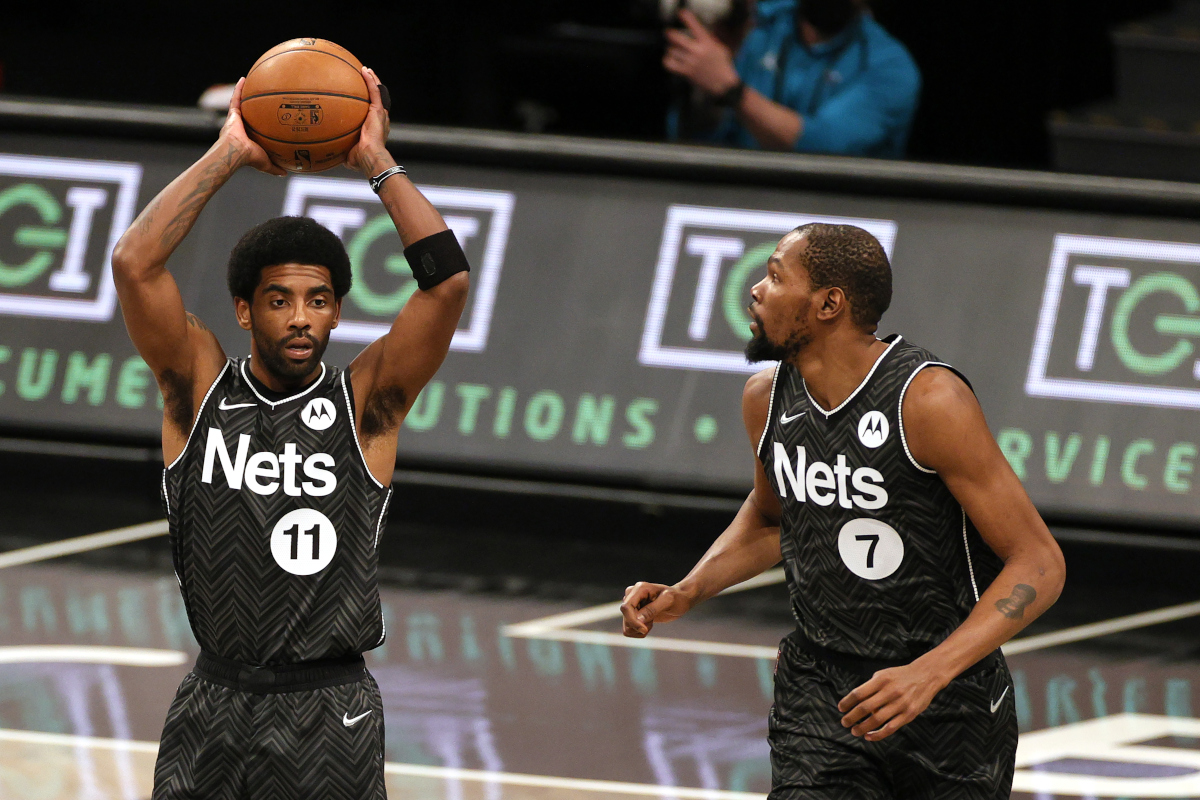 New Book Explains Why Kevin Durant and Kyrie Irving Decided to Go to the Brooklyn Nets and It Had Nothing to Do With Basketball
There have been many theories about why Kevin Durant and Kyrie Irving settled on the Brooklyn Nets as free agents in 2019. According to the author of a new book about his experience embedded with the Nets, it was about one thing -- control.
There may not be as many theories on why Kevin Durant and Kyrie Irving chose to go the Brooklyn Nets as there are dollars in their respective contracts. It only seems that way. But a new book from a writer who embedded himself with the Nets for several months provides some answers to the question.
Since the NBA introduced unrestricted free agency for the 1988 offseason, the Nets were never attractive for the cream of the free-agent crop. Durant and Irving changed that perception. Since their arrival, Brooklyn won the James Harden trade sweepstakes and attracted buyout free agents Blake Griffin and LaMarcus Aldridge. Those are new things for Nets fans.
Durant and Irving were never NBA teammates, though they were together in Rio de Janeiro for the 2016 Olympics. That was the genesis for one of the most significant power moves in NBA history.
Kevin Durant, Kyrie Irving, and the Silver Cloud
Before they battled in the 2017 NBA Finals, Kevin Durant and Kyrie Irving were limited to regular-season meetings and seeing each other during All-Star Weekend. But the first time they came together as teammates, the foundation of their current partnership was born.
It was in Rio de Janeiro for the 2016 Olympics. Per Jackie MacMullen of ESPN, Durant, Irving, and DeAndre Jordan stayed on a luxury liner called the Silver Cloud. It docked in Rio, and the three trained, ate, played cards, and talked.
This arrangement also answers how Jordan became part of the package deal with the Brooklyn Nets. Durant and Jordan had been friends since Durant was at the University of Texas. He tried to recruit Jordan to the Longhorns. They helped each other through difficult free agency periods in 2015 (Jordan) and 2016 (Durant). The relationship with Irving developed while they were in Rio.
It was like the reported bond that formed the Miami Heat's Big Three era with LeBron James, Dwyane Wade, and Chris Bosh during the Beijing Olympics in 2008.
The Rio trio wanted to play together. But Durant and Irving were looking for something more.
The Brooklyn Nets were the target of a power play
During an appearance on the Brian Windhorst and The Hoop Collective podcast, author Matt Sullivan explained what he learned about the relationship between Kevin Durant and Kyrie Irving. More to the point, Sullivan — who released Can't Knock the Hustle earlier in 2021 — offered a notion of why they ended up choosing the Brooklyn Nets.
According to Sullivan, then-Nets coach Kenny Atkinson was campaigning for Kawhi Leonard from the star-studded free-agent class. But Brooklyn general manager Sean Marks learned Leonard was going home to LA and turned his attention to Durant and Irving. As for the why, Sullivan offered a theory.
"There is the easy public excuse of saying, 'Oh, there's a beautiful practice facility, and a great GM, and great pieces.' Kyrie got in trouble for saying too much about the pieces. But I think really it was a franchise they could control, top to bottom."

Matt Sullivan
It was a road trip by the Golden State Warriors to Boston that brought the plan into focus.
"In January 2019, they were both in low places. The Warriors came to Boston to play the Celtics. KD had dinner at Kyrie's place in the Boston suburbs. Kyrie had been through this rough period since his grandfather died. KD didn't like his situation, and it was just kind of like, 'OK, Brooklyn.' And I don't think it was necessarily Kyrie playing recruiter so much as it was down-trodden friends. They had been to the top of the mountain, they both had won, but they still had that desire to build something on their own terms."

Matt Sullivan
There were hurdles on the way to actual superteam status, though.
The Kevin Durant-Kyrie Irving partnership got off to a slow start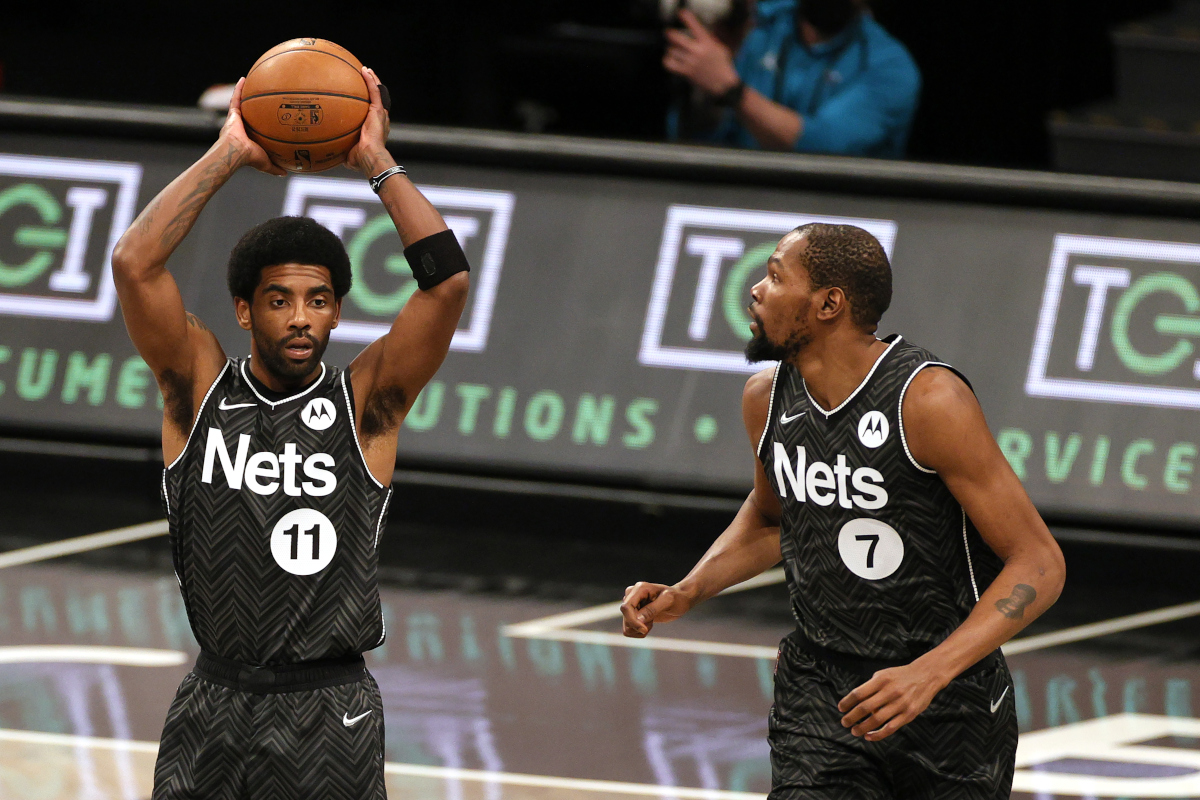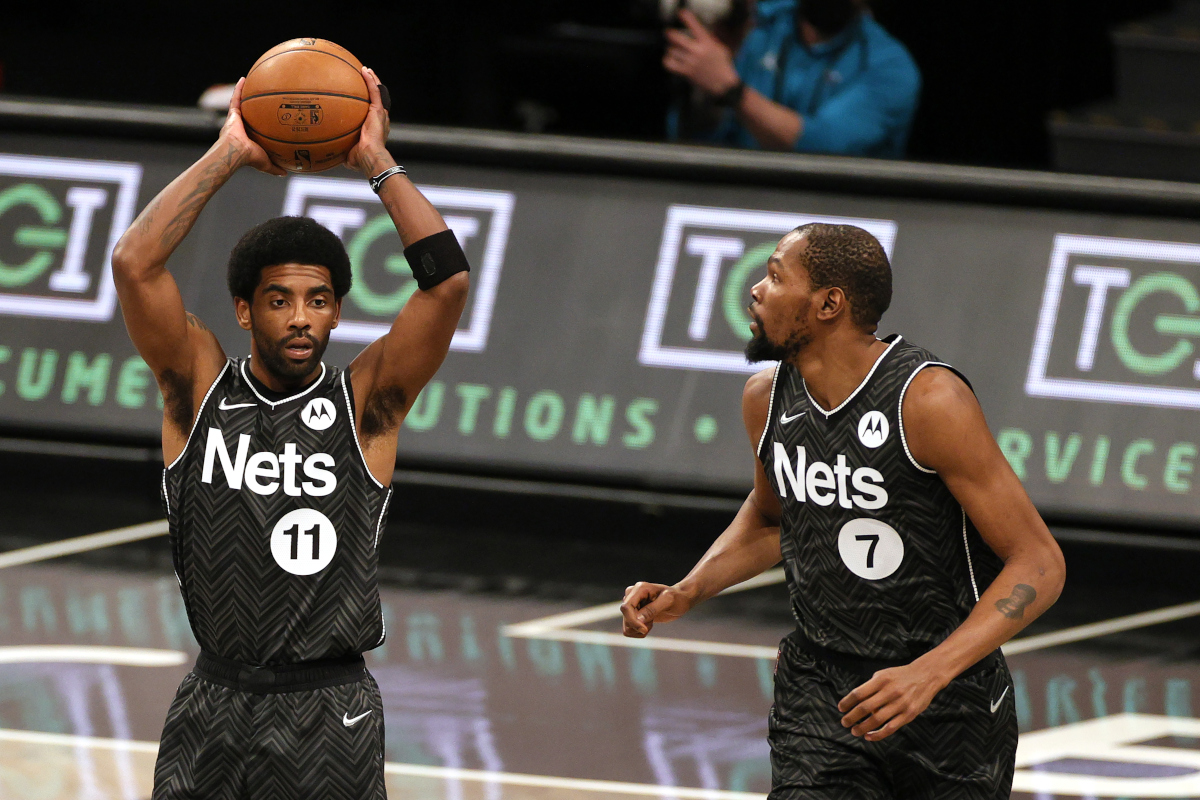 It was not an instant success after Kevin Durant and Kyrie Irving joined the Brooklyn Nets in July 2019. Durant missed the entire 2019–20 season recovering from a ruptured Achilles' tendon. Irving played only 20 games because of a shoulder injury.
Last season, the Nets added Harden and finished second in the East before bowing to the eventual champion Milwaukee Bucks in the second round. The three played only eight games together in the regular season, and Irving and Harden missed time with injuries during the playoffs. The Nets are title favorites for next season.
There are reports Irving and Harden are close to extension agreements. Durant already signed his. Steve Nash, who has a close relationship with Durant, is entering his second season as the coach in Brooklyn.
The Brooklyn Nets appear ready to make a power play for the franchise's first championship. It started with a similar move from Kevin Durant and Kyrie Irving.
Like Sportscasting on Facebook. Follow us on Twitter @sportscasting19.