Why Kyle Larson Reminds Mario Andretti 'A Lot of Myself'
Motorsports icon Mario Andretti understands the quest for NASCAR Cup Series champion Kyle Larson.
Andretti pursued a similar path, although different disciplines. Both Andretti and Larson share a passion for racing different machines on a variety of surfaces, facing different drivers at various venues.
At 81, Andretti remains active in the racing communities.
When he watches the 29-year-old Larson's drive, he senses a familiar feeling.
Mario Andretti on Kyle Larson's versatility: 'He just captured me in a very special way'
When asked a series of questions comparing Larson to himself, Andretti smiled and often laughed during an interview with NBC Sports.
"That's his life," Andretti said. "That's what he loves. I identify with that. That's the reason I gravitated toward him in the sense of being particularly interested in what he's doing. He's not the only one that interests me, but he just captured me in a very special way because I see a lot of myself there."
Andretti is the lone motorsports driver to claim a checkered flag at the Daytona 500, Indianapolis 500, and at a Formula 1 event.
Larson's journey the past few years included treks to various dirt racing events. Last January, he defended his Chili Bowl Nationals title and won the Knoxville Nationals, a significant sprint car event. Last July, he also claimed the Kings Royal sprint car feature.
During his lost year in 2020, Larson spent a lot of his time racing on local dirt tracks. He won 46 of 97 races he started.
Andretti is impressed with Larson's determination to do anything to win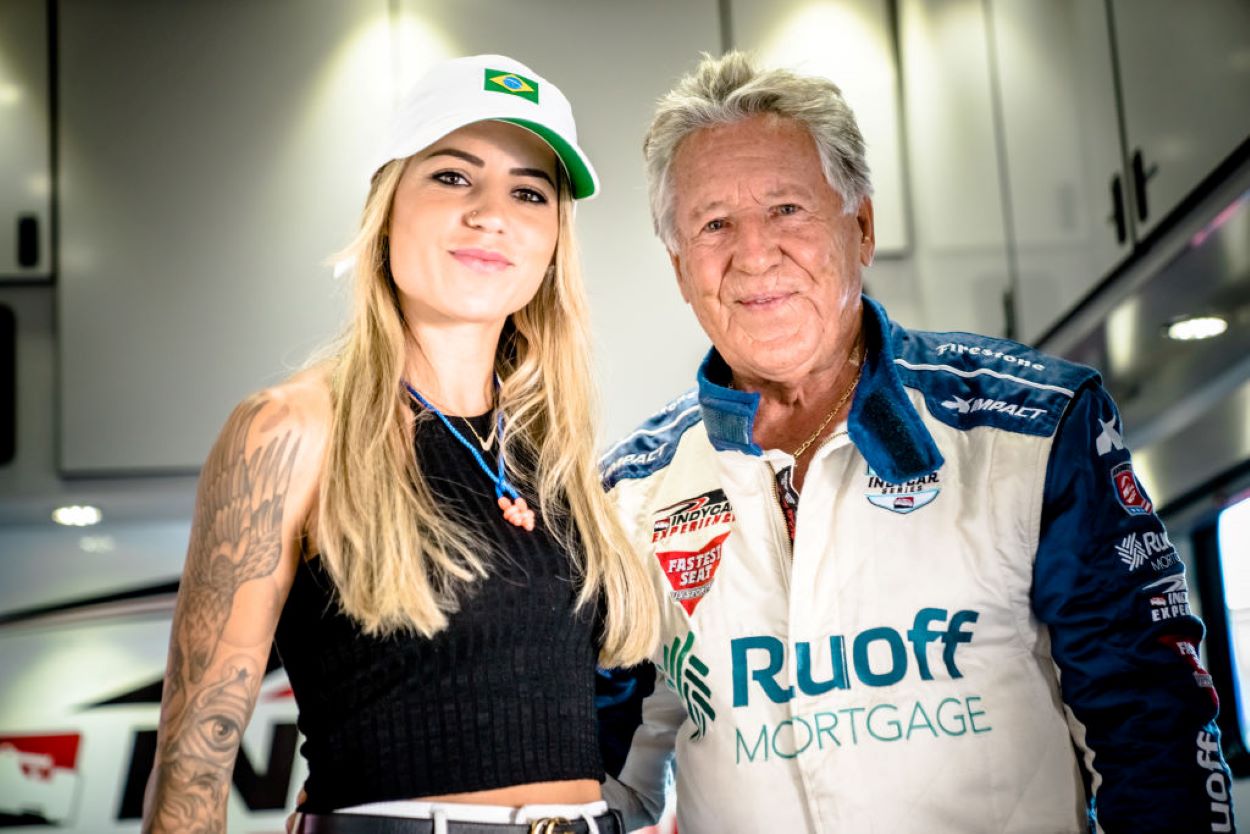 To Andretti, it's not about the effort but succeeding.
"That's what it's all about," Andretti said. "It's not just about trying. 'OK, I'm going to give it a go.'
"(It's) win. Win. You have got to win in somebody else's sandbox at their own game. That's what gives you the ultimate satisfaction. … I can see his motivation is the thought process I was giving it."
Andretti referenced Larson's determination to conquer the Southern 500 on Sept. 6. Attempting to chase down Denny Hamlin on the final lap, Larson drove to the side of his rival's machine and against the wall.
Larson later called it a "video game" maneuver. He reasoned he couldn't go low, so he attempted to build up speed and bounce off the wall to generate last-gasp momentum.
The attempt failed, but Larson capped the 2021 Cup postseason opener in a way that brought a smile to Andretti, who believes drivers are athletes.
"Let's call that a Hail Mary," said Andretti, who has 111 career wins. "It's exactly what it was."
Andretti: 'Somewhere along the line, I think Kyle connects with all of us that have been crossing over'
When Larson claimed the Chili Bowl last January, Andretti picked up his cellphone and clicked on the Twitter app. He wrote: "Can't think of any present driver that's more of a 'Racer' than Kyle Larson."
Talk about a compliment from a driver Larson admits to possessing feelings of jealously.
Larson grew up dreaming of creating a career for himself on the World of Outlaws sprint car circuit, but a little thing called NASCAR got in his way. Not that he's complaining. He still quenches his thirst for racing on dirt when his schedule permits.
Andretti laughs again when talking about Larson's quest.
"We've all been somewhat versatile in different situations and with different opportunities," Andretti said. "I was feeding (off of) A.J. and Dan Gurney and people like that. Dan Gurney was winning in stock cars … Formula 1, and sports cars. 'I want to do that.' That's really what motivated me.
"Somewhere along the line, I think Kyle connects with all of us that have been crossing over (to other series)."
Just like Andretti.
Like Sportscasting on Facebook. Follow us on Twitter @sportscasting19.
RELATED: Kyle Larson Reveals What Makes Jimmie Johnson a 'True Champion' 
Related post url: