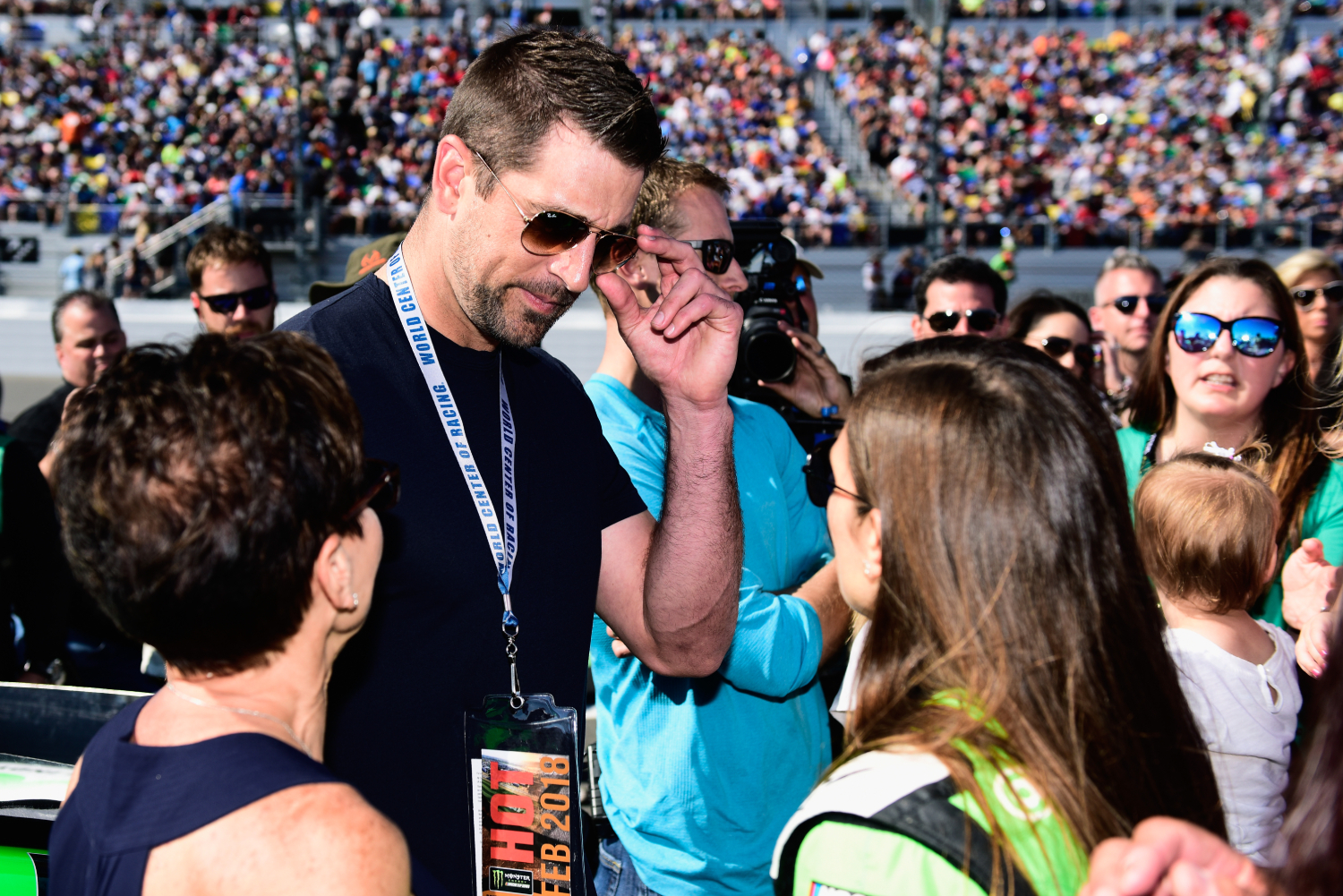 Why Was Aaron Rodgers So Intimidating to Danica Patrick?
Why was Danica Patrick so intimidated by Green Bay Packers quarterback Aaron Rodgers?
They were a superstar couple. Green Bay Packers quarterback Aaron Rodgers and NASCAR's Danica Patrick appeared to be the perfect match. Both were in the spotlight, were financially stable, and appeared happy together. The two have split up, but when they were together, Patrick revealed why she was so intimidated by the football star.
Aaron Rogers and Danica Patrick are wildly successful
Aaron Rodgers is on the verge of winning his third MVP. He has guided the Green Bay Packers to the top seed in the NFC and the best record in the conference. Rodgers is a nine-time Pro Bowler and he's a Super Bowl champion.
Rodgers is in his 16th year of the NFL and his 13th as the full-time starter for the Packers. He led the league in touchdown passes this year with a career-high 48. He's only been intercepted five times. For his career, Rodgers has thrown 412 touchdown passes and has been intercepted 89 times.
Danica Patrick hasn't had nearly the success on the race track as Rodgers has had on the football field. Although she's the most successful woman in the history of American open-wheel racing, she has gone winless in both the NASCAR Cup and Xfinity Series. She's been a role model for women in sports and has been successful in several other business ventures.
Rogers and Patrick broke up after two years of dating
Aaron Rodgers and Danica Patrick met at the 2012 ESPYs. They were friends, but not much more than that until 2017. According to ESPN, the couple began dating in 2017 and made their relationship public in 2018.
In July of 2018, Patrick, who grew up a Chicago Bears fan, went on "Jimmy Kimmel Live" and spoke of her relationship with Rodgers and how she switched allegiances and was a Packers fan. According to Artful Magazine, Rodgers expressed his love for Patrick in October of 2018. "We're just two people who enjoy being around each other and love each other," Rodgers said. "We're really into each other. So there are going to be [social media] posts with each other because we enjoy each other's company a lot. We're really attracted to each other."
In July of 2020, the relationship was over. Patrick's rep confirmed to E! News that Patrick and Rodgers were "no longer together."
Patrick explained why Rodgers was so intimidating
In 2018, Danica Patrick had Aaron Rodgers on her Pretty Intense podcast. She admitted she was nervous interviewing Rodgers. Patrick seemed flustered as she was about to have Rodgers on the podcast. She said she found him intimidating and then elaborated.
"It took me a while to be ready because I wanted to have a little bit more practice under my belt before I took on someone so important in my life," Patrick said before interviewing Rodgers, "as well as the reasons why I was a little intimidated to talk to him and interview him. That's because he's so intelligent and he really has a deep respect for someone who does their job well."
At the beginning of the interview, she continued harping on Rodgers' "intelligence intimidation, where you're so smart and you have a deep respect for those who have their thoughts collected and give a really good interview with great, insightful questions." Even her first question was, "When did you know you were so smart?" Rodgers clearly is an intelligent man. He'll have all his smarts on the big stage soon and recently revealed he will be a guest host on 'Jeopardy!' in the near future.