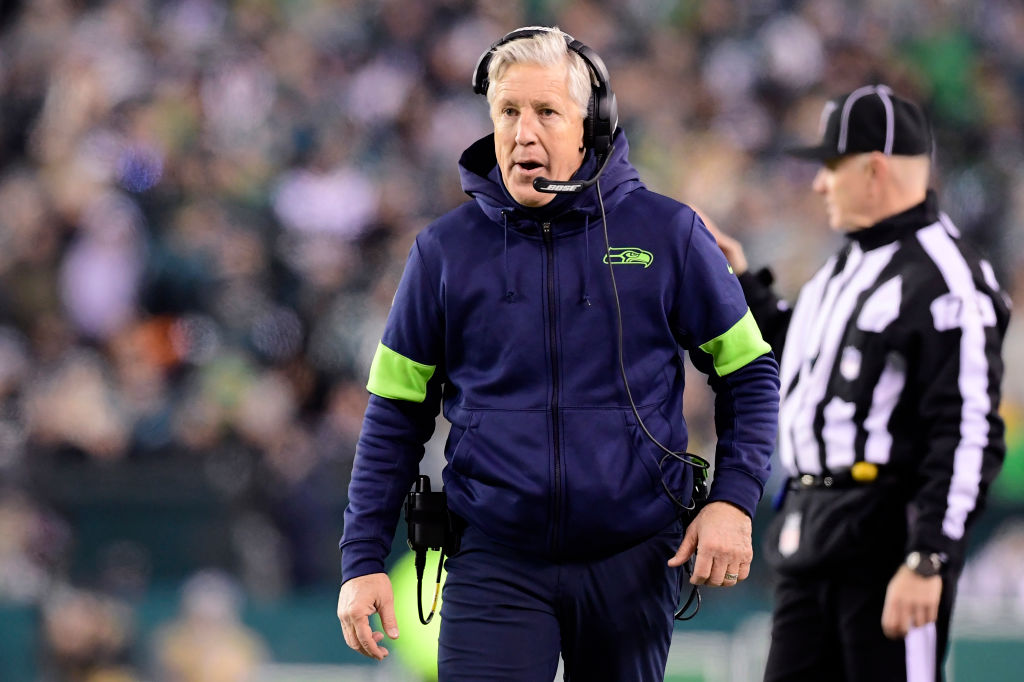 Will Ferrell Hilariously Crashes Seahawks Virtual Meeting Posing as Greg Olsen
Comedian Will Ferrell hilariously crashed a Seattle Seahawks virtual meeting posing as newly acquired tight end Greg Olsen
With the 2020 NFL draft complete, teams around the league are having virtual meetings introducing the newest members to their respective organizations. In a Seattle Seahawks virtual meeting this week, those attending were surprised when comedian Will Ferrell unexpectedly appeared posing as veteran tight end Greg Olsen, who signed with the club in February. It was a classic Will Ferrell moment.
Seattle Seahawks newest members
The Seattle Seahawks surprised many around the league with their first-round selection of linebacker Jordyn Brooks out of Texas Tech. Brooks wasn't as highly rated as LSU's Patrick Queen by many draft experts, but head coach Pete Carroll and the Seahawks haven't been known for doing things the conventional way.
In addition to Brooks, Seattle added defensive end Darrell Taylor out of the University of Tennessee, in the second round, and guard Damien Lewis out of LSU in the third. All three players and the rest of the 2020 draft class could have a big impact in the upcoming season as Seattle tries to improve on an 11-5 record and figure out how to overtake their division rival San Francisco 49ers. 
In addition to the rookies, Seattle has added more offensive firepower this offseason with the acquisitions of three-time Pro Bowl tight end Greg Olsen out of Carolina and wide receiver Phillip Dorsett from New England.
Will Ferrell substitutes as Greg Olsen in first-time introduction to teammates
This week Carroll organized a meeting to introduce all the Seattle newcomers to their teammates in a virtual meeting. When the coach introduced veteran tight end Greg Olsen, who signed with the Seahawks in February, the rest of the players were surprised when actor Will Ferrell appeared online pretending to be Olsen.
Ferrell's introduction was met with immediate laughter and cheering from the players. He then proceeded to tell his teammates how excited he was to join the team and how particularly happy he was to be playing with quarterback Russell Wilson. 
"I'm excited to play with you, Russ. Russ, I love you. I mean, I love you. I love the way you play. I love the way you handle yourself as a human being," Ferrell said. "I mean, I love you. Let's make a baby."
Ferrell-Olsen also said he had drawn up his own plays in Carolina and showed his latest play called, "90-Go-Flywheel-Kanye-Starburst." After he bragged about his conditioning, Ferrell then pulled up his shirt for an up-close view of his flabby stomach, which drew a laugh from several in the meeting. 
When Ferrell's time was up, after almost four minutes, the real Greg Olsen appeared on screen laughing. 
Pete Carroll and Will Ferrell have been friends for years
Will Ferrell and Pete Carroll became friends almost 20 years ago when Carroll roamed the sidelines as head coach at the University of Southern California, where Ferrell is a proud alum and booster. Through the years, their friendship has grown, and Ferrell has never hesitated to sit in and provide a laugh when Carroll has asked.
In 2014, Carroll was speaking on stage in an interview at USC when Ferrell appeared out of nowhere, interrupting his speech. He then sat down with the coach and moderator, and they talked about their long-standing relationship, and other times Ferrell has made surprise appearances. 
The pairing of coach and comedian has worked well for years, and it's obvious Carroll appreciates the value of laughter and not taking life too seriously. And right now, we could all use a good laugh.