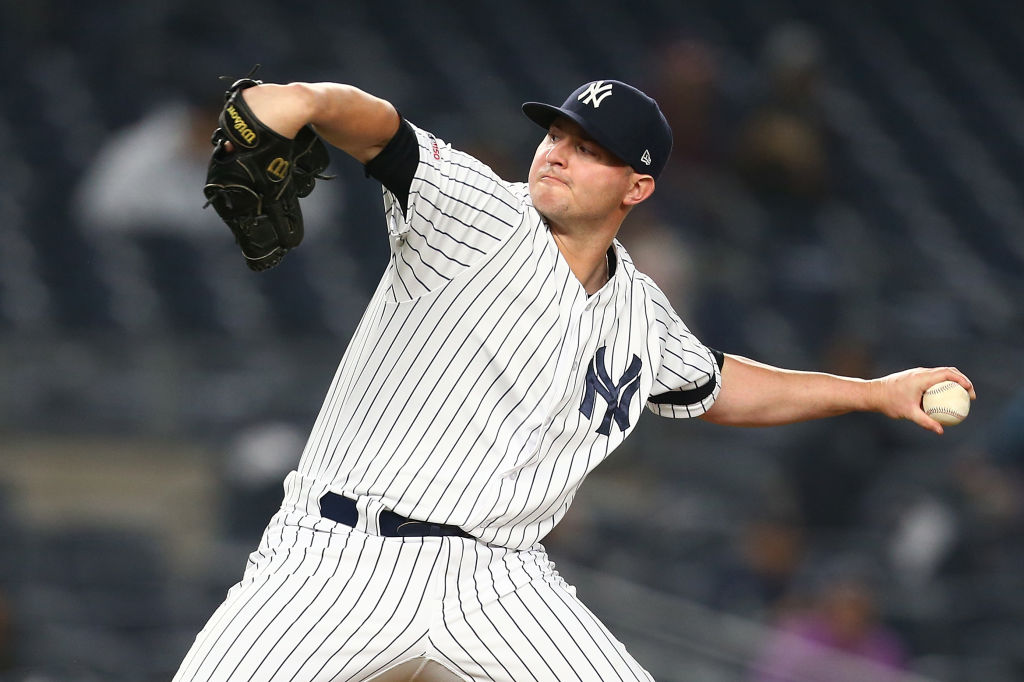 Yankees Unanimously Vote to Remain in Florida to Keep Working out
While most of the sports world throughout the country is on hiatus due to the coronavirus (COVID-19), the New York Yankees have decided to keep working. Although Major League Baseball has pushed back the beginning of the start to the MLB season and canceled the rest of spring training, the Yankees have unanimously voted to …
While most of the sports world throughout the country is on hiatus due to the coronavirus (COVID-19), the New York Yankees have decided to keep working.

Although Major League Baseball has pushed back the beginning of the start to the MLB season and canceled the rest of spring training, the Yankees have unanimously voted to remain in Florida to keep preparing for the regular season.
Yankees teammates staying united
After a meeting Friday that included MLB Commissioner Rob Manfred and union head Tony Clark, it was made known that players were given the option to head back home or remain in Florida during the break.
"Everyone wants to stay here and get ready to go whenever the season starts back," reliever and team union rep Zack Britton said. "[Owner] Hal Steinbrenner spoke to us. He's going to give us access to the facility. They're going to supply us with breakfast in the morning."
Britton said he's excited to see his team unified and hungry to get to work despite the spread of the coronavirus which has dominated the news, shutting down or postponing events throughout the country.
"I was happy to know that we're all pulling in the same direction. I feel like we were anyway. We have a great clubhouse. But guys want to stick it out here. They could have easily gone home to be with their families and they decided we want to stick together and get ready for the season."
MLB season might not begin until May at the earliest
The New York Yankees could find themselves hanging in Florida for quite some time. Although Major League Baseball initially pushed back the start of the season two weeks, ESPN's MLB Insider said otherwise.
Passan said the expectation among players, executives, and owners is that the MLB season would likely begin in May at the earliest.
Passan was asked if MLB's date of starting the season on April 9 was realistic.
"From everybody that I speak to, players, executives, officials, people at the union, the answer is no. And if there is baseball on April 9, something went really, really well across the country . . .  the expectation at this point among almost everybody, is that we're not going to see baseball until May."

Jeff Passan, ESPN


Some current and ex-players are concerned about the coronavirus
Former big-league infielder Will Middlebrooks believes MLB and its players should use extreme caution when dealing with the coronavirus. He aid baseball players could be at a higher risk for infection than other professional athletes simply because of the way the game of baseball is played.
"Hopefully no one in a baseball clubhouse has been infected… that would spread like wildfire," Middlebrooks wrote on Twitter. "So much shared… think about how many guys lick fingers for grip on the baseball… strike 3 and fire it around the infield. This could be bad."
Washington Nationals pitcher Max Scherzer said he wouldn't be surprised if someone already in Major League Baseball already has contracted the coronavirus.
"I think we'd be kind of naive to think that there's not one player in any one of the camps across MLB right now that has not contracted it yet," Scherzer told reporters Thursday morning, per MASN. "You've got to think here that somebody probably has it. It's just going to matter at what point now."
Unsigned free agent Yasiel Puig has a habit of licking his bat, something that probably wouldn't go over well with players and teammates now.