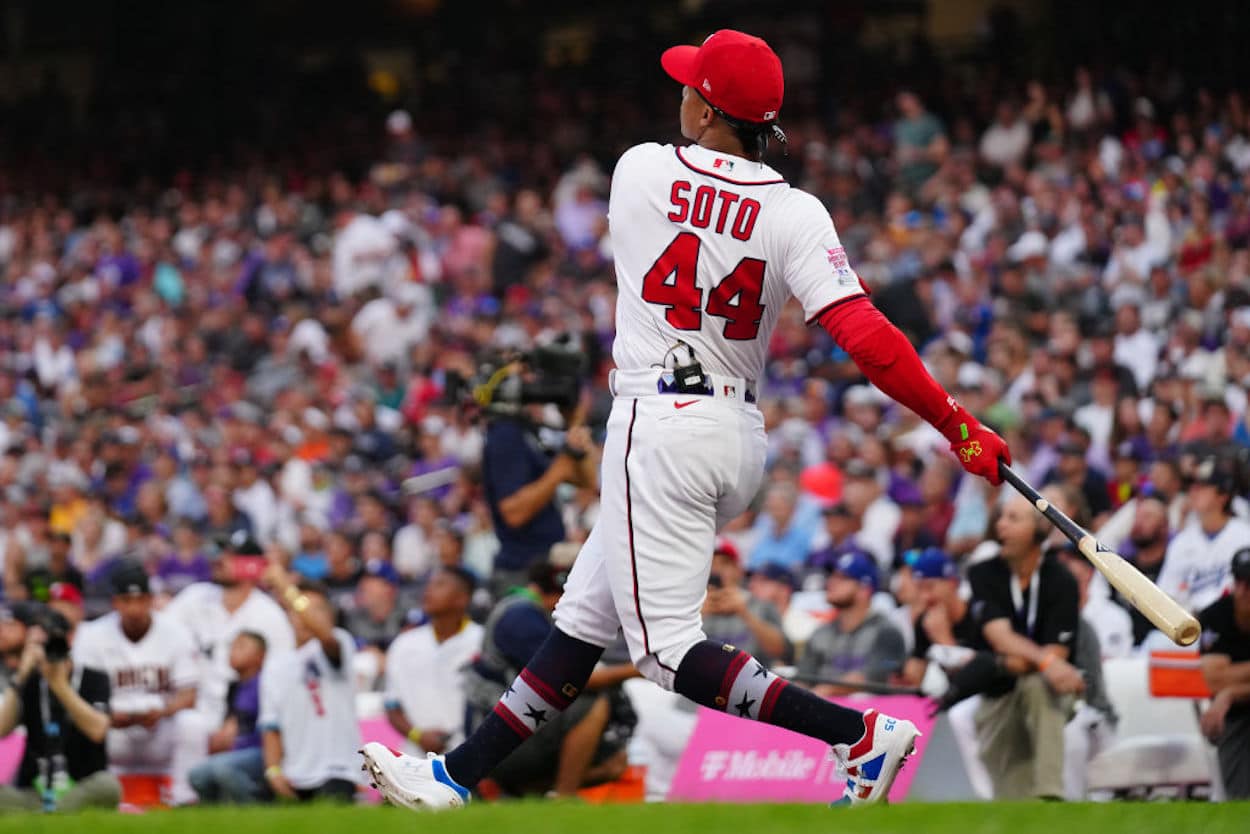 The 10 Most Unforgettable Moments in Home Run Derby History
Let's take a walk down memory lane and revisit some of the best Home Run Derby moments in recent history.
Major League Basball's unofficial halfway point of the regular season is finally here: the All-Star break. Festivities have already kicked off with events like the Futures Game, the Celebrity Softball Game, and the MLB Draft. Next up on the docket before the midsummer classic itself is the 2022 Home Run Derby.
Eight sluggers – including two-time defending champion Pete Alonso – will be descending upon Dodger Stadium on Monday at 8 p.m. EST to put on what's sure to be quite the show. As we wait for balls to start getting launched out of Chavez Ravine at an alarming rate, revisiting memorable Home Run Derby moments from the past is a great way to prepare. 
Below are 10 Derby moments that will surely get you excited for what's to come in Los Angeles. 
1993: Ken Griffey Jr. hit the warehouse at Camden Yards
When anyone mentions the Home Run Derby, it's just about impossible for baseball fans who grew up in the 1990s to not think of Ken Griffey Jr. With his sweet swing and backward cap during his rounds, he helped bring excitement to the event. He's also the only player in MLB history to win the event three times (prior to the 2022 event, at least).
Griffey won it all in 1994, 1998, and 1999. Plus, his 71 career homers in the Home Run Derby are among the most all time (h/t MLB Daily Dingers). What's interesting, though, is that his signature moment in this event came during a year in which he didn't win. That'd be in 1993 when Camden Yards hosted All-Star weekend. He finished second to Juan Gonzalez (who took home the honors in a playoff), but Griffey became the first slugger to hit the warehouse on Eutaw Street…on the fly. 
The reaction from the fans, and then from Griffey himself before the announcement was made, were both classic. 
1999: Mark McGwire's record-setting first round at Fenway Park
That Griffey guy ended up winning his second straight Derby during the festivities in Boston, but all eyes were on Mark McGwire and Sammy Sosa. Why? Well, the great home run chase of 1998 had just ended, and both players surpassed Roger Maris' previous single-season record of 61 dingers. 
Sosa hit just one homer in his appearance, but McGwire stepped up to the occasion. In his first-round performance, he hit a record 13 home runs. As you can imagine, many of them were absolute tanks that left the park completely, sailing over the Green Monster. He managed only three dingers the rest of the way, but this was plenty to make a mark on our collective memories.
Honestly, though, is there anything better than hearing Chris Berman's classic "Back, back, back, gone!" call as the old-school Sportscenter alert came on in the background? Probably not. 
2005: Bobby Abreu teeing off at Comerica Park
Comerica Park is not a stadium that's conducive to offense. You wouldn't have known that while watching the 2005 Home Run Derby.
Bobby Abreu of the Philadelphia Phillies came into the break with 18 homers on the year. During this one night in Detroit, he slugged 41 balls over the wall. That not only won the competition, but it was a record for the most in a single Derby at the time. 
Abreu beat out Ivan Rodriguez in the finals, but when looking at the cumulative production, it wasn't close. Both Rodriguez and David Ortiz slugged the second-most homers overall, with 20 each. 
2008: Josh Hamilton's dreams come true at the old Yankee Stadium
Like McGwire in 1999, Josh Hamilton stole the show during the Home Run Derby by putting together a record-setting first-round performance. He also didn't end up winning – Justin Morneau did. No offense to him, but his Derby-winning performance will always be overshadowed by what Hamilton did in the Bronx. 
The Rangers slugger mashed 28 home runs in the initial round, which included a streak of 13 dingers on 13 consecutive swings. Talk about getting hot, right? This performance included seven balls that traveled at least 500 (estimated) feet. His longest was a 518-foot blast that hit the back wall beyond the right-field bleachers. 
2015: Todd Frazier's hometown Home Run Derby win at Great American Ball Park
Todd Frazier's first taste of the Home Run Derby came in 2014. He finished in second place to Yoenis Cespedes (who won the event for the second year in a row) but hit just 10 homers at Target Field. The following season, Frazier's home park in Cincinnati hosted All-Star weekend, and he took home the Derby victory. 
What made this special? Coming out on top in front of the home crowd is certainly one reason. However, Frazier accomplished this while having his brother, Charlie, pitching to him. Also, all three rounds the right-handed hitter won were clinched on his final swing. 
2016: Giancarlo Stanton hit literal miles of homers at Petco Park
There are a small handful of players who were made to mash in the Home Run Derby. Giancarlo Stanton is absolutely one of them. Like Frazier, Stanton's first taste of the Derby as a big leaguer came in 2014. He walked away with just six homers, but the California native saved his best work for 2016 at Petco Park. 
Stanton won the title with 61 homers, which set a record for the most in one Derby. That was impressive, but there's more. The way he reached those 61 dingers will truly make your jaw drop. 
Statcast was introduced in 2015 and thank goodness because it captured the ridiculousness of Stanton's performance. 
The slugging outfielder registered the 20 hardest-hit balls of the evening, with his best clocking in at 120.4 mph. He hit 11 balls beyond 440 feet, with two of them landing 497 feet from the plate. Stanton's average home run distance was 446 feet, and all his dingers combined for 27,187 feet, which works out to 5.15 miles. Just a truly dominant performance in every way imaginable. 
2017: Aaron Judge puts on an absolute show at Marlins Park
Aaron Judge's rookie season was one for the ages. He not only won AL Rookie of the Year honors, but he very nearly won the AL MVP Award, too. The right-handed hitter finished the regular season with 52 home runs, which were an MLB record before Alonso broke it a couple of years later. 
He entered the All-Star break with 30 homers and outdid himself during this one night in Miami by slugging 47 to take home the Home Run Derby title. He used all parts of the field and slugged 16 homers with an exit velocity faster than 115 mph. Until 2021 (which we'll get to in a moment), Judge had the only homers that were confirmed to have flown more than 500 feet. He hit four of them, with the longest sailing 513 feet. 
2018: Bryce Harper's last-minute comeback in D.C.
Bryce Harper's 45 total homers finished second behind Kyle Schwarber, who slugged 55 on this night. Harper won the finals matchup against Schwarber 19-18, but with 47 seconds left in regulation, Harper was trailing 19-9. He made up that deficit by getting hot quickly and tying Schwarber on his final swing of regulation before eventually winning it. 
Harper became the third player to win the Derby in his home stadium, joining Frazier and Ryne Sandberg, who did it at Wrigley Field in 1990. 
2019: Vladimir Guerrero Jr., Joc Pederson, and the most epic Derby matchup ever
There have been some incredible single-round performances in Home Run Derby history. None have been quite like the one we saw between Vladimir Guerrero Jr. and Joc Pederson in the second round of 2019, though. 
Vlad Jr. was fresh off setting a record for homers in a single round by slugging 29 in his first-ever Derby performance. He followed that up with another 29 to kick off Round 2. So, all Pederson had to do was tie a Derby record to stay alive…which is exactly what he did. The overtime rules called for an extra minute of swings for each hitter. Once the buzzer sounded, they were each tied once again, but this time at 37 homers apiece. 
This led to a swing-off, giving Guerrero and Pederson three swings each to see if the tie could be broken. It didn't work, as they each hit one, which led to yet another swing-off. Vlad Jr. hit two of his next three out of the park, and Pederson faltered after connecting on his first swing. 
The final tally? Vlad Jr. slugged 40 homers, and Joc finished with 39. 
2021: Distance records are rewritten at Coors Field
Coors Field is known as an offensive paradise. The Home Run Derby hadn't been held there since 1998, so there was quite a bit of anticipation for the 2021 event. Based on how the record books were rewritten in the distance category, it lived up to the hype. 
As mentioned previously, the Statcast era goes back to 2015. Prior to 2021, only Aaron Judge had hit homers that traveled 500-plus feet, which he did four times. But at Coors, 15 balls went past that mark. Shohei Ohtani hit six, Pete Alonso and Juan Soto each hit four, and Trevor Story hit one. 
Of the 10 longest homers in Derby history that have been tracked, eight happened in last year's competition, as well as 12 of the top 15. Soto's 520-foot blast is the longest tracked dinger in Home Run Derby history. 
What memorable moments will be added to this list after Monday night? Can Alonso join Griffey as the second three-time winner? Can anyone else blast a ball further than 500 feet? Only time will tell. 
Like Sportscasting on Facebook. Follow us on Twitter @sportscasting19 and subscribe to our YouTube channel.