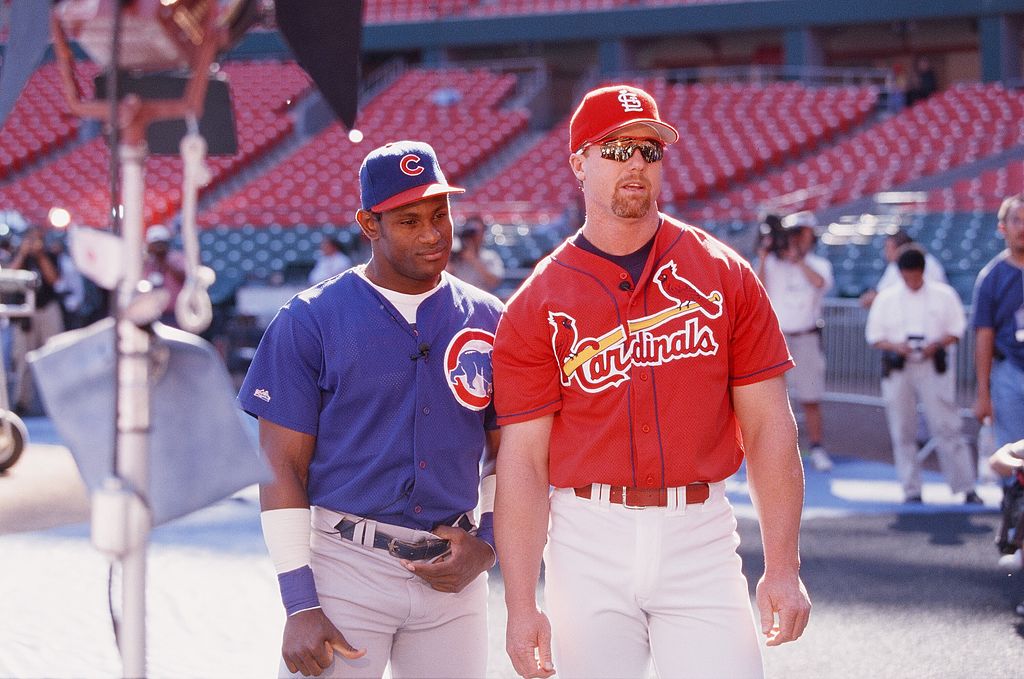 Mark McGwire Won the Home Run Race, but Sammy Sosa Earned Significantly More Money Playing Baseball
Mark McGwire may have won the 1998 home run race, but Sammy Sosa earned more money than his heavy-hitting rival.
As any sports fan can tell you, there's nothing like a good rivalry to get the competitive juices flowing. During the 1998 Major League Baseball season, Mark McGwire and Sammy Sosa proved that firsthand with their home run race. While steroid-related revelations have since tainted their legacies, the two MLB stars enthralled the entire nation during their chase for baseball immortality.
While Mark McGwire ended up winning the race and finishing the season with 70 home runs, Sammy Sosa still scored a victory of his own. When you compare the two slugger's careers, Sosa earned significantly more salary than Big Mac.
Mark McGwire and Sammy Sosa's Major League Baseball careers
When you think about Mark McGwire and Sammy Sosa, it's hard to look beyond their famous home race. Both sluggers, however, had careers beyond the 1998 season.
McGwire's professional career started in the Oakland A's organization and make an impact as soon as he made it to the show. He belted 49 home runs during his first MLB season cruising to the AL Rookie of the Year title. While the Athletics traded him to St. Louis in 1997, the slugger grew into a legitimate star. He spent four full seasons in the Midwest before retiring in 2001 and trying his hand at coaching.
Sammy Sosa's career, on the other hand, started out more slowly. The outfielder started out with the Texas Rangers, but didn't make much of an impact in the Lone Star State; the club traded Sosa to the Chicago White Sox, but he to struggle at the plate. Once he landed with the Cubs, however, the outfielder blossomed into a prolific power hitter. Sosa spent 13 seasons with the North Side club before joining the Baltimore Orioles; after one year there, a year away from baseball, and a third year with the Texas Rangers, he finally retired in 2009.
While hindsight has changed our perception of the sluggers—McGwire admitted to using steroids, while Sosa has denied any wrongdoing—both sluggers seemed like living legends during their time on the field. McGwire batted .263 for his career, piling up 538 home runs and 1,414 RBIs; Sosa retired with a .273 batting average, 609 homers, and 1,667 RBIs.
Mark McGwire won the 1998 home run race
No sport places more of an emphasis on history and raw statistics than baseball. Based on that context, the 1998 home run race became must-see TV.
For decades, Roger Maris' 61 single-season home runs stood as an unbreakable record; several players, ranging from Willie Mays to Matt Williams, came close, but no one was able to make history. That all changed in 1998, however, when both Mark McGwire and Sammy Sosa started hitting dingers with relative ease.
While both men would surpass Maris' mark, McGwire ended up outdueling his rival and finished the campaign with 70 home runs. Some have even credited the race with saving baseball after the 1994 players' strike, but others, like David Leonhardt of the New York Times, dispute that theory.
Sammy Sosa, however, earned significantly more salary than his rival
While Barry Bonds eventually overshadowed 1998's home run race, Mark McGwire did take the crown as Major League Baseball's top power hitter. Sammy Sosa, however, outearned his N.L Central rival.
Big Mac spent 16 seasons in the big leagues and, according to Baseball-Reference, earned just under $75 million. While that's not a bad payday, it's overshadowed by Sosa; Baseball-Reference pegs his professional earnings at little over $124 million. CelebrityNetWorth also gives the Cubs' slugger the edge in overall net worth by the score of $70 million to $60 million.
In 1998, Mark McGwire and Sammy Sosa were the talk of the sports world. The former might have claimed the home run crown, but the latter came out on top in the battle of the bank account.
Stats courtesy of Baseball-Reference