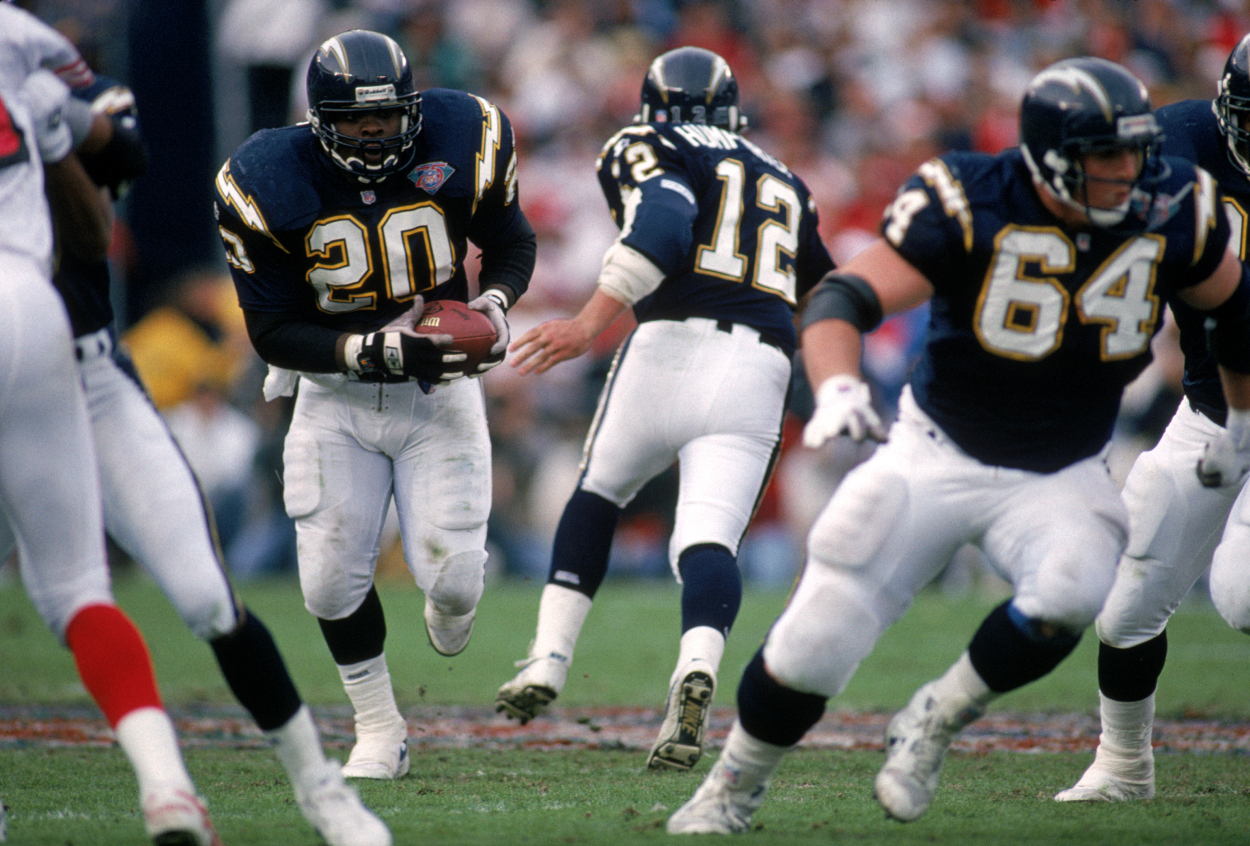 The 1994 San Diego Chargers Super Bowl Team Marred by 8 Deaths
The San Diego Chargers had a special season and went to the Super Bowl in 1994. Since then, the team has been marred by tragedy.
The San Diego Chargers had one heck of a season in 1994, surprising many with their Super Bowl berth. Led by quarterback Stan Humphries and a stingy defense, the Chargers finished 11-5 and eked out two playoff wins to reach the Super Bowl. Although that season was memorable for Chargers players and fans, that team had eight members die before the age of 45.
The San Diego Chargers' special season of 1994
The 1994 San Diego Chargers certainly weren't the most talented football team in the NFL in 1994, but they got things done. Quarterback Stan Humphries guided an offense that was triggered by Pro Bowl running back Natrone Means. Means was a power back who finished the season with 1,350 rushing yards and 12 touchdowns.
Humphries was sold, but not spectacular. He threw 17 touchdown passes and 12 interceptions, going 11-4 in the 15 games he started. He led the Chargers to a 6-0 start and helped them to a division title with an 11-5 record. The defense was strong and was led by two Pro Bowlers in linebacker Junior Seau and defensive end Leslie O'Neal.
The Chargers won their first six games and eight of their first 10. They hit a tough stretch, losing three of their next four, but finished with an 11-5 mark and a two-game lead in the AFC West. In their first playoff game, the Chargers held off the Miami Dolphins 22-21 and then defeated the Pittsburgh Steelers on the road, 17-13. The Chargers reached Super Bowl 29 but lost to the San Francisco 49ers 49-26.
The 1994 Chargers were a close-knit team
They were by no means a dynasty, but the 1994 San Diego Chargers were good enough to be the best in the AFC. And they had fun doing so. According to ESPN, the 45 players on that Chargers team were inseparably tight.
One of those players, linebacker Doug Miller, played three years with the team. He made a name for himself on special teams and had his locker right next to Chargers legend Junior Seau. A knee injury ended Miller's football career. Miller was always proud to wear his commemorative Super Bowl 29 sweatsuit in public. It meant so much to him to be a part of that team.
Miller died in 1998, a few years after that special Chargers season. Miller's death was tragic. He was in Colorado to take part in a charity golf tournament. According to ESPN, Miller was struck by lightning twice. Miller's tragic death was just one of many from that 1994 Chargers Super Bowl team.
Junior Seau's death in 2012 was the eighth for that 1994 Chargers team
The news of Junior Seau's death in 2012 shocked the sports world. Seau died of a self-inflicted gunshot. Seau was the eighth player from that 1994 San Diego Chargers team to die. All were younger than the age of 45. The first Charger to die was linebacker David Griggs, who was killed in a car accident in 1995.
Running back Rodney Culver and his wife were killed when their plane crashed after they took an earlier flight home because they missed their children. From 2008-2011, four more died. Two passed away from heart attacks, one had an enlarged heart, and another died from a drug overdose.
"It's insane, isn't it?" said Blaise Winter, a defensive tackle on the '94 team, according to ESPN. "I mean, Chris Mims, (Shawn) Lee, Miller, Rodney. … It's like, 'Is the ceiling above my head going to fall on me?' So many good people … I'd rather look at it that way. I'd rather look at it as all eight were good people who had good intentions for the world around them and themselves. It's amazing to me. It's just mind-blowing how many guys we've lost in weird ways from that team."