2 NFL Coaches Are in a Race To Get Fired First
There's never any shortage of drama in the NFL, but it often centers on a specific player rather than a coach. The latest speculation, however, features not one head coach but two. The Detroit Lions' Matt Patricia and New York Jets' Adam Gase seem to be in a race to see who can get fired first.
How did we get here?
Just two weeks into the 2020 season and Matt Patricia of the Detroit Lions and Adam Gase of the New York Jets are already both on the hot seat. Each has built a reputation as a terrible head coach, although their situations are not exactly the same. Since Gase is only in his second season with the Jets, the case isn't quite as dire for him as it is for Patricia, who's been with the Lions since 2018 and still not managed to turn things around.  
Under their respective leadership, the Jets and the Lions are both at 0-2 for the year, and fans are not having it. According to Draft Kings Nation, even though Jets fans have historically tended to be "very forgiving," their equilibrium will only last so long. If the team slips to 0-3, "The fan base will only grow angrier with Gase."
How did this happen?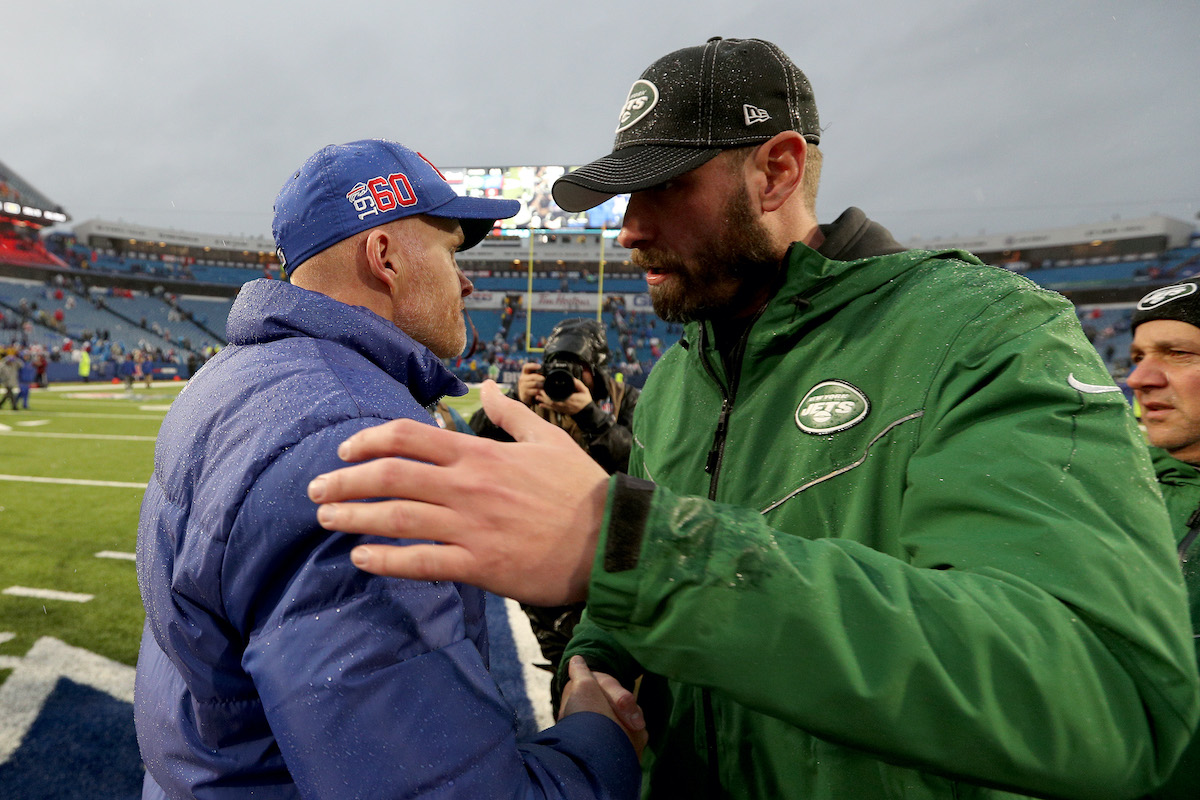 The thing is, it's not like either coach has never had a chance to learn, grow, or learn from his mistakes. Gase came to New York from Miami, where he'd coached the Dolphins quite unsuccessfully. His losing streak has only continued with the Jets, intensified by drama both on and off the field. The Big Lead sums it up this way:
In his first year with the Jets, Gase posted a 7-9 record and seemed to step on landmines and create controversy everywhere. This offseason the Jamal Adams saga exposed the fact that Gase had lost the Jets' locker room … Gase probably doesn't care since when people criticized him previously he responds by saying, "I'm rich as f*ck."
Patricia's saga isn't any prettier. The Lions went 6-10 in his first season and 3-12-1 in the next, likely because the team's defense is a complete disaster with a talent for completely blowing fourth-quarter leads. From studying his (so-called) "methods," it's hard to tell what he thinks he's accomplishing from a coaching perspective. If we can't tell, it's likely because the team can't tell, either. Maybe he himself doesn't know. 
Where will it go from here?
At this point, it's hard to imagine why either Gase or Patricia still has a job. Both coaches are having terrible current seasons and boast equally terrible records. Neither seems to enjoy the loyalty or respect of their teams, and the situation seems unlikely to turn around any time soon. In most other career sectors, people have been fired for much less.
So why are they still here? It's hard to say. This isn't the first time we've had a debate like this, and it won't be the last. Still, we're willing to bet neither of them will be around for much longer. The jury is still out on which man will win the race to get fired. 
If we had to place a bet on who would be fired first, however, we'd put our money on Gase. While both coaches are bad at their jobs, Gase has the audacity to let us know, right out in public, that he doesn't care. Furthermore, he's come right out and stated that he finds being rich more important than being good at his job. Which works out for him in the end, doesn't it?