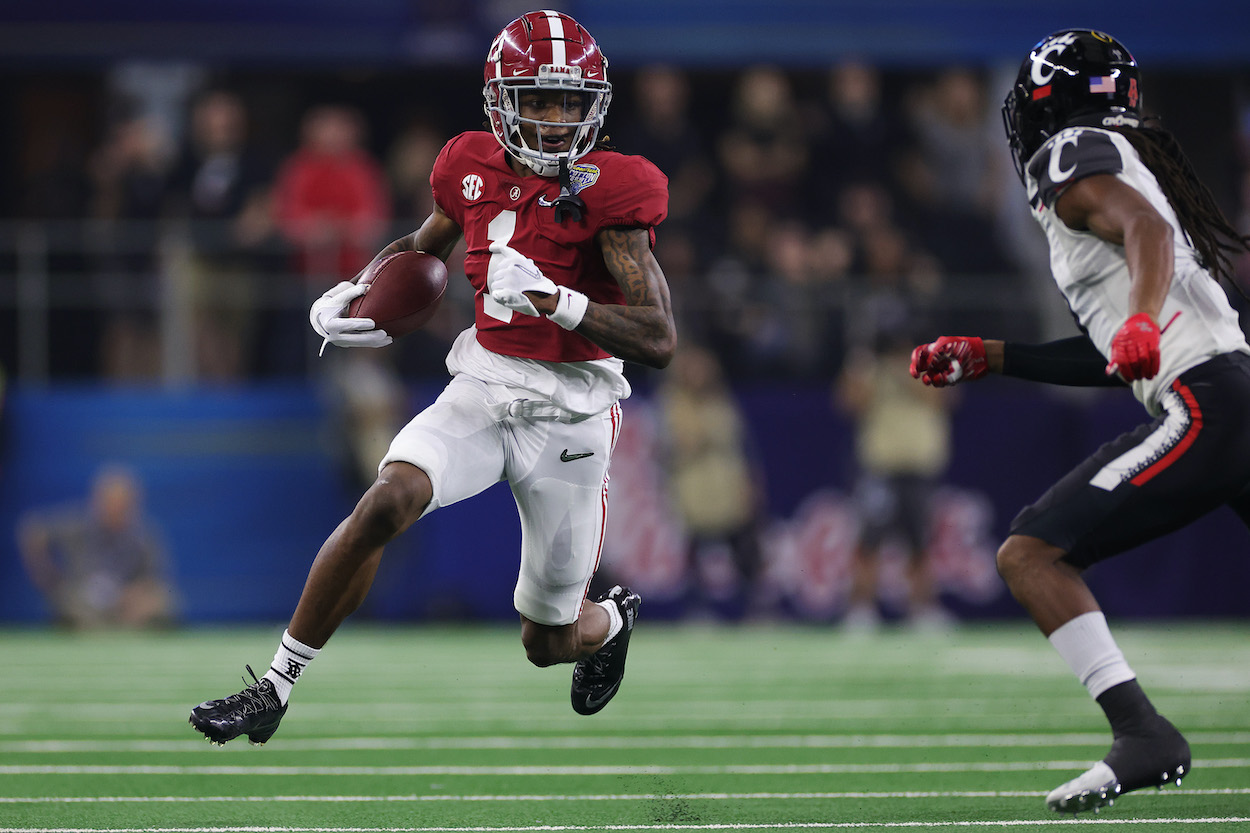 2022 NFL Draft Rumors: Philadelphia Eagles Zeroing in on Alabama WR Jameson Williams
Should the Philadelphia Eagles add another Alabama wideout to their receiving corps?
The 2022 NFL Draft is right around the corner, which means Philadelphia Eagles general manager Howie Roseman is busy on the phone lines inquiring about trading up or down in the first round. The Super Bowl-winning executive loves to make noise on draft night, and it wouldn't be surprising to see him trade his No. 15 or No. 18 pick depending on how the board shakes out.
But if the Eagles stand pat on Thursday night, they'll reportedly be targeting an Alabama wide receiver in the first round for the second year in a row. Would Jameson Williams be a smart pick for Philadelphia at No. 15?
Jameson Williams is arguably the best WR prospect in the 2022 NFL Draft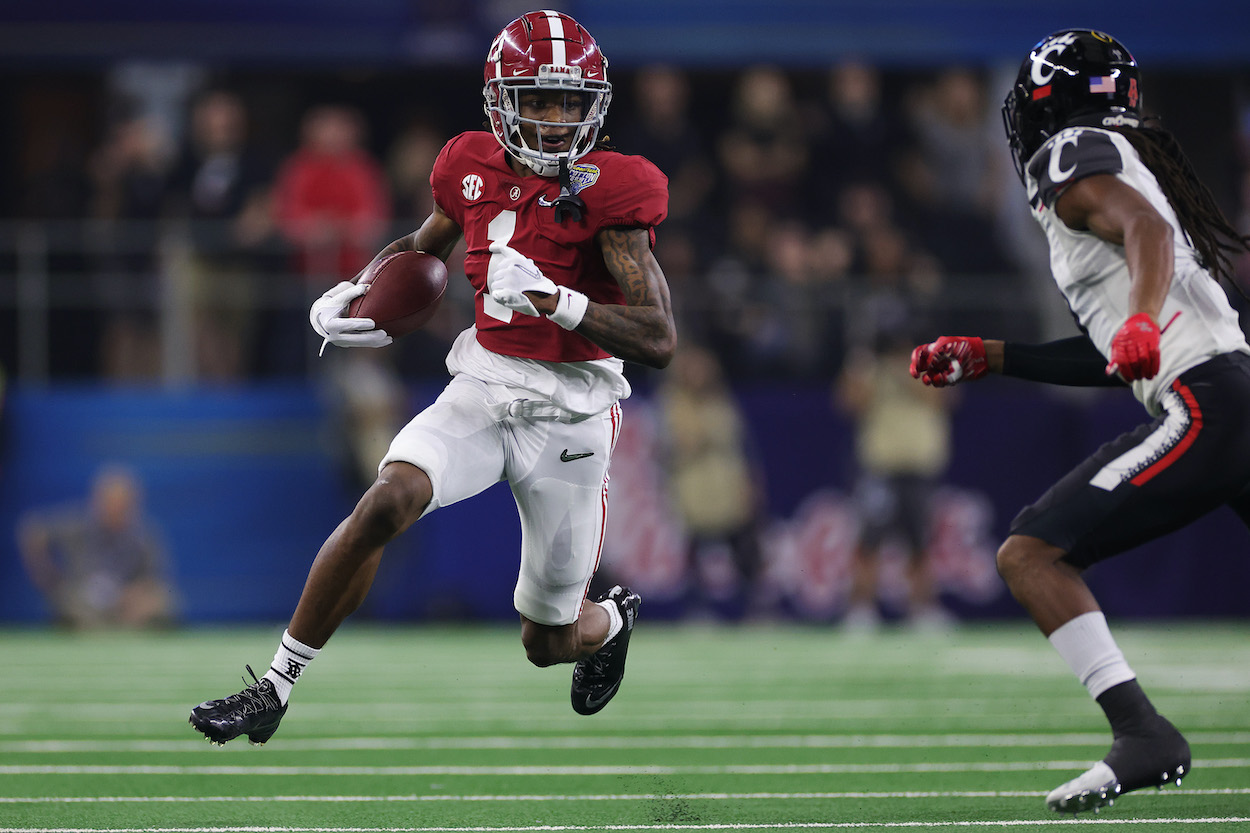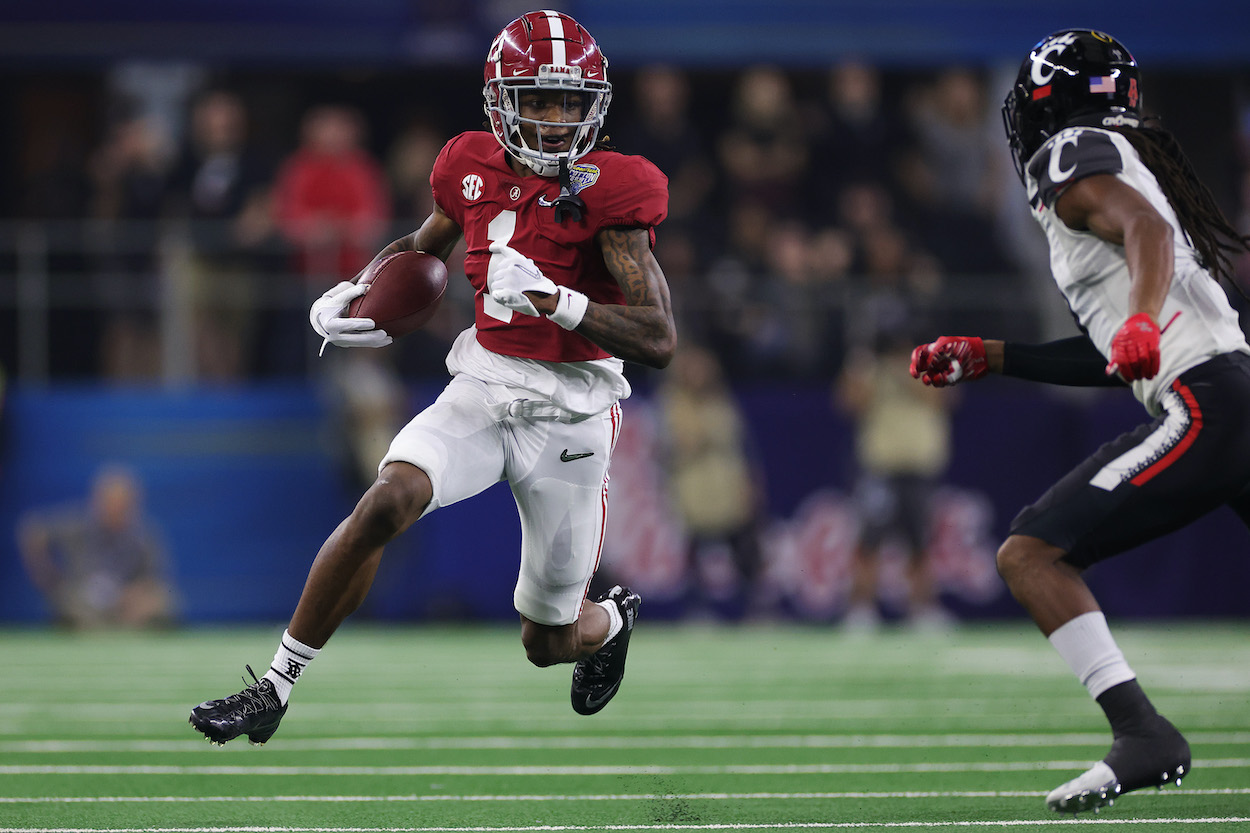 The 2022 NFL Draft is loaded with talent at the wide receiver position. There could be as many as six or even seven wideouts selected in the first round alone, so there's plenty of competition for the No. 1 spot on every team's draft board.
Ohio State's Garrett Wilson and USC's Drake London seem to be the consensus top two in the class, but Williams is arguably more talented than both prospects. If he hadn't suffered a torn ACL in the College Football Playoff National Championship Game against Georgia, he would likely be locked in as a top-10 pick.
After transferring from Ohio State to Alabama last spring, the junior exploded for 79 catches, 1,572 yards, and 15 touchdowns. Only seven players in NCAA Division I averaged more yards per catch than Williams last season (19.9).
Williams is a threat to score every time he touches the football. He's a defensive coordinator's worst nightmare in the open field and can dust even the fastest cornerbacks on deep routes. In 2021, the Alabama product led DI with 11 touchdowns of at least 30 yards. That's the kind of home-run ability NFL scouts are always looking for in a top pick.
If the Eagles are lucky, enough teams will be scared off by Williams' ACL injury and let him fall to No. 15 on Thursday night.
Jameson Williams is reportedly the Eagles' "preference" at 15
The Eagles could go all kinds of ways with their two first-round picks. They could bolster the trenches by taking an offensive and defensive lineman (something Roseman loves to do), double down on defense with a cornerback and a front-seven player, or try their luck yet again on a wide receiver.
If they had the choice, though, they would reportedly pluck another wideout from Nick Saban's eternal fountain of youth.
According to Todd McShay of ESPN, the belief is that Philly will be targeting Williams with the No. 15 overall pick.
"Multiple execs I spoke with think Alabama wideout Jameson Williams is the Philadelphia Eagles' preference at No. 15. And if not Philly, then the New Orleans Saints could be his floor at No. 16. If another team wants Williams, it will probably have to move up to at least the Baltimore Ravens' No. 14 slot."

Todd McShay
So, would Williams be a wise selection at No. 15?
Pros and cons of the Eagles drafting Williams
The Eagles have been searching for game-breaking speed in the WR room for years, and Williams would surely bring that to the table. Jalen Hurts would have a ton of success hitting his newest weapon on crossing routes and deep balls to bring a more explosive element to this passing game.
But the obvious concern for Williams is his ACL injury. He should be healthy and ready to go by Week 1, but his tantalizing speed might not be what it once was pre-injury. He's also similar to DeVonta Smith in that his 179-pound frame and lanky build might leave him susceptible to injuries in the NFL.
Still, Williams' big-play ability doesn't come around that often. Even if Roseman has to trade up a few spots to secure him, the Alabama star should be priority No. 1 for the Eagles in the first round.
All stats courtesy of Sports Reference.
Like Sportscasting on Facebook. Follow us on Twitter @sportscasting19.