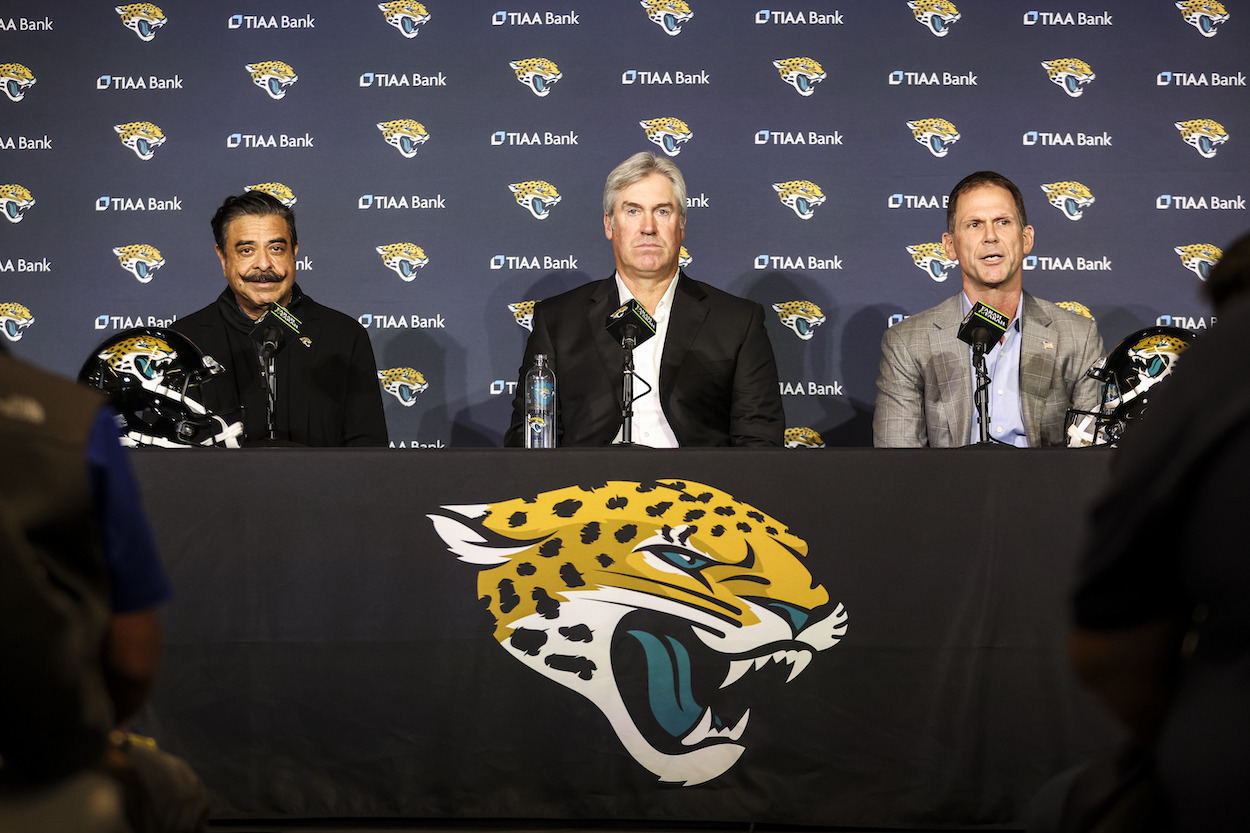 Jacksonville Jaguars Reportedly Still Have No Idea Who to Take at No. 1 in the NFL Draft, and No Other Team Wants the Pick
The Jacksonville Jaguars want to trade out of the No. 1 spot in the 2022 NFL Draft, but they'll have to make the pick due to lack of interest.
What a difference a year makes. Last season, the Jacksonville Jaguars barely had to think about the No. 1 overall pick in the NFL draft. Clemson quarterback Trevor Lawrence was the no-brainer top pick, and he had been since his freshman year of college.
This year, it's not so easy. There is no prospect who everyone believes deserves to be the first pick. That's why the Jaguars are reportedly considering four different players at that spot.
What they'd love to do most is trade back and get more draft capital in return. There's one major problem with that desire, though.  
The Jacksonville Jaguars are still considering four different players at No. 1 overall
Jacksonville Jaguars general manager Trent Baalke and now-disgraced former head coach Urban Meyer had an easy time with the No. 1 overall pick last season. Even though the Jaguars' initial calls went to Trevor Lawrence's voicemail that night, everyone knew he was the guy.
This year, there is no Lawrence. There also is no Myles Garrett, the No. 1 overall defensive end taken in 2017, the last time a non-QB went in the top slot.
That leaves Baalke and new head coach Doug Pederson to consider several players for that selection. NFL insider Ian Rapoport recently reported that, with the draft less than a week away, there are four players in the mix for a ticket to Duval County.
While Rapoport didn't expressly report who those four players are, he (and most astute draft watchers) assume that the four top prospects are:
Aidan Hutchinson, EDGE, Michigan
Travon Walker, EDGE Georgia
Ickey Ekwonu, OT, NC State
Evan Neal, OT, Alabama
There's a chance that Oregon EDGE Kayvon Thibodeaux could be somewhere in the mix as well, but the four listed above seem most likely.
Trent Baalke and the Jaguars would love to trade the pick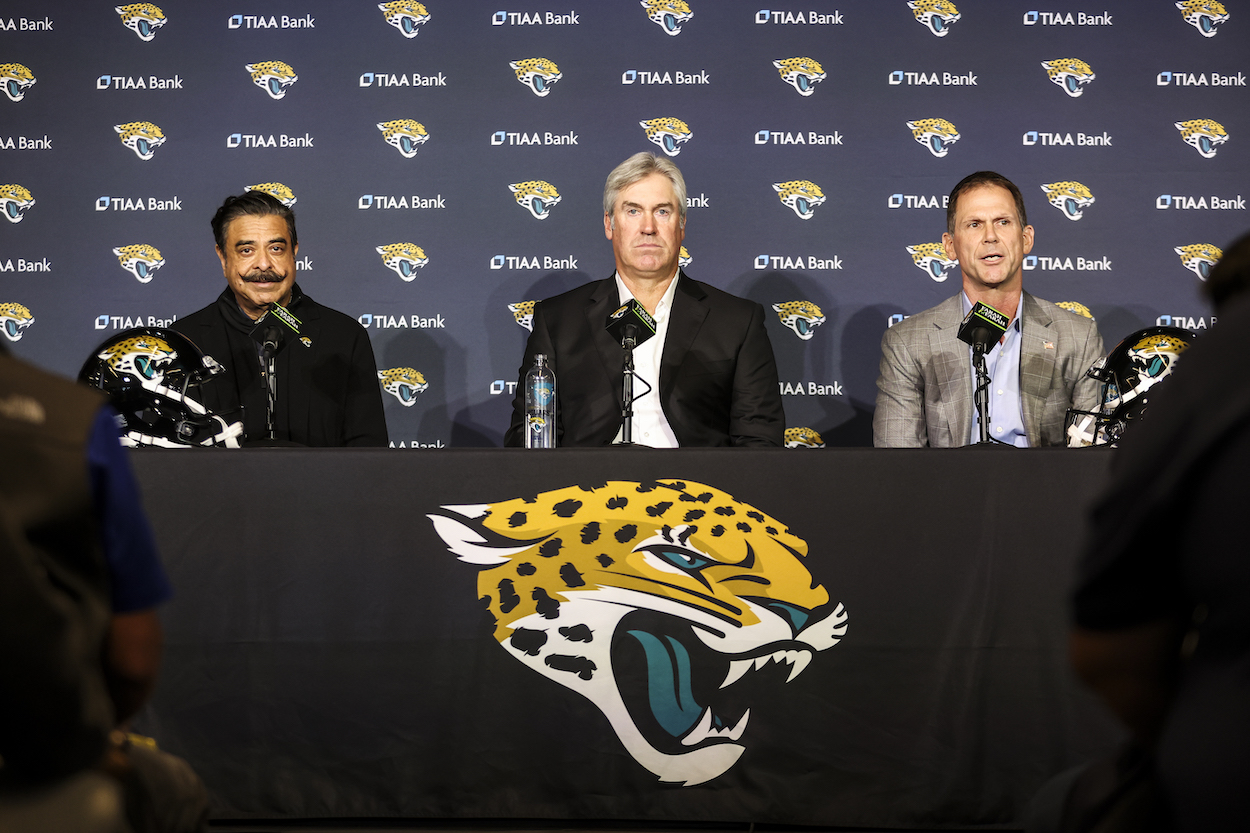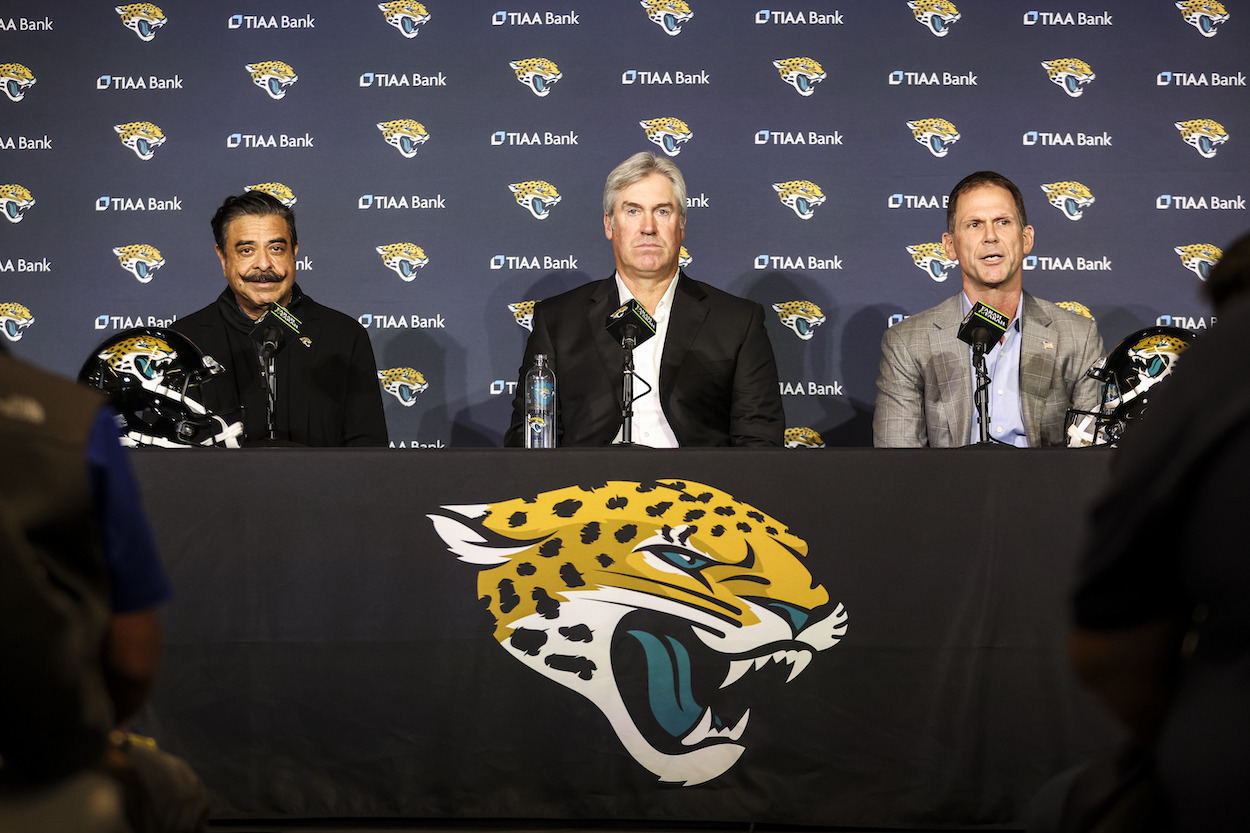 The other report coming out of Northern Florida is that, ideally, the Jacksonville Jaguars would trade back. The team has a dearth of talent all around the field, so the more picks they can get, the better off they'll be.
There's just one major problem with that. Multiple reports have noted that there is no interest from any team to come up to No. 1. GM Trent Baalke himself has admitted that he hasn't really received any calls from teams with interest in a trade.
The top edge rushers, Aidan Hutchinson and Travon Walker, both have a lot of potential. However, they aren't on the level of recent high EDGE picks like Myles Garrett, Nick Bosa, and Joey Bosa. Hutchinson doesn't quite measure up athletically to those three, and Walker hasn't had the college production.
The offensive tackles are both good prospects, but with the way college football is played these days, most tackles aren't ready to come in on Day 1 and dominate. Plus, offensive tackle is one of the deeper position groups in this year's draft.
Lastly, and most importantly, none of the QBs in the 2022 NFL Draft class are can't-miss players. Pittsburgh's Kenny Pickett and Liberty's Malik Willis seem like the best prospects in the group, but if a team does covet one of these guys, they won't have to trade all the way up to No. 1 to get him.  
All that leaves the Jaguars sitting at No. 1 without a dance partner. They'll have to make the pick and hope that whoever they take outperforms expectations to make the selection worthwhile.
Like Sportscasting on Facebook. Follow us on Twitter @sportscasting19.