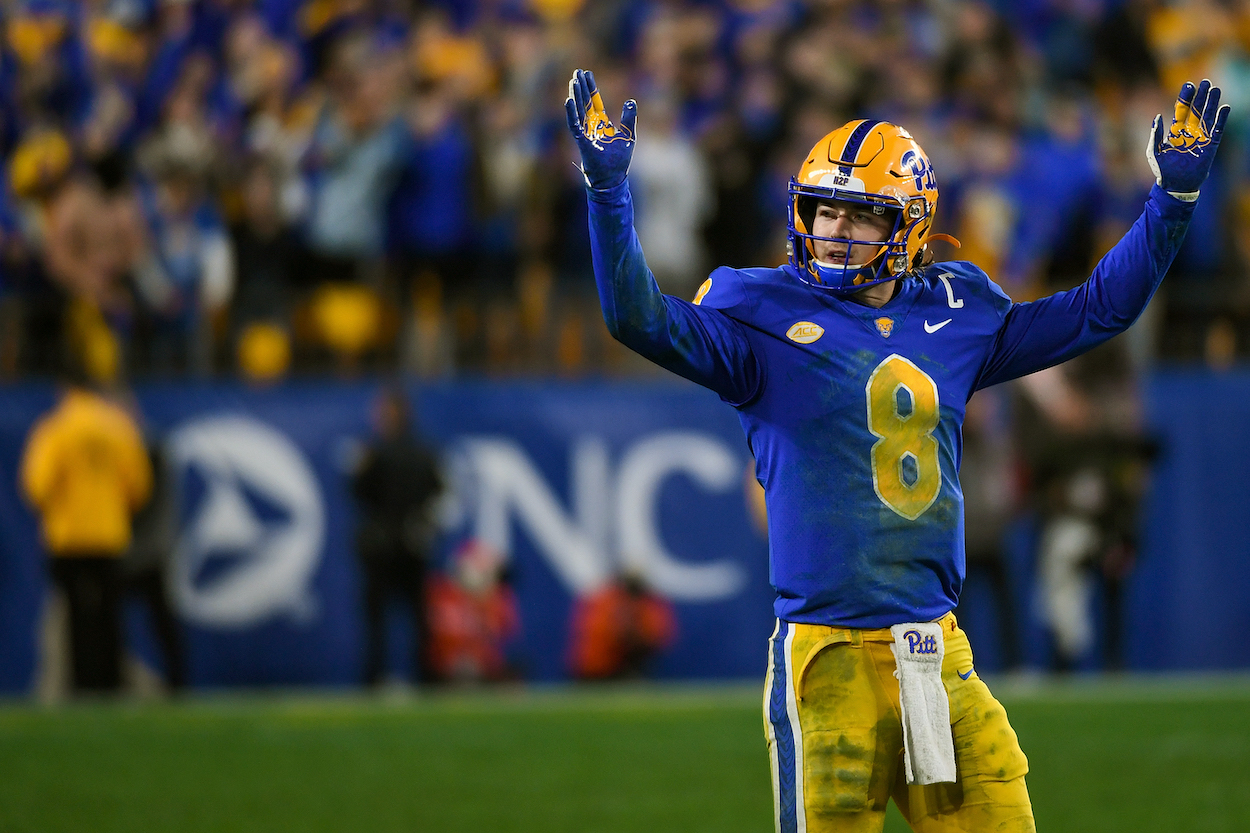 Anonymous AFC Exec Goes on Foul-Mouthed Rant About NFL Draft Prospect Kenny Pickett: 'He Doesn't Have Any Godd*** Upside'
Fifteen or more QBs could hear their name called in the 2022 NFL Draft, but they all have issues, including top prospect Kenny Pickett.
NFL Network reporter Tom Pelissero released the best, bluntest, most truthful article about the 2022 NFL Draft class of quarterbacks. In it, he allows NFL executives, coaches, scouts, and coaches to give their no BS assessment of each of the 15 QBs in this year's draft by granting them anonymity. The result is the most candid assessments you'll find about the 2022 QB class, including a foul-mouthed-rant from an AFC executive about Pittsburgh's Kenny Pickett that you won't find anywhere else but in NFL franchise rooms closed to the public.
The polarizing 2022 NFL Draft QB class
To some, the question of who will be the best NFL QB in the 2022 NFL Draft comes down to a two-horse race between Pitt's Kenny Pickett and Liberty's Malik Willis. However, even that doesn't have a strong consensus.
If you ask enough NFL talent evaluators and draft-specific media types, you also hear that Ole Miss' Matt Corral, Cincinnati's Desmond Ridder, and North Carolina's Sam Howell could be the jewel of the class.
And, like nearly every draft, there are always the mid-round dice-rolls who could show up all of these prospects and become the next Dak Prescott or Russell Wilson. This year, this list includes Nevada's Carson Strong, Western Kentucky's Bailey Zappe, Brown's EJ Perry, or Iowa State's Brock Purdy.
Finally, there are the real late-round lurkers who could shock the world and become legendary. The undrafted Tony Romo and No. 199 overall pick Tom Brady were a member of this group in their draft class, and they turned out to have pretty good careers.
On the wing-and-a-Brady-prayer list in 2022 are Notre Dame's Jack Coan, Kansas State's Skylar Thompson, South Dakota State's Chris Oladokun, Southeastern Louisiana's Cole Kelley, Miami's D'Eriq King, and Alabama A&M's Aqeel Glass.
While this isn't the most energizing list of QB prospects of all time, you have to figure that with 15 new signal-callers joining the NFL this season, at least one or two of them will hit it big. That makes the multimillion-dollar question for NFL teams, which one?
Kenny Pickett is the most NFL-ready QB prospect
Chances are, either Malik Willis or Kenny Pickett will come off the board first next Thursday at the 2022 NFL Draft. Willis seems to have the highest ceiling in the class, while Pickett will be the most NFL-ready in Week 1,
In Tom Pelissero's anonymous QB feedback roundup, one AFC executive confirmed this diagnosis in a wildly entertaining, candid, and foul-mouthed rant:
Pickett was the most impressive [QB]. He was the biggest guy, strongest stature — he just felt like a quarterback. But then your concern is the arm. There's nothing special about it. What's he going to look like when he's getting his ass f***ing blitzed and having to throw off-platform, and he has to win with his arm only? He's mobile enough. He can move, he's not lot like a statue. If you had to have a m*****f***** play right now, it's Pickett, but he doesn't have any godd*** upside.

Anonymous AFC executive in Kenny Pickett
And that's a perfect assessment of where we stand with the 2022 draft just a few days away. If you could marry Pickett's polish with Willis' potential, you'd really have a No. 1 overall QB prospect. However, that's just not the reality this year. So the only question left is, where do each of these quarterbacks go in the 2022 draft?
2022 all QB mock draft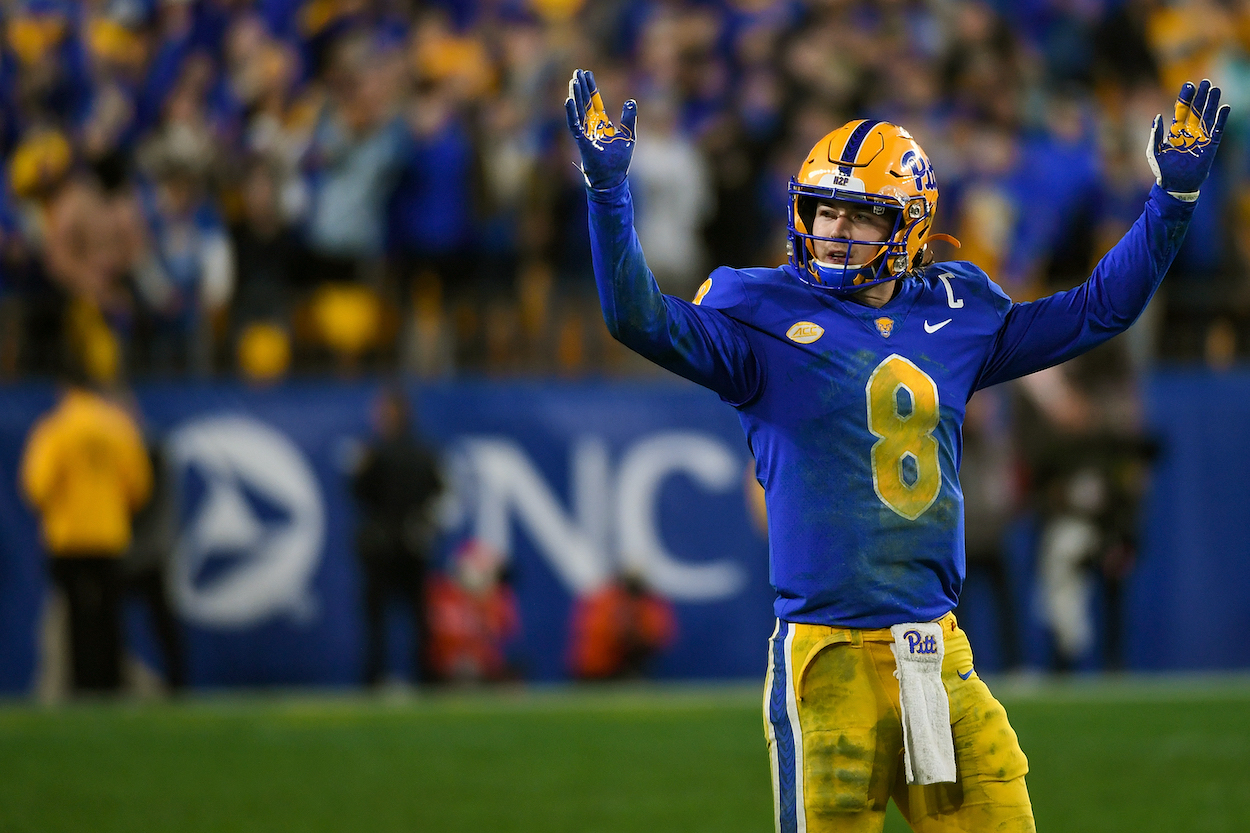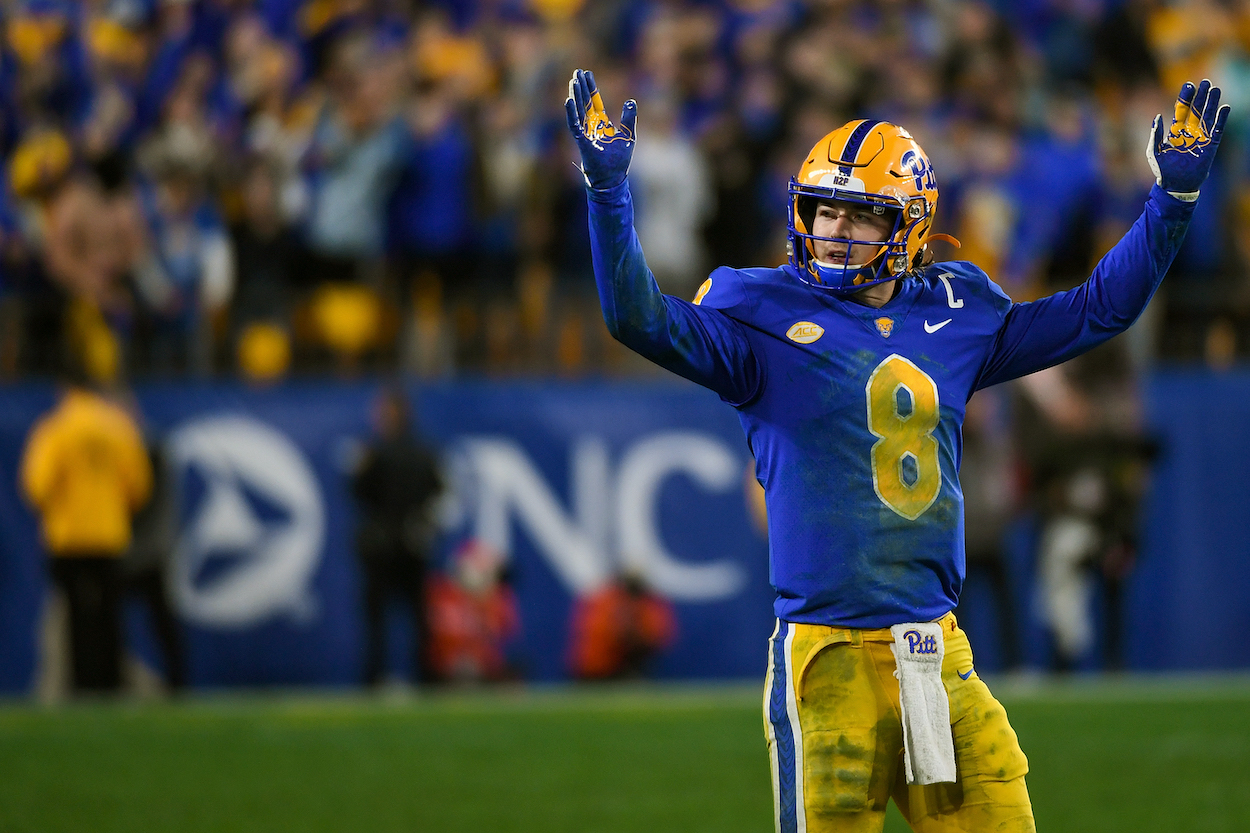 Quarterback is, by far, the most crucial position in the NFL. Unfortunately for many teams, there are only a small handful of true franchise signal-callers in the league right now. Although, in 2022, there seems to be more than we've seen in a long time.
With so many teams looking for a QB who can take the organization to a Super Bowl, a lot of these passers will hear their name called at the 2022 NFL draft. Here are my predictions as to when this will happen for each of them:
Carolina Panthers, Round 1, No. 6: Kenny Pickett, Pittsburgh
Pittsburgh Steelers, Round 1, No. 20: Malik Willis, Liberty
Seattle Seahawks, Round 1, No. 30 (trade with Kansas City Chiefs): Matt Corral, Ole Miss
Detroit Lions, Round 1, No. 32: Desmond Ridder, Cincinnati
New York Giants, Round 2, No. 36: Sam Howell, North Carolina
Indianapolis Colts, Round 4, No. 122: Carson Strong, Nevada
Minnesota Vikings, Round 6, No. 191: Bailey Zappe, Western Michigan
Dallas Cowboys, Round 6, No. 193: EJ Perry, Brown
Tennessee Titans, Round 6, No. 219: Jack Coan, Notre Dame
Miami Dolphins, Round 7, No 224: Brock Purdy, Iowa State
Washington Commanders, Round 7, No. 230: Cole Kelley, Southeastern Louisiana
San Francisco 49ers, Round 7, No. 262 (Mr. Irrelevant): Skylar Thompson, Kansas State
That leaves South Dakota State's Chris Oladokun, Miami's D'Eriq King, Alabama A&M's Aqeel Glass, Western Michigan's Kaleb Eleby, Kent State's Dustin Crum, and Cal's Chas Garbers as undrafted free agents that will at least get a camp invite from NFL teams.
Like Sportscasting on Facebook. Follow us on Twitter @sportscasting19.