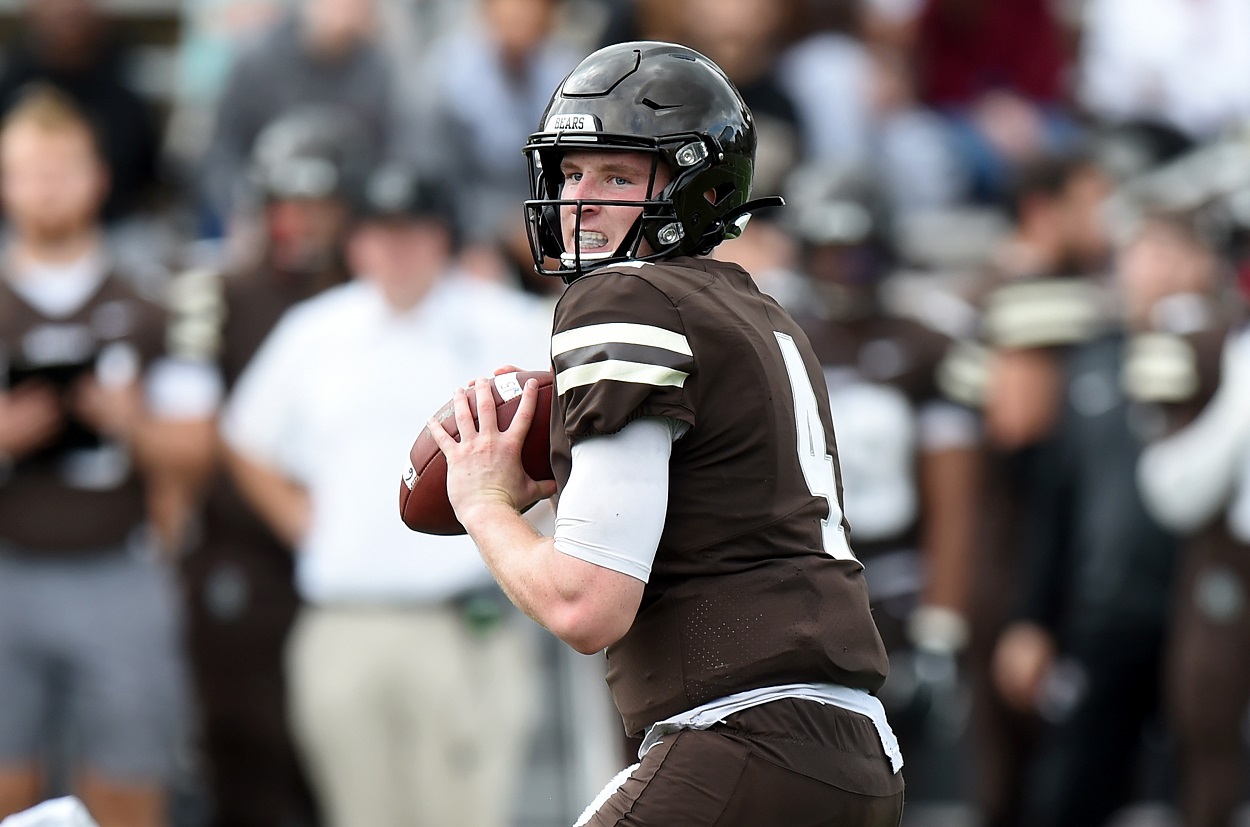 The Dallas Cowboys Targeting Ivy League Quarterback EJ Perry, Who Some See as the Next Taysom Hill, Might Make Sense
The Dallas Cowboys may be targeting Brown dual-threat quarterback EJ Perry in the 2022 NFL Draft.
Over the course of three days at the 2022 NFL Draft in Las Vegas, 262 college football players will find out where they're headed to attempt to continue their respective careers at the professional level. Of those 262 names called, nine will be announced on behalf of the Dallas Cowboys, who will make their first selection at No. 24.
Coming off a solid 2021 regular season in which Dallas went 12-5 and won the NFC East, the postseason didn't go quite as well as the Cowboys were bounced in the Wild Card Round by the San Francisco 49ers. And this 2022 NFL offseason hasn't been overly kind to them either.
They lost two of their top four receivers in Amari Cooper and Cedrick Wilson. They lost two starters on the offensive line in La'el Collins and Connor Williams. And their top priority in free agency, defensive end Randy Gregory, bolted for the Broncos mere hours after agreeing to return to Big D. So these positions naturally need to be addressed during this draft, as do a few others.
Now, one wouldn't think the Cowboys would be looking at a quarterback this year. Not with highly-paid and healthy(ish) Dak Prescott coming off a fantastic year and a capable Cooper Rush backing him up. But it seems as if Jerry Jones might just be looking in that direction as he's apparently got his eye on Ivy League dual-threat quarterback EJ Perry.
But Perry likely wouldn't come in as a traditional QB as he's seen as more of a Taysom Hill type of threat, which actually might benefit the Cowboys.
The Dallas Cowboys may be targeting dual-threat Brown quarterback EJ Perry in the 2022 NFL Draft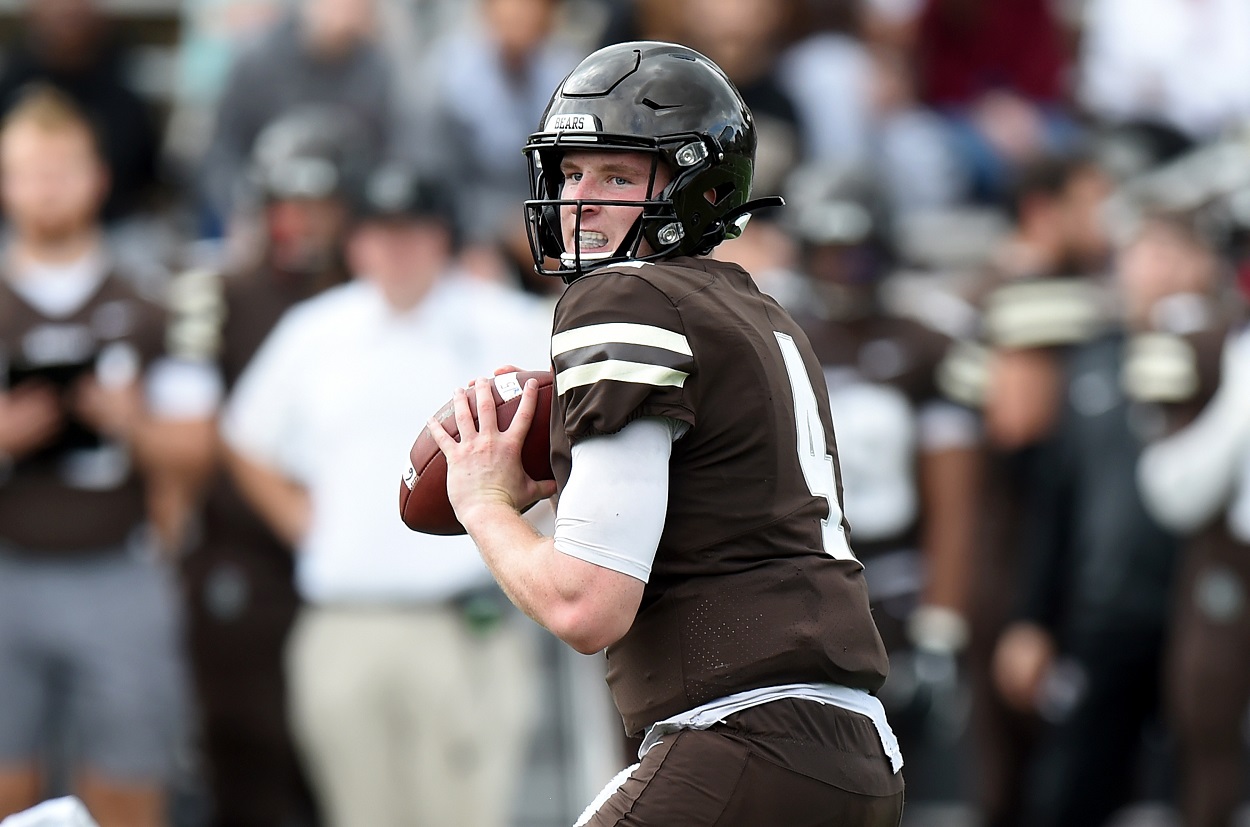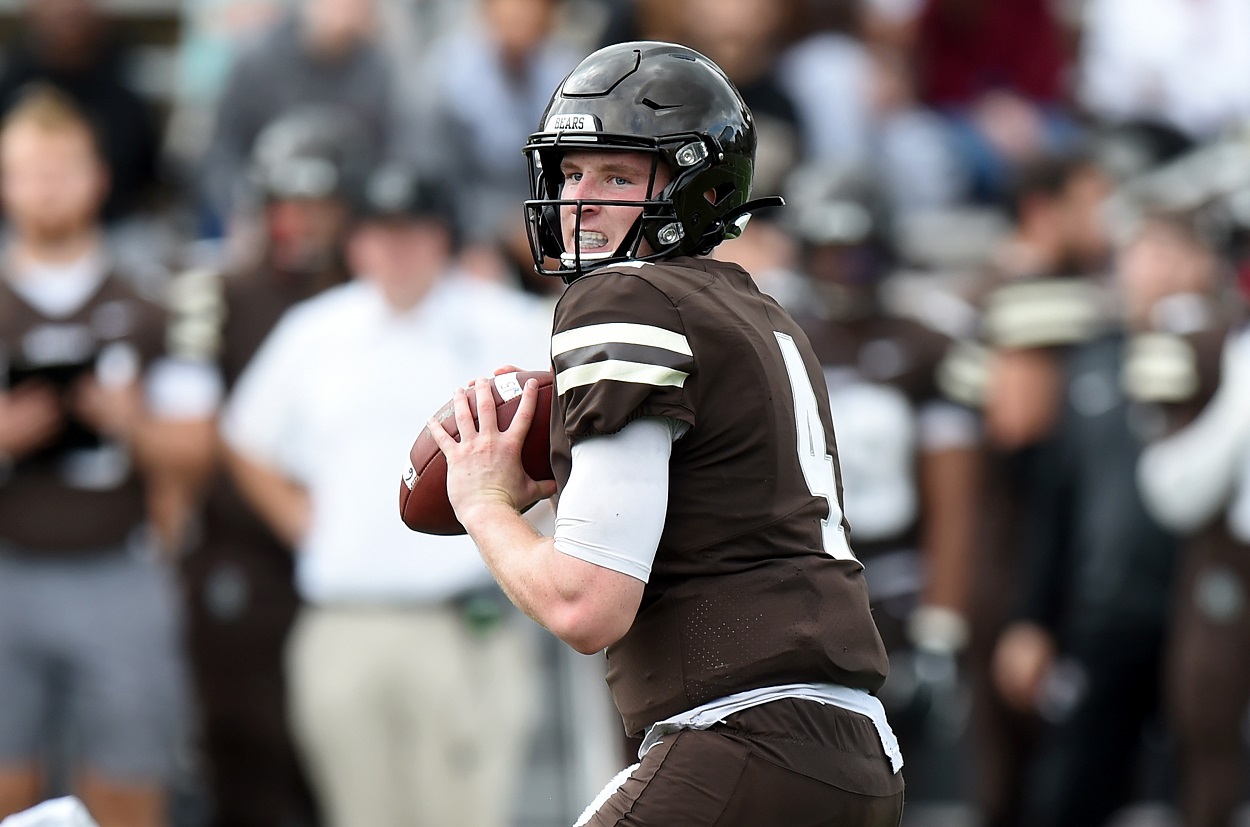 Again, one wouldn't think Dallas would use one of its early draft picks on a quarterback. And it won't. If the franchise does decide to take Perry, it would be if he's still there in the later rounds. But the Cowboys are apparently pretty high on the Brown Bears prospect and reportedly had a private meeting with him recently.
Now, it's likely that most reading this aren't even all that familiar with EJ Perry. And it may be even more likely that you've never heard his name before right now. But those in the Ivy League certainly know who he is, and he also recently made a name for himself at the NFL Combine.
A four-year starter in high school in Andover, Massachusetts, Perry stayed close to home to begin his career at the next level, enrolling at Boston College. But he spent just two seasons with the Eagles and appeared in just five games, completing 27 of 39 passes for 277 yards and five touchdowns.
He then transferred to Brown ahead of the 2019 season and was named the Bears' starting quarterback.
He was a two-time All-Ivy League selection and was the MVP of the East-West Shrine Bowl
Perry immediately made an impact in his first season at Brown. His accuracy wasn't the greatest, as he completed just 59.9% of his passes, but he threw for 2,948 yards and 22 touchdowns. He was also the Bears' leading rusher, running for 730 yards and eight touchdowns.
His 3,678 combined yards set an Ivy League record for total offense, earning him First-Team All-Ivy League honors.
After missing out on the 2020 campaign as the entire Ivy League season was canceled due to COVID-19, Perry played his senior year in 2021 and again played well. He improved his completion percentage to 66.5% and threw for 3,034 yards and 23 touchdowns, adding 402 yards and seven scores on the ground.
He was again a First-Team All-Ivy League selection and also won the Bushnell Cup, an award given to the conference's top offensive player. Perry was invited to play in the 2022 East-West Shrine Bowl and impressed there as well, completing 13 of 18 passes for 241 yards and three touchdowns to win MVP honors.
Perry impressed at the NFL Combine and could actually help the Dallas Cowboys' offense
If the MVP performance at Shrine Bowl wasn't impressive enough, Perry continued to impress at the NFL Combine, earning the highest overall athleticism score of any quarterback in attendance.
He ran a 4.65-second 40-yard dash, second only to Cincinnati's Desmond Ritter, and had the second-best broad jump (10'3″) and second-best vertical leap (34.5″). Perry led all QB prospects 4.18-second 20-yard shuttle and a 6.85-second three-cone drill. So it's clear that the guy is an athlete.
We failed to mention above that while he put up some solid offensive numbers as a passer at Brown, he also threw 27 interceptions in two seasons, which brings his decision-making and ball placement into question entering the draft.
But that's only if teams look at him as a pure quarterback. But it doesn't seem as if that will be the case, which is seemingly why the Dallas Cowboys — and plenty of other teams — seem interested. At 6'2″ and 210 pounds, he's the same height and only 11 pounds lighter than New Orleans Saints dual-threat Taysom Hill.
Perry could certainly play that type of role for the Cowboys. While overall relatively healthy now, Prescott has had multiple lower-leg injuries the past couple of seasons, and Perry could step in during goal-line or red-zone situations to take some of that pressure and risk away from Dak.
Dallas already has a formidable 1-2 punch out of the backfield with Ezekiel Elliott and Tony Pollard, but having a third option isn't such a bad thing. And Perry has proven he can run the football.
And they can run some trick plays with him out of the backfield or perhaps as a receiver as well in some sort of reverse. Former QB Cedrick Wilson was utilized in that way on occasion, but he's now a member of the Miami Dolphins.
Again, the Cowboys have much bigger fish to fry in this draft. But if Perry is available in the later rounds, it might be worth a shot. I mean, we know Jerry Jones likes those Ivy League guys. After all, he employed Jason Garrett for more than two decades. And all Dallas fans love that guy, right?
Stats courtesy of the official Brown University Athletics website and ESPN.com