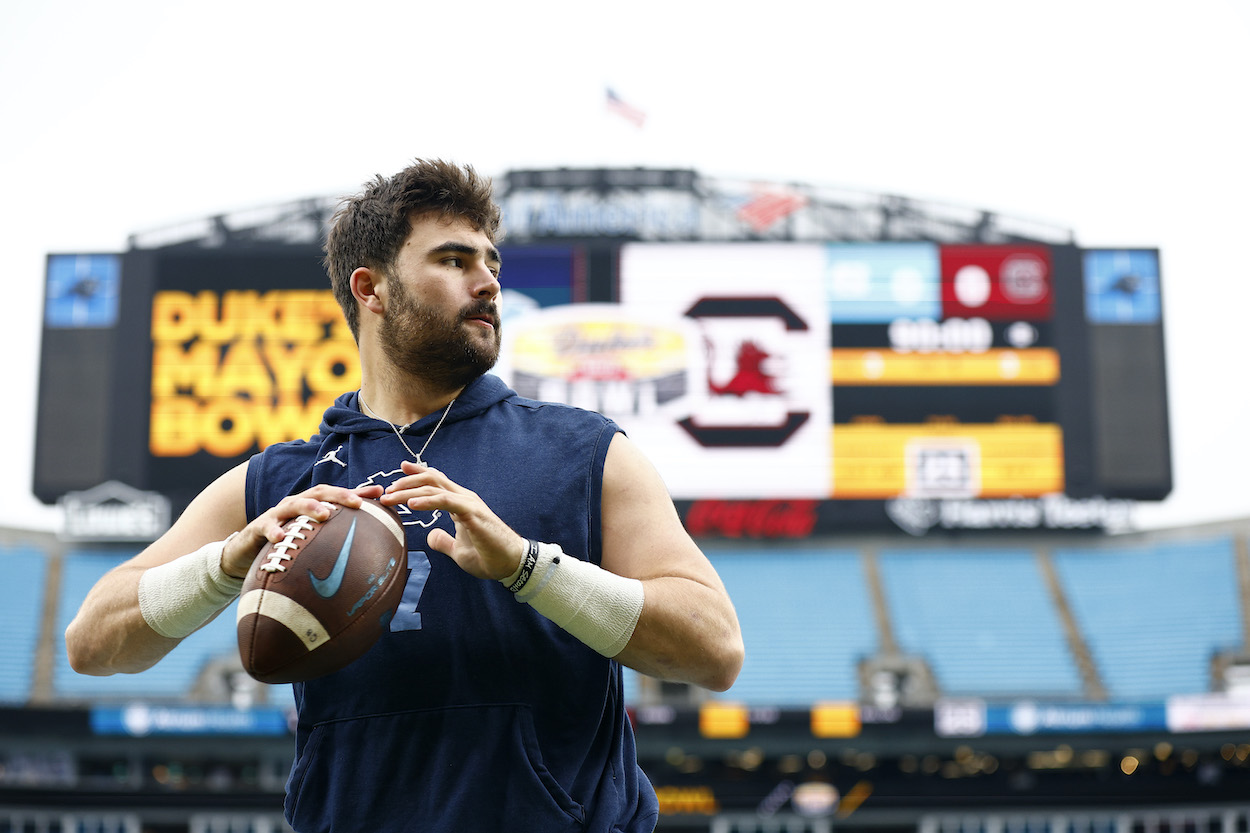 NFL Network's Cynthia Frelund Calls 1 NFL Draft QB Prospect 'A Modernized Drew Brees'
2022 NFL draft prospect QB Sam Howell might look like a stocky Baker Mayfield, but one NFL analytics expert thinks he could be the next Drew Brees.
The 2022 NFL draft quarterback class seemed to be a two-horse race between Liberty's Malik Willis and Pittsburgh's Kenny Pickett. Then, Cincinnati's Desmond Ridder and Ole Miss' Matt Corral gained steam during the pre-draft process. Now, with the draft just over a week away, there's one more college signal-caller gaining momentum in North Carolina's Sam Howell.
Sam Howell starred for the North Carolina Tar Heels
Quarterback Sam Howell is a North Carolina native who got to play QB for his home state school. Howell started all three seasons in Chapel Hill, putting up excellent numbers. In 37 games, he threw for 10,283 yards with a 63.8% completion rate. Howell also tossed 92touchdowns to just 23 interceptions.
He led the team to winning records in 2019 and 2020, but the Tar Heels struggled in 2021, producing a 6-7 mark. Although, Howell doesn't need to take all the blame for that. UNC running backs Javonte Williams and Michael Carter and wide receivers Dyami Brown and Dazz Newsome all went in the 2020 NFL draft.
At 6-foot-1, 218-pound, Howell doesn't have ideal QB1 size, but he does have the arm and athleticism that a modern NFL passer needs. He also has the swagger and big-game mentality that has led some to compare him to a stocky Baker Mayfield.
With his occasional lack of accuracy and inconsistency, the Howell/Mayfield comparison feels like a good one. However, NFL Network analytics guru Cynthia Frelund thinks Howell actually compares to a recently-retired legend and a future Hall of Famer.
Cynthia Frelund calls the UNC QB a "modernized Drew Brees"
Comparing an NFL draft prospect to Drew Brees is a huge compliment. Brees was an undersized second-round pick of the San Diego Chargers in 2001 and only became a New Orleans Saints legend because his relative ineffectiveness early in his career led to the Chargers picking Philip Rivers just three seasons later.
Despite the rocky start, the 6-foot, 209-pound Brees finished his career as a 13-time Pro Bowler, Super Bowl champion, and second all-time in passing yards and touchdowns (to Tom Brady).
This is the type of player NFL Network's Cynthia Frelund sees Sam Howell as. In her NFL draft QB comps piece on NFL.com, the analytic expert writes:
Howell compared himself to Brees at the NFL Scouting Combine, so I looked into it and there are a lot of notes that fit here — namely processing, a Computer Vision metric that measures how much a QB's head moves from the time he lines up for the play until the ball's release. … Computer Vision shows that Howell was the best in the FBS at decision-making on third down (as measured by earning a first down/TD or avoiding taking negative yards), which has been an extremely predictive metric in the 20-year sample. 

Cynthia Frelund on Sam Howell
If Howell can become a scrambling Drew Brees, that would surely thrill the team that drafts him. Now the only question is, who will that be?
What NFL team is the best fit for Sam Howell?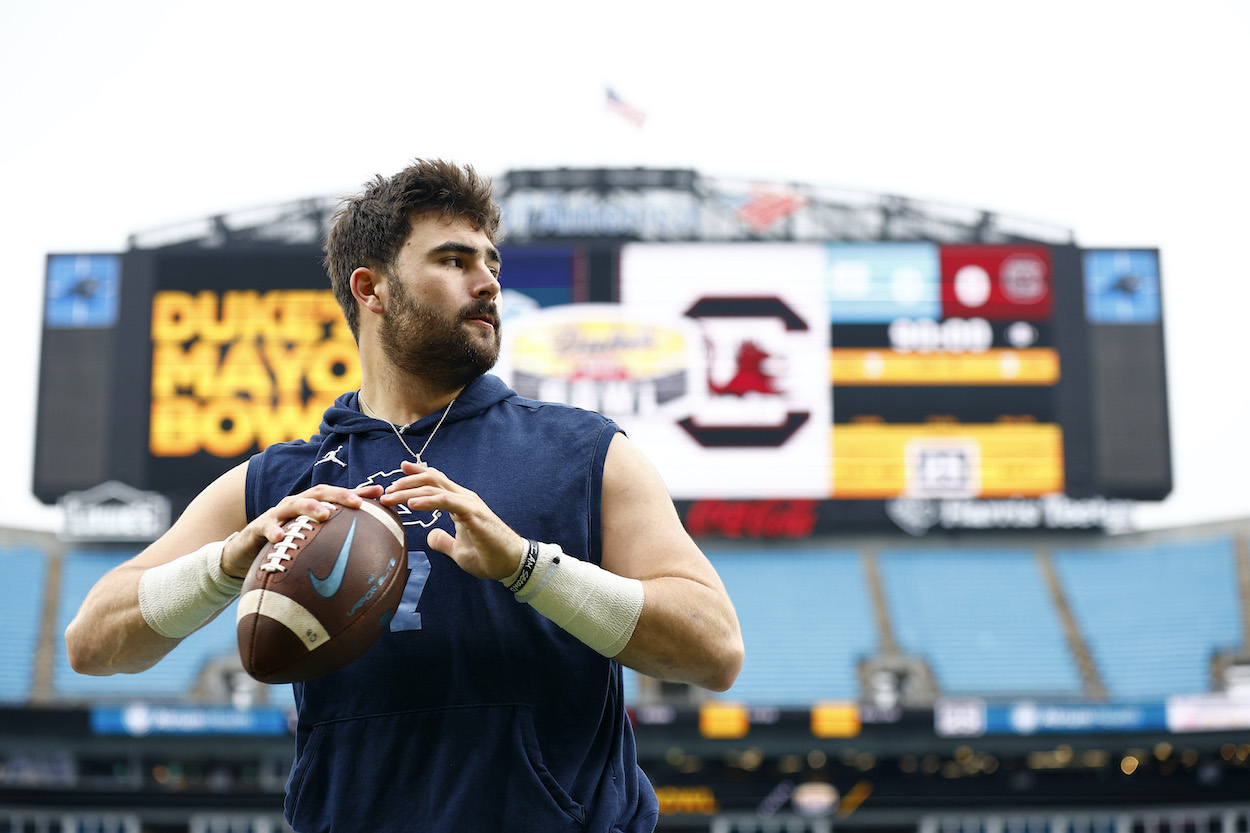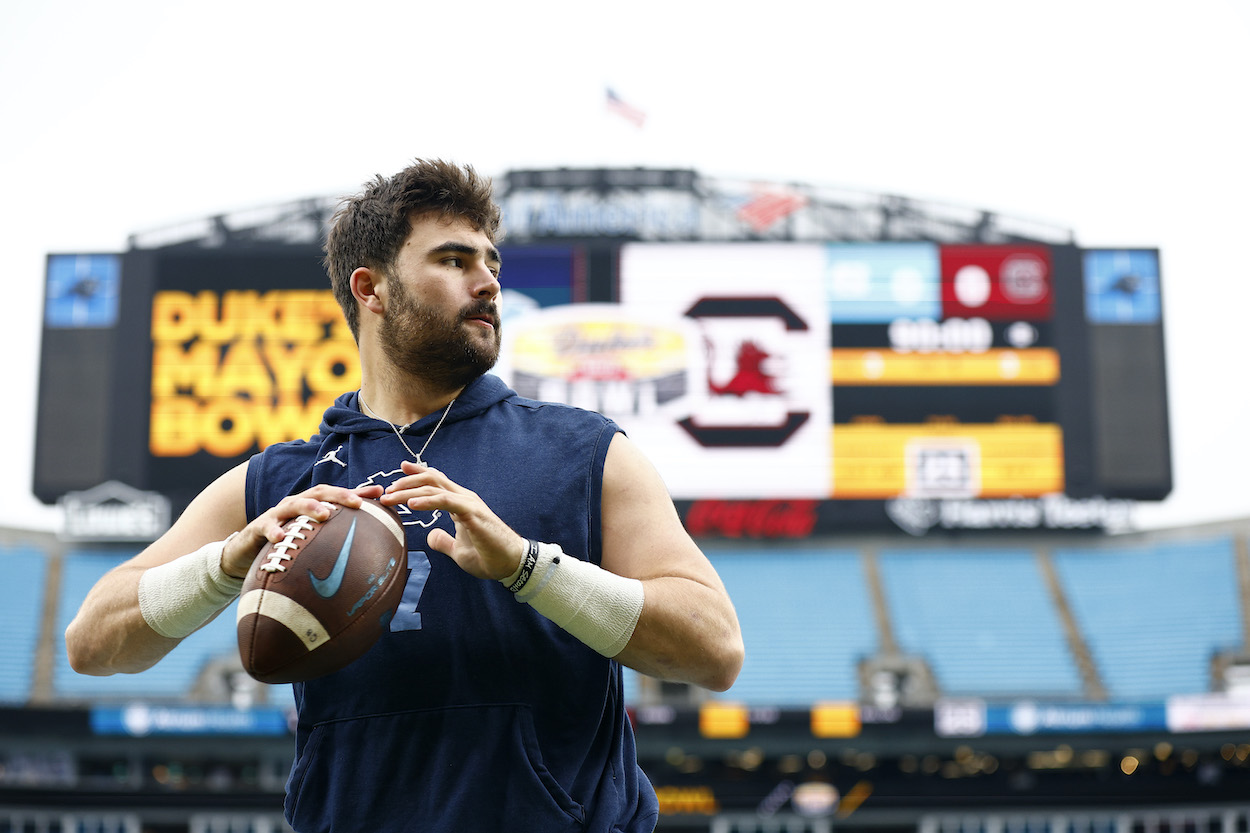 Cynthia Frelund thinks that the best fit for Sam Howell is the Indianapolis Colts. After comparing him to a "modernized Drew Brees," she wrote, "The opportunity to learn behind Matt Ryan and operate behind that line — with Jonathan Taylor's presence in the backfield making the play-action game pop — creates the optimal upside."
Frelund also mentions Brees' old team, the New Orleans Saints, as a good fit.
Other teams that could be interested in Howell are the Seattle Seahawks and New York Giants. The G Men even sent four coaches to the QB's pro day. Both these spots would be good for Howell as well due to the fact Drew Lock and Daniel Jones would allow Howell to sit for a season or beat them out if he's ready.
Also, they both have solid weapons at running back and wide receiver that would give Howell a chance to succeed if he does play. In Sportcasting.com's most recent New York Giants mock draft 2.0, that's the team I have Howell going to.
All stats courtesy of Sports Reference