Peter Schrager Crushes Possible No. 1 NFL Draft Pick Aidan Hutchinson: 'You See a Big White Defensive End Wearing No. 97 You're Like, That's a Bosa Brother, and It's Not'
The 2022 NFL Draft debate between Aidan Hutchinson and Travon Walker for the No. 1 pick is heating up and Peter Schrager explains why.
While many mock drafts have Michigan defensive end Aidan Hutchinson going No. 1 to the Jacksonville Jaguars in the 2022 NFL Draft, some of that sentiment is starting to change as draft day approaches. Georgia's Travon Walker now seems to be in the mix.
Some of this has to do with Jaguars general manager Trent Baalke's love of attributes over production. However, there are also knocks on Hutchinson coming to light, which NFL Network host Peter Schrager articulated.
Aidan Hutchinson vs. Travon Walker
The Aidan Hutchinson vs. Travon Walker debate comes down to a classic case of production vs. projection.
Hutchinson is the clear production candidate. At Michigan in 2021, he was a consensus first-team All-American and a team captain, per MGoBlue.com. He also took home a slew of awards at the end of the season, including:
Rotary Lombardi Award winner (Lineman or LB who "embodies the values and spirit of Vince Lombardi)
Ted Hendricks Award winner (college football's best DE)
Lott IMPACT Trophy winner (Integrity, Maturity, Performance, Academics, Community, and Tenacity)
Woodson-Nagurski Big Ten Defensive Player of the Year
Smith-Brown Big Ten Defensive Lineman of the Year
Big Ten Championship Game Grange-Griffin MVP
The reason Hutchinson's trophy case is so full and Walker's is not (although he did win the national championship) is in the statistics. Here's how the two players matched up statistically in 2021:
| | | | | | | |
| --- | --- | --- | --- | --- | --- | --- |
| | Sacks | Tackles | TFL | PD | FF | FR |
| Aidan Hutchinson | 14.0 | 62 | 16.5 | 3 | 2 | 1 |
| Travon Walker | 6.0 | 33 | 7.5 | 2 | 0 | 1 |
stats courtesy of MGoBlue and GeorgiaDogs
While Hutchinson got it done on the field last season, there's a lot to like about Walker as well. He is an incredible athlete and has the measurements and test numbers scouts want to see in an elite NFL draft pass-rush prospect.
| | | | | | | | | |
| --- | --- | --- | --- | --- | --- | --- | --- | --- |
|   | Height | Weight | Arms | 40 | Vertical Jump | Broad Jump | 3-cone drill | 20-yd Shuttle |
| Aidan Hutchinson | 6'7" | 260 lbs. | 32.1" | 4.74 sec | 36" | 117" | 6.73 sec | 4.15 sec |
| Travon Walker | 6'5" | 272 lbs. | 35.5" | 4.51 sec | 35.5" | 123" | 6.89 sec | 4.32 sec |
numbers courtesy of NFL.com
The production vs. potential debate isn't the only reason Hutchinson is losing steam on some draft boards, though, as Good Morning Football co-host Peter Schrager explained.
Peter Schrager explained the knock on Aidan Hutchinson
Insider Peter Schrager as sources around the league and is mining them to put together a fascinating sourced mock NFL draft. He was one of the first people to start talking about Travon Walker over Aidan Hutchinson, and, on the Pat McAfee Show, he explained why.
He went through Jacksonville Jaguar GM Trent Baalke's history of picking for physical potential over production. This includes Rutgers tackle Anthony Davis over Iowa "sure thing" Brian Bulaga in 2011. Also, Missouri's Aldon Smith over Wisconsin's J.J. Watt, North Carolina's Robert Quinn, and Ohio State's Cam Heyward in 2010.
This year, he explained that on top of the athleticism difference, there are other knocks on Hutchinson:
I talked to a GM [about Hutchinson], and he's like, you see a big white defensive end wearing No. 97, you're like, 'that's a Bosa Brother,' and it's not. He's not that player. The comparison I was given is, he's got Trey Hendrickson-type qualities. Or he's got T.J.-Watt-when-he-first-got in-the-league-type qualities. These were not finished products, and they weren't these freak-of-nature, Micah Parsons, Nick Bosa-type guys. Be careful with the hyperbole in this draft.

Peter Schrager on Aidan Hutchinson
Schrager also said there is no "unicorn prospect" in the 2022 NFL Draft. Furthermore, he says his sources tell him Hutchinson isn't "this absolutely slam-dunk, no-brainer, 10-time All-Pro.
The absolutely slam-dunk, no-brainer, 10-time All-Pros in the 2022 NFL draft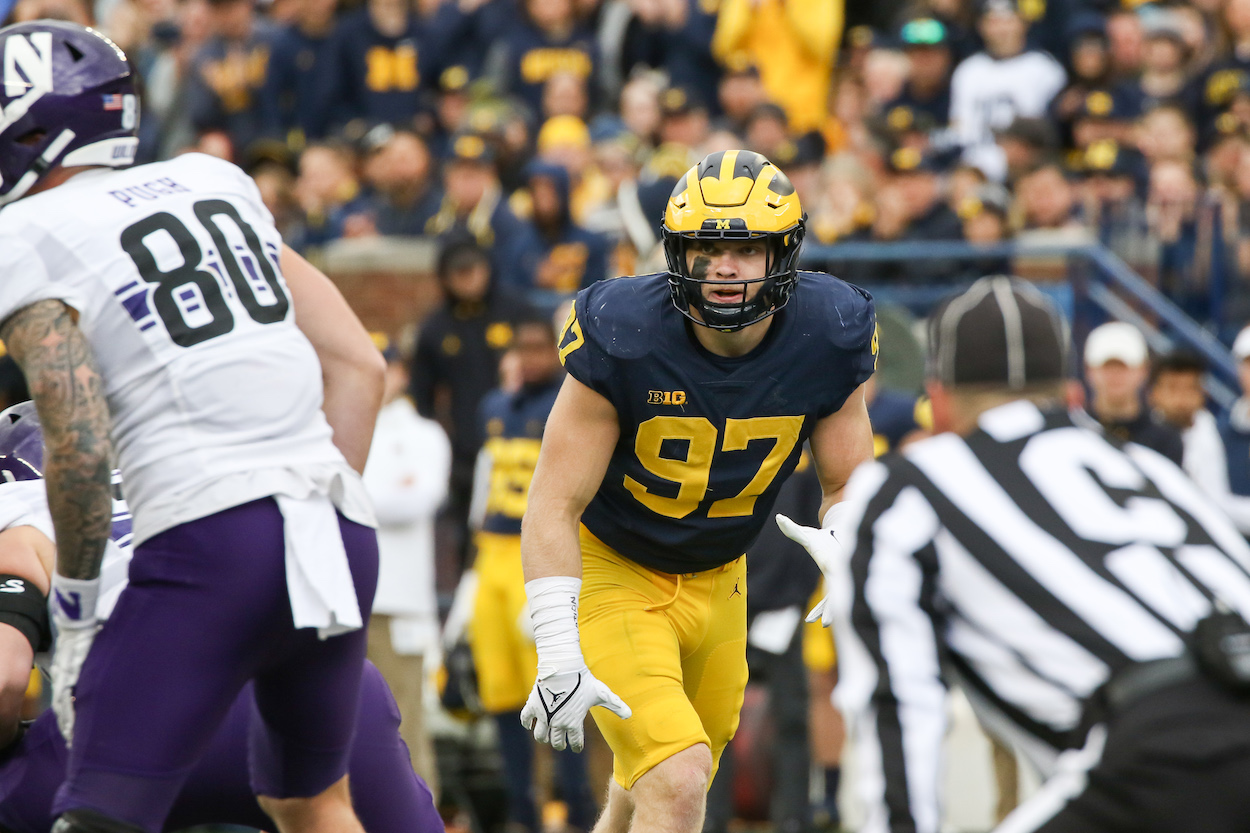 After Peter Schrager's takedown of Aidan Hutchinson and, by proxy, Travon Walker, we know there isn't a sure-thing prospect at the top of the draft. This includes Oregon edge-rusher Kayvon Thibodeaux and offensive linemen Evan Neal from Alabama and Ickey Ekwonu from NC State.
We also know that this year's QB class doesn't have a seemingly can't-miss prospect. Pitt's Kenny Pickett, Liberty's Malik Willis, Ole Miss' Matt Corral, and, as of recently, Cincinnati's Desmond Ridder are all in the mix to be the first passer off the board.
There will likely be at least one, if not several 10-time All-Pro types in the elite wider receiver prospect group. However, there isn't an individual wideout who's distinguished himself as the consensus top pass-catcher in the bunch.
The players who do seem like they can't miss are at positions that pro football teams don't value enough to take No. 1 overall in the NFL draft.
Cincinnati cornerback Ahmad "Sauce" Gardner, Notre Dame safety Kyle Hamilton, and Iowa center Tyler Linderbaum all seem like high-floor, high-ceiling prospects. Still, none is in the mix for the top pick.
Like Sportscasting on Facebook. Follow us on Twitter @sportscasting19.