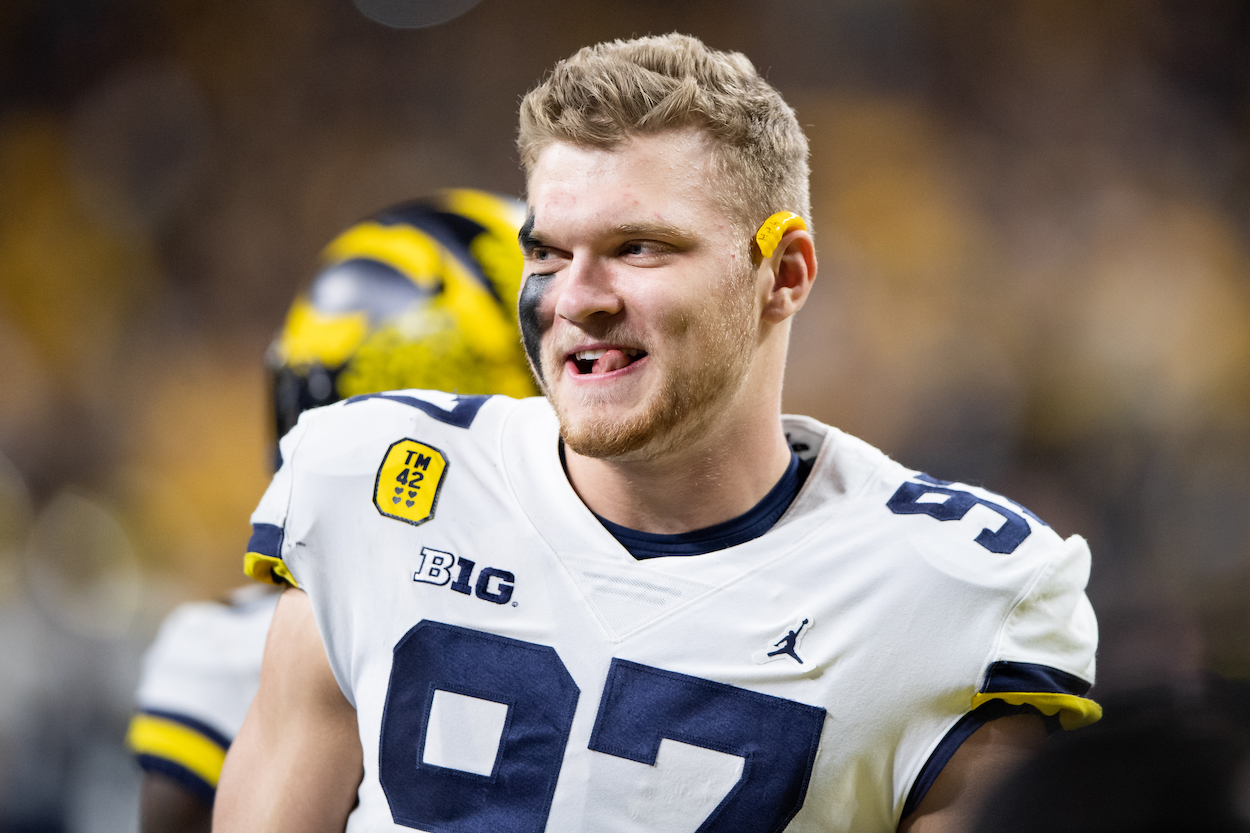 NFL Draft: Todd McShay Shockingly Claims 'It's Not a Done Deal' Aidan Hutchinson Goes No. 1 to the Jaguars
Chances are, the Jacksonville Jaguars will take Aidan Hutchinson No. 1 in the NFL draft, but ESPN's Todd McShay says it's not 100% yet.
With the 2022 NFL Draft less than a month away, Michigan pass-rusher Aidan Hutchinson has become the consensus No. 1 pick for the Jacksonville Jaguars. Most mock drafters' have the Michigan native in the top spot, but ESPN draft guru Todd McShay says not so fast.
Todd McShay tries to add some drama to the Jacksonville Jaguars' No. 1 pick in the 2022 NFL Draft
Former NFL general manager and longtime personnel executive Mike Tannenbaum recently produced a 2022 mock draft for ESPN. He, like so many others, fully expects the Jacksonville Jaguars to take 6-foot-7, 260-pound Michigan Wolverines pass-rusher Aidan Hutchinson No. 1 overall.
However, on Sunday's Sportscenter Special: Mike Tannenbaum's NFL Mock Draft 1.0, draft analyst Todd McShay posited the idea that Hutchinson to Duval County isn't quite the fait accompli most think it is. McShay told Tannenbaum, Mel Kiper Jr., and host Field Yates:
I've given Hutchinson number one in my recent mock draft. I would give him again if I had to do a mock draft tomorrow. I totally understand why Mike T has done this. But I don't think it's clear-cut. I would bet on it. … But it's not a done deal. His grade isn't as high as Joey Bosa or his brother, Nick Bosa, or Myles Garrett. I think he's a little bit lower in terms of a grade than we've seen in some of the elite, elite pass rushers.

Todd McShay on Aidan Hutchinson and the Jacksonville Jaguars
That's what makes Jacksonville's pick so difficult this year. When you take a pass-rusher No. 1 overall, you want an absolute game-wrecker. Hutchinson certainly could turn into that, but, to McShay's point, he's not coming out of school as one like Garrett and the Bosa brothers did.
So, that begs the question, if not Hutchinson at pick one, then who?
If not Aidan Hutchinson at No. 1 in the NFL Draft, then who?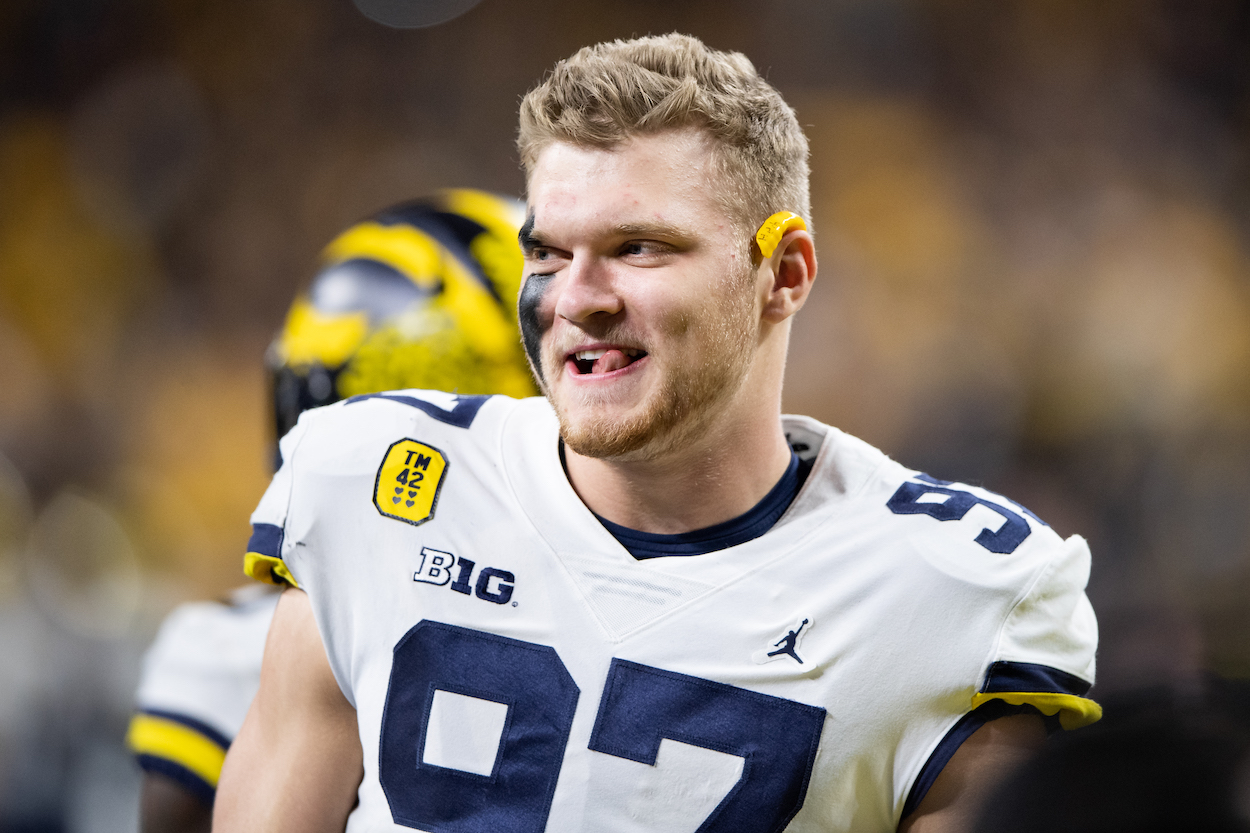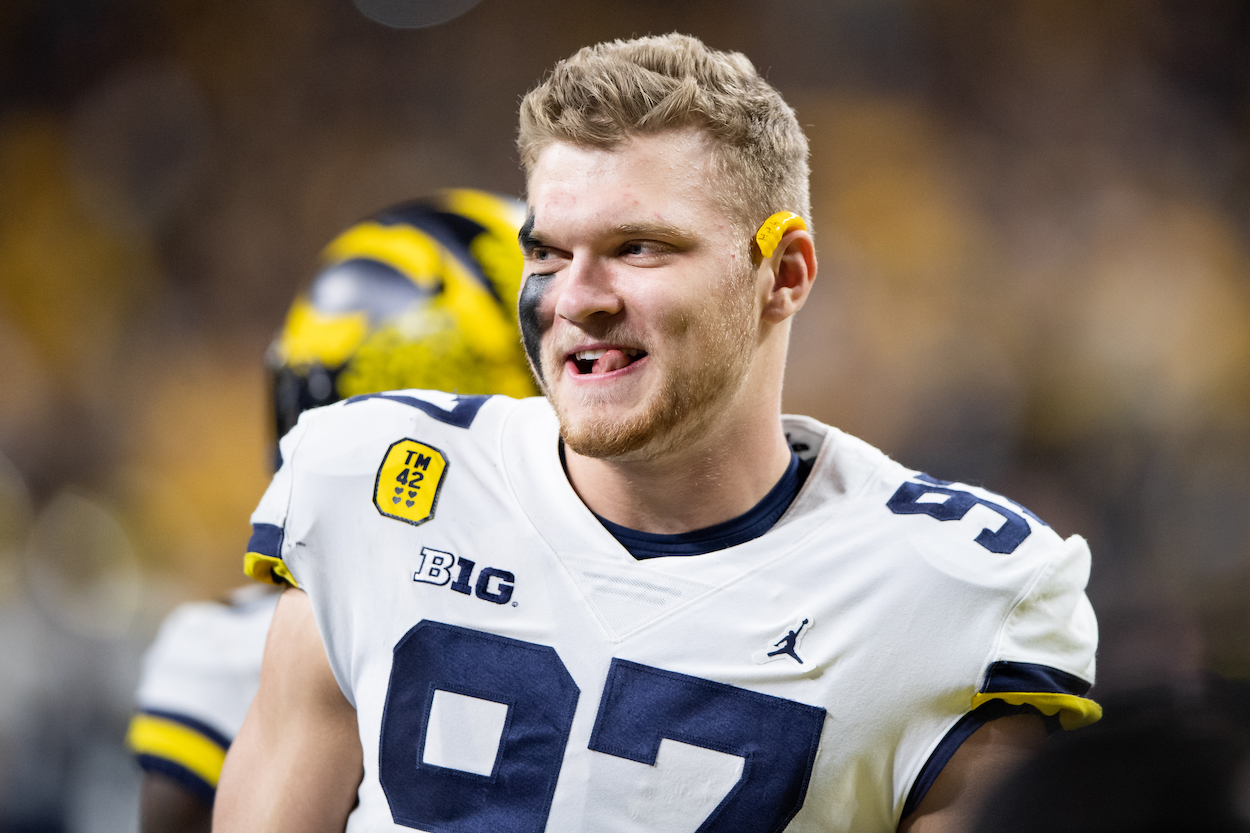 Since Todd McShay was the one who suggested that Aidan Hutchinson might not go No. 1, he's also the one who provided the answer as to who the Jacksonville Jaguars would take with the top pick if it isn't the Michigan defensive end:
[Offensive tackle] Cam Robinson was franchised, and everyone shifted their thinking [to], "It's one year he's coming back. Maybe they'll sign him to a long-term deal. They want to bring in Hutchinson." And I believe that that's the case. But, ultimately, it's only one year. You can bring in Ickey Ekwonu from NC State. You can bring in Evan Neal from Alabama. Play them at guard for a year and then kick them out to left tackle the year after that.

Todd Mcshay on the Jacksonville Jaguars in the NFL Draft
McShay also gave a valid reason as to why going with an offensive lineman makes a lot of sense for the Jaguars:
Remember, Trevor Lawrence. He's the reason you have a chance to get to the playoff in the next three years. He's your only reason. You've got to protect him.

Todd McShay on the imprtance of Trevor Lawrence
While McShay makes a compelling argument that one of the highly-rated O-lineman would be a good choice at the top of the 2022 NFL Draft, even he admits that Hutchinson is likely the pick.
As for the always-curmudgeonly Mel Kiper Jr., he simply accused his fellow draft expert of "trying to create some drama, I guess, at number one," where none exists. Kiper then put the chances of Hutchinson going first at 98%.
What the Jaguars' defense could look like with Hutchinson
Since the draft gurus of draft gurus, Mel Kiper Jr., puts the chances of the Jacksonville Jaguars selecting Aidan Hutchinson at No. 1 in the 2022 NFL Draft at a hearty 98%, let's consider what the Jags D will look like next season.
With the Urban Meyer experiment mercifully over, the Jaguars are now in the hands of former Philadelphia Eagles Super Bowl-winning coach Doug Pederson. With him comes first-time defensive coordinator (and 11-year NFL linebacker) Mike Caldwell.
After spending the last three seasons in Tampa Bay learning from coordinator Todd Bowles, it's a good bet that Caldwell will run a Bowles-like 3-4 base, which works with Jacksonville's defensive personnel.
After an active free-agency period, here is what the Jaguars starting 11 (plus a nickel corner) could look like:
NT: Folorunso Fatukasi (FA from NYJ)
DT: Malcom Brown
DT: Roy Robertson-Harris
EDGE: Josh Allen
EDGE: Aidan Hutchinson (No. 1 pick)
ILB: Foyesade Oluokun (FA from ATL)
ILB: Shaquille Quarterman
CB: Tyson Campbell
CB: Shaquill Griffin
Slot CB: Darious Williams (FA from LAR)
FS: Rayshawn Jenkins
SS: Andrew Wingard
Olukokun led the league in tackles last season with 192, and the Fatukasi can clog up the middle with the best of them. Along with Allen and Hutchinson, those two could take the Jags D from 28th in the NFL in 2021 to one of the best front sevens in the game in 2022.
All stats courtesy of Pro Football Reference