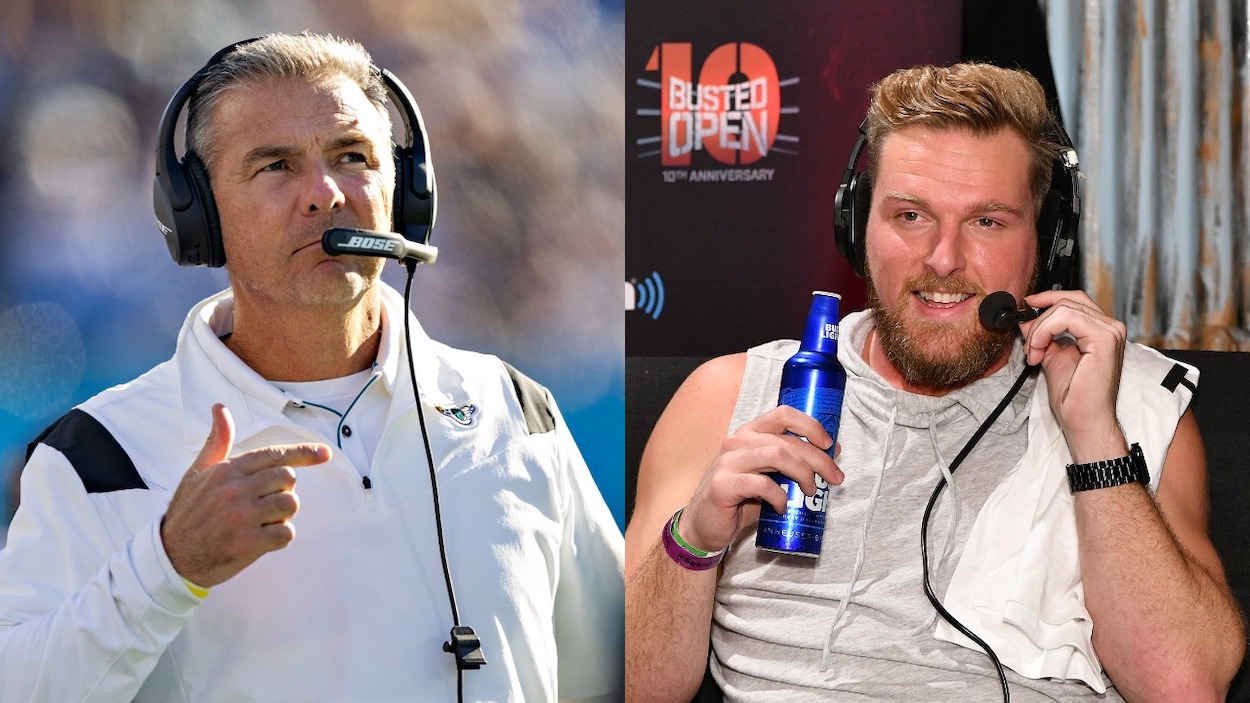 Pat McAfee Explains How Urban Meyer's 'God Complex' Led to His Downfall: 'I Don't Think He Had Any Respect for Anybody'
There are lot of reasons Urban Meyer was such a disaster with the Jacksonville Jaguars, but former NFL player Pat McAfee boiled it down to the coach's 'God complex'
There are a lot of reasons that disgraced Jacksonville Jaguars head coach Urban Meyer failed in the NFL. You can point to his lack of knowledge of the pro game, specific incidents that happened, or his general attitude. However, sports talk host Pat McAfee may have summed Meyer's problem up best, saying the former Florida and Ohio State coach has a "God complex" that worked in college but not in The League.
Urban Meyer did not treat his Jacksonville Jaguars players well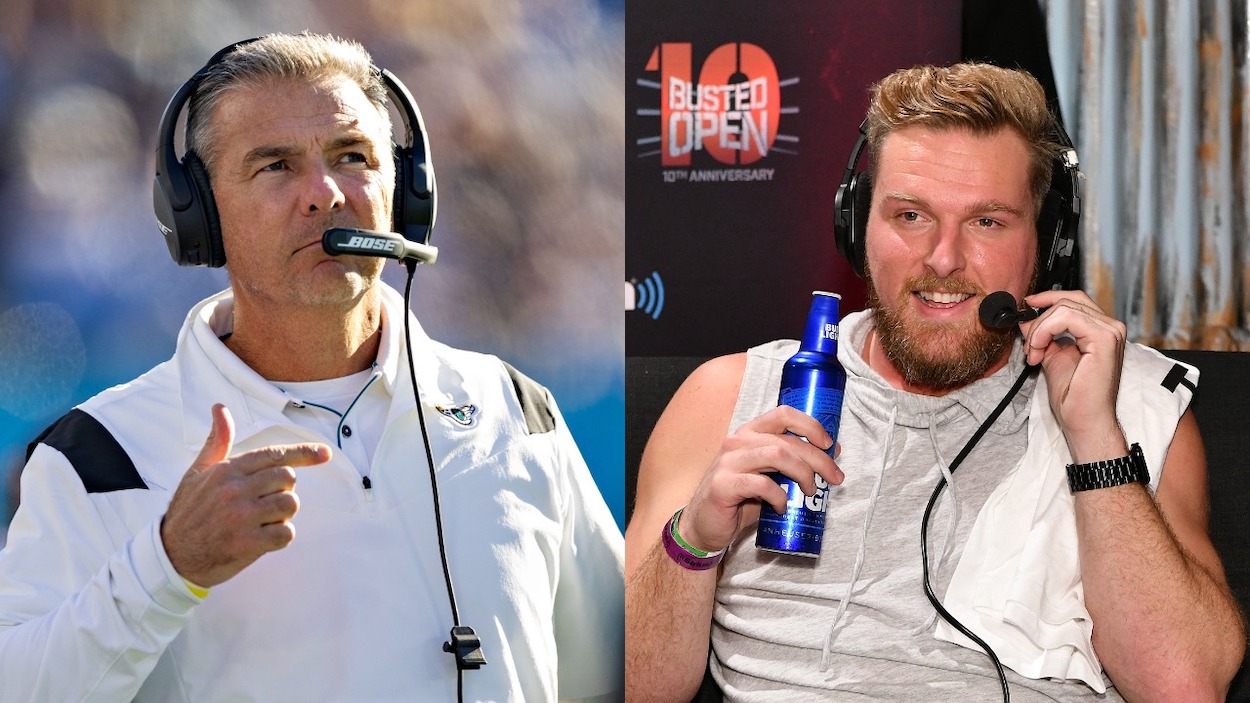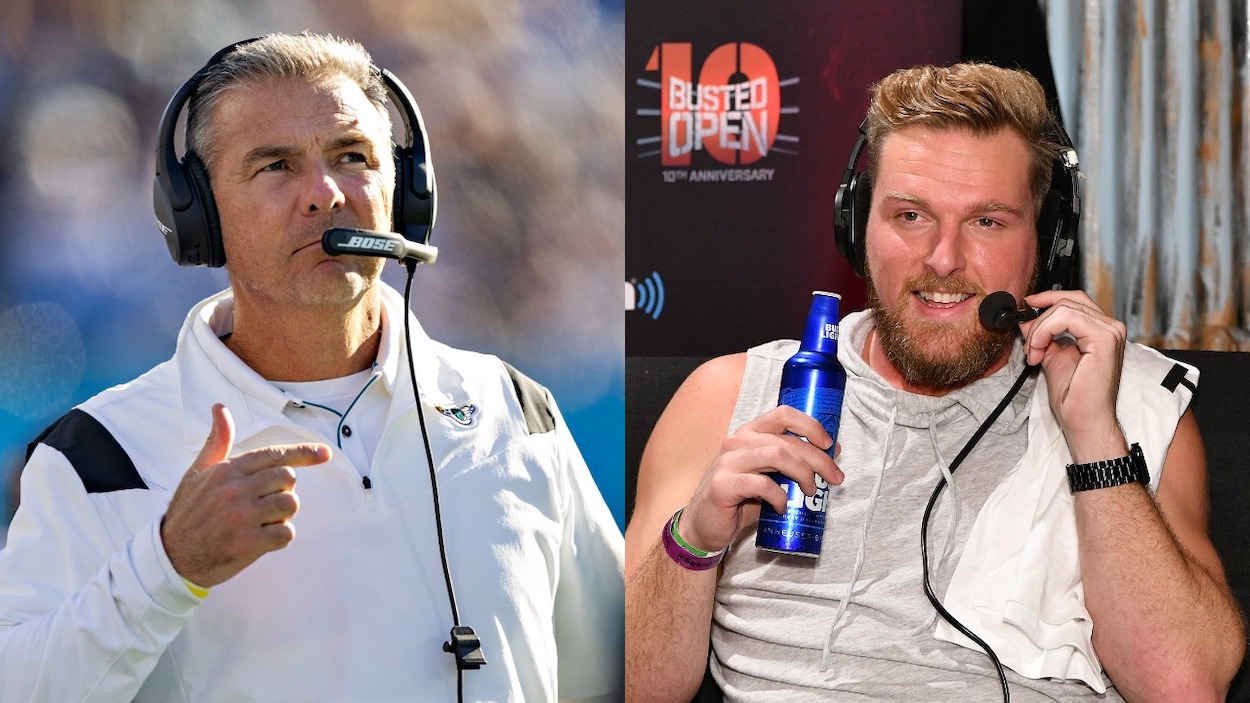 Again, there are a lot of observers who can point to why Urban Meyer failed as the head coach of the Jacksonville Jaguars. The common through-line, though, is that he simply did not treat people well.
It started in the preseason when Jaguars players complained about pushing them too hard in training camp. Right off the bat, anonymous sources told Pete Prisco of CBS Sports, "He brought a bunch of college-like things to the program," which his new group of highly-paid professionals didn't like.
Then, when the scandal happened in October, it wasn't about the coach's actions in a bar to the Jags players. It was about not being bought in enough to fly back with the team. After that, it was about being less-than-forthcoming about the situation back in Florida.
After that, the stories that came out about belittling assistant coaches, fighting with the mild-mannered Marvin Jones, and kicking his kicker in the leg, were just the final logs on the fire.
Jaguars owner Shad Khan had no choice to fire Meyer because of the way he treated people.
How could such a successful college coach get it so wrong in the NFL? Pat McAfee offered an interesting explanation that involved the ways college coaches treat their players vs. pro coaches.   
Pat McAfee explained the 'God complex' that some college coaches have
There are plenty of pundits and even NFL fans who can gleefully say that they saw this coming. From the day Urban Meyer signed with the Jacksonville Jaguars, scores of pro football observers noted that the transition from college coaches to the Big Leagues rarely works out well.
That said, even the least successful college-turned-pro coaches don't flame out quite as spectacularly as Meyer did.
Talk show host and former NFL player Pat McAfee did a good job explaining why Meyer's failure is both very familiar, yet a little different than the college coaches who came before him:
It feels like Urban Meyer had no respect for a lot of things. His position, the league, his players, his assistants. I don't think he has any respect for anybody. Which could potentially happen if you have a God complex where you are the gatekeeper for people's entire futures for so long and have had a lot of success for that, like a college coach has. And you control every single minute of people's days, which is why a lot of people say, 'it's hard for college coaches to go to the NFL.' There's a long list of college coaches that have tried to go to the NFL. … Every single one of them has basically failed because you're talking about adults and grown men, and a lot of money, and everybody has a football IQ. … At some point, also, somebody's got to say, 'Hey Urban, f*** off.

Pat McAfee on Urban Meyer
A guy with no respect for anyone with a God complex who needs to be told to "f*** off" seems like an apt description of the entire Urban Meyer saga.
Even if Meyer didn't have the loathsome qualities that McAfee laid out, he still would have faced an uphill battle that some of the most famous names in college football history know all too well.
Where will Urban Meyer coach next? OR College coaches in the NFL
The history of college football coaches trying their hand in the NFL is paved with L's.
Since 2000, the record of college coaches getting an NFL head coaching job is 237-258-2. Throw out Jim Harbaugh — a former NFL player of note and the only coach on the list with significantly more NFL wins than losses from his time in San Francisco — and the overall winning percentage drops from 47.6% to 44.5%.
In addition to the hard numbers, these coaches have also provided some of the worst coaching anecdotes of the last 20-plus years.
It could be Steve Spurrier golfing more than coaching. Or Bobby Petrino telling his team he was quitting after just 13 games via a note left in the locker room. Maybe it's Doug Marrone quitting on the Buffalo Bills to go to Jacksonville, or the multitude of Meyer drama. No matter what story you hear, college coaches just seem like they're not cut out for the NFL.
This could change in the coming years, though.
Dealing with college kids vs. professional athletes will always be different. However, the X's and O's of the two games are becoming more similar all the time.
Younger coaches who can figure out the interpersonal side, like the Arizona Cardinal's Kliff Kingsbury (10-3 this year) and the Carolina Panthers' Matt Rhule (5-8 with no QB), seem like they may be able to make a smoother NFL transition than some of their older brethren.
At the very least, they should be able to avoid the complete train wreck that was Urban Meyer with the Jacksonville Jaguars.
Like Sportscasting on Facebook. Follow us on Twitter @sportscasting19