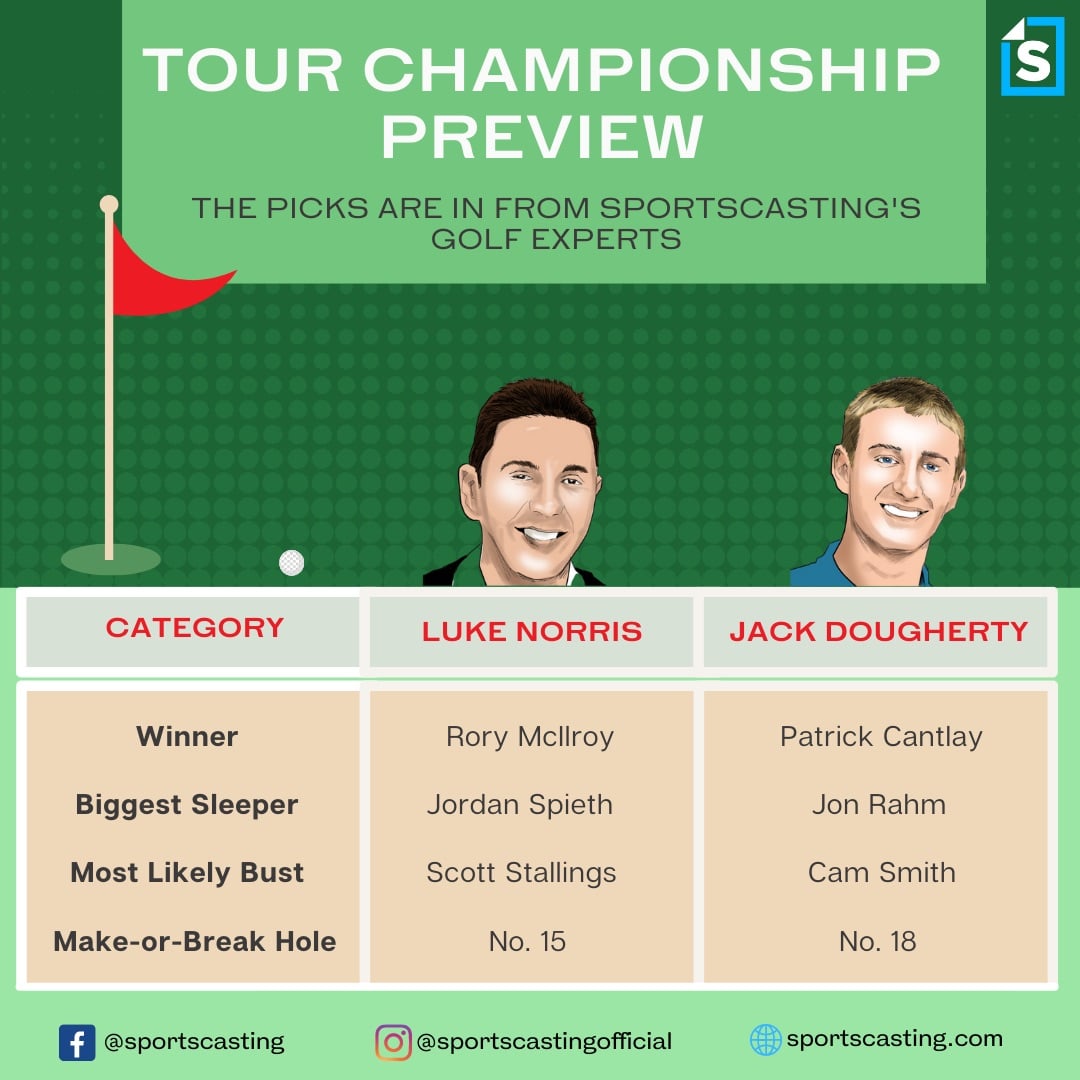 2022 Tour Championship Expert Picks: Sleepers, Winners, Busts, and Key Holes to Watch for the FedEx Cup Playoffs Finale
Who do the Sportscasting golf experts like to win the Tour Championship?
The PGA Tour season comes to an end this week — as it always does — at East Lake Golf Club for the 2022 Tour Championship. We started with 125 names, and we're now down to 30 as the best players in the world will duke it out for the FedEx Cup title and the record-setting $18 million prize that comes with it.
World No. 1 Scottie Scheffler will enter the staggered stroke event in first place at 10 under par, but neither of our golf experts is backing him to hold onto the lead.
So, how do our experts see the Tour Championship playing out this week?
2022 Tour Championship expert predictions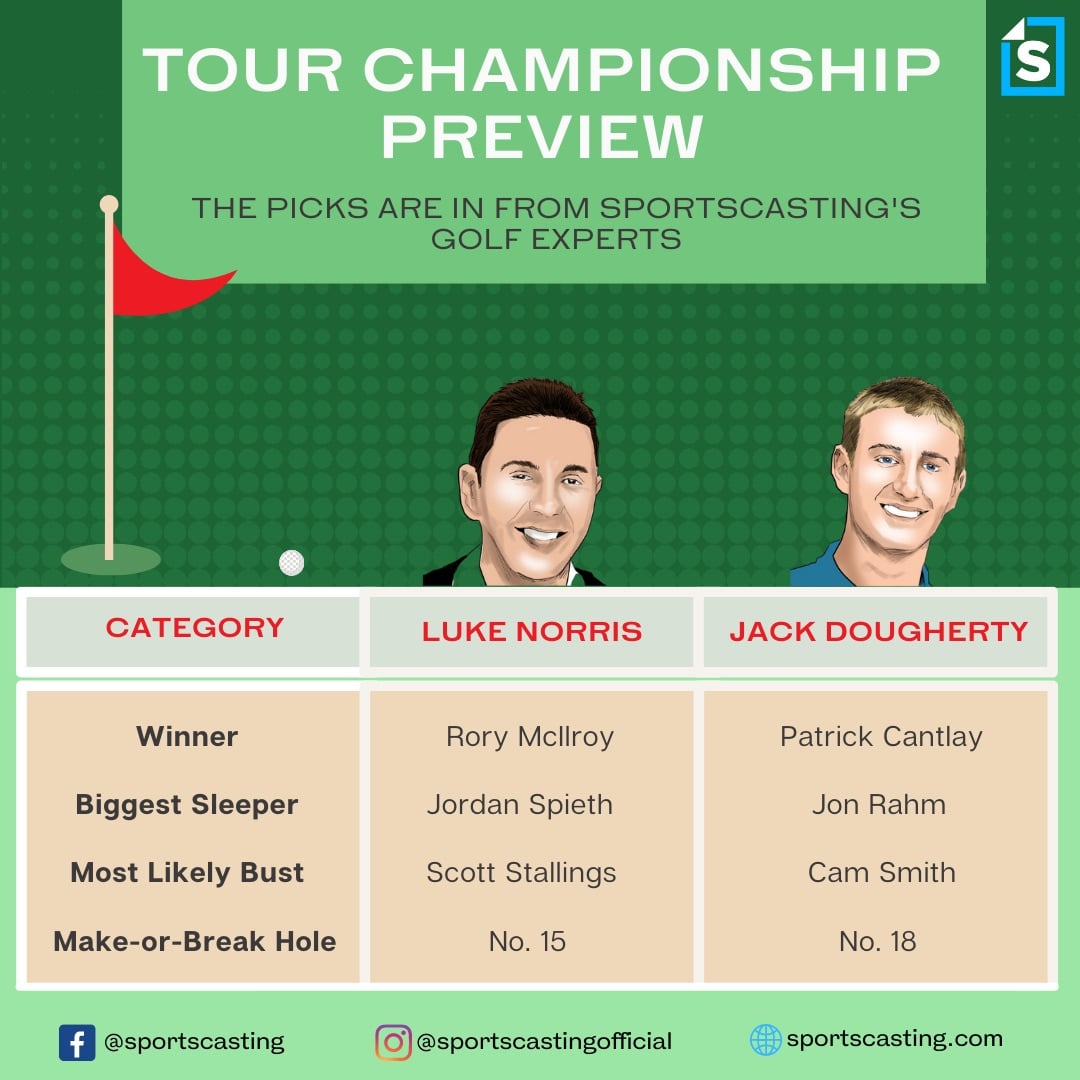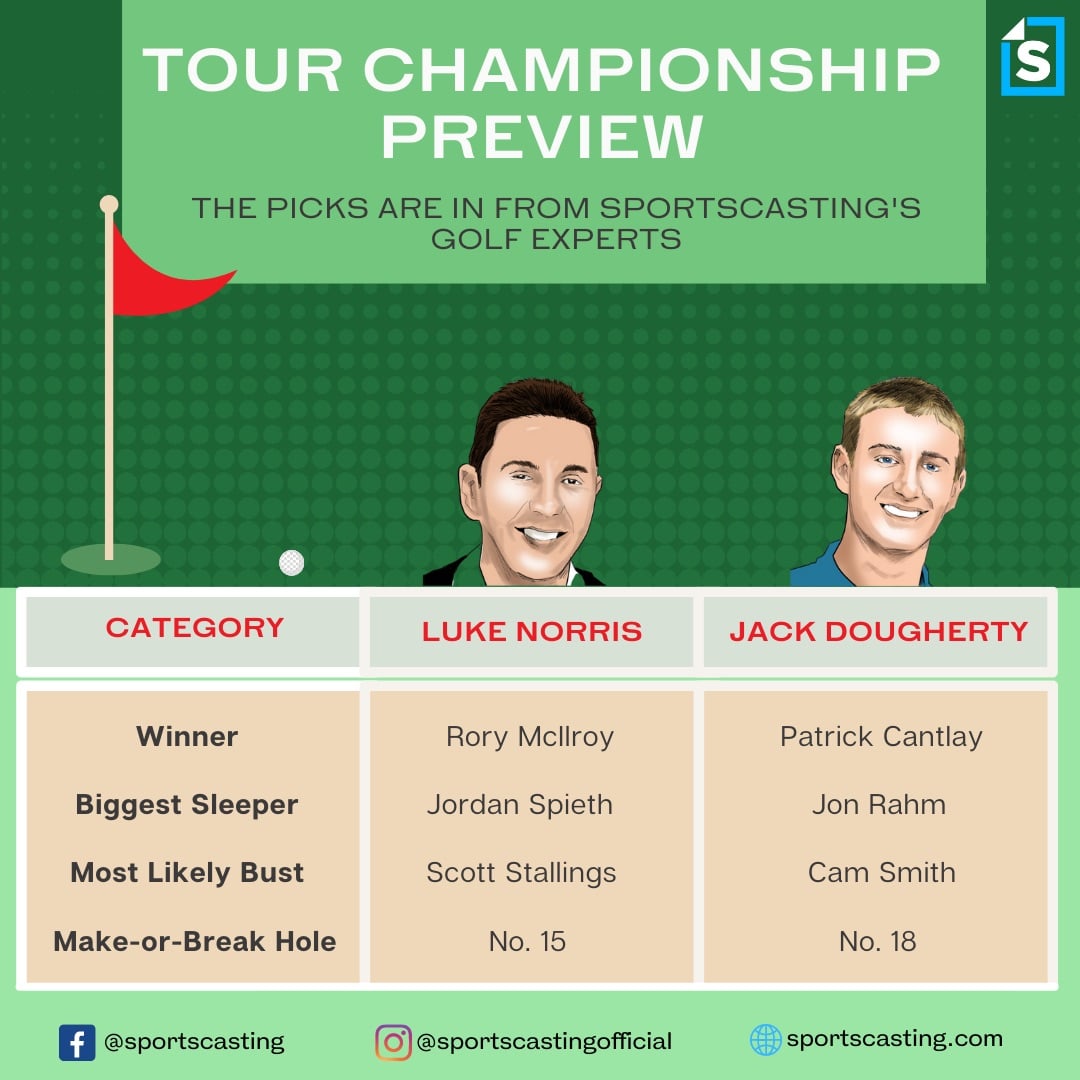 Here are a few predictions for the Tour Championship from Sportscasting golf experts Luke Norris and Jack Dougherty.
Winner
Luke Norris: Rory McIlroy — I picked Rory McIlroy to win all four majors this year, so why not give him one more shot here? He knows how to win at East Lake and if he can get himself within a few shots of the lead heading into the final 36 holes, watch out.
Jack Dougherty: Patrick Cantlay — Patrick Cantlay has that look again. The reigning FedEx Cup champion is back to reclaim his crown, and he shouldn't have a problem making up two strokes over the course of 72 holes. Let's run it back.
Biggest sleeper
Luke Norris: Jordan Spieth — Jordan Spieth begins the week eight shots back, which is a tough hill to climb. But nobody's expecting him to win right now, and maybe that's the motivation he truly needs to make a run.
Jack Dougherty: Jon Rahm — It's not often Jon Rahm can even be considered a sleeper, but because he'll start the Tour Championship at 3 under par and seven strokes back of the staggered lead, the Spaniard fits the bill here. Rahm is at his best when he's playing aggressively and fighting his way up a leaderboard, and that's exactly what he'll need to do this week.
Most likely bust
Luke Norris: Scott Stallings — While I respect Scott Stallings for playing his way into the Tour Championship with a brilliant showing at the BMW, it's highly unlikely we see a repeat performance at East Lake.
Jack Dougherty: Cameron Smith — This week could go one of two ways for LIV Golf-bound Cameron Smith. He could either embrace his new villain role and stick it to the PGA Tour by stealing their ultimate prize, or he could fold to the sea of hecklers and check out in the middle of the tournament. Who knows if Smith's hip injury is even real, but he's by far the most likely player to withdraw if he falls too far back of the lead.
Make-or-break hole
Luke Norris: No. 15 — The 17th at Sawgrass might get more publicity, but the island green on the 15th at East Lake is daunting in its own right. And at 200-plus yards, guys can't hit wedge here. Sure, one could bail out into the back-left bunker, but that just leaves another terrifying shot. A two-shot lead on Sunday could vanish rapidly with one bad swing or a little bit of bad luck.
Jack Dougherty: No. 18 — This is a no-brainer. The risk-reward 18th at East Lake is the perfect finishing hole for the season finale. Eagles are there to be had with a good drive and a heart-pumping approach shot over the water, but getting aggressive here brings double bogey into play just as easily.
Like Sportscasting on Facebook. Follow us on Twitter @sportscasting19.