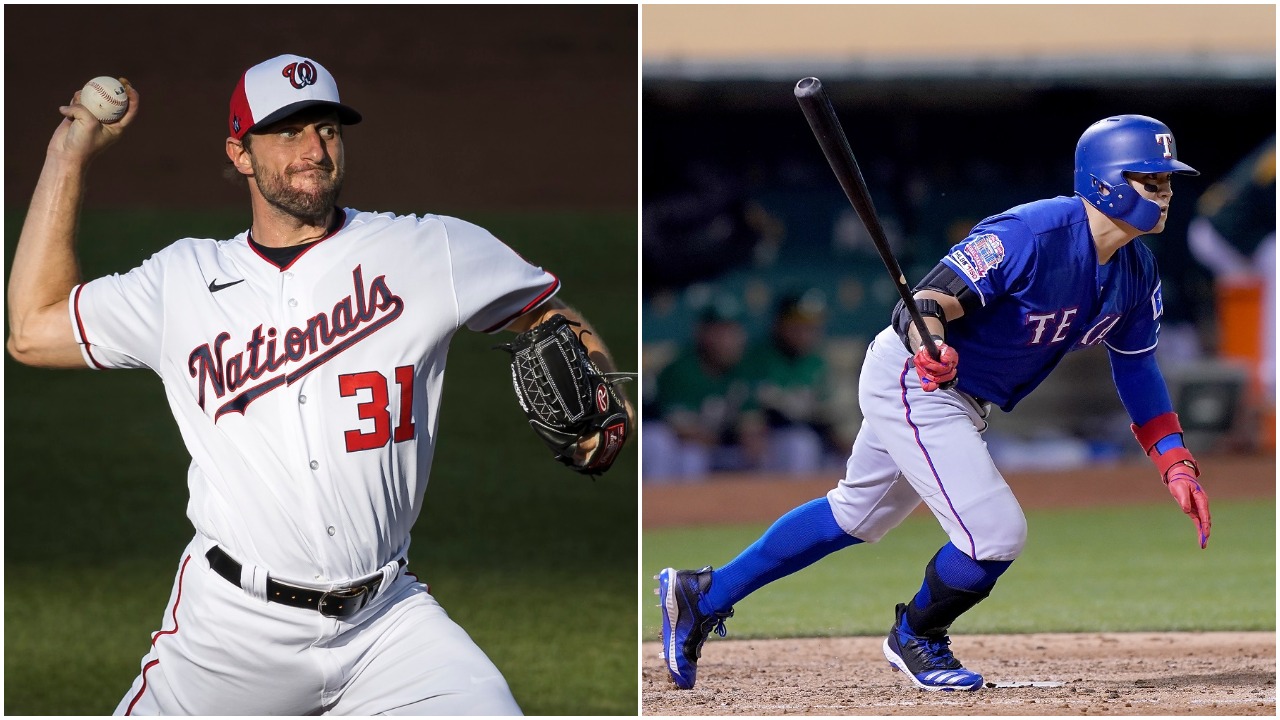 3-Time Cy Young Winner Max Scherzer Has an Odd Problem With Shin-Soo Choo
Three-time Cy Young Award winner and World Series champion Max Scherzer has had major problems facing a particular batter over the years.
Newly-crowned World Series champion Max Scherzer usually isn't afraid of anyone. The Washington Nationals ace has long been one of Major League Baseball's best pitchers and has built a resume that will likely one day get him to Cooperstown.
But just about every pitcher in MLB history has at least one guy that has his number. For example, Clayton Kershaw has an odd problem with Dexter Fowler. Fowler has a lifetime average of .260 but has somehow managed to light up the Dodgers ace over the course of his career, hitting .392 against the three-time Cy Young winner.
In the case of Max Scherzer, who has three Cy Young Awards of his own, his biggest problem over the years has been someone nobody would quite expect, Shin-Soo Choo, the 15-year veteran that currently plays for the Texas Rangers.
Max Scherzer has built a Hall of Fame resume
Following two lackluster seasons with Arizona Diamondbacks to start his career, Max Scherzer found his stride with the Detroit Tigers. In five years in the Motor City, "Mad Max" posted an 82-35 record with a 3.52 ERA and 1,081 strikeouts against just 305 walks. In 2013, the year in which he earned the first of seven consecutive MLB All-Star nods, Scherzer easily won his first Cy Young, going 21-3 with a 2.90 ERA.
Ahead of the 2015 season, Scherzer signed a seven-year, $210 million contract with the Nationals and proved he was worth every penny by throwing two no-hitters that season. In 2016, he won his second Cy Young, posting a 20-7 record with a 2.96 ERA and a league-leading 284 strikeouts. He again led the league in strikeouts the following year with 268 and won his third Cy Young. In five seasons with the Nats, he's placed in the top five of the Cy Young vote every year.
Max Scherzer added to his already-impressive list of accomplishments by adding a World Series championship in 2019. After receiving a cortisone shot ahead of Game 7, he threw five gutsy innings and held the Houston Astros' high-powered offense to just two runs in Washington's 6-2 victory.
Shin-Soo Choo is a lifetime .275 hitter
Shin-Soo Choo has been a solid big-league player for quite some time. But let's not pretend that he'll ever end up joining Max Scherzer in Cooperstown, assuming "Mad Max" gets there anyway, which he should given his credentials.
Choo began his MLB career with the Seattle Mariners in 2005 and spent time with the Cleveland Indians and Cincinnati Reds before joining the Texas Rangers in 2014. Over 15 years, the South Korean has hit a very respectable 213 career home runs with 767 runs batted in. He has a career batting average of .275, which isn't even half of what he's put up against Scherzer.
Shin-Soo Choo has lit up Max Scherzer over the years
Somehow, Shin-Soo Choo has managed to beat up on Max Scherzer more than anyone ever has. Over 12 years, opponents have hit just .222 off of "Mad Max." Choo has hit a whopping .583 against him.
In 30 plate appearances against Max Scherzer, Shin-Soo Choo has 14 hits, two doubles, one triple, three home runs, six runs batted in, and six walks. To go along with the .583 average, Choo has a .667 on-base percentage and a 1.125 slugging percentage for an astounding 1.792 OPS against one of the greatest pitchers of the last decade.
In a past interview with Jayson Stark (video above), Max Scherzer spoke on just how much he hates seeing Shin-Soo Choo walk to the plate.
"He should stay in the American League. He's the guy that owns me.

"I don't like him. I like everybody, but man, he's really got my number."

Max Scherzer on Shin-Soo Choo
Luckily for Max Scherzer, he won't have to face Shin Soo-Choo in 2020 as the Nationals and Rangers aren't scheduled to play during the 60-game season.
*All stats courtesy of Baseball-Reference