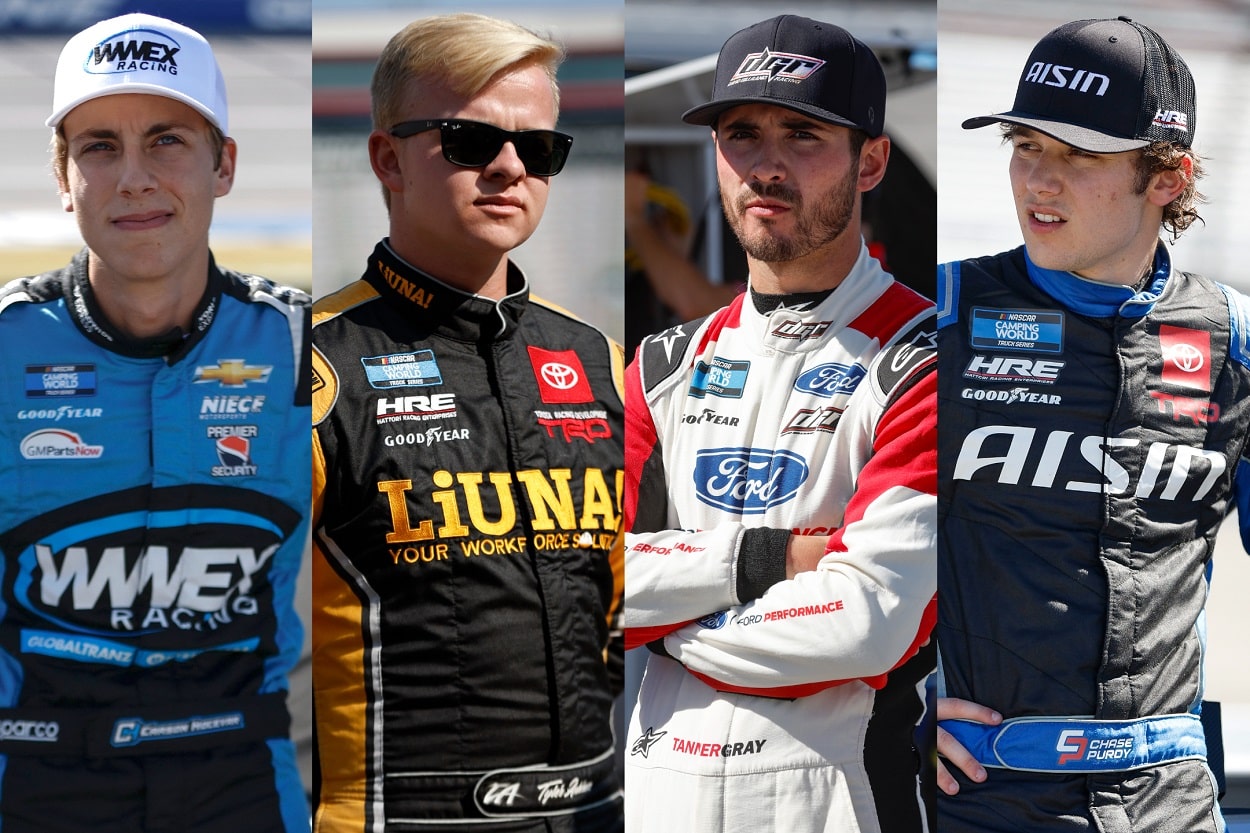 4 Young Truck Series Drivers Not Named Hailie Deegan Who Need a Win in 2023 to Jumpstart Their NASCAR Careers
A look at four NASCAR Truck Series drivers who need a win in 2023.
The NASCAR Craftsman Truck Series is the spot where young drivers have the opportunity to establish their potential as future Cup Series competitors. And the pressure to win is likely starting to mount on four current Truck Series drivers before they get pushed aside.
And, no, we're not talking about Hailie Deegan here.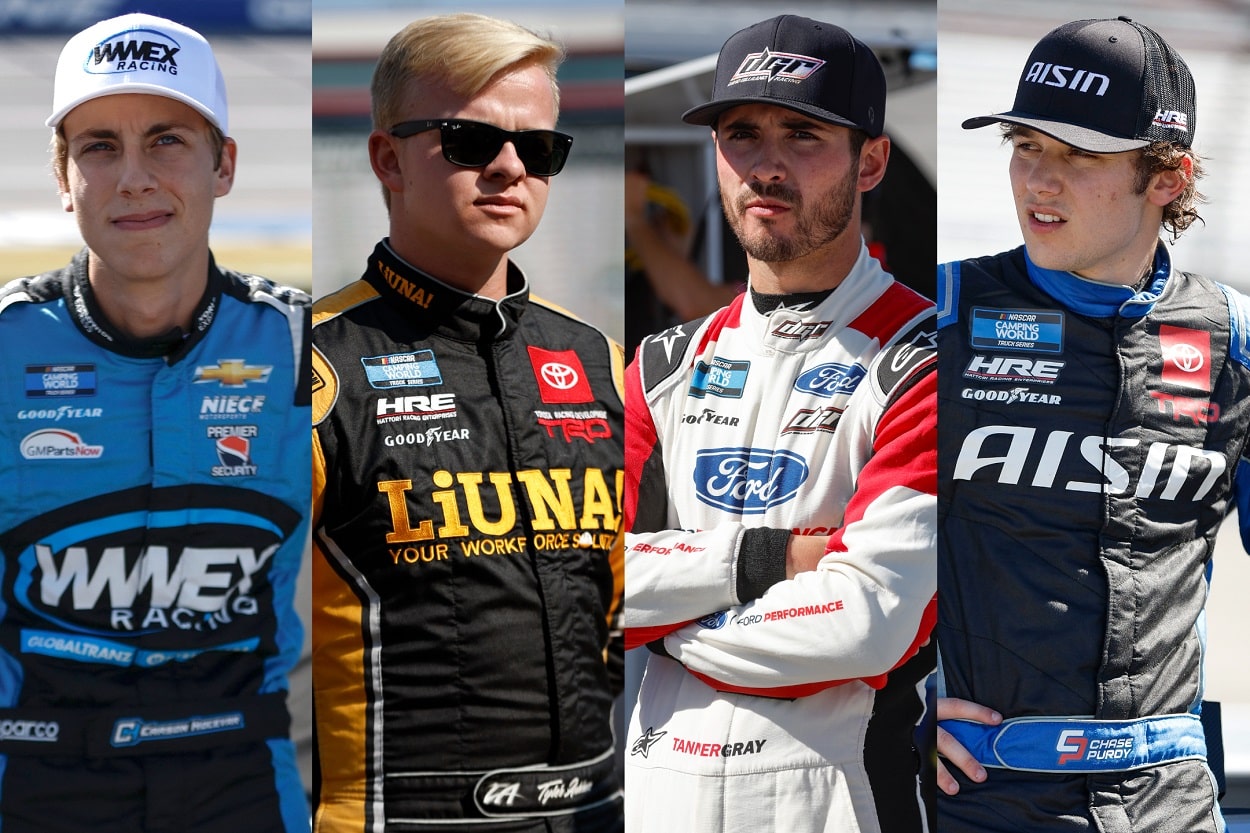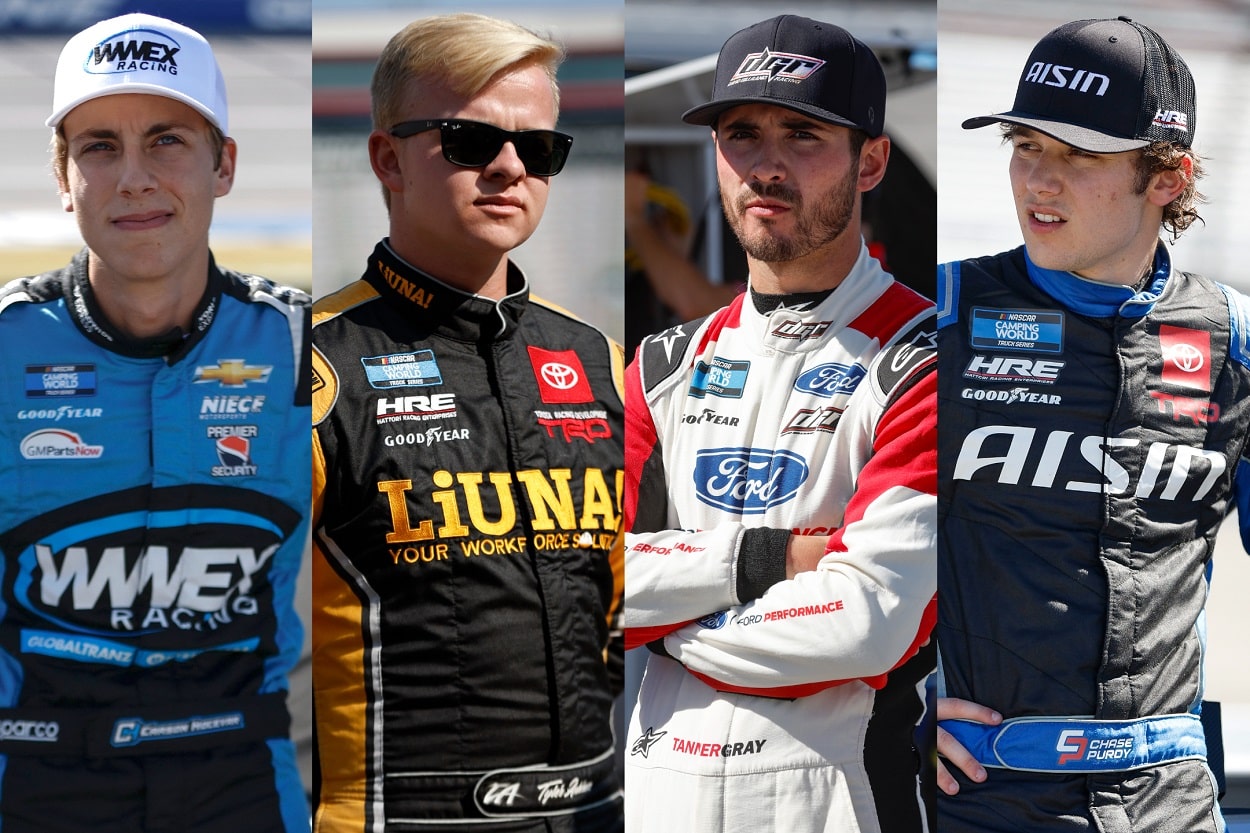 Carson Hocevar, Tyler Ankrum, Tanner Gray, and Chase Purdy are all 23 years of age or younger but already have at least two full Truck Series seasons on their resumes. They also have only one combined win.
Carson Hocevar has come close to winning several times in the last two years
Carson Hocevar is the youngest of the group. He is only 19 years old, and his seven top-five finishes in 2022 were nearly double the career highs of any of the other three drivers in this group. He has finished 10th in the points standings each of the last two years and has had multiple near-misses to reach Victory Lane for the first time.
His most infamous close call came last year in May at Charlotte Motor Speedway. Hocevar led a race-high 57 laps and was the leader for an overtime restart with Ryan Preece on his outside. The two remained side-by-side around the track until Hocevar got loose in the bottom lane, spun out in Turn 3, and collected Preece in the incident.
"All you kids watching right now, wanting to get to this level, don't do that," Preece said after the race. "Race with respect. Don't wreck the guy on the outside of you trying to win your first race. It doesn't get you anywhere."
While Hocevar finished the year with three second-place finishes, he will have to start winning races and steer clear of controversy to develop a reputation as a credible race car driver instead of an aggressive one who drives recklessly.
Tyler Ankrum won a Truck Series race in 2019 but has struggled since
Tyler Ankrum has the only career victory of the group. He triumphed in 2019 at Kentucky Speedway as a rookie in the series. He finished a career-best eighth in the points standings and was ninth the following year with a career-high 10 top-10 finishes.
He moved to Hattori Racing Enterprises in 2022 after three years at GMS Racing and failed to record a top-five result with only four laps led. He finished 12th in the points standings after a career-worst 15th-place result the year before. 
The 2023 campaign sets up as a critical season for the 21-year-old. He will need to reverse a streak that has seen him lead fewer laps in each of his four full-time seasons in the series.
Tanner Gray will get another chance at rebranded TRICON Garage
Tanner Gray has piloted the No. 15 truck for David Gilliland Racing in each of his three Truck Series seasons. He has yet to finish better than third (four times) and has led only 20 laps combined across those seasons, with a 14th-place mark in his rookie season of 2020 as his best finish in the points.
DGR has rebranded to TRICON Garage for the 2023 season and will switch manufacturers from Ford to Toyota, which plans to provide the organization with resources it had previously used at Kyle Busch Motorsports before it switched to Chevrolet for next year.
Gray will likely have the best resources of his career next season. The 23-year-old will need to use them to run up front much more often if he is to become anything more than a middle-of-the-pack Truck Series driver.
Despite no wins, Chase Purdy will get to drive the No. 4 truck for Kyle Busch Motorsports
Chase Purdy might have the most pressure on him next year, but he will also likely have the best equipment.
KBM signed Purdy to pilot the No. 4 truck in 2023 after the 23-year-old spent his rookie season in 2021 with GMS Racing and last year with Hattori Racing. This will be a step up in equipment, but team owner Kyle Busch also expects his drivers to win multiple races and compete for championships.
Purdy has yet to win a race in a NASCAR-affiliated series dating back to 2016. KBM has yet to announce sponsorship for the No. 4 truck next season, but BAMA Buggies has sponsored Purdy for the rest of his career. So perhaps he will bring that sponsorship money with him to KBM.
Regardless, performance will likely dictate whether or not Purdy stays in that high-profile truck. Success in a KBM truck is often a springboard for drivers' careers. Current Cup Series drivers Erik Jones, Bubba Wallace, Christopher Bell, and Noah Gragson all won races with KBM before their careers advanced to the next level.
Sponsorship and potential can get drivers to the Truck Series and even the Xfinity Series, but eventually, they are going to have to show they can actually win races before they will attract the interest of Cup Series owners and move from racing on Fridays and Saturdays to the big show on Sundays.