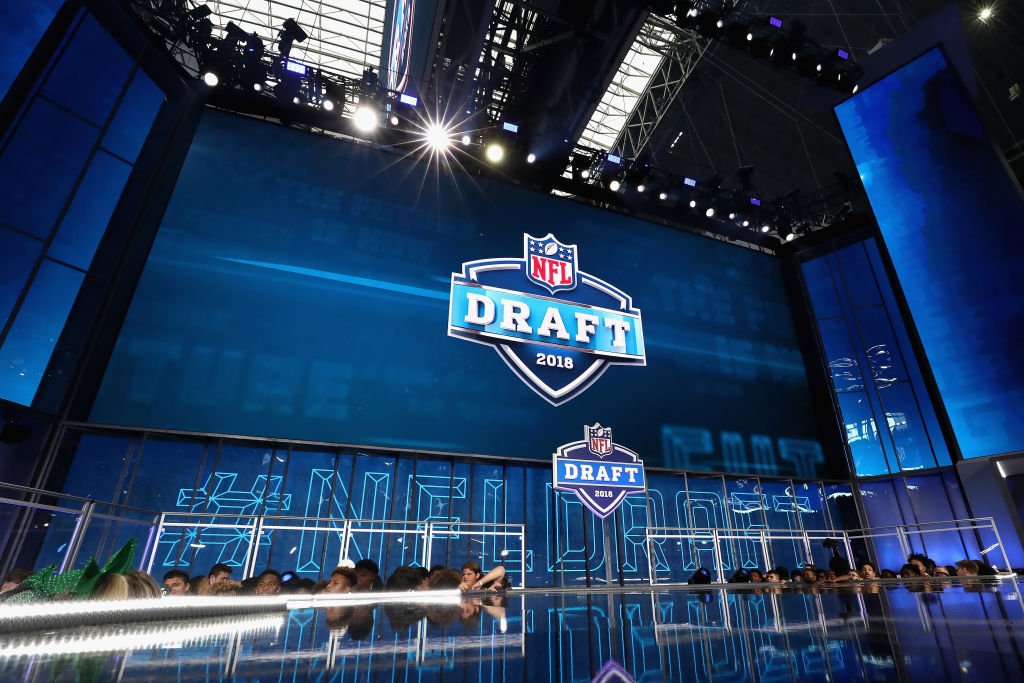 A Virtual NFL Draft Could Have an Unintended Consequence for Football Fans
While moving to a virtual setting will allow the 2020 NFL draft to take place, the change could have an unintended consequence for football fans.
While the NFL draft is never as exciting as a game, most football fans will still tune in for the spectacle. Despite the fact that you're primarily watching men stand at a podium, there is a certain level of anticipation; at that moment, a single decision can change the course of an entire franchise. This year, however, the draft process will be a bit different.
Due to the coronavirus pandemic, the NFL draft will take place in a virtual format. While that makes sense from a health and safety perspective, it could have an unintended consequence for the fans at home?
The 2020 NFL draft will be completely remote
This year's NFL draft was supposed to be a massive spectacle that took over the Las Vegas Strip. Come April 23, however, things will be a bit different.
In light of the coronavirus pandemic, the league initially announced that the draft would take place without fans. Even that scenario, however, turned out to be too risky. The selection process will now take place in a completely virtual setting. In order to comply with social distancing, front offices won't even be able to assemble in a war room; everyone will have to remain "in separate locations and … communicate with one another and Draft headquarters by phone or internet."
Obviously, the TV broadcast will also be affected, as players won't be heading onto the stage to shake Roger Goodell's hand. While the finer details remain to be seen, it's safe to assume things follow the standard format, albeit with a different view. Expect to see plenty of panel discussions and video interviews with players and front offices, assuming everyone is more than six feet apart.
Not everyone is thrilled with a virtual draft, though
It goes without saying that conducting the NFL draft in a completely virtual setting isn't ideal. Several teams, however, have material concerns about the selection process.
Baltimore Ravens coach John Harbaugh, for example, is concerned that his team's digital war room could be compromised. "Yeah, big concern," Harbaugh said on Monday, via Jonas Shaffer of the Baltimore Sun. "Every time I read something in, like, the Wall Street Journal or the New York Times that talks about how messed up Zoom is, or some of these other deals … I immediately text it to our IT people, and [director of football administration] Nick Matteo's one of those guys, and they assure me that we are doing everything humanly possible."
Beyond security, there are also logistical concerns. To that end, all 32 teams will take part in a mock draft prior to the real event. Hopefully, that avoids someone muting themselves before trying to call in their pick.
A virtual NFL draft could make things more boring for football fans
At this point, the NFL is trying to ensure their draft happens as scheduled, while still keeping everyone safe. Moving to a virtual setting, however, could have an unexpected consequence: things could be pretty boring for the fans.
Beyond the fact that the broadcast will be a bit different, it will presumably be harder to pull off a trade this year. While business usually gets hammered out on the phone, everyone's still in the same room; you can drop by another team's table then report back to your own group. In a digital setting, however, that all goes out the window. Everything—from making an offer to discussing options internally—will have to be done by Internet or by phone. It's definitely doable, but it might be tough to pull off in a matter of minutes.
Despite that new reality, the league isn't prepared to give teams any extra time to compensate for technical difficulties. Given that reality, everyone might stick to their game plan and play things conservatively; given the logistical challenges of making a trade, general managers could decide that a blockbuster deal is simply too difficult to execute.
Come draft day, it's possible that things will be a bit more boring than usual. Given the lack of live sports, though, most NFL fans probably won't care.