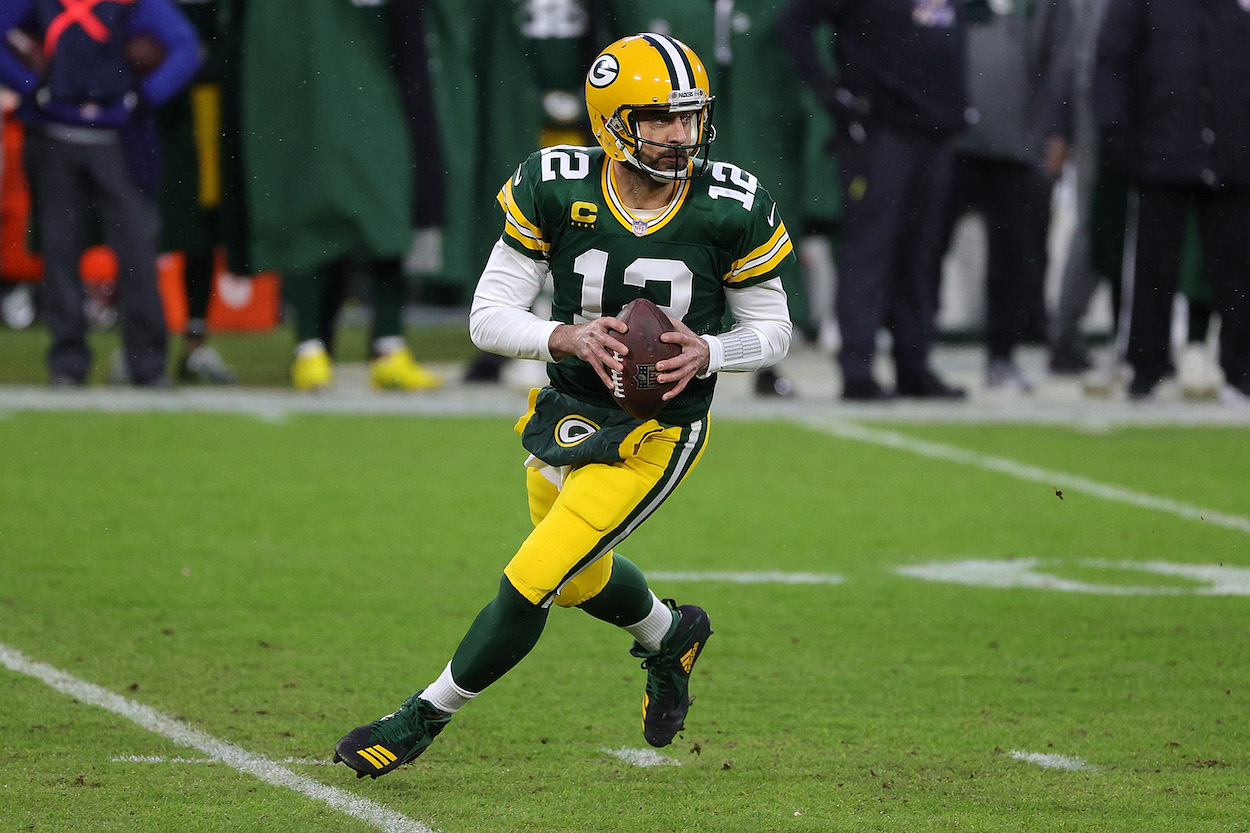 Aaron Rodgers and Green Bay Packers Suffer Devastating Loss Just Days Before NFC Championship
Aaron Rodgers and the Green Bay Packers suffered a devastating and emotional loss just days before the NFC championship game with the unexpected death of a Packers legend.
The Green Bay Packers have been one of the most consistently successful teams in the NFC for years. Since 2006, the team has made the playoffs 11 out of 14 seasons, reached six NFC title games, and won a Super Bowl. Most will accurately point out a big reason for the team's tremendous success during that period has been because of Canton-bound quarterback Aaron Rodgers.
Rodgers fell into the lap of the Packers in the 24th slot of the 2005 NFL draft after multiple teams had expressed interest in him but failed to pull the trigger. The Packers and, at the time, newly hired general manager Ted Thompson, didn't hesitate. Thompson made that decision and numerous others that would change the fortunes of the club for years. Now, just days before Rodgers and the Packers host the Tampa Bay Buccaneers in the NFC championship game, Thompson has unexpectedly died.
Ted Thompson makes first move as Green Bay GM and drafts Aaron Rodgers
Many NFL teams considered Aaron Rodgers a high first-round pick in the 2005 NFL draft after the junior quarterback threw for 2,320 yards, 24 touchdowns, and just eight interceptions with the California Bears. Plenty of pundits thought the San Francisco 49ers would take the native Californian with the No. 1 overall pick. 
San Francisco passed on Rodgers, and selected Utah's Alex Smith instead. Rodgers waited. And he waited. Twenty-two teams passed on Rodgers and his services, deeming their positional needs more important.
The Green Bay Packers could have just as easily followed suit and taken a pass on Rodgers with Brett Favre firmly entrenched as the starter. With his first-ever selection as Packers general manager, Ted Thompson selected Rodgers. 
Ted Thompson trades Brett Favre and turns over reins to Aaron Rodgers
In 2008, Ted Thompson made the move and traded Brett Favre to the New York Jets. After sitting on the bench for three seasons, Aaron Rodgers finally got his chance to prove himself. 
That first season Rodgers and the Packers struggled, finishing the season with a 6-10 record. Since that time, Rodgers has been one of the best quarterbacks in the NFL, taking Green Bay to the playoffs 10 times. 
While there's no question Aaron Rodgers is a big reason for Green Bay's success, Ted Thompson deserves a lot of credit as well for not only selecting Rodgers but also assembling a solid supporting cast. In addition to the nine-time Pro Bowl quarterback, Thompson's draft picks on the current roster include kicker Mason Crosby, offensive tackle David Bakhtiari, center Corey Linsley, wide receiver Davante Adams, running back Aaron Jones, and defensive tackle Kenny Clark. 
Thompson's death and what others are saying
In 2018, due to his declining health, Ted Thompson stepped down from his role as GM and served as a team consultant. A year later Thompson announced he suffered from an autonomic disorder that causes weakness and cognitive issues. 
He died unexpectedly on Thursday at age 68, the news shocking the NFL world. Players and coaches took to Twitter following the news of his death to express their gratitude and just how important he was to the Green Bay organization.
"Once upon a time circa 2006 I was a free agent and one team took a shot on me orchestrated by Ted Thompson," former defensive back Charles Woodson wrote. "RIP TT thanks for bringing in this washed up player giving me a chance to play in the #greenandgold @packers #sbxlvchamps."
"His impact is still felt to this day when you look at our roster," Packers head coach Matt LaFleur said. "I just know how important he was to many people in this building."
The success Ted Thompson engineered in Green Bay earned him a spot in the Packers Hall of Fame in 2019. Now gone, his legacy lives on through the players he brought to Titletown. And what a fitting ending it would be to add one more title in in his honor.  
Like Sportscasting on Facebook. Follow us on Twitter @sportscasting19.